P.C. Robert "Bob" Porritt
Served 1970-1975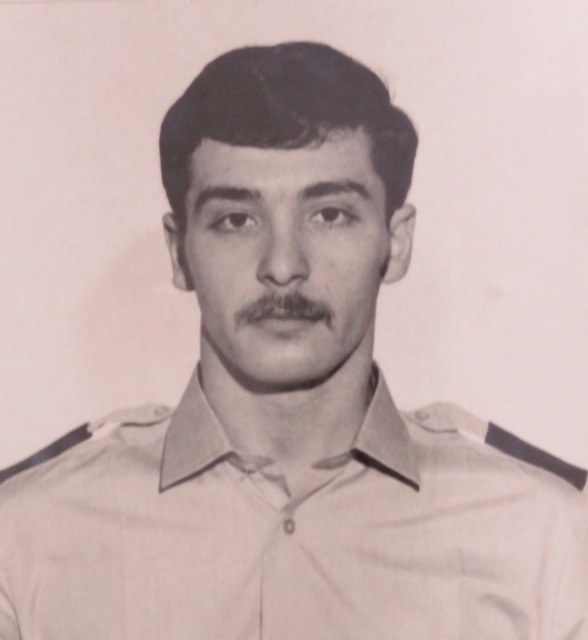 Young P.C. Robert "Bob" Porritt
I was born and bred in Dewsbury, West Yorkshire, on June 2nd 1947. I attended local schools, leaving the Wheelwright Grammar School in 1964.
I had been in the Air Cadets since age 13 and intended to join RAF. I did join and served on first RAF Technician Apprentice course at RAF Halton in Buckinghamshire for the grand period of three weeks. This was due to a slight medical hitch but it changed my life.
I ended back in Dewsbury and worked for two years at the old West Riding County Council in Wakefield. After leaving there I worked for H.M.Customs and Excise at Leeds for one year.
During this preceding few years I had worked in my uncle's newsagent shop on days off and weekends, and as the shop was near to a Police Box (Tardis) all the bobbies used to call in at the shop for a cuppa. I think that as a result of talking to them I decided to join the Police.
On January 1st 1968 I joined Dewsbury Borough Police (later West Yorkshire Police). This was the day they got radios and beat cars for the first time. During my third year of service I applied for Guernsey Police but there was a waiting list. I eventually answered an advert in the paper for the Bermuda Police and the rest is history.
I flew out to Bermuda on October 2nd 1970.
Also on board were Derek Smith, Bill Butterworth and Stuart Lambert who was coincidentally the first black Police Officer in West Yorkshire, so I believe.
Localisation Course 1970.
Bob Porritt is top right on back row.
Stuart Lambert is standing on far left in middle row.
Bill Butterworth is on back row 4th from right
On arriving in Bermuda we got our kit on the Saturday morning and told to report to Training School on Monday a.m. However this was short lived and on the Sunday Derek Smith and myself found ourselves on a 4 x 12 shift in a traffic car due to a riot brewing. Next day, Monday the 5th, I ended up as part of a landrover crew on 8x8 nights for two weeks without a day off and with full riot equipment. You can imagine my thoughts. We were ably led by Inspector Dave Parsons with Rex Osborne as driver, and I remember Norrell Boyd who became Norrell Hull.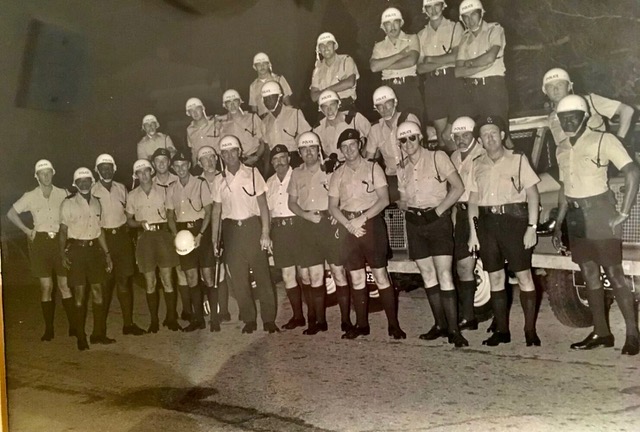 Riot Squad - October 1970
(l-r) Standing on ground - Rex Osborne, Norrell Hull, Arden Cato, Ian Ganson, Brian Warraker,
Ian Scotland, Vendon Archer, Ian Scotland, David "Dai" Thomas?, L.M. "Nobby" Clarke, Dave Parsons, Dick Murphy,
Willy McCracken, Willy Hart, Jude Perrotte, Foster Burke.
2nd row - ? Ray Jones, Andy Lavery, ? Peter Blogg, Gerry Molloy, and John Arlott behind Foster Burke
Top row - Bob Porritt, Peter Moore ? Bruce Bingley, Les Pearson
Editors Note - We received this photo of the 1970 riot squad crew from former P.C. John Arlott in late 2020,and featured it in our "Who, Where and When" column in an effort to try to identify everyone in it. Bob is standing at top left. CLICK HERE to view the article in our "Who, Where and When" column and let us have your comments if you can recognize anyone else who is not named in the above caption.
Once the rioting had settled down, I was invited to a lovely welcoming party at Dave and Sue Garland's house - Dave being from Yorkshire. It was one of those gestures you never forget. Although I didn't work closely with Dave during my time on the Force I'll always remember Dave and Sue's kindness in introducing me to Bermuda.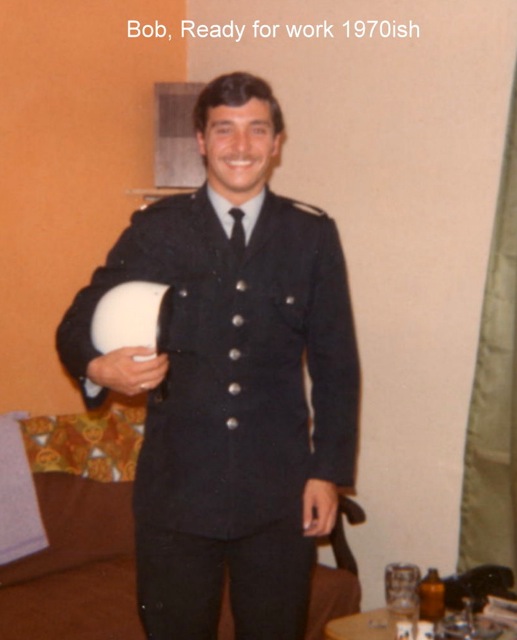 Bob the 'Bobby' in Barracks
After this I went on shift in Hamilton with Willie Woods as my sergeant. It must have been the following year when the first murder for many years took place when an English schoolteacher left Hoppin' John bar to ride home on her moped but she never made it. Due to this manpower had to be found for the investigation and night CID, normally a DS and DC was reduced by the DC, and a PC from the night shift was drafted in. The first week it was Stuart Lambert and I asked Willie Woods if the situation was going to continue could he put my name forward. This was duly sanctioned and I commenced night CID the following week. As it happened Stuart was kept on in CID after his nights and the same happened to me.
This was the time when Scotland Yard were involved and Bill Wright and Basil Haddrell came out with a team and set up the then modern carousel enquiry system.
It was during this when Paul Belvin , who was a TIE suspect was arrested by myself for fraud/forgery involving giro cheques. I soon found out he couldn't read or write properly. He was then taken to HQ and as a result he was eventually charged and convicted of the murder of the reporter. This was unique because he didn't actually admit the job directly being of simple mind. He was actually asked if he hadn't done it, how would he have done it. He was so accurate as to what happened and then confirmed it in a reconstruction - it was as good as a confession.
Not long after that everything kicked off with the murder of George Duckett at his home in Devonshire, and six months later Sir Richard Sharples and Capt Hugh Sayers at Government House, followed by Victor Rego and Mark Doe at the Shopping Centre on Victoria Street. This was an intense period and I remained on the enquiry for some time.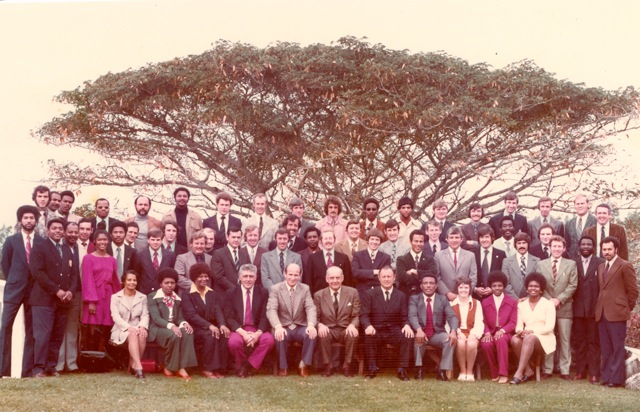 CID staff get together for Retirement of D/Supt Frank Hammond in 1975.
Bob is 5th from the right on the back row.
CLICK HERE to view the names of all the above officers and staff
I was then posted to ECID and served with Dave Chew, Stuart Lambert, Paul Hendrick , Perry Fox and Terry Cabral. I had a good time both work wise and in my private life, and time just flew. There is so much to tell but I would go on forever but my time in Bermuda was a massive experience and a great learning curve.
After leaving the Barracks I shared a house in My Lords Bay with Mick Hale and Tinker Taylor. The house was owned by Joe and Sue Sousa and when they sold this house I moved with them into their new house on Sayle Road. They later sold this and moved to the US for a short time when I moved into barracks at St George's. Off duty I played snooker for St George's PRC with Paul Hendrick and Joe Burrows. I also played for the PRC soccer section and had many great experiences including trips to Toronto and New York on soccer tours. My social life was hectic and I don't think life ever stopped apart from a few hours sleep now and then.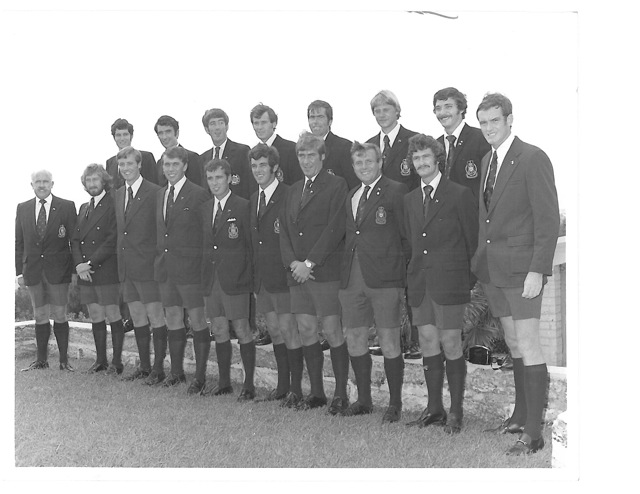 Police Recreation Club Soccer Team heading for overseas tour
Bob is on top row far right.
I eventually decided to leave while I had time to build up a UK Police pension and I did so mid 1975 after five glorious years.
In 1978 I married Pamela and we have two sons, Andrew now 35yrs old, single, who works in a BT franchise in Leeds and Chris now 32 years old and separated, who has been a PC in Dewsbury for ten years. We have two grandchildren, Lauren, 9 years and Thomas, 5 years.
On return to UK I joined West Yorkshire Police, serving in uniform and CID in various divisions, being promoted to Sergeant in 1987. Subsequently I served as a DS in CID Training at Bishopgarth for five years. During this time, in 1993, myself and a DI went to Sierra Leone in Africa for three months to set up CID Training for the national Police. Again another defining period of work.
On leaving Bishopgarth I went to my home division of Dewsbury as PS and served on several major enquiries as a Receiver or Statement Reader. I also headed the Burglary team and afterwards headed up the Intelligence unit in the advent of Intelligence led policing. I retired in 2002 and went to work with a former colleague doing banking, financial and insurance work on a self employed, part time basis.
Since retiring Pam and I have been on several holidays and cruises including Egypt, Canaries, Mediterranean, Caribbean, Alaska, Rocky Mountains, Las Vegas, San Francisco, Los Angeles and Florida, Tunisia and Scotland.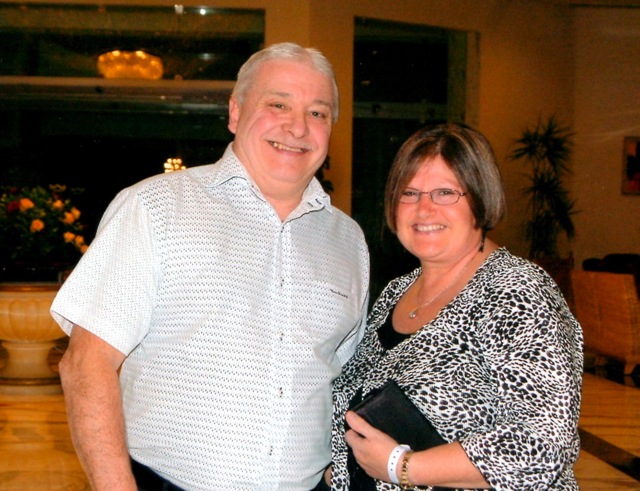 Bob and Pam on recent visit to Tunisia
I have now decided to retire completely just prior to getting the old age pension in June 2012. I will continue with my fishing and wildlife watching and hopefully find time to catch up with old mates from Bermuda and UK.
We will be visiting New York and Bermuda in May 2012 to reminisce and look forward to meeting some of my old mates from the 1970's.
Best wishes to all past and currently serving members of Bermuda Police.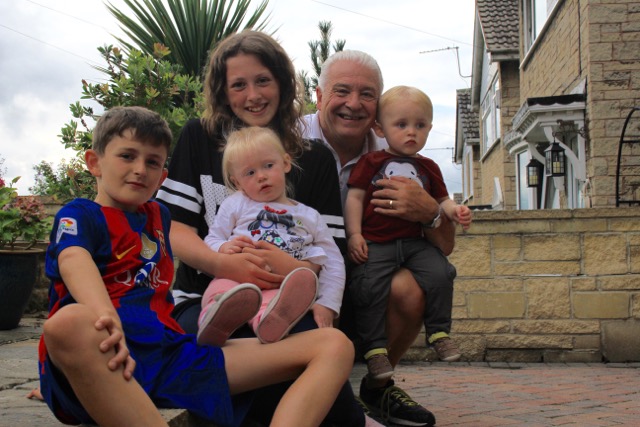 Granddad Bob with his 4 grandchildren taken in 2018
(l-r) Thomas, Lauren, Betsy (on Lauren's knee), and Leo being held by grandad Bob
Editors note - In November 2018, Bob sent us this great photo of himself with his four lovely grandchildren It was as a result of receiving this photo, and accompanying information from Bob that gave me the idea to devote a special article, or a column to those of us who are grandparents with our grandchildren. CLICK HERE to view the column which includes quite a few of our colleagues who have sent us photos of them with their grandchildren. Please feel free to send us your own photos to info@expobermuda.com