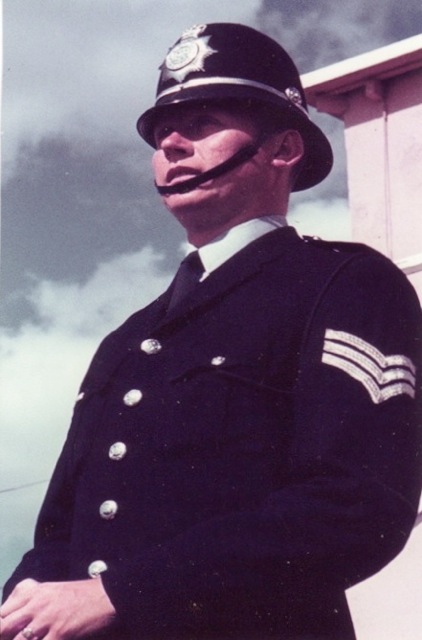 Why Bermuda?
Early in 1961 I had already saved up two years leave from the Manchester Police Force to visit my family who then all lived in Barbados. It was a long flight (seventeen hours) and on the way to the Caribbean we had an early morning stopover in Bermuda to refuel. I wandered down to the seashore at the airport's edge and scooped up a handful of saltwater as a refresher and discovered it came with a handful of tiny pink coral shells. It was a warm roseate dawn, the turquoise sea was shimmering and the early sun reflected on the whitewashed roofs of the pastel painted cottages across the bay. At that moment I was smitten. It seemed like paradise to a young police constable living in barracks in inner-Manchester. The image photographed itself in my mind.
Joining my family in Barbados was the entrance to a new world. The sugar-sweet smell of the cane-fields, the sunny warmth which enveloped me and the so-relaxed lifestyle were fantastic and a complete contrast to anything I had experienced before. No wonder I was transported into another more welcoming world. Coming from a busy industrial city I could certainly handle this!
And yet I sensed that a more moderate sub-tropical life attracted me – and Bermuda had lit a candle in my heart. Surprise then that Dad introduced me to his friend Colin Campbell an ex-Lancashire Constabulary senior officer, who had been a training superintendent in the Bermuda Police. Added to the wise counsel of my father, a retired Manchester Police chief, I was in no doubt that I should join the Bermuda Police….. a decision that was to change my life.
I returned to the UK, resigned my position in the Manchester Police and applied to the Crown Agents to the Colonies. I had fantastic references: Her Majesty's Inspector of Constabulary, the Deputy Chief Constable of the Manchester Police and the Commissioner of the West Indies Police Training Centre. It proved an assured pathway to Bermuda.
I had no regrets at leaving Manchester, although I was already in a serious relationship with my future wife Olive, and my career progression in Manchester was promising. I was thrilled to be able to undertake this great new adventure in the world's most northerly coral islands.
Who could possibly have foreseen the consequences of that momentous decision and the world it would open up.
Bermuda 1961 to 1971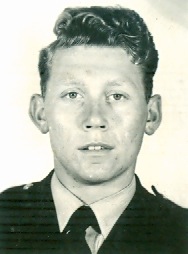 Young P.C. Geoff Hunt
I arrived in Bermuda in June 1961 and stayed for ten years – the first seven in the Bermuda Police. Olive joined me soon after I had arrived and found a job as PA to a vice-president of American International. We were married at St. John's Church, Pembroke on May 1st 1962 (Alastair "Shaky" Johnson played the organ) and we will celebrate our Golden Wedding with our family in Maryland this year.
Posted to the Band block I enjoyed excellent fellowship with my co-residents. On my very first night I found myself thrust into the back of Ken Norman's Nash Metropolitan, among several cases of beer, and driven off to a party at Somerset police mess – not a bad start! The same weekend Max Morris (Burton beer is best) and Brian "Twilight" Tennant arrived and since none of us had any money, and needed immediate transport, we went to the Bank of Bermuda for a loan against our three-year contractual salary but were turned down. So we trotted off to the Bank of Butterfield where our request was accepted. I managed to acquire a new Mobylette (which was soon "borrowed permanently" by Olive).
I had never been so happy and carefree. A world apart from being a bobbie on the beat in Manchester for sure. My sergeants were Alan Waddicor and John Cafferkey, both of whom eventually taught me to play squash (badly, and certainly far from the standard set by Clive Donald and Ian Scotland whom I used to watch with envy). I'm still in touch with Alan and Agnes. Driving the van was Harold Moniz – to whom I shall always owe a great debt. We both were at a stag party at Admiralty House in the September, following which I had a nasty accident resulting in four days in the intensive care at KEMH. Harold had been following me on my mobylette in his Morris Minor and quickly informed the emergency services so a big THANK YOU to him.
My closest friend was Tim Willis. I had met him as we patrolled the streets at the back of town and later worked closely with him on "Warrants" – a wonderful period where we built up our local knowledge travelling around the island by motorbike executing arrest warrants for the courts. Tim was my best man at our wedding – and I his –and we were promoted to sergeant the same day. When he eventually retired to his farmhouse in Cumbria, I used to visit him regularly where we would sit by the fire after a hearty dinner and a bottle of scotch and chew over old times. It was amazing that we could both remember the full names of most of the people we had arrested during that period. Next morning we would be up early to go mushrooming on the Solway marshes. Olive and I attended his second wedding and, sadly, his funeral at the age of sixty-six.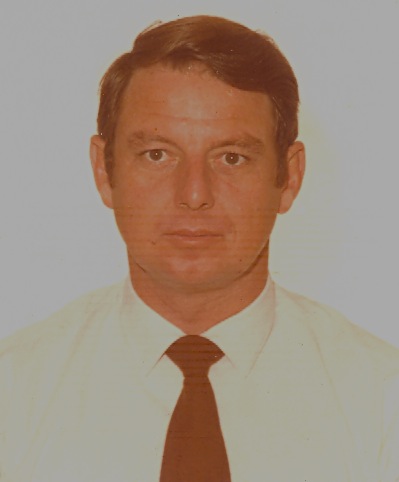 I also spent time on Warrants with the late Marcus Packwood – a great cricketer who played for St. George's – who died at age twenty-nine. Marcus was always very smartly turned out and, of course, knew almost everyone. A great guy to work with, I was a pall-bearer at his funeral.
I then went on a driving course with instructor, Sergeant Kenny Roberts. I remember having to "chase" Derek Jenkinson around Somerset and, after entering a traffic island, suffered the embarrassment of having him right BEHIND me – much sniggering going on from the chaps in the back seat. Anyway, it was because of Kenny that I found the Pompano Beach Club where Olive and I went for our honeymoon – and then we returned again forty years later for our Ruby Wedding anniversary. Such a beautiful spot.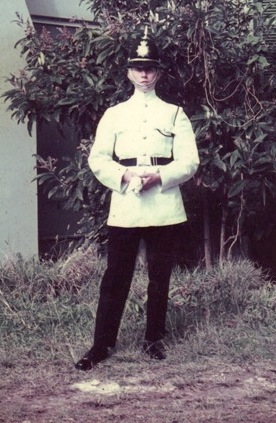 Geoff in ceremonial uniform
A spell on Traffic followed where Colin Finnegan and I were teamed up in a patrol car. Many will remember Colin's German Shepherd dog Tiger riding around the island on his scooter. Characters both! I then had a period driving the radar chase car with Gerry Harvey operating the "box" before some time collecting and returning the "trusty" prisoners at Casemates – among whom was a certain Erskine "Buck" Burrows, the last man to be hanged in Bermuda.
I was made sergeant in 1965, just before the April riots that year. The whole experience of the troubles was frightening. We will always remember with sorrow and anger what happened to Ian Davies. I recall Pastor Fubler being arrested for breaking the curfew with the excuse that "I was looking after my boys" – who were hurling rocks at all of us that night. Talk about the thin blue line and we were all thankful to see a Royal Navy frigate nosing its way into Hamilton Harbour.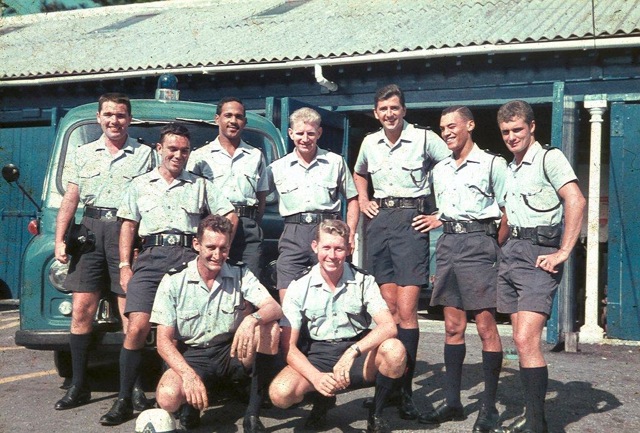 (l-r standing) Dick Murphy, Andy Bermingham, Neville Darrell, Tony Watson,
Mike Caulkett,
Gary Perinchief,
and Dick Johnson,
(kneeling) Sergeants Sean Sheehan and Geoff Hunt.
For more information about this photograph see our Who, Where and When column.
Shortly afterwards I was asked by Commissioner George Robins to restart the Cycle Squad which had disbanded after the riots. I built a great team around me, and with the support of Sean Sheehan, we were immensely successful in reducing cycle crime significantly in the following two years. Road blocks were great fun. I had arguably the best two motor cyclists in the police, Neville Darrell and Mike Caulkett on my team, so if anyone failed to stop they were after them like lightning. Result – many bikes impounded and many arrests for cycle theft. Tony Watson had an eagle eye for cycle frame numbers and could recognise stolen bikes simply by identifying the number. Andy Bermingam was indefatigable. I thought I worked hard but Andy never stopped. All the team became very involved and the camaraderie was great.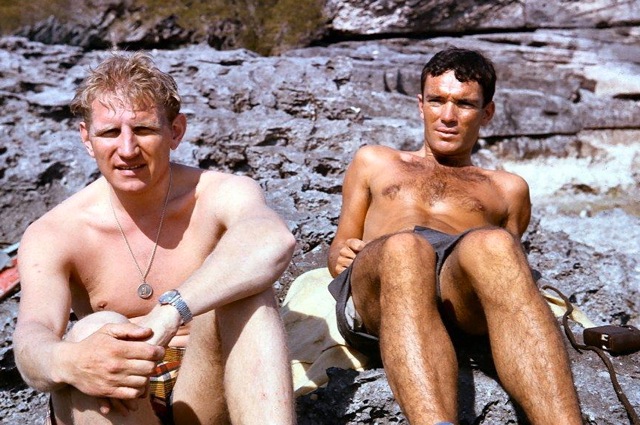 PC's Tony Watson and Andy Bermingham doing observations
on South Shore Beaches for cycle thieves
(Editors note - we always believed these two were skiving off
but Geoff has persuaded us that they really were working hard!)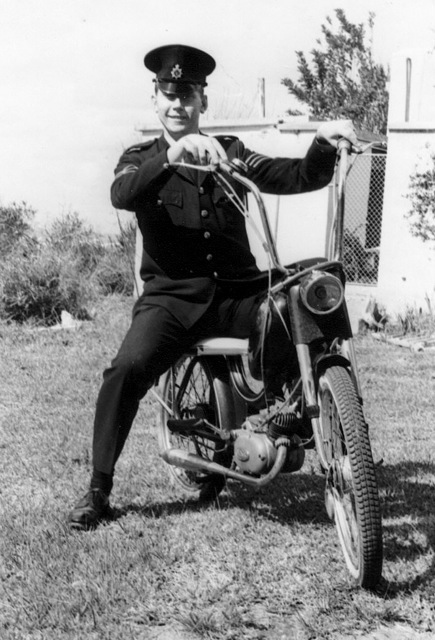 And here's our "Diddly Bop" Cycle Squad Sergeant
on this
impounded
bike with goose neck handlebars.
Finally, I ended up in Prosecutions with Tommy Doyle, a great character and fun to work with. We were the first to occupy the new court buildings on Parliament Street which were originally the old post office. State of the art at the time but somewhat dilapidated when I revisited forty years later
Much of this period has been covered by others and it was really great to read of their memories too. Many names I remember with affection and some were a distant memory and this website has been a wonderful refresher.
Special memories? So many of them:
Dave Garland and Derek Jenkinson building the first police boat, Wee Eckie Laing and Andy Dryburgh organising the pipe band "Tattoo" on Front Street. John Joe Sheehy and I as representatives of the Police Association, succeeding in obtaining an 8% pay rise from the Government – and of course being a founder member of the Prospect Investment Group with Harry Saunders, Jim McNiven, Peter Hawkes and John Swift. (Incidentally I was John's best man when he married Susan and we have been close friends ever since). My introduction to the world of finance was born of this and led to a forty year career in Financial services.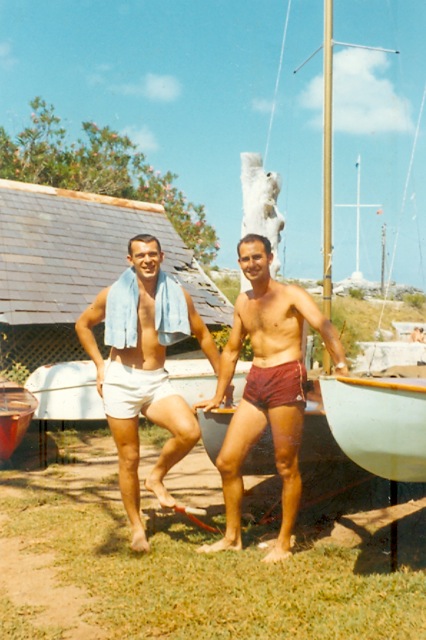 Dave Garland and Derek Jenkinson built the first Police
And finally…… A few years ago I had the pleasure and great surprise in meeting up with Lynn Hall in mid-Atlantic while on a cruise via Bermuda to Portugal. He and I used to play scrabble together through the cubby hole when on night duty at Operations. One never knows when any of us might meet up again! CLICK HERE for Lynn's life story in our Then and Now column.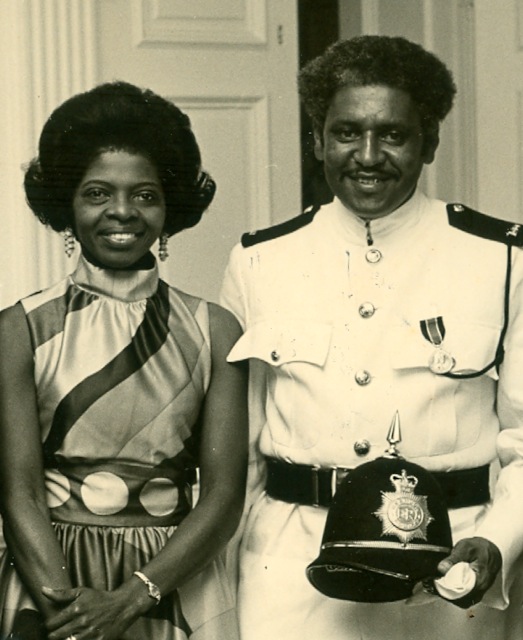 Cecilia and Lynn Hall love cruises and met
up with Geoff and Olive during one of their trips
The next forty years……
These were spent in the financial services industry. Having been granted Bermudian status in 1968, I left the Bermuda Police to become a sales associate with an international mutual fund company but after a year was invited to set up a sales and administration office in Bermuda for a UK based unit trust based organisation (the Anchor Group) which was owned by the Bank of Bermuda, Argus Insurance Company and the oldest firm of insurance brokers in London. A prerequisite was that I trained as a representative of the New York Stock Exchange, the first Briton to do so, and afterwards I returned to Bermuda, set up a sales force, designed sales programmes and ran the office successfully for two years.
However, in early 1971 we discovered that our second child, Andrew, had a rare genetic problem which meant that we had no choice but to return permanently to the UK for his treatment. Olive brought the two boys home to her parents in Manchester and I stayed on for a few months to help find a successor for my company. During that period I stayed with Walter and Margaret Maddocks. Walter had been a lawyer in Manchester and also the magistrate in Bermuda and I remain indebted to them for their wonderful hospitality. I was saddened to hear of Walter's death last year after a long illness. I was also grateful for the friendship extended to me by the Masonic lodges in Bermuda – not least Broad Arrow lodge where I became Worshipful Master just before I had to return to the UK.
Olive and I set up home here in leafy Bramhall Cheshire, reportedly the friendliest village in England some twelve miles south of Manchester and I trained as an insurance broker with one of the UK's largest companies becoming their north-west regional consultant by 1978. At that time I was head-hunted to establish a northern operation in Manchester for a City-based firm of investment advisers and I joined the main board in 1985. We sold out to a major UK financial institution in 1987 and in 1990 I established my own firm of independent financial advisers with offices in Manchester, Cheshire and West Yorkshire.
In 2003 I sold my controlling interest to my younger directors and began a "winding down" process over the next few years. This enabled Olive and me to travel extensively, and cruise regularly, as well as visiting our number one son, David, and his family who had settled in Maryland. However, forty years is enough and I retired in July 2008 – but still remain as lifetime president.
The last twenty-one years have been devoted to Rotary with which I am deeply involved. As a past president, a Paul Harris Fellow and Assistant Governor for fifteen clubs in my Rotary district I am now busier than ever.
Our son, David, is Director of Nursing, Cardiac Care and Radiology at the University of Maryland Medical Center in Baltimore and we have two teenage American grandchildren whom we are looking forward to seeing again shortly. But what happened to that baby Andrew who brought us back to the UK? He will be forty-two shortly which is hard to believe. He has worked for nearly 20 years as a warehouseman at a national epileptic centre in Cheshire, has his own bijou apartment six miles away and although still on a strict diet is generally in excellent health. We feel very fortunate.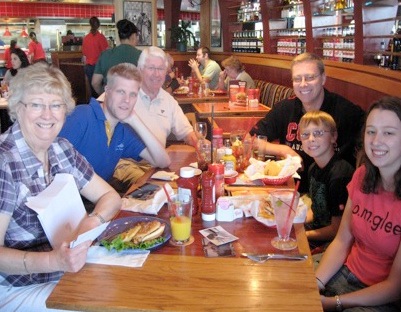 Olive and Geoff with their two sons, David and Andrew,
and grandchildren Chris and Gemma
Bermuda will always be a special to Olive and me and we have many fond memories of our time there. We send our best wishes to all our former friends and colleagues with apologies to the many whose names I have left out of this commentary. Perhaps one day we will meet again – who knows?
In the meantime, I would be very happy to make email contact with any of my former colleagues via email. (Editors note - we have a policy of not publiashing email addresses but are happy to provide them upon request).
Geoff Hunt