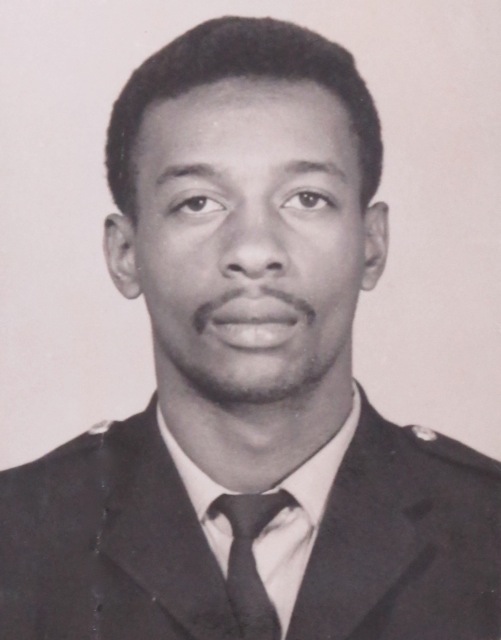 Young P.C. Carl Beckles
I was born and raised in Barbados, and as a young man I worked as a clerical officer with the Department of Labour in Barbados. When I heard about the Bermuda Police Force recruiting from Barbados I felt that Bermuda would offer better career prospects so I applied and was accepted.
I arrived in Bermuda and entered the Training School at Prospect in February 1967, along with a group of other recruits from Barbados, and several Bermudians including Larry Smith, Bryant Richards, Stanley Hill, Cleveland Foggo and Reese Bartley.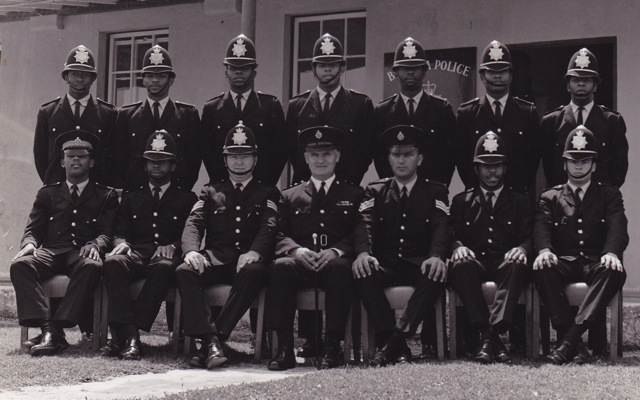 Training School Course 1967
Back row (l to r) - Hoskins Caddle, Cleveland Foggo, Cuthbert Cumberbatch, Bryant Richards,
Carl Beckles, Clayton Carter, Fred Beach (deceased)
Front row - Larry Smith, Malcolm Hinds, Sergeant John Cafferky, Chief Inspector Roy Chandler,
Sergeant Mike Kelly (Drill Instructor), Reese Bartley, Stanley Hill.
Instructors not in picture - D.C. John Bailey, Swimming & First aid, and P.C. Neville Darrell, Self Defence.
This training School was believed to be the largest intake of local recruits (6) up to that date in 1967.
We underwent a three months training course. The officers in charge were Chief Inspector Roy Chandler, Sergeant John Cafferky, and Sergeant Mike Kelly was the Drill Instructor.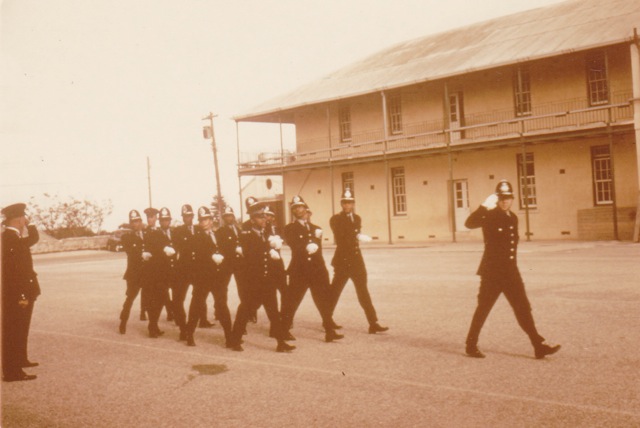 Passing Out Parade at Prospect
After graduating from Training School I was posted to Eastern Division, St. George's, where Inspector James McMaster was the officer-in-charge and Joe Colton was my Sergeant. While in St. George's I can remember working with Alan Proctor, Barrie Meade, Lawry Jackson, Orson Daisley, Clayton Carter, Vendell Bridgeman, Archie Warner, Dave Ashurst, Bob "Pudsey" Hay, Ken Bent, Dudley Swan, Mel Gibbons, and many others. I also remember going out on patrol in the Parishes with Roger Sherratt as duty driver on nights (10pm-6am).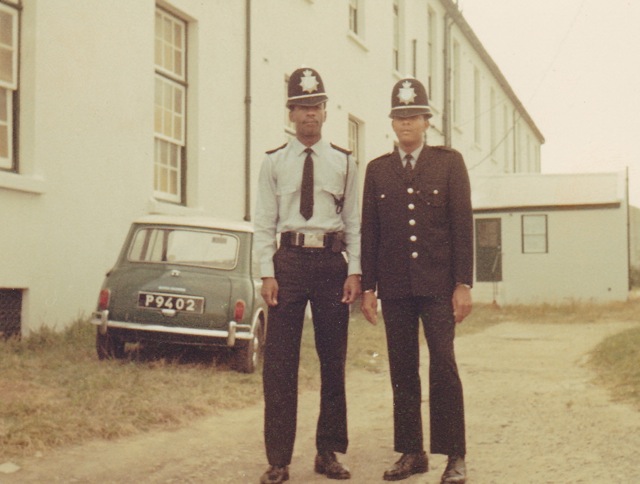 Carl with P.C. Archie Warner outside St. George's Police Barracks
I can recall that in 1968 there were some serious disturbances in Hamilton and we were sent to Prospect for twenty four hours on standby, and the Royal Inniskilling Fusiliers were flown in from the U.K.
In 1969 I was transferred to Central Division in Hamilton. I worked on the beat for a while but also worked as the Duty Officer. My Sergeant there was Jeff Sanders, and Inspector McMaster was also in Central having been transferred from St. George's to Hamilton. Foster Burke and Jude Perotte, Ian Ganson and Jim Costello were on my Watch and I think our duty driver for a while was Malcy Smith.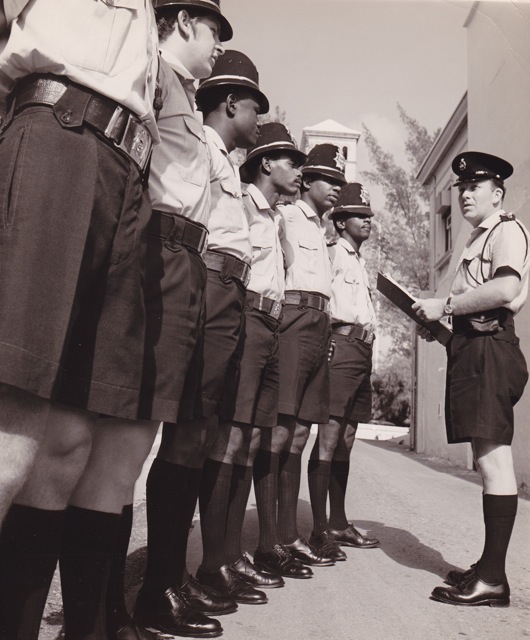 Sergeant Jeff Sanders parades his Watch. Carl is at the far end of the row.
Can you recognize the other Watch members?
During my last year in Bermuda the new Commissioner of Police was George Duckett who replaced George Robbins.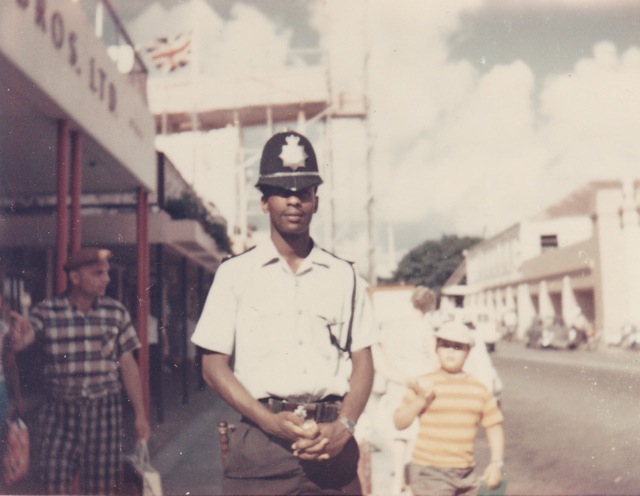 Carl patrolling Front Street

I resigned from the Force in October 1970 and moved to Toronto, Canada, where I studied power engineering and obtained my qualifications as a first class engineer with certification from the Technical and Safety Standards Authority. I've been working continuously in this field for the last thirty-three years.
My wife, who works in the nursing field and was trained in England, and I have been married for 34 years , and we have two sons, aged 30 and 25, who both work in Information Technology.
I'd like to send my regards to all those men and women I worked with during my time in Bermuda and wish you all well.
Carl Beckles