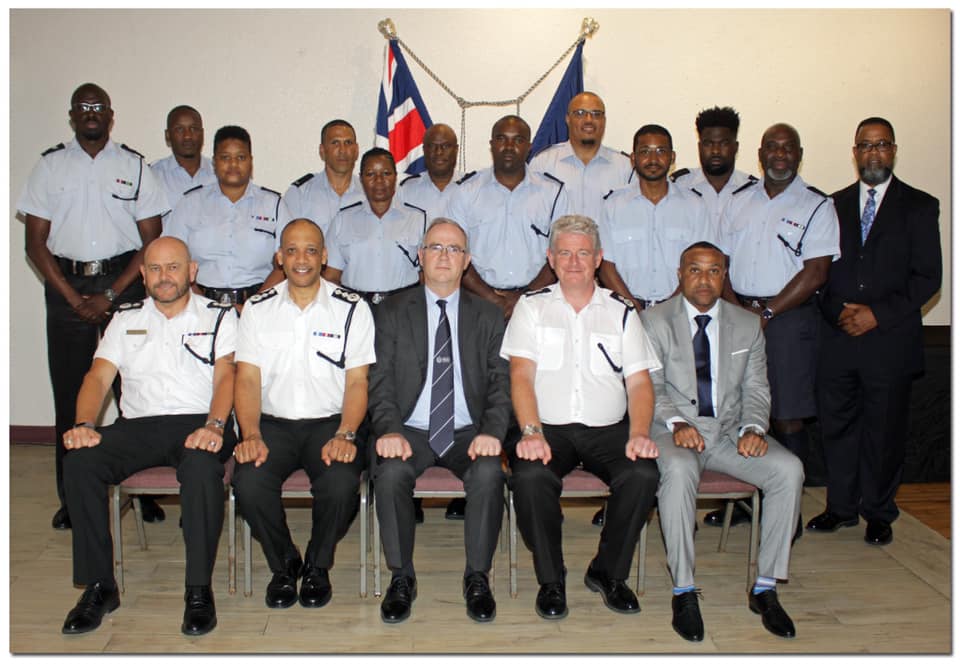 Eleven officers are promoted to Sergeant
At a 5:30pm ceremony held at Police Headquarters in Prospect Devonshire on Friday, June 7th eleven officers were promoted to the rank of Sergeant.
Dignitaries in attendance at the promotion ceremony were His Excellency the Governor, Mr. John Rankin CMG, Minister of National Security, the Hon. Wayne Caines JP MP, Commissioner of Police Stephen Corbishley, Deputy Commissioner Designate Darrin Simons, Assistant Commissioner Antoine Daniels and Assistant Commissioner Martin Weekes.
In addition, family, friends and colleagues of the officers being promoted filled the Police Recreation Club hall to show their support.
Newly Promoted Sergeants:
Sergeant Lennox Ince
Sergeant Mark Tomlinson
Sergeant Nidol Barker
Sergeant Cerepha Bridgeman
Sergeant Rohan Henry
Sergeant Bernadette Lawrence
Sergeant Dominique Simons
Sergeant Francis Blackman-St. John
Sergeant Caleb Jn Pierre
Sergeant Christopher Thompson
Sergeant Windol Thorpe
Commissioner Corbishley highlighted the important role that Sergeants perform in the Bermuda Police Service (BPS) and offered congratulations to the eleven recently promoted Sergeants on behalf of all ranks and staff of the BPS.
On behalf of the Bermuda Ex-Police Officers Association we congratulate all of these 11 young men and women on their promotion to the rank of Sergeant, and wish them all the very best in pursuing their careers.