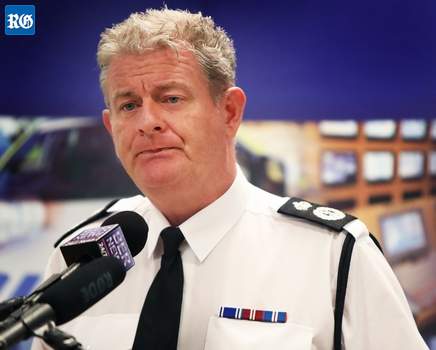 COP Stephen Corbishley announcing initiatives to expand
community policing and reopen St. George's Police Station
(Photograph by Blaire Simmons)
The Royal Gazette reports that Commissioner of Police, Stepehn Corbishley has announced that St. George's Police Station will be re-opened as an integral part of the BPS new community policing policy.
Mr. Corbshley told a press conference: "I really do believe that this will make a fundamental difference to the services that we provide to all communities in Bermuda, that we are more attentive, we are more able to listen, but most importantly we are more able to respond to keep Bermuda safer."
He said community policing would receive significant investment and that the parish constable scheme would also be rolled out soon.
"We will see police officers in each and every parish across Bermuda working on a day-to-day basis with local residents, community leaders, businesses, voluntary services as well as the church," Mr Corbishley added.
Mr Corbishley said it is essential that the police have an important relationship with communities.
The full article can be viewed in the Royal Gazette at http://www.royalgazette.com/crime/article/20190114/st-georges-police-station-to-reopen