Researched and compiled by
Detective Superintendent
George Rose CPM (retired)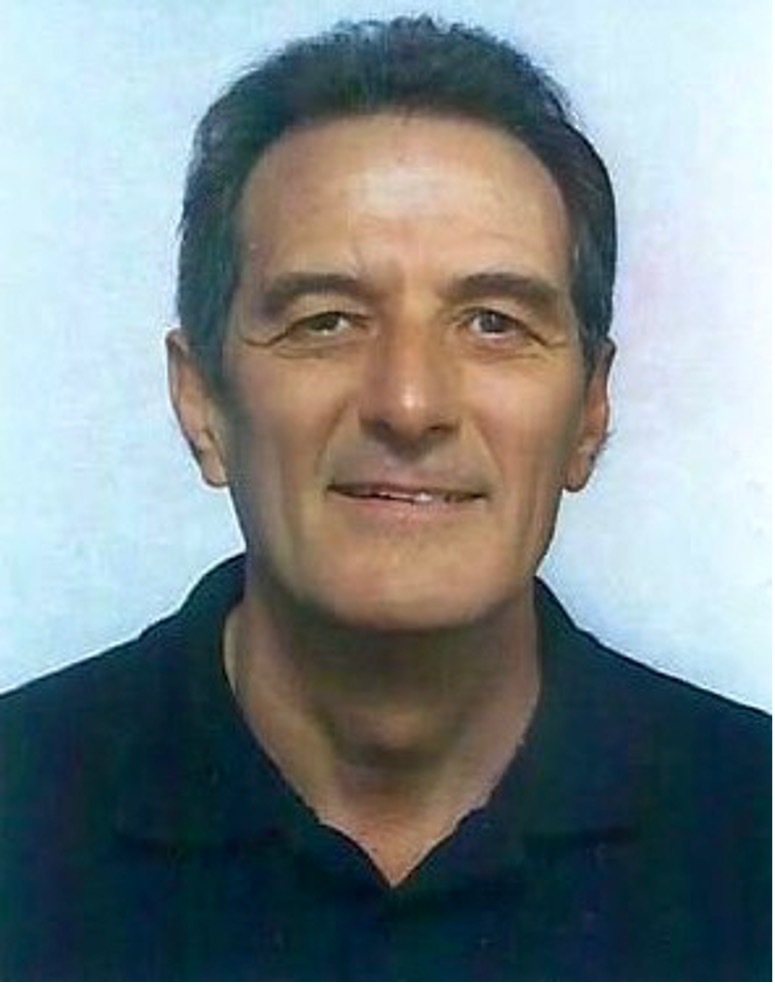 George Rose
INTRODUCTION
This article represents an incremental examination of the life and crimes of Kenneth James Maxwell "Eggs" Smith who rose to infamy as one of Bermuda's most dangerous and notorious criminals. In particular, his numerous escapes from St. Brendan's Hospital and later from Casemates prison became legendary in the annals of the Island's criminal history.
Delving into the available records has not been an easy task due in large measure to the digitalized records at the Bermuda National Library and Archives presently ending on the last day of 1969. Notwithstanding, the information for this article has been derived from surviving pocket book entries, duty diaries, eye witness reports, court records and difficult to locate micro-fiche content.
Born in Bermuda in 1950 "Eggs" Smith began his life of crime in 1961 at the age of 11. By late 1976 at the age of 26, he had already accumulated an atrocious criminal record which included four convictions in Bermuda's Supreme Court for a series of breaking and entering offences and a rape. Other convictions including the possession of dangerous weapons, violently resisting arrest and an unlawful wounding forewarned that Smith was well on his way to becoming a career criminal
The 'Casemates Prison and Prison Hospital' as it was initially named, received its first 40 inmates on December 12, 1961 when they were transferred under police escort from the overcrowded Hamilton jail. Casemates operated as Bermuda's maximum-security prison until it was replaced by the new prison Westgate in 1995. During my research I came across a number of reports of breakouts from both the Hamilton jail in 1958 and later from Casemates. At the end of this article, I've included some of those more interesting escapes that involved prisoners other than Kenneth "Eggs" Smith.
Smith had received psychiatric treatment during these early years for his periodic violent and unpredictable activities; but it was his physical size and dreadful notoriety accumulated over the years which led to the public's overwhelming fear of becoming his next victim. The timeline of his life and crimes are chronicled in detail below.
AN EYEWITNESS TO HISTORY OVER 50 YEARS AGO – CONSTABLE RAY SOUSA'S DEALINGS WITH "EGGS" SMITH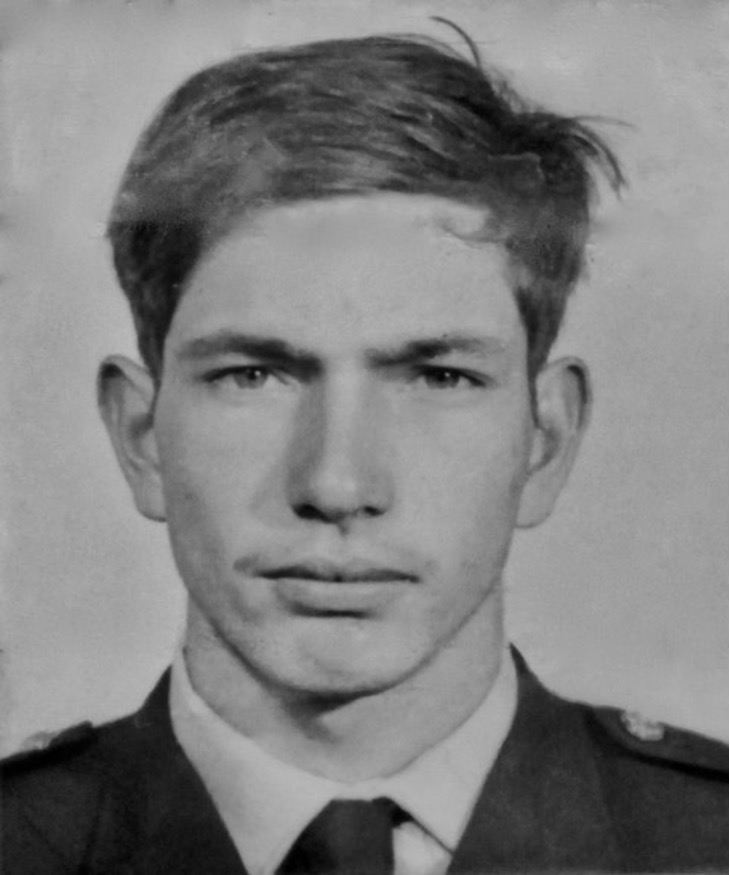 Raymond F. Sousa
(Served 20 January 1966 – 18 May 1974)
Constable Ray Sousa wrote to the EXPO editor in May 2022 from his home in Australia about his 'tangles' with Smith in the early 1970's when he was a narcotics officer in the Bermuda Police Force. Ray had penned his memories of those days in the COMMENTS section attached to this author's EXPO article entitled 'The Case of The Barefooted Rapist' which concerned Smith's 1976 rape conviction. Ray's comments below highlight just how difficult it was even then to deal with "Eggs" during his crime sprees.
Author's note: As you read below and for the avoidance of doubt Kenneth J.M. "Eggs" Smith should NOT be confused with the appropriately named Michael "Egg Head" Martin who was a totally different criminal of some notoriety and who will be subject of a forthcoming EXPO article.
Nor should Kenneth "Eggs" Smith be confused with ERIC McDONALD "EGGS" TROTT who was convicted of the rape, attempted murder and GBH with intent on an 88 year old female in Paget parish during the evening of Friday, January 28, 1966. The trial had commenced on May 17, 1966 and Scotland Yard had assisted in the presentation of this case.
Ray wrote to the editor –
"Can you please pass on my thanks to George Rose for the article on " Egg" (known to some as "Egg Head") SMITH. This [rape] incident happened [in 1976] after I had left the Force, and confirmed my fear that he would always be dangerous. As stated, he was a big, powerful man who could be extremely dangerous especially if 'high' or drunk. My two main and dangerous encounters with him were: –
* On Court St.... I was in Narcotics at the time. "Egg Smith" was suspected of a number of major crimes, but felt safe surrounded by his friends in Court Street. I think there were 6 of us in 2 unmarked cars that drove through Court Street and spotted him; but we agreed to keep driving. We stopped some distance away and developed a plan to arrest him. At the time, for political reasons, Police were discouraged from taking action on Court Street without approval for fear of causing a riot. We agreed that the risk was worth it. John Williams later [D/ Inspector] would be the main arresting officer and some of us would 'neutralize' Smith's "body guards". I would take on a man who had a bullwhip and had been displaying his skills on the street.
At first we drove at normal speed then raced towards Smith and his mates, jumping out of the cars before they actually stopped. Some of us got between the "body guards" and Smith; whilst John and other officers grabbed struggling Smith pushing him into a car [[I believe it was our Cortina]. Once in a car we sped off towards Hamilton Police Station with rocks and bottles being thrown at our cars. Smith struggled the whole time and kicked out the car's windscreen. It took a number of us to control Smith and get him into the cells.
* Bandroom Lane, North Shore, Pembroke East. Again, I was in Narcotics when a call came in that "Egg" was off his head threatening people with a long toothed [about 9 inches] rake hoe in what I believe is now known as Bandroom Lane. I spent most of my childhood on Glebe Road not far from there. We were nearby, and the first Police car to arrive. Sure enough, there was "Egg" waving the dangerous tool at everyone, near the Robinsons' home. I automatically grabbed my riot stick and shield and told Smith to drop the weapon before someone got hurt.
In those days our riot shields were wicker. There is no way the shields would have stopped a direct blow; the rake hoe teeth would have penetrated the shields, causing us serious if not deadly injuries." Egg's friends made an issue of this when thanking us for our action.
Interestingly when the matter went to court "Egg" Smith said he could not sleep at night because of his nightmares of the crazy American Indian Police Officer ['Doc' Hall] and the other cop with fire in his eyes and foaming at his mouth; charging at him with sticks. I was hoping the nightmares would continue for the rest of his life, and prevent him from endangering anyone else. During his evidence "Doc" was questioned on how we disarmed Smith and asked to demonstrate it. Slamming his hand down on the stand in the process, the stand broke!
Summary – These cases prove the failure of our system in keeping seriously mentally ill people off the streets. I hope I am proven wrong, but I honestly believe there are some with such serious mental issues that cannot be cured. They are ill to start off with, drugs and alcohol put them on a completely different planet. I also question if the present generation of well trained and armed Police Officers could have dealt with these situations any better than we did. I am extremely proud to have served with Police Officers such as "Doc", John Williams and other Officers involved in these incidents".
RAY SOUSA AFSM
[NOTE: Ray is most likely to be referring above to retired Inspector Gladwin Clinton 'Doc' Hall born in 1929 and who served 1 October 1950 – 31 December 1978.]
1970
SMITH ESCAPES TWICE FROM ST. BRENDAN'S
According to the Royal Gazette (RG), on two separate occasions in early 1970 ….
"Police had to go looking for Smith twice [after] he escaped from St. Brendan's twice within two weeks. One escape involved dropping 35 feet to the ground. Police said at the time that he broke into several houses during his first ten days of freedom. Also, at that time Police Commissioner Mr. George Duckett criticized St. Brendan's for not having tighter security arrangements."
As a Detective Constable in the Hamilton CID, together with other officers I recall returning a handcuffed Smith to the rear entrance of St. Brendan's hospital through a single iron-clad door raised by steps above ground level onto a small landing where we were met by three male staff members who took charge of our prisoner and placed him in a padded room before removing his handcuffs.
1971
The following Press reports by two different newspapers speak to "Eggs" Smith's very first escape from Casemates in the early evening of Friday, October 1, 1971. According to BNL records, Smith was recaptured in the Ireland Island area within hours of his escape – but this could not be confirmed on microfilm.
'EGGS' SMITH ESCAPES – AGAIN: THIS TIME FROM CASEMATES
Royal Gazette (RG) Saturday, October 2, 1971
"Police last night reported a prison break from Casemates in Ireland Island. The escapee is James Maxwell (Eggs) Smith, who up until last evening was believed to be still in the Ireland Island area.
Smith is 23 years of age, weighs 210lbs. and stands six feet two inches tall. He has brown skin, and is sporting a medium afro haircut. When last seen he was wearing a white T shirt, blue jeans, and boots.
Anyone seeing this man is requested to telephone 2-2222 or any Police Officer.
This is the latest example of Smith's expertise in the art of escaping from detention, an ability which he demonstrated at St. Brendan's Hospital on more than one occasion.
It is only the second escape of an inmate from the Colony's maximum-security prison."
"EGGS" SMITH ESCAPES AGAIN
Bermuda Sun (Sun) Saturday, October 2, 1971
"Bermuda's best known escape artist, Kenneth James Maxwell "Eggs" Smith, scrambled over the wall of Casemates Prison to freedom yesterday evening.
Prison wardens saw Smith scale 15ft. of fence and wall from the prison exercise yard – but by the time they had dashed outside he had gone. The exact spot he jumped from is not known, but the Casemates wall is as high as 60ft. from the ground outside in some places.
Smith escaped at 6.38pm., [Friday] just as darkness was falling, and a police hunt was launched immediately in the Ireland Island area. Last night a police spokesman said Smith, who has never before escaped from Casemates, was serving a sentence for assault and breaking and entering and if anyone sees him, they should contact police immediately.
Smith is described as a 23-year-old coloured Bermudian of 6ft. 2ins. and weighing 210lbs. When he escaped, he was wearing a white tee shirt and blue jeans. His hair is cut in a medium afro."
1974
In 1974 Smith was sentenced in the Supreme Court to 4 years imprisonment for five offences of housebreaking during the year 1973. [Details surrounding these events have not been recovered]
1976
'Eggs' was released from the prison on the morning of Monday, July 12, 1976 having served just over 2½ years of his 4 years sentence. Upon his release he refused to supply prison officials with his intended residential address (if any).
During the afternoon of the same day, Smith rented an auxiliary cycle for four days at a cost of $25 plus a $50 deposit.
Less than 24 hours later, between the morning hours of 3.00am and 5.00am on Tuesday, July 13, a total of five burglaries were committed within a radius of 100 yards of each other in Devonshire Bay and the Devon Heights Estate, Devonshire Parish. At one of the burglaries the householder, Mr. Rodney Mitton challenged the offender at 5.00am as he attempted to leave the area on a rental cycle the partial number of which he noted to be 089. He could see the cycle rider clearly and supplied a good description of the likely offender.
A complaint was made to the police and during that morning I canvassed cycle rental liveries in an effort to trace the cycle with the partial plate number 089 and I later took possession of a cycle B089 from Burnaby Cycles livery, Hamilton. I learned from the livery manager that the cycle had been rented out the previous day to a Bermudian by the name of Kenneth Smith. I further noted that shortly before my visit that morning the cycle had been returned to the livery by Kenneth Smith and exchanged for another.
I recorded a number of complainant statements that day and then caused Kenneth Smith's description to be circulated within the CID as a person of interest who was wanted for questioning concerning the Devonshire burglaries.
At 9.30am the following day, DC Sinclair White driving an unmarked police car came across Smith standing outside the Buckaroo Restaurant on Church Street, Hamilton. DC White 'invited' Smith to ride his cycle to the Hamilton Police Station where he wanted to ask him some questions; Smith did so willingly and DC White noted that his cycle basket contained a pair of black socks, an opened package of Marlboro cigarettes and a pair of dark shades with gold rims.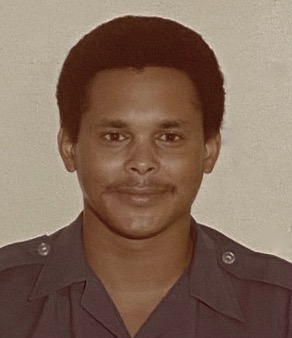 Sinclair White
My pocket book entry for Wednesday, July 14, 1976 notes the following: –
"9.45am just had conversation with Kenneth M. 'Eggs' Smith at Central CID after instructing DC Shaw to make a contemporaneous note of these proceedings.'
I said to Smith, "Kenneth we are investigating a breaking and entering which occurred at the house of a Mr. Mitton at about 5.0am. yesterday morning Tuesday 13th. Mr. Mitton lives in Devon Heights, Devonshire and it is my information that he disturbed a man in his house and later stopped and spoke with the intruder and got the number of the intruder's cycle. I have reason to believe that the cycle was in your possession at that time yesterday morning and that you were the man who spoke with Mr. Mitton."
A. (Eyes to ceiling) "I should have smacked him in the mouth that's what I should have done. That would keep him quiet."
Q, "Quiet about what?"
A. "He kept saying somebody broke into his house."
Q. Did you break into his house Kenneth?"
A. (Silence)
Q. "Did you Kenneth?"
A. (Lowers head)
Q. "You remember the man stopping you?"
A. "The fool - he was half-dressed. I didn't know who he was. What was I supposed to know?"
Q. "Were you riding that bike you turned into Burnaby later that morning?"
A. "Sounds like you know all that."
Q. "Why were you in Devon Heights at 0500 yesterday morning?"
A. "I don't want to say my business. I don't want you guys hassling my friends."
Q. "Do you have friends on that hill?"
A. "I have friends."
Q. "Would you name them for us?"
A. "No man."
Q. "Do you realize the position you are in Kenneth? Mr. Mitton tells us that he disturbed an intruder in his house. A few minutes later he stopped a man he is able to identify riding a cycle on the road at the bottom of the garden. This is at 5 o'clock in the morning. Do you remember talking to Mr. Mitton? Would you care to give me an explanation as to what you were doing in Devon Heights, Devonshire yesterday morning?"
A. "I cannot be bothered going through all those changes. I hear what you say now let him prove it was me."
Q. "Do you wish to make a statement of your whereabouts and intentions between 4.30 and 5.30 yesterday morning?"
A. "I'm not educated. There's too much hassle to go through. That will do what you have got there."
Q. "Who do you know in Devon Heights, Kenneth?"
A. (Silence)
Q. "It is my belief that you broke and entered the residence of Rodney Mitton at 5.0am. Tuesday, 13th July, 1976 and stole $5 from the house. You're not obliged to say anything unless you wish to do so but whatever you say will be taken down in writing and may be given in evidence.
A. "So do what you got to do."
Together with DC Shaw and accompanied by Smith, I went to the ground floor in Hamilton Police Station yard where I showed Smith cycle B089.
Smith then took a pink coloured slip from his pocket and showed me the number B111 as the cycle he was renting. On this same slip however, I noted and showed Smith the number B089 had been crossed-out and substituted with the number reading B111.
ARRESTED
I said to Smith, "Kenneth, I'm arresting you on suspicion of having broken and entered the residence of Rodney Mitton on Tuesday, 13th July, 1976 at Devon Heights and the theft of $5.00 cash ……. ". At this point, Smith interrupts before my caution and said, "Fuck him."
I cautioned Smith and he was searched and detained. I took possession of Smith's property bag after he had been searched. I signed for same in the Prisoner's Property Register. I invited Smith to sign this record also but he declined.
At 12.00noon I spoke to Rodney Mitton at HPS when he was shown the cycle B089 which he identified as the same auxiliary cycle he had encountered at the time of the event. DC Shaw recorded a statement from Mitton. Later that afternoon I went with DC Shaw to the cells area after the duty jailer Constable Peter Counsell had telephoned to say that Smith wanted to see me.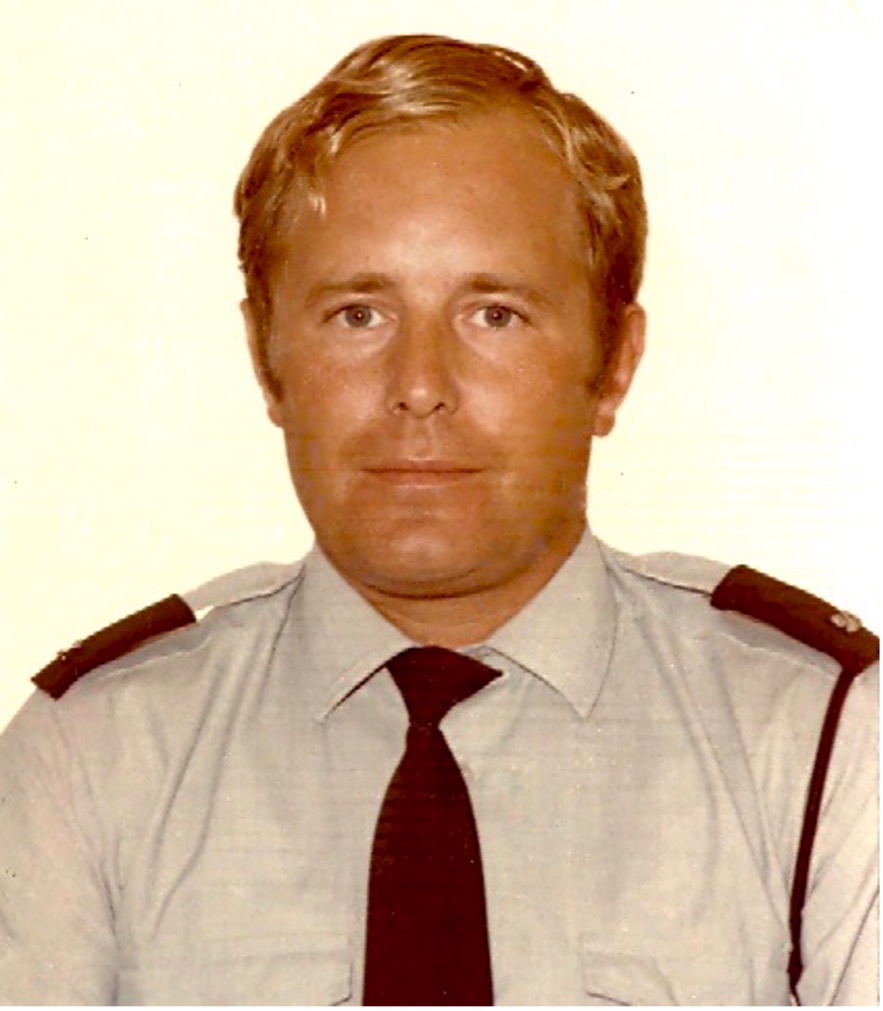 Peter Counsell
I said to Smith:
Q. "You wanted to see us?" I reminded him he was under caution.
A. "I'm going to put it to you like this, the truth. I only got a few dollars. I didn't mess with the man. I was thinking about it. I never touched him." DC Shaw was writing.
Q. "Do I understand you to say that you entered Mr. Mitton's house and took some money?"
A. "Is that the guy who stopped me?"
"Yes"
A. "Then you got what happened."
Q. "Do you want to make a statement about all of this. You don't have to say anything unless you wish to do so but anything you say will be taken down in writing and may be given in evidence."
A. "You can leave it like that there."
Q. "If you wish to make a statement I can write it for you at your dictation?"
A. "Don't worry with it, leave it like that there. I didn't mess with that guy. Alright."
Q. "Where do you live Kenneth?"
A. "Can I have a telephone call?"
"I'll make arrangements."
At 2.54pm Smith refused to sign this record and was further detained.
After compiling above notes I was engaged with DC Shaw on searches without gain for Smith's living arrangements at houses behind the Mission, St. Monica's Road and at Angle Street, Hamilton. We also visited his father's house off Bandroom Lane, Pembroke parish. I went off duty at 5.15pm having assured myself that Smith had made his 'phone call.
The following day, Thursday, July 15, 1976 accompanied by other officers I went to Kale House, Cedar Avenue. I there spoke with George Karl Allen and learned that Smith was not now living there. Before we left, Allen handed to me a grey colored jacket and trousers suit which he said was owned by Smith.
At 11.00am together with DC Shaw we viewed the scenes of the four residential breaking and entering complaints at Devonshire Bay directly across the South Shore Road from Devon Heights. Later that afternoon I again questioned Smith in company with DC Shaw who recorded the Q&A's as follows –
Q. "Kenneth, we are continuing our enquiries into the four breaking, entering and theft complaints at houses in the area of Devonshire Bay during the morning of Tuesday, 13th July, 1976. A total amount of $215 in both US and BDA notes was stolen from – …….. Smith interrupted saying:
"Look man. I told you about the other place now you are trying to mix me up with something else. That guy didn't stop me down Devonshire Bay. I know my rights. I don't have to say nothing to you guys."
Q. "Kenneth, will you listen to me a moment. I am now making enquiries into breakings, entries and theft at Devonshire Bay. You've told me what happened at Devon Heights but I have reason to believe you were responsible for offences across the road in Devonshire Bay at around 3.0am. that morning."
A. "Oh man. You got no reason to believe nothing. You guys make me sick."
Q. "Where are you living Kenneth?"
A. "With my cousin."
Q. "Where's that?"
A. "North Shore behind the Bandroom."
Q. "Do you mean with Amy Smith, your aunty?"
(Silence)
Q. "Do you mean with Joey?"
A. "Joey's place yes."
Q. "I'll tell you Kenneth, we've seen Mrs. Smith. She says you don't live there. She saw you on Monday. You arrived in a taxi. You were dressed in a suit. You left a box with her and was looking for her son Joey. She says you later collected the box and she hasn't seen you since. Isn't that correct?"
(Silence)
Q. "Where do you live Kenneth?"
A. "I'd be an ass to tell you. If I've got something there I'm not supposed to have I'd be an ass to tell you."
Q. "If you have something there that you are not supposed to have – that would be wrong."
A. "Yes – that would be wrong so I'd be foolish to tell you?"
Q. "Is this your suit Kenneth?"
A. "Did George give you that?"
Q. "We went to see him."
A. "See what I mean about hassling my friends."
Q. "I ask you again. Where do you live Kenneth? Are you living anywhere?"
A. "Don't worry with it man."
Q. "It is my information that on Monday morning 12th July, 1976 you had the sum of $168.78 in Bermuda currency with you in the Somerset area. Upon your arrest in this office on Wednesday morning 14th July you were found in possession of $315.94 in mixed US and Bermuda currency. Can you explain how, in the space of 24 hours you came into possession of the difference of $147."
A. "I don't have to say nothing."
Q. "It is my information that at about 3.30pm. on Monday afternoon 12th July you paid a total of $75 to Burnaby Cycles in relation to the hiring of a cycle B089. Is that correct?
A. (Silence)
Q. I now show you a cycle livery hire form found in your possession on your arrest when you gave your address as North Shore, Pembroke East. Isn't this correct?"
(Silence)
Q. "It is my information that you gave George Allen the sum of $40 on Monday and that he was looking after your suit. Is that correct?"
(Silence)
Q. "On Wednesday morning when you were asked by DC White to accompany him to the police station, DC White took possession of one pair of black socks and a pair of sunshades from the basket of the cycle you were riding. Who owns these articles?"
(Silence)
Q. "Are they yours?"
A. "Yes – they're mine."
Q. "Can you tell us where you're living?"
A. "Don't ask me man. Just understand that's my business."
Q. "Is there anything you'd like to say about what we've talked about?"
A. "You aren't going to make no progress with anything else. I've said what I have to say. You were lucky finding that guy. Now take me back to my cell please."
Q. "Do you want to read over …… (interrupts) saying: "I don't want to read fucks."
Smith was further detained and at 9.45am the following day Friday, July 16 in the presence of DC Shaw, I formally charged and cautioned him with breaking, entering and theft at the Mitton's residence on the previous Tuesday. Smith replied: "I'm sorry for that there. My lawyer will take care of it."
Smith was placed before the Hamilton Magistrates' Court that same afternoon where he was charged with the Mitton indictable offences above. He was not required to enter a plea because the matter was to be tried in the Supreme Court. However, due to the pending absence off-island of the complainants until the third week of August, an early Preliminary Inquiry (PI) could not be held until after their return.
Smith was remanded to Casemates Prison pending a further mention in 14 days.
Unbelievably frustrating, and despite strong objections to bail by the Crown, Smith was released on court bail pending his delayed PI on the Mitton matters. Detectives knew full well the inevitable danger to the general public that this action portended and within a short period of time thereafter Smith was again engaging in nightly crime sprees throughout the central and western parishes.
Beginning on August 19, 1976 I was again engaged this time with DC's Chris Moyse and David Cooper in active searches for Smith after many sightings mainly in the western parishes.
SMITH COMMITS RAPE – AUGUST 20, 1976
CLICK HERE: – to read more about Smith's crime sprees one of which involved a burglary, theft and rape he committed on August 20, 1976 at a house in Southampton parish; together with events leading to his apprehension 6 days later after a chase on the Riddell's Bay golf course.
On Sunday, August 22, my diary entries record that at 8.30am I was called out by Night CID to take over daytime enquiries surrounding the night's criminal activities of 'Eggs' Smith. Searches for Smith continued over the following days which included the Spice Hill, Warwick caves during the late afternoon of Wednesday, August 25 – and again on the following day Thursday 26, when sightings and chases in the same area continued for close to three hours in the Spice Hill and Khyber Pass areas.
I was present at 2.0pm on Thursday 26, at the apprehension of Smith on the Riddell's Bay Gold Course by then Constable David Cart and Cadet Junior Durrant. [See Dave Cart's recollection of the arrest below]. On this same day the RG assisted the search effort when they highlighted on their front page:
POLICE STILL HUNT FOR 'EGGS' SMITH
"Police last night continued searching for Kenneth "Eggs" Smith whom they say may be able to help them in their investigations into a spate of housebreakings over the past week. They have been wanting to contact Smith since last Friday and anyone seeing him is asked to call the Police at 2-2222."
The following day, August 27, 1976 the RG had this to say, again on their front page:
POLICE FIND 'EGGS' SMITH
"Kenneth Maxwell "Eggs" Smith, whom Police have been searching for since last Friday, was found yesterday afternoon on Riddell's Bay golf course. A Police spokesman said that Smith was taken into custody at 1.55pm because he failed to live up to the conditions under which bail had been set.
Police Commissioner Mr. L.M. Clark said later that he would like to express his appreciation to people who cooperated with Police since a request was made to assist in the apprehension of Smith.
Mr. Clark stressed that residents of Warwick and Southampton East were very cooperative in the final operation, making possible Smith's apprehension at Riddell's Bay."
RECOLLECTIONS FROM SOME OF THOSE INVOLVED IN THIS SEARCH
During my research, I asked some of those officers involved in the search and capture of Smith for their recollections of that day. Here are the responses I received:-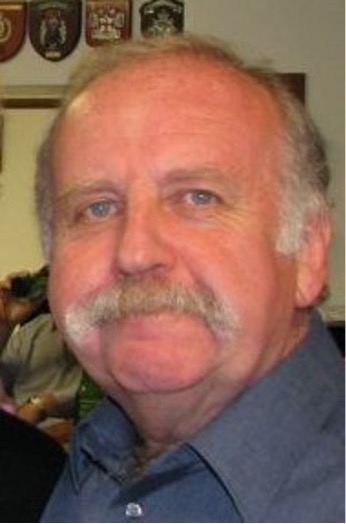 Roderick "Roddy" Barclay
Scenes of crime officer Roddy Barclay:-
"I had taken my good friends and colleagues Merv Willey and Keith Cassidy to Spice Hill Road in that little green Fiat van we were given at the time. We knew he was in the area and I found a space to park the van off the road - we all split up and ventured off in the direction of Riddell's Bay, and Ernie Moniz was unfortunately lower down the hill in the Spice woods and "came a cropper", falling headlong over a root!!!
We finally received a call that "Eggs" was in custody and we were summoned to report to HQ where the COP ("Nobby" Clark) wished to address the assembled crew and on arrival at PRC we were met with several cold ones!!!
Before all this "Eggs" had been active on Hinson's Island where he stole several boats for travel and in fact took possession of my good friend Jim Campbell's craft on the island. Jim was a longtime member of the Pipe Band."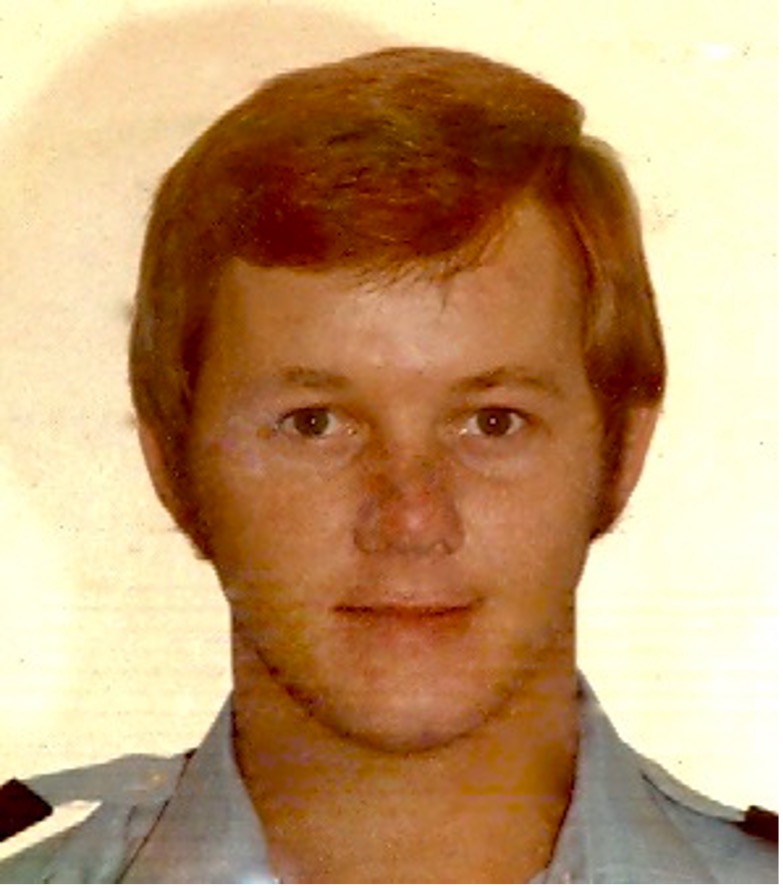 David Cart
Retired Detective Inspector Dave Cart:-
'I was serving in Central Uniform but I can't remember whether I was duty driver or on beat duties. I remember that Elton John and Kiki Dee topped the charts with "Don't go breaking my heart."
"Eggs" Smith had been on the rampage for a few days. He'd been sighted in the Riddell's Bay area and police resources from around the island were being sent in to search for him. I remember hearing on the police radio that during the chase Eggs had run out of a property somewhere near Riddell's Bay into the path of a CID car driven by Stuart Donaldson. Apparently, the car had struck "Eggs" but it didn't stop him and he got up and fled.
I didn't know that area too well. Radio messages of sightings were coming over the radio and the car I was in followed others cars along Riddell's Bay Road which leads down to Burgess Point Road. "Eggs" was sighted running across the course. The cars screeched to a halt and we gave chase on foot. There were quite a lot of officers ahead of us. I was with Junior "Meats" Durrant, who was a cadet, but had also been drafted in for the search. "Eggs" was in the distance running across one of the fairways being chased by a row of uniform and plain clothes officers who had fanned out. "Meats" and I were trying to catch up with them.
The pursuing officers passed through a row of palm trees, which I suspect from recent knowledge were those separating the 7th and 14th Fairways and ran on. As we neared the trees I could see "Eggs" further along the line of trees crouching down and moving around the tree trunk to avoid being spotted by the pursuing officers ahead of me and Junior. Junior and I moved around the embankment out of his view and cornered him.
I'm not sure if I had a riot stick or used my staff but I threatened "Eggs" with it and told him he was under arrest. He dropped to the ground and spread his arms out. He was exhausted. Junior dropped across him and we were quickly joined by many other officers who helped hold him down.
Eggs was handcuffed and put into the back of a transit "Kombie". We then drove with lights and horns in a column of vehicles along Harbour Road to the Parliament Street police station. He was taken into the parade room that separated the station's reception area from the outdoor cell complex where he was searched by CID officers who were dealing with him. I remember that during the search of "Eggs" there was money and property dropping out of his pockets all over the parade room floor.
Later that day we all went up to the Police Club for a celebratory drink for all of those involved in the search and arrest.'
Excerpt from an EXPO article written by DC Philip Bermingham
'I was transferred to Scenes of Crime not long after that and became seriously interested in photography. Les Waddell was the inspector and Paul Farrell and Cal Christopher were sergeants. Peter Clemmet and Erskine Warner were the photographers and the amazing Merv Willey taught me the nuances of fingerprint identification and tasting rums of the islands!
One of the cases I worked on was a villain by the name of "Eggs" Smith He was a serial [burglar] and would on his release from prison terrorize the island with his activities. After several weeks of incidents at which he very kindly left his fingerprints at every scene, we discovered that he was living rough in the woods in Warwick above the grocery store by Riddell's Bay.
Inspector Ernie Moniz took me to the location and as we were walking through the woods there was "Eggs" Smith large as life. We ran towards him and Ernie fell forward and slid face first down the side of a steep hill along with the only radio. I was reasonably fit at that time so I jogged behind "Eggs" until we got to the grocery store.
I rather rudely commandeered the pay phone from a very upset lady and called Ops to tell them that "Eggs" was crossing the road onto Riddell's Bay golf course
His several weeks reign of terror was rapidly coming to an end and it seemed that the entire police force was descending on the golf course. I shudder to think of the damage caused to the course by the very excited officers attending that scene. There was then a drive with the prisoner to Hamilton Police station at about 50 miles an hour during which we were fortunate not to kill anybody on the way.'
CLICK HERE: to read about DC Phil Bermingham's recollections in his excellent "Then and Now" EXPO article.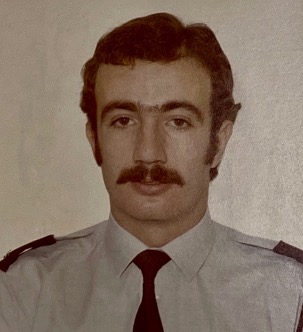 Charles Mooney
Retired Chief Inspector Charlie Mooney:-
"Here are my recollections of the morning's event of what turned out to be a very busy day.
On 26th August, 1976 I was on "B" watch Traffic, stationed in Operations, Prospect. I was assigned to Area 2 which was the west end of the Island from Cobb's Hill Road to Somerset Bridge. Sometime that morning there was a "lookout" transmitted to all vehicles to be on the lookout for an escaped prisoner called "Eggs" Smith. Then there was a report of a 'sighting' of him in the Cobbs Hill Road and Tribe Road area. I was dispatched to that area to investigate.
From then on it was a case of parking the uniform car and searching the surrounding areas and gardens, going back to the car and moving it further west, then parking up again. It seemed as though every Police officer on duty that day was in Warwick assisting in the search. At one time I remember, and I think it may have been Marjorie Amos, suggesting on the Police radio, that it would be great if we had a Mounted Section, as they would have been a great help. Ernie Moniz's response was – "There's one for the Police Magazine."
I remember hearing on the Police radio that there was a collision between two Police vehicles travelling in the opposite directions on Spice Hill Road, Warwick. This was evidence, I thought, of the fact that the search was moving west in a somewhat organized pattern. The end result was that we were all stood down as "Eggs" had been arrested on Riddell's Bay Golf Course. I was on Burnt House Hill at that time. It was then time for me to head back to the PRC for refs. On arrival at the PRC (lunch in the old bar) the Commissioner, Mr. L.M. (Nobby) Clark, came in and announced that because of the good work that had been done – "The beers are on me".
Then the phone rang at the bar and I was beckoned to it. At that time, we didn't have cell phones or even portable radios. The radios were all contained in the Police vehicles. If we were leaving the vehicle for refs, we would inform Operations, with the location and telephone number. In this instance it would have been "Tango 10, 10-11 at 261". I was told to go to Flamingo Beach, in Warwick Parish, where a male body had been discovered on the beach.'
CLICK HERE: to read an EXPO article directly relating to Constable Mooney's second duty call of the day on August 26, 1976 when he attended the location of a deceased male body on the Flamingo Beach in Warwick parish.
With Smith now in custody after his prison escape in late August, the first – of what turned out to be three consecutive trials concerning the same July 1976 Devon Heights indictment – commenced on September 20, 1976. Remember, Smith was also then on remand in prison custody pending commencement on December 6, 1976 of his August 1976 rape trial.
It is noteworthy that on each day throughout his three trials Smith appeared in the dock dressed in smart civilian clothes as if he was then a free man. Throughout the proceedings the three different jury panels were at no time informed of Smith's then 'residential status.'
THE MITTON CASE – TRIAL No.1
DEVON HEIGHTS TRIAL BEGINS
JURY VIEWS THE SCENE OF ALLEGED $5 ROBBERY
Monday, September 20,1976 saw the commencement of Smith's first trial as reported the following the day by the RG:
"The Crown's case against Kenneth James Maxwell "Eggs" Smith, 26, of North Shore, Pembroke East, on a charge of breaking into the Devon Heights home of Mr. and Mrs. Rodney Mitton last July 13 and stealing $5 continues with the Assistant Justice, the Hon. Mr. Justice Barcilon, presiding. Crown Counsel Mr. Will Francis is prosecuting, and Smith is defended by Mrs. Karen Lomas.
The first prosecution witness, Mr. Rodney Mitton of Devon Heights, Devonshire, confirmed his earlier statement to Police. He said his wife awakened him at about 5.0am. on July 13 and screamed that there was someone in the bedroom. Defence counsel said he did not say originally that she screamed.
"I don't know what woke me up," said the witness. "In my mind it was a scream."
By the time he was awake the man had gone, and he went outside to look for him. After returning to the house to get dressed, he went out again and saw a man on a motor cycle coming down the road. He stopped the rider and asked him "Where have you been?" adding "My house has been broken into."
The man replied, "Do you want to fight?" and took off down the road on his cycle.
Back at the house, he and his wife found articles scattered around the entrance and realized that they came from the wife's purse.
Mrs. W. L Mitton testified that at about 5.0am. she heard noises in the house which sounded like somebody walking on the carpet. She could hear it because it was a coarse carpet.
"I saw a dark form at the end of our bed. When I looked up, there was a person right by the dresser inside the door. I lay there for a few seconds, then I tried to wake up my husband without saying anything. He would not wake up when I nudged him, so I yelled out 'There's somebody in the room'.
The man was on his knees. He got up, turned around and went out the bedroom door.
My husband thought maybe I was dreaming, but I told him "There really was a man – I don't think he's gone." My husband went after him, he rushed out the bedroom door. I got out of bed shortly after that and followed him into the hallway. My husband had come back to get some clothes on, then he went out the front door.
When my husband came back we looked around and I noticed that my purse was missing; it had been hanging on the bedroom door, and it was gone. It was on the floor of the second bedroom across the hall, everything was dumped out of it. My wallet was on the front steps and everything was scattered around it.
"I believe there was a $5 bill missing; I am sure of it. I could hear my husband standing out on the road. When the motorbike came down the hill, I could hear him talking to the man on the road. I couldn't hear exactly what they were saying, but I heard snatches of it."
Under cross-examination by defence counsel, she said she and her husband picked up credit cards and "everything else strewn on the steps." She believed she had a $5 bill in her purse, but could not be positive whether it was one bill or three ones and a two.
The Judge said she was quite sure of the amount though not of its composition.
"We haven't got $2 bills," he added. He asked if there was any particular relevance to defence counsel's question whether the $5 was the wife's. Crown Counsel might wish to amend the charge on this point.
Questioned by Mr. Francis, Mrs. Mitton said she did not work, but "As far as I am concerned the $5 was ours, it was not his or mine. I work in the home and don't get paid."
Mr. Francis: "I think we have proved that it was joint property."
The Judge said it could be termed her property if she was in possession of it.
Mr. Francis decided to amend the charge to read that the stolen money was the property W. L. Mitton.
The next prosecution witness was Mr. Luthan E. D, manager of the cycle department of Burnaby Ltd. on Dundonald Street. He recognized the defendant as the man who came into the shop on July 12 "to check if we had a cycle to rent. He came back in the afternoon to get one."
Witness confirmed from his record book that the man rented Mobylette B089 for four days for $25 plus a $50 deposit, signed a form and was given a receipt.
"The following day he brought the bicycle in because it didn't seem satisfactory. We don't argue with customers, we just change it. He said he was getting a certain vibration from it. I gave him B111."
Cross-questioned by defence counsel, the witness said it was quite possible he had first said the man was wearing a suit, but he did not remember now how he was dressed. He might have seen the man before.
A statement by DC Sinclair White was read to the court.
While on patrol in an unmarked police car at about 9:30am on July 14, he received information that Smith had been seen on Church Street outside the Buckaroo. Smith was escorted to Hamilton Police Station on the cycle he was riding. The cycle basket contained a pair of black socks, an open package of Marlboro cigarettes, and a pair of dark shades with gold rims."
At this point the jury forewoman told the court that members would like to visit the scene, and this was arranged for 2:30pm.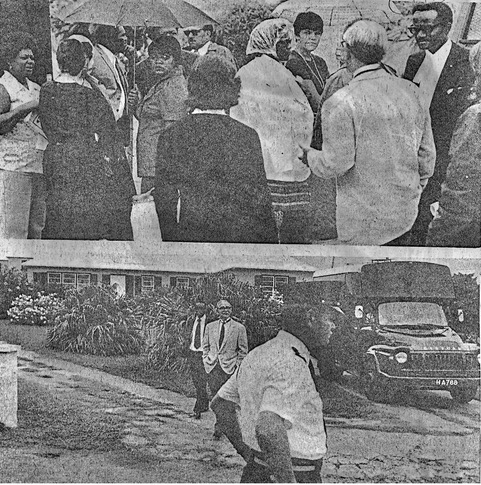 A SUPREME COURT JUDGE, counsel and jury (top) yesterday
visited the Devon Heights area where Kenneth James
Maxwell "Eggs" Smith is charged with breaking, entering
and stealing. Above: The Assistant Justice, the Hon.
Mr. Justice Barcilon (in light coat) at the alleged burglary
scene. A Police officer [Insp. Joe Colton] stands by in foreground.
"Following the visit to the Mitton home by court and jury, the prosecution called DC Stephen Shaw, who said Smith was in possession of $319.94, a brown leather belt, black shoes, a wool hat and cycle keys when taken to the station.
DC Shaw showed Smith's cycle to Mr. Mitton and recorded his statement.
The witness was sure the cycle was blue, and thought it was a Peugeot. The Judge noted previous evidence that it was a Mobylette.
At 2:45pm. the same day, DC Shaw made a written record of an interview held by Sgt. Rose with the defendant at the central C.I.D. Smith declined to sign the record.
On July 16, when charged at Hamilton Police Station, Smith said "I'm sorry. My lawyer will take care of it." He did not sign the charge sheet but was given a copy.
The witness denied defence counsel's suggestion that Smith had been told that if he admitted the charge, he would probably have a choice between trial in magistrates and Supreme Courts, and that Police had told him "We can fight dirty too."
After the afternoon interview, the defendant had asked Police to call his lawyer.
Det. Sgt. George Rose said he got livery cycle B089 from Burnaby Ltd. on July 13 and took it to Hamilton Police Station. Next day he interviewed Smith and instructed DC Shaw to make a record of it.
Mrs. Lomas made a motion that Smith's statement was inadmissible as evidence. The jury was dismissed while legal arguments were heard."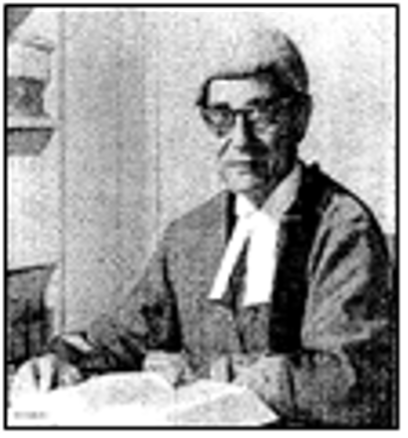 Hon. Justice Mr. Hector Barcilon
JURY FAILS TO REACH DECISION IN SMITH CASE
As reported by the RG the following day:
"Assistant Justice, the Hon. Mr. Justice Barcilon set the retrial for October 4 – the opening of the next session – after the Jury chairman said they would not be able to reach a verdict even if given more time.
Smith of North Shore, Pembroke East, made an unsworn statement from the dock during yesterday's proceedings which started at 10.30am. He denied breaking into the house and claimed conversations with Police officers were never recorded and denied making a statement to the Police in which he was alleged to have admitted the offence.
"I didn't break into any house. There wasn't any statements taken when I was in Police custody. I didn't make a statement that the Police say I did, admitting the offence. I wasn't saying anything to the Police other than asking for a phone call," said Smith.
"When the Police officer came to see me I was asking for a phone call and to see a lawyer."
He claimed that the Police threatened him that if he did not "come clean" with them they would not "come clean" with him.
"I was in the lock up and he (Police officer) approached me and I told him I was trying to get a phone call. He refused to take my phone call. Not only that, they have told me if I didn't act right with them, they wouldn't act right with me."
He said he eventually made a telephone call to his lawyer.
"Not only that but somebody had put down in the book that I had seen a lawyer when I had seen nobody.
"I didn't break into anyone's house. I was minding my own business. I was going away at the time when the Police picked me up.
"I was about to get my pictures taken for my passport. I am not guilty of the charge."
Before Smith made his unsworn statement, Det. Sgt. George Rose told the court about three interviews he had conducted with Smith. The first two interviews took place the day after the alleged offence, July 14, at the Central C.I.D. office. Dc Stephen Shaw was present at the interviews to record what was said.
D. Sgt. Rose read out the first statement in which he told Smith he had reason to believe that Smith was the man Mr. Mitton had seen the night of the offence riding a cycle down the road.
Smith said: "I should have smacked him in the mouth. That would have kept him quiet."
Smith remained silent when asked if he had broken into the house.
Sgt. Rose asked: "Do you remember a man stopping you?"
Smith: "The fool. He was half dressed. What was I supposed to know?"
Rose: "Why were you at Devonshire Heights yesterday?"
Smith: "I don't want to say my business. I don't want you guys hassling my friends."
Rose: "Do you realize the position you are in?"
Smith: "I can't be bothered going through all those changes. Now let him prove it was me."
Smith was then taken down to the cells.
The same afternoon Sgt. Rose said Smith wanted to see him. Again, DC Shaw was present.
Smith said: "I am going to put it to you like this. I only got a few dollars. I didn't mess with the man. I was thinking about it. I never touched him. I entered the house and took some money."
Rose asked: "Am I to understand that you entered Mr. Mitton's house and stole the money?"
[Smith]: "Is that the man who stopped me?"
Rose: "Yes."
Smith: "You got what happened."
Sgt Rose asked if Smith wanted to make a statement to which he replied:
"Don't worry about it. Leave it like that there."
Sgt. Rose then told the court about the third time he saw Smith two days later when he was formally charged and cautioned.
Smith said: "I am sorry for that there. My lawyer will take care of it."
Defence counsel, Mrs. Karen Lomas, cross-examined Sgt. Rose and asked if Dc Shaw had read over the statements to the accused. The reply was no.
Mrs. Lomas: "Did you ask the accused if he wanted to alter or amend anything on the record?"
Rose: "No."
Mrs. Lomas: "Is it not normal procedure to read the record over to the accused?"
Rose: "It is normal procedure."
The Judge asked why normal procedure had not been complied with on this occasion.
Sgt. Rose replied: "The accused's attitude didn't make it possible to comply with normal procedure. He didn't wish to make a written statement in his own hand or mine at his dictation. But he wasn't averse to speaking with us and having these conversations recorded. He saw what was happening. The interview deteriorated towards the end and the accused's attitude deteriorated."
Mrs. Lomas sat down and the Judge pointed out that she had not presented her client's case to the Police officer.
She stood up again and said:
"He didn't see you making any records in either of the interviews."
Sgt. Rose replied: "It is not true that no written records were made. I was there."
Mrs. Lomas called no witnesses for the defence.
Mr. Will Francis, Crown Counsel, briefly summed up pointing out that there was no dispute about a break-in at the home of Mr. Mitton nor the time and date. Neither was it disputed that the accused hired a bicycle the day before the offence and was riding it along the road shortly after the offence was committed.
Mr. Francis pointed out that Mr. Mitton stopped a man riding the cycle outside his home and identified him in court as the accused.
"The case hangs to a large extent on whether you believe the accused did or did not make those statements to the Police. You must decide whether you believe the two Police officers or the accused that no written statements were taken and you must ask why the Police officers would concoct these records. This is the hub of the matter," he said.
Mrs. Lomas confirmed that the time and date of the offences were not disputed and neither was the fact the accused had hired a cycle and was riding it along the road near Mr. Mitton's house the night of the break-in.
She asked that if, as the Police alleged, Smith had opened a door and removed a screen door, where were the fingerprints.
"I ask you to use your imagination. Is it likely that this man who knew he has been deprived of his rights is going to say something to the policemen that he was in this house?" she asked.
"The accused says he never made a statement or saw a record being made of the interviews."
The Judge took about 30 minutes to sum up [on Tuesday afternoon Sept 21] dealing with the jury's role and explaining the difference between proof and circumstantial evidence. He explained that if the accused had given evidence on oath, he would have been liable to cross-examination. But as he gave an unsworn statement from the dock, no one could cross-examine him.
He also said that if the jury wished to give more weight to the sworn evidence of the Police officers' they were at liberty to do so.
"The Jury is more likely to give far greater weight to evidence on oath tested by cross-examination and supported by the sanctity of the oath itself," said the Judge.
"This case will turn on the interviews which took place between the accused and the two Police officers. Try to recollect what sort of impression the two Police officers made on you as they gave their evidence. Was there any motive suggested for lying? You may think they were clear cut in their evidence.
You have the unsworn statement from the accused that these interviews never took place. What, in fact, the accused is saying is that after these interviews the Police officers put their heads together and concocted their stories."
He said Mrs. Lomas seemed to have abandoned her client's line of defence and instead cast doubt on the Police statements.
After an hour's deliberation the jury returned to ask the Judge when Police officers caution a person. They then retired for another 20 minutes before announcing their inability to reach a majority verdict."
In the late afternoon of Tuesday, September 21, 1976 Kenneth James Maxwell "Eggs" Smith was ordered to stand trial again in the Supreme Court after the jury announced it was unable to reach a majority decision. The jury foreman [who was a female] announced after one hour twenty minutes that the 12-man jury [actually 7 females and 5 males] was deadlocked – six members said Smith was guilty and six not guilty.
Judge Barcilon ruled Smith, aged 26, charged with breaking and entering the Devon Heights home … should remain in custody pending his retrial. The judge ordered a re-trial to commence on September 28, 1976.
COMMENTS FROM WITHIN THE JURY ROOM DURING DELIBERATIONS
Later that evening I received the following information from a jury person, and reported it accordingly to the Commissioner of Police: –
That the jury had been split along entirely racial grounds – as was the makeup of the jury. I was informed that a stand-up argument had taken place during deliberations between the forewoman and a named female jury member who argued against a 'Guilty' verdict on purely racial grounds, and without due regard to the trial evidence. The jury member, supported by another named female, had stated that she would never convict a black man for breaking into a white person's house when all the evidence against the prisoner was from white people.
I was further informed that this same jury member had been strongly racial in her decision and had had no regard for the evidence presented. She had carried the remaining five black jury members with her against a 'Guilty' verdict although two of them had initially been in favour of finding for a 'Guilty' verdict. This same female jury member further stated in the jury room that "all CID officers lie against black people and she doesn't trust any of them."
Two days later, on Thursday, September 23, 1976 Smith appeared in the Hamilton Magistrates' Court to face the following list of indictable charges laid against him:
TWELVE INDICTABLE CHARGES ARE READ TO 'EGGS' SMITH INCLUDING ONE OF RAPE
"A dozen charges, including one of rape, were read to Kenneth James Maxwell "Eggs" Smith during a brief appearance in Magistrates court yesterday, before the Senior Magistrate, the Wor. Richard Hector.
Crown Counsel, Mr. Robin McMillan requested an adjournment until October 1 pending other charges, he said.
Smith told the magistrate that he wished to know what charges that Police had laid against him, and the magistrate read out the charges which are all indictable. Smith was not required to plead.
The charges are:
That between 19 and 20 August, he broke and entered a dwelling house and stole a wrist watch;
That on August 20, in the night time he broke and entered a dwelling house and raped a woman and stole $60 cash;
That on August 21, he broke and entered a dwelling house in Warwick;
That between August 21, and 22, in Smith's Parish he prowled about a dwelling house;
That on August 22, he broke and entered a dwelling house and stole $900 worth of merchandise – he stole two stereo speakers and a radio to the value of $230, with an alternative charge, that he received two stereo speakers and a radio knowing they had been stolen;
That he broke and entered a dwelling house and stole a briefcase, eight keys in a leather case and a pair of trousers with an alternative charge, that he received a black briefcase, eight keys in a leather case and a pair of trousers whilst knowing they had been stolen or unlawfully obtained;
That on August 22, he broke and entered a dwelling house and stole a portable radio, earphones and two watches with an alternative charge, that he received a portable radio, earphones and two watches well knowing they had been stolen;
That he took and drove away a livery cycle the property of Coral Island Livery;
That without lawful excuse, he entered a dwelling house.
Smith was remanded in custody until October 1 when a preliminary inquiry date is expected to be set."
MITTON CASE – RE-TRIAL No.2
GHASTLY CONFUSION' ENDS TRIAL No.2 – ANOTHER SMITH RE-TRIAL ORDERED
On Tuesday, September 28, the re-trial of Kenneth Smith accused of a $5 burglary ended abruptly when the judge discharged the jury in the case and spoke of "gross negligence" and "ghastly confusion". Assistant Justice the Hon. Hector Barcilon was about to begin his summing-up in the 2nd trial of Kenneth James Maxwell "Eggs" Smith, when it was brought to his attention that a woman juror in the re-trial had also sat on the first trial. Smith's re-trial had started on that Tuesday, and both prosecution and defence had finished their cases when the jury slip-up was discovered.
As reported by the RG the following day:
"This 2nd trial ended with a hung jury. The judge discharged the jury yesterday and told them:
"There has been gross negligence on the part of many, many people, and I sincerely hope it will not happen again. Please forgive the inconvenience which has been caused. Thank you for attending, and I apologize for this ghastly mistake."
Supreme Court Registrar Mr. Austin Ward refused to comment yesterday on how the same woman came to be called for both trial and retrial and could not say how much the interrupted retrial would cost in public money. Neither could he say when the retrial would start again.
After the slip-up was discovered yesterday, the judge asked Mr. Will Francis, prosecuting, and Mr. David Cooper, for Smith, if they were agreeable to proceeding with 11 jurors, as the law allows where both parties agree. But Mr. Cooper said he felt the trial should not proceed.
Between the 2nd and 3rd Devon Heights re-trials, the following Prosecution and Court related activities took place as noted below:
SMITH'S PRELIMINARY INQUIRY ON RAPE CHARGES BEGINS
On Monday, October 18, 1976 Smith's Preliminary Inquiry (PI) into the rape charges against him commenced in Hamilton Magistrates' Court and was later adjourned to allow lawyer Wendell Hollis to examine a number of case related exhibits. Mr. Hollis accepted their existence and the paper PI was successfully accomplished the next day with the result that Smith was committed for trial in the Supreme Court. Smith was again remanded in custody.
SERVICE ON SMITH OF PREVENTIVE DETENTION APPLICATION
On Thursday, October 21, I served preventive detention papers on Smith at Casemates prison in presence of prison commissioner Mr. Pringle and DS Barber.
SERVICE ON LAWYER WENDELL HOLLIS OF PAPERS DETAILING ADDITIONAL EVIDENCE AGAINST SMITH
On Thursday, October 28, I served additional evidence papers on a new lawyer Wendell Hollis on behalf of his client Kenneth Smith.
SMITH ARRAIGNED AT SUPREME COURT WITH TRIAL DATE SET
On Monday, November 16, 1976 Smith appeared at his Supreme Court arraignment on charges of burglary and rape at which time his trial for these offences was set down to commence on Monday, December 6, 1976.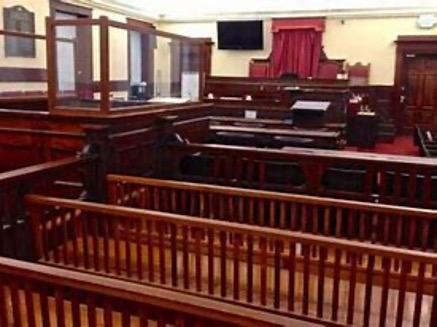 Thd Bermuda Supreme Court
MITTON CASE RE-TRIAL No. 3
Kenneth James Maxwell "Eggs" Smith stood trial for the third time on Tuesday, November 30, 1976 on a charge of burglary. Smartly dressed as before in a jacket and tie, Smith represented himself from the dock.
THIRD 'EGGS' SMITH TRIAL HAS STARTED
On Wednesday, December 1, 1976, before a different Puisne Judge, the Hon. Mr. Justice Seaton ultimately discharged the jury for a third time after the foreman told him that he did not think they would be able to agree even with more time. Smith had represented himself and proceedings were reported, in part, by the RG:
Witnesses included Mrs. Mitton who again repeated her evidence for the third time at the end of which she said she could not say whether the man in the bedroom was the defendant.
"…..… [MR.] Mitton told the court he put on some shorts and ran out on to the estate road in front of his house. The road, he said, went from the South Shore Road in Devonshire, into the estate, where it became a dead end. After he had stood for two or three minutes on the road, he said he saw the light of an auxiliary cycle coming towards him. He waved at the rider to stop.
He said the cycle could have passed him as the road was wide enough, but the rider stopped. Mr. Mitton aid when he asked the rider, whom he identified as the accuse Smith, where he had been the cyclist asked "Do you want to fight?"
[Mitton] said the rider started to take off on his cycle towards South Shore Road, but he grabbed the cycle basket and saw the cycles number plate which was 089 – he did not see the letter – on the plate. Mr. Mitton said he could see the cycle rider clearly and identified him as the accused.
Under cross-examination by the defendant, Mr. Mitton said he did not yell or raise his voice when talking to the cycle rider. Smith accused the witness of testifying differently at former trials, but Mr. Mitton said his evidence had always been the same.
"Smith first stood trial for the offence on September 20, and a retrial was ordered when, after an hour-and-a-half, the jury could not reach a decision. On September 29, the second trial was stopped because a woman juror was found to have sat in on the first trial.
Crown counsel, Mr. William A. Francis, told the eight-woman, four-man jury yesterday that breaking into a house was a "very serious offence" even though in this case only $5 was stolen.
The cycle livery manager next repeated his evidence as before, following which I again repeated my evidence as reported, in part, below:
"Detective Sergeant George Rose told the court that on the morning of July 14 he interviewed Smith.
The jury was dismissed for half an hour because the accused objected to the production of a record of the interview by the witness. After legal arguments, the Puisne Judge, the Hon. Mr. Justice Seaton, ruled the record admissible.
Det. Sgt. Rose said Smith refused to sign the record. According to this record, when Smith was asked about the early morning incident on the estate road he said:
"I should have smacked him in the mouth that is what I should have done. That would keep him quiet."
Det. Sgt. Rose said Smith was shown the livery cycle B089 which the police had taken possession of and he was cautioned and arrested. Later the same day the witness said he went to the cells where Smith was detained.
He said the accused told him:
"I am going to put it to you like this. The truth. I only got a few dollars. I didn't mess with the man. I was thinking about it. I never touched him."
Smith told Det. Sgt. Rose he did not wish to make any further statement about the incident.
On July 17 the witness said he formally charged the accused with burglary and, he said, Smith replied:
"I am sorry for that there. My lawyer will take care of it"
He refused to sign the charge sheet.
When cross-examining the witness, Smith accused him of threatening him and "cussing" him at the police station. Det. Sgt. Rose said he had not done so.
The witness also denied refusing Smith the right to a telephone call to his lawyer. "I am accusing this man of lying against me," Smith told the court."
A 4th TRIAL IS ORDERED IN THE MITTON CASE
"Smith first stood trial on September 20 and a re-trial was ordered when the jury could not agree after an hour and a half.
On September 29, the second trial was stopped after it was noticed that a woman member of the jury had also been sitting in the first trial.
Earlier [in this third trial], Smith, speaking from the dock, had denied breaking into anyone's house. He said Det. Sgt. Rose was lying in claiming he had admitted the offence at the Hamilton Police Station.
He also claimed Mitton was lying in saying he identified him on the night of the break-in, in the vicinity of Devon Heights."
Justice Seaton then ordered yet another trial of "Eggs" Smith – potentially the fourth trial – but in so doing he added:
"It will be for the Attorney General to decide if he thinks it is desirable to bring this case to trial again."
Late that same Wednesday afternoon, December 1, I attended Chambers where, in company with the Attorney General and Crown Counsel William Francis the decision was made to NOT try Smith again in this matter.
SMITH'S RAPE TRIAL BEGINS
The following Monday, December 6, Smith's burglary and rape trial began. Two days later the jury returned a Guilty verdict at which time as officer in charge of the case, I was called upon to provide the court with Smith's antecedent history.
SMITH'S ANTECEDANT HISTORY IS PRESENTED TO SUPREME COURT
I informed Mr. Justice Seaton that Smith was a 27-year-old Bermudian who had been unemployed for a considerable number of years. I said that Smith had spent several periods in St. Brendan's Hospital and had been known to be unpredictable. He had a tendency to be influenced by other criminals but often worked alone, as he did in this case.
I said that Smith had lived on the proceeds of his crimes for several years, with no proper home beyond prison. His family life was non-existent and he had often used drugs as a means of combating life's problems.
I told the court that Smith had been disowned by his father and was completely beyond the control of his mother whom he rarely saw. Of particular concern, I said, was that Smith had been on police bail when these offences were committed.
I went on to say that Smith's previous convictions during his adult life dated back to June of 1966 at which time he was given a period of corrective training for trespassing in multiple dwelling houses and for prowling together with an offence of breaking, entering and stealing.
In June 1967, he received more corrective training for unlawfully trespassing in a dwelling house and violently resisting arrest.
In December of 1968, he had been sent to prison for four months for shoplifting.
In January 1969, Smith was sentenced to six months in prison for burglary, and later that same year he was ordered to receive treatment at St. Brendan's hospital.
In August of 1970 he was given a conditional discharge and returned to the hospital for stealing by way of finding.
In February 1971, he received a sentence of three and a half years for housebreaking, unlawfully wounding a Police officer, possessing a dangerous weapon and violently resisting arrest.
In 1973 Smith had been sentenced to four years' imprisonment for housebreaking and theft.
IN MITIGATION
"Smith's defence counsel Mr. Wendell Hollis, spoke in mitigation on behalf of his client, and told the court that his client could not help the court as to what happened on the day of the offence because he could not remember what had happened at that time.
Mr. Hollis said the reason he can't remember is because he was under the influence of drugs and drink to a very deep extent at this time. The reason he took these drugs and drinks arose out of a feeling of depression on his part. He felt persecuted by the Police and because he could not find a job. This is regrettable and sad, he said.
Mr. Hollis said Smith's whole life, from the age of 11, had been very sad. He was first sentenced to corrective training when he was 11. This form of treatment at such an early stage in his life may have led him to this courtroom today, said Mr. Hollis.
Smith could not read or write adequately and this lack of ability could affect one greatly in life. He said that the last time Smith was released from prison no rehabilitation was undertaken even though Justice Seaton himself had suggested it should be at the time. There were no proper institutions in Bermuda to deal with persons like Smith, said Mr. Hollis, although such institutions from which he could probably benefit greatly, did exist in other places.
Mr. Hollis strongly urged that all steps be taken to rehabilitate and train Smith and that this should be on the conscience of the prison service and the social services. His client should not be ignored and he should be looked upon with compassion – and not in a way which would lead him to believe there was no hope for him. Everyone should have hope in life and that, more than anything else, should not be taken away, said Mr. Hollis.
Mr. Hollis told Justice Seaton that he was distressed that an application had been made for preventative detention because he believed it was a harsh and outmoded concept. Mr. Hollis asked Mr. Justice Seaton to give Smith as much mercy as he could find.
Smith told the Puisne Judge that he had not been given any help with rehabilitation when he had been released from prison and that he found it hard to cope. He said he felt he was deprived as a child and corrupted at an early age. He claimed that Police treated him like an animal, chasing him about and trying to make a fool of him in front of his friends."
"EGGS' RETURNS TO PRISON
At his sentencing on Friday, December 10, 1976 the Bermuda Sun reported:
"Puisne Judge Mr. Justice Seaton deplored the fact that there was no alternative to prison when he sentenced Kenneth "Eggs" Smith to 10 years preventive detention at Supreme Court yesterday.
Smith was found guilty of the rape of a woman in her house and the theft of $55.
Mr. Seaton said that defence counsel had brought to the attention of the court matters which for some time had caused distress to some people whether or not they were concerned with the administration of justice.
Noting that Smith had been in trouble with the law since he was a child. Mr. Seaton said:
"We live in a community here which is small and rather tightly knit. If a child is so unfortunate as to get in trouble at an early stage, unless great care is taken, there is likely to follow a depressing pattern of repeated periods of custody in one institute or another.
"Eventually the child grows into a man, at Casemates Prison, and sometimes more time has been spent removed from society than involved in it. The result is difficulty adjusting to that society outside prison when sentence has been served. And so there is another offence committed, another return to prison and so on.
"In some countries, there is the possibility of removal to another state, and the individual has a hope of starting a new life free of stigma. That possibility does not really exist in Bermuda. Hence the greater difficulties for a person in Bermuda, having previously been in trouble, who wishes to go straight.
"Half-way House provides some form of assistance but it is clear that this is not enough. What seems to be needed is some sort of system midway between a prison and complete freedom that would permit persons to work and live-in after serving their sentences and before full return to normal life in our society."
The Judge urged that everyone concerned with the well-being of the country should try to find a solution to the problem. He said he was of the view that he could not do otherwise than order that Smith be detained for a period of preventative detention for ten years."
Four months later, in April 1977, the travelling Court of Appeal reduced Smith's sentence from 10 years to 7 years for the burglary and rape crimes.
CLICK HERE: to read about the case of the barefooted rapist: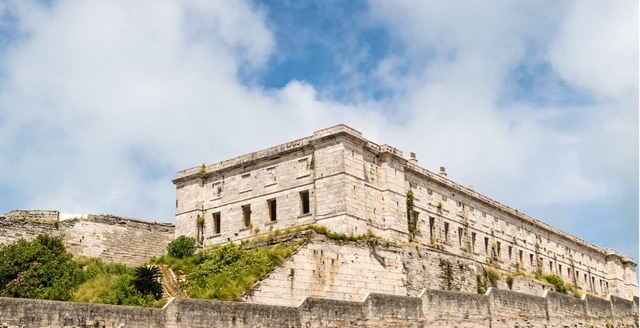 Casemates Prison shortly after its closure in 1994
1983
Due to the provisions of his sentence of preventive detention, Smith served his full 7 years and was released from Casemates prison in late 1983.
On Wednesday, December 14, 1983, almost immediately after his release, I commenced an Action Book relative to a series of B/E/S reports in the Paget area during the previous night. The suspect was "Eggs" Smith. I continued to run the Action Book and coordinate response teams over the Christmas period and into February of the New Year 1984.
1984
Smith was taken in custody on Friday, February 10, 1984 and on the following Tues. Feb 14, I was engaged in discussions with DCI Jackson and DI Perinchief over the disposition of "Eggs" and related matters. He was charged with indictable offences and again remanded to Casemates.
ANOTHER ESCAPE, ANOTHER CRIME SPREE BEGINS
"Eggs" again escaped Casemates Prison on Tuesday night, March 6, 1984 and, during the following Wednesday morning, working as a Detective Inspector at Hamilton CID, I coordinated a response to yet another crime spree by Smith. The (Smith) Action Book was again reactivated after reports of 17 residential burglaries during the following two-night period. It was evident from these reports that Smith's crime spree had once again begun in earnest. Working during that day and evening with DS Adams, DC's Railton, Bean and Simons we searched in areas along Ord Road, Paget and Warwick parishes; Court Street and Central parishes.
Planning also began that Wednesday morning whereby a special police task force was hurriedly compiled after the securing of additional personnel from other departments within the force. The task force was to begin operations at 10pm on Thursday, March 8, when I would lead teams in the search for Smith at set locations along the railway trails in the Paget and Warwick parishes. The remainder of that Wednesday, 7, was spent in searches on Court Street and throughout the Central parishes in an attempt to locate and arrest Smith as soon as possible. No sightings of him were made.
My duty diary reads (in part) as follows:-
On Thursday, March 8, 1984 I was engaged between 11.0am – 1.0pm on various planning aspects for that night's operation.
At 10.0pm. that night I was engaged on special observations for burglary suspect with 3 x 2-man teams working along sections of the Paget parish railways tracks. Static teams were sectionalized to areas 1, 2, and 3 between Cobbs Hill Rd, Warwick - eastward to the Grape Bay / Trimingham Hill tunnel area to include covert patrols in the Tanglewood, Highwood and Inwood properties. No gain. Off duty 05.45am Friday 9.
10.0pm. Briefed special patrol officers working sections 1,2, & 3 of the railway tracks.
Then engaged on surveillance and silent patrol of central tracks. Numerous reports of breaking, entering and thefts were received throughout the evening in Paget parish which were attended by the regular night duty CID officers.
SCREAMS IN THE NIGHT – A SIGHTING OF "EGGS"
At 3.00am together with Det. Sgt. Denis Brookes and two plain-clothed officers, I waited silently in the pitch blackness of the night, concealed on the tracks just west of the Rural Hill tunnel. Suddenly, there came from our southwest the shrieking scream of a man's voice. We broke cover and ran west onto and along Grape Bay Drive towards the screams. In the light of a single bulb high on a pole I saw a man dressed in light-colored pajamas running down the slope towards us. His screams had shattered the stillness of the night. He was clearly very frightened. The man threw himself into my arms and as I shook him loose, I said, "We're police officers. What happened."
At this moment I recognized who the man was. I questioned him further as he breathlessly told us, "He's a big fella. He's in the house."
Resulting from what he then blurted out, DS Brookes and the other two officers continued their run up the Drive towards the man's house where they caught a glimpse of "Eggs" Smith and took up the chase after him. Smith evaded capture and disappeared into the darkness.
The author recalls details of what the man had told us – but that conversation remains undisclosed to this day.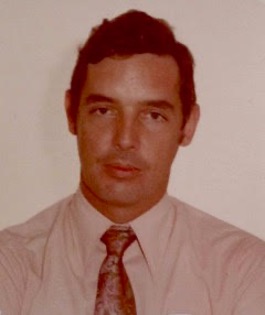 Denis Brookes
Property was found and seized in the grounds of the residence belonging to Harry Soares on Grape Bay Drive, Paget.
[See below for the Headline news reported in the RG two days later on Monday, March 12].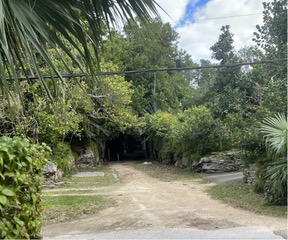 PAGET RAILWAY TRAIL LOOKING EAST TOWARDS RURAL HILL TUNNEL
PHOTOGRAPHED FROM THE TRAIL'S CROSSING AT GRAPE BAY DRIVE
MP DISTURBED ISLAND'S MOST WANTED MAN
The RG on Monday, March 12, 1984 broke the news that:
"Paget West MP Mr. Harry Soares came face to face with Bermuda's most wanted man during the early hours of Saturday morning – and ended up chasing him down the street.
Mr. Soares, whose home on Rural Hill is just 100 yards from the Premier's and 200 yards from Chelston, the American Consul's residence, was disturbed at 3.0am. after his dog started barking outside. He went to the window, saw nothing, and went back to bed. Then his wife noticed that the family room light was on.
Concerned for the safety of his wife and two children, aged four and two, he went to investigate and found a man bent over a chair going through Mrs. Soares' purse.
Using a piece of cedarwood he intends to fashion into a lamp stand, Mr. Soares tried to stop the intruder.
"He was a huge black guy and when I went to try to restrain him he gave me a push, as if I was a child and I went flying across the room."
Despite bruised ribs and a sore ear, the MP gave chase to the intruder, calling all the time for the Police, who appeared, he said, within seconds but not in time to catch their man.
[The author remembers a somewhat different version of this event.]
"Mr. Soares offered some advice to the public following the incident:
"I would like everyone to make sure that their house is as secure as possible and I recommend buying an air horn. One went off in Paget the other morning and everyone around could hear it."
Police Crime Prevention Officer Sgt. Roger Sherratt also praised the virtues of air horns which he said were effective and could easily be obtained from marine shops."
POLICE SAY BIG THIEF COULD BE DANGEROUS MAN
The RG of the same date added the followed article:
"Extra Police patrols are hunting a dangerous man who is believed to be behind a spate of crimes in different parts of the Island during the last few days.
During one incident in the early hours of Saturday morning, Paget West MP Mr. Harry Soares caught an intruder in his home going through his wife's purse and after a tussle chased him out of the house.
A Police spokesman yesterday warned the public not to approach the suspect, who was described as a black man, six foot two or three inches tall, bearded, wearing dark clothes and sometimes a red woolly hat.
He is thought to be responsible for a series of break-ins in Paget, Spanish Point and Pembroke.
On Thursday there were a total of eight break-ins in the Trimmingham Hill area and on Friday night/Saturday morning another nine, mostly in the Rural Hill area.
There were other related incidents reported earlier in the week. Saturday night was described as quiet by a Police spokesman.
Deputy Commissioner Clive Donald said yesterday he would like to assure the public everything possible was being done to apprehend the culprit.
"We have a large number of Police officers on extra patrols and we are searching for one particular individual," he said.
The suspect has several times been interrupted by the occupants of houses he has entered and has managed to steal very little. In some cases he has been able to walk into houses that were not properly locked up but on most occasions he has broken in.
The Police spokesman yesterday offered the following advice:
"We suggest that people make sure that their homes are properly secure before they go to bed at night. Whenever possible they should draw curtains and close shutters and leave outside lights on.
"If they hear any suspicious noises, particularly during the early hours of the morning, they should call the Police on the emergency line, number 22222. If in doubt…. call."
Continuing the task force surveillance at 10.0pm on Monday, March 12, 1984 I briefed search team members and left with them to assigned railway track positions throughout Paget and Warwick parishes.
The teams were stood down at 6.0am Tuesday 13th with no gains.
PROTECTING THE PUBLIC
On Tuesday, March 13, 1984 the RG Editorialized as follows:
"Hardware stores are selling out of warning devices.
Women are circulating petitions calling for the Police to import tracker dogs.
People are leaving their homes and moving in with other families.
Families are putting locks on their windows and even replacing their doors with something more substantial.
And you can bet that it will all lead to more Neighbourhood Watch groups.
Why? All because of what appears to be a one man crime wave, heavily concentrated in the Spanish Point and central Paget areas.
But it is more than that. It is genuine fear because Bermuda is a small place and the public knows the danger. People know the dreadful potential of the person the Police are seeking. They also remember the last time.
It is fair to say that the horror stories circulating freely about break-ins and attempted break-ins, about unscrewed light bulbs and the lack of protection from even Dobermann pinschers are very widely accepted.
Never mind the potential danger, just the fear makes it imperative that this suspect is apprehended as quickly as possible.
Fear is causing Bermudians, especially women, to change their lifestyle. They are frightened to be alone; frightened to go out because they fear returning to an empty house and they are locked in when they are at home. This is especially important in a service industry Country where many people must work at night and their livelihood depends on them being mobile after dark.
We know that as a result of yesterday morning's headlines and this editorial we will be criticized as alarmist. Much better that, than one person go unwarned and be injured. The fact is that people need to be warned so that they can take whatever measures necessary to protect themselves.
We do not believe that this is simply a thief bent on finding an empty house from which to steal an easily sold video. This is a dangerous man.
We understand that the Police are keeping watch and stepping up patrols. That is good and as it should be.
In addition, we believe that Bermudians have a right to know when they are in danger, especially when they are in danger in their own homes.
Unnecessary alarm is one thing. Ignorance of the possible danger existing in our community is unacceptable. In any case, the rumours are rife and may well be worse than the truth. This is a case where the truth is necessary.
There is a dangerous man on the loose breaking into people's homes, whether they are there or not, and he has the potential to be violent. You need to know that.
He went in to Rural Hill House in Paget and was discovered at 3.0am. by MP Harry Soares. That house is next door to the Premier's home, which is guarded, and across the street from Chelston, the American Consul General's home, which is also guarded.
If he will go into that area, he will go anywhere.
The whole situation raises a large number of questions. The primary question is:
Why is he on the loose in the first place? To that the public deserves an answer.
We call upon those responsible for public safety this morning to assure the public that everything possible is being done to capture this man. We also call upon them to assure people that if outside help is needed, it will be obtained as quickly as possible.
But for now, remember that Bermudians are awake in their beds."
MP's CALL FOR HELP TO END 'CRIME WAVE'
An additional article in the RG also on Tuesday, March 13, 1984 reported:-
"Nineteen Members of Parliament were last night behind an appeal to the Governor to allow Police to bring in outside help to stem the "crime wave" sweeping some areas of the Island.
During an emotional debate in the House of Assembly last night, MPs discussed the spate of burglaries and break-ins which reached a peak at the weekend.
The 19 MPs signing a petition to the Governor, Viscount Dunrossil, are asking him to allow Police to bring in a tracking dog and handler in an all-out attempt to catch thieves responsible for the crimes.
"It is time to stand up and be counted," said Government MP Mr. Harry Viera.
"The time is now to act before the situation gets worse."
He said a tracking dog could help Police in apprehending at least one thief known to be operating in the Paget area. In a two-day period last week there were a total of 17 break-ins reported in the Trimmingham Hill and Rural Hill areas. "We would be abdicating our responsibilities if we refused to act on all fronts," Mr. Viera said. He added that "Draconian" measures were needed to fight the crime wave he had long predicted would come about.
The issue was raised following yesterday's budget debate session, which wound up at 7.30pm., during the motion to adjourn. "Where are we going?" asked Mr. Harry Soares (UBP) in an emotional speech outlining his own "petrifying" experience at the weekend when he caught a thief in his house."I'm petrified and most of the people in Paget are petrified when the continual break-ins are taking place. We're not talking of just a few cases, but 10 to 13 a night. "If it doesn't end something else is going to happen soon."
Speaker of the House the Hon. John Barritt had to call the proceedings to order when people sitting in the visitors' gallery burst into applause at Mr. Soares' comments.
One copy of the petition calling for a tracking dog has already been given to Lord Dunrossil while another copy is still being circulated
But Mr. Frederick Wade (PLP) opposed the call for a tracking dog, noting that it was such dogs that sparked the 1968 riots. "They (UBP MPs) have attempted to raise the aura of fear and terror in the minds of Bermudians," said Mr. Wade. "I know what it is like to have your house and privacy invaded. But I don't believe that just because I was attacked that I ought to be in favour of anarchy.
"I don't see how the introduction of a canine squad is going to assist in Police work. I don't believe we should introduce measures that could make the situation worse."
Mr. Viera congratulated Mr. Soares who, he said, has "so valiantly tried to capture the intruder". "He may not be the biggest member of this House but he certainly has a big heart."
Mr. Soares was also congratulated by the Hon. Sir John Sharpe, Minister of Labour and Home Affairs. Sir John said Mr. Soares certainly had guts to take part in such a "David and Goliath conflict". But he thought the Police would prefer the public to show discretion rather than valour if they came across this man.
The petition says:
"There is every evidence and suspicion that our country is in the grip of a one-man (or several men) crime wave. Despite the valiant attempts of the dedicated men and officers of the Bermuda Police Service, this (these) criminal(s) manage(s) to be masterly elusive.
"The people of this country, particularly the women and the elderly, are living in a sleepless state of fear.
"We, the undersigned Member of Parliament, are vitally concerned about the welfare of the community. We have joined together, in a non-partisan basis, to urge you to instruct the Bermuda Police Service to immediately acquire the temporary services of an expert tracking dog and handler from overseas."
Tuesday, 13 March, 1984
10.0pm. Briefed teams and handover to DS Angus Brown designated as Task Force coordinator going forward.
11.0pm. Off duty -Tuesday
On Wednesday, March 14, 1984, I took over the Action Book concerning the ongoing police hunt for Smith. During the mid-morning I briefed DS Angus Brown about him leading the coming night time activities of the observation teams. I later accompanied him to the Paget and Warwick railway tracks where we toured the area together on cycles whilst I indicated to DS Brown the more prominent areas of concern to his detail.
POLICE 'WORKING ROUND CLOCK' TO HALT BREAK-INS
RG Wednesday, March 14, 1984
"Acting Police Commissioner Clive Donald yesterday reassured the public that Police were "working around the clock" to apprehend those responsible for a recent wave of break-ins. He urged member of the community to remain calm.
Mr. Donald said he was concerned about the "degree of panic that is becoming apparent in the community."
"Whilst it is true that the man we are looking for is a large burglar who can be violent if confronted, there is perhaps a danger in the minds of the public of ascribing more crimes to this man than we believe he has in fact, committed. "We have no evidence, for instance, to believe he is connected in any way with the recent violent robberies of senior citizens in their homes," Mr. Donald said.
The Acting Commissioner's official statement followed a particularly busy night for prowlers and burglars. Police received four reports of prowlings or attempted break-ins at guest houses and hotels in Paget and Warwick on Monday night alone. In addition, there were two separate incidents at private homes. In all cases, the culprit ran off after being disturbed and no-one was harmed. Police information seems to indicate there were at least two different men responsible for Mondays night's break-ins.
In several cases the culprit was described by complainants as a "large, coloured man, over 6 feet tall".
But in the two, earlier break-ins at private homes, the person or persons involved were described as being much shorter, and of slighter build.
Acting Commissioner Donald said Police were doing "everything in our power" to solve the crimes. "Detectives are working around the clock. Officers have been brought in from other departments of the force to augment both uniformed and plain clothes patrols, and I am being kept fully abreast of all developments," he said.
He added that "judicial constraints" prevented the Police from publicly identifying one of the men believed to be responsible.
But he said Police knew full well who they were looking for. "Suffice it to say that every Police officer in Bermuda has access to this man's photograph and description, and his arrest is being given top priority," he said.
The Acting Commissioner also dismissed the suggestion – contained in a petition signed by 19 MPs – that Police bring in a tracker dog and handler an all-out attempt to catch the criminals. "Whilst we welcome any constructive suggestion such as this, we have, in fact, had experience with such dogs in the past, and have found them to be largely unsuitable for Bermuda's terrain. "I am therefore not convinced at this time that tracker dogs are required," Mr. Donald said.
Meanwhile, Police spokesman Sgt. Roger Sherratt yesterday reiterated a number of precautions residents should take to safeguard their homes.……"
On the morning of Thursday, March 15, 1984 all special patrol NIGHT teams were stood down and rested while a new duty roster was designed. During this day, pressure grew for police to name the man believed to be responsible for the ongoing break-ins.
CALL TO NAME BURGLARY SUSPECT
In their report of March 16, the Bermuda Sun wrote:
"Police have said that the powerfully built burglar could be dangerous but refused to identify him because of "judicial constraints." But this has caused great public concern especially as the man sought was recently released from prison and has a previous conviction for rape and interfering with children.
Two people who admit to being confused by the police decision are MP Harry Soares, who was brushed aside by an intruder at his Paget home last Saturday, and business woman Susan Gunther, organizer of a crime watch group.
"Everyone is so worried about the rights of the criminal," Mrs. Gunther said. "But there are lot of people in the community who would recognize this person but do not realize he is out of prison.
"The total public could be alerted as to who the police are looking for to add extra pairs of eyes to those already on the lookout. It boggles the mind why they can't say who he is."
Mrs. Gunther said she had been told that someone saw the man in question sitting on a wall but did not realize that he was the one police were looking for.
"I am not a lawyer," she continued. "But from a public point of view and public interest point of view I think he should be named."
Mr. Soares said he thought the public was upset that the man had not been identified. "There must be a good reason for it," he said. "It is important for the people to know why."
He added, "I am very concerned for the residents of Bermuda and also for our tourists. I want to re-emphasize that if people see anyone suspicious they should call the police. They are really trying hard. Now it is the public's turn to help.
Superintendent John Sheehy, head of the CID, said it would be "unfair and illegal" to give out names. "It would prejudice a fair trial," he explained.
"Most of the public know who we are looking for. We cannot name him until he is charged. There is no logical way we can do it. We would like to let the public know who they are facing but there is no way we can do it legally."
Acting Solicitor General Robin MacMillan said it was not considered appropriate to name the man. There were a number of reasons, he said, one of which was that it might prejudice a fair trial.
An assurance has been given by Acting Police Commissioner Clive Donald that officers are working around the clock to find those responsible for the break-ins. He also urged people to remain calm.
Supt. Sheehy said that two police teams have been put on a special alert. A day team is being led by Detective Sergeant Patrick Hamlett and a night team by Detective Sergeant Angus Brown.
"We are getting good public support and we appreciate it," said the CID chief. "All calls are being followed up."
Police have noticed that householders are taking more precautions since the latest wave of burglaries. They have been buying up air horns, alarms and whistles, and securing windows with special locks.
The search is also continuing for escaped prisoner Brian Rogers. The 22-year-old man wounded a police officer and ran from Magistrates' Court last Monday.
Supt. Sheehy said an island wide search was underway and checks were being made at the airport and on departing ships and yachts.
Rogers escaped after being remanded to the Supreme Court for sentencing on charges of breaking and entering and possessing drug equipment."
"EGGS" SMITH ARRESTED
At 9.0am on Friday, March 16, 1984 information on Smith's whereabouts was received at the CID office. I conducted a quick briefing and accompanied a team of officers to engage with Smith at 42nd Street where he was captured without incident. He was living rough and appeared exhausted.
At 9.30am. I was present in the jail area at Hamilton police station and supervised Smith's booking-in procedures. All property found on Smith was logged in and then signed out to DC Johnny Bean. It was quickly established that property belonging to a crime complainant living on Rural Hill, Paget was found in Smith's possession upon his arrest. The complainant was notified and attended to identify his stolen belongings.
POLICE RECEIVE A GIFT
Later that same Friday afternoon a gift - in a bottle - was left at the front desk in Hamilton Police Station addressed as follows:-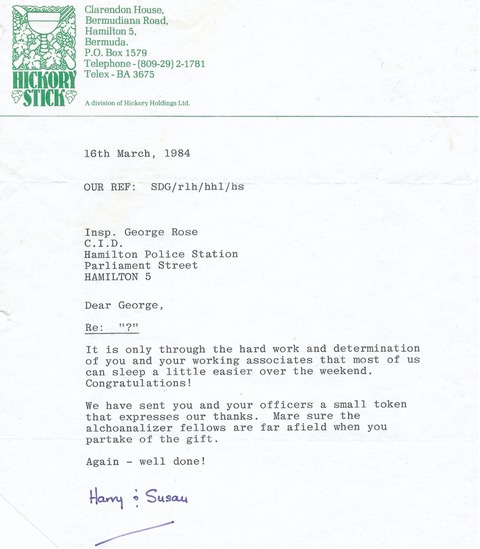 On Saturday, March 17, 1984 it was agreed at a meeting that A/DS Jackson would henceforth be dealing with Smith and I handed over all documentation and exhibits to him for interview purposes.
Monday, March 19, 1984 was a busy day during which I accompanied A/DS George Jackson to the Attorney General's Chambers where we discussed with Crown Counsel Robin McMillan the indictable charges to be preferred against Smith. A/DS Jackson later completed a number of 'holding' charges against Smith and then charged him accordingly at Hamilton police station.
Smith appeared before the Magistrates' Plea Court handcuffed to DC Fryer. He was formally charged and remanded to Casemates prison before returning to a station holding cell to await transport to Casemates. I received instructions from Det. Supt Sheehy to personally escort Smith to Casemates accompanied by others. It was made abundantly clear to me that Smith was NOT to go to the prison along with the customary afternoon prisoner transfers from the court.
At 4.45pm together with DC Franz Williams and PC Slawek, I escorted Smith to Casemates prison on remand.
Smith was later sentenced to a term of 15 years imprisonment in respect to the housebreaking offences.
1985
I was promoted to the rank of Chief Inspector effective January 1, 1985 and remained in Hamilton as the Detective Chief Inspector and Officer in Charge Central CID.
"EGGS" ESCAPES CASEMATES ALONG WITH THREE OTHERS
During the evening hours of Wednesday, November 13, 1985 FOUR inmates escaped confinement from Casemates Prison in HM Dockyard. The escapees were named as "Eggs" Smith, Marco Puga, Carlton 'Butch' Minors and Patrick Edwards who was soon caught nearby because he had left his eye glasses behind in his prison cell and he couldn't see his way forward.
As the DCI and Officer in Charge Central CID I liaised with senior uniform Officers and gathered officers from around the force to be seconded forthwith into the Incident Room where DI Vic Richmond was appointed to take over search team enquiries and tactics.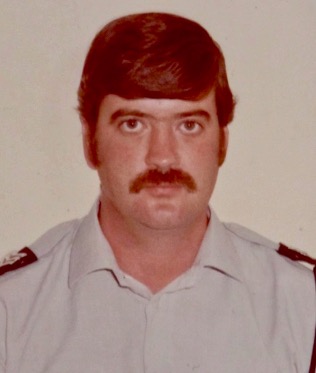 Vic Richmond
The RG reported on the four-man escapes during the following days.
On Thursday, November 14, 1985 at 1.50pm, my duty diary records that I was with then DS 29 [David Cart] in the area of Burnt House Hill, Warwick engaged in the search for Smith. We responded to a complaint of a 10-48 around a house at Burnt House Hill. [In respect of this code 10-48, the Bermuda Police "10" Series as it was then, specifically related to the report of a Prowler].
As can be seen in the map below that there is a direct correlation between the end of Burnt House Drive – off Burnt House Hill, and the eastern boundary of the Riddell's Bay Golf Course. A northerly access across low scrub land can also be seen from the Drive towards the foreshore which extends from Little Turtle Bay westward towards Burgess Point. The whole of the golf course lies to the south of the foreshore towards the Middle Road and beyond to the railway trail which is believed to have been used extensively by Smith.
After no sightings by 3.00pm we departed the Burnt House Hill area and returned to Hamilton.
For a significant number of police and prison officers, the next 5 days and nights were consumed with the capture of Smith and his cohorts. Details of the hunt are laid out in press reports below:
HUNT CONTINUES FOR 3 PRISONERS
RG Friday, November 15, 1985
"The Island wide hunt continued last night for three inmates who escaped from Casemates late on Wednesday. A fourth man was recaptured only hours after escaping but, last night two Bermudians and one US citizen remained at large.
Police were keeping a special watch at the Civil Air Terminal and were monitoring all shipping leaving Bermuda. A 12-man task force led by Det. Insp. Vic Richmond was coordinating the search by Police and prison officers. The search was widened to cover the whole Island early in the morning after it had initially concentrated on the Dockyard and Somerset areas.
Police spokesman Sgt. John Instone said that officers were armed.
The three at large are:
Kenneth Maxwell James 'Eggs' Smith serving 15 years for a string of burglaries last year. Sgt. Instone described Smith as a notorious housebreaker saying it was imperative that he be captured as soon as possible. Smith has escaped from Casemates and St. Brendan's a number of times. His first prison breakout was in 1971

American drug smuggler Marco Julio Puga – erroneously referred to in some court and newspaper reports as Marco Pugas – aged 24, who was jailed in 1984 for four years, and

Carlton Eugene ['Butch'] Minors, 35, who was given 18 years in August for trying to smuggle more than $1 million worth of cocaine. Minors had been due to appear in Magistrates' Court today on assault charges.
The fourth man, drug smuggler Patrick Edwards, 48, from New York who was jailed for 12 years in 1983, had surrendered to prison officers at 11.30 pm on Wednesday, after only three hours of freedom. He had gone only as far as Victoria Row, Ireland Island. Sources said he was cut and bruised and had left his glasses behind in the prison.
More than 50 Police and prison officers set up road blocks in Somerset as part of the manhunt on Wednesday night. Many were back in the Island wide search run by the 12-man squad yesterday. Sgt. Instone said the trio would need help if they were to remain free. He warned of the heavy penalties for helping an escaped prisoner.
No staff were hurt in the break out prison officials said. A report on the escape was sent to Health and Social Services Minster the Hon. Ann Cartwright by the acting Prison Commissioner.
Another prisoner on remand on murder charges broke out of Casemates on Friday but was recaptured within minutes on Ireland Island. Ministry Permanent Secretary Mr. David Critchley said yesterday no details would be given of the escape or any related matters. He said prisoner confidentiality and security needs were the background to this decision which was based on long standing policy."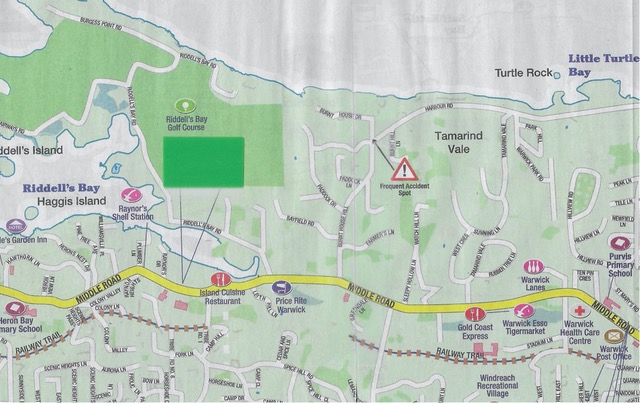 Showing the ease of access onto the eastern edge
of the Riddell's Bay Golf Course from Bayfield
Road, Paddock Drive and Burnt House Drive
WARNING: THIS MAN IS DANGEROUS
Mid-Ocean News Friday, November 15, 1985
"As the hunt for Kenneth (Eggs) Smith intensified last night, police issued a stern warning: This man is dangerous. A police spokesman said the convicted rapist and burglar is a threat to the public and he urged residents to take extra security measures. "Members of the public should take precautions," he said. "Windows and doors should be bolted and outside lights should be left on even when people are at home they should be cautious, Smith is known to break into houses while people are in."
Smith was serving a 15-year sentence for a 1984 Paget crime spree when he escaped Wednesday night with three other prisoners [each named together with offences and jail time noted]. "The public should exercise common sense," said the police spokesman. Any suspicious sightings should be immediately reported to the police. "I would not recommend anybody try and tackle Smith because he is a very large gentlemen."
Police involved in hunting down the escaped convicts include a 12-man round the clock squad at Prospect headquarters and two smaller teams at East and West End stations. All the uniformed police have been issued with pictures of the prisoners and ordered to keep a lookout. "The whole force is looking for them," said the police spokesman.
Smith has spent 20 of his 36 years behind bars, mainly on rape and break and entry convictions. During the 1984 one-man crime wave which led to his current jail term, Smith focused his activities in the Paget area. Terrified Paget residents equipped themselves with air horns – used to alert neighbours in case of danger – and boosted security measures.
Smith had been released less than a year earlier after serving a seven-year jail sentence for rape and burglary. Committed for psychiatric observations in 1968, Smith escaped from St. Brendan's Hospital and in 1971 he became the second man ever to escape from Casemates. Both times he was apprehended shortly after the break-outs.
Prison authorities yesterday drew a cloak of secrecy over the escape. A prison report, detailing how the inmates broke out, was sent to Health and Social Services Secretary David Critchley. The escape happened on the same day the Treatment of Offenders Board was meeting to consider how to punish a group of prisoners who staged a sit-in to protest overcrowding. But sources said this was a coincidence.
One informed source told the Mid-Ocean News Police were not told of the break-out until 45 minutes after it was discovered. "And I would like to know what a fellow like Smith was doing unsupervised in a workshop where he had access to tools," said the source. "In any other country they would have had a person like that sewing mail bags or something."
One of the men on the run, Mario Puga, was at the centre of a controversy over nationality after his arrest and conviction for smuggling in more than 30 pounds of cannabis. Puga claimed he was a US citizen, but American authorities refuted that."
LOOKING FEAR IN THE FACE
Mid-Ocean News Friday, November 15, 1985
"It is nothing short of scandalous that four prisoners including the notorious Eggs Smith were allowed to escape from Casemates, Bermuda's alleged maximum security jail. The thought of Smith on the prowl is terrifying, especially to women and children without a man in the house. Even for a man he is a potentially serious threat.
The Minister responsible for keeping dangerous criminal away from the rest of us, Mrs. Ann Cartwright DeCouto, for all her tough talk has let Bermuda down. The escape amounts to a breach of the trust the public has to put in the Government. And it is not as if this is an isolated incident.
If the prison authorities are not good enough the situation should have been corrected: at the very least, people like Smith should never even have a chance of escaping. We hope the blame will not be pushed on to the failings of Casemates itself, because this was inevitably a human error.
And it is the kind of mistake that could potentially cost lives. What we need now is more action and less talk from Mrs. Cartwright DeCouto."
RG Friday, November 15, 1985
"Details of the Casemates escape were hard to come by yesterday. Government, Police and other services involved were saying nothing about the run-up to the manhunt but the RG has been able to put together the following:
The four men were working in the carpentry room at Casemates before their escape. Edwards and Minors were being checked on every half hour after prison officials had received information that they might be planning a break out.
Edwards had already tried to smuggle a letter out of the prison while tips had been received about Minors' plan. Minors was also one of the ringleaders in the recent protest, when prisoners occupied the recreation room.
Routine checks were being made every 20 minutes on prisoners taking carpentry lessons.
The four men broke out of a window in the carpentry room, clambered across a roof and barbed wire, dropping down the side of the prison wall using a rope of some sort. Sources said the officials were surprised they risked making the drop down the north boundary wall.
A check at about 8.30pm revealed they had escaped and the alarm was raised.
More than 50 Police and prison officers sealed of the West End at Somerset bridge, searching cars at roadblocks, as well as the coast.
Edwards gave himself up to prison officers in Victoria Row, Ireland Island. He was cut and bruised.
The search was expanded to cover the whole Island yesterday morning.
Several theories emerged last night about the whereabouts of the men. The biggest alert is for Kenneth (Eggs) Smith, a violent man whom Police have put in the past at the top of Bermuda's "most wanted" list.
There was speculation that Puga and Minors may have been expecting help from drug bosses once they had broken out and may now be on a boat heading away from Bermuda, and that they took Smith with them because he knew how to escape.
Carpentry teacher Mr. Wesley Trott, who teaches during the day at Warwick Secondary School, last night refused to talk to the RG. He referred all inquiries to prison officials.
The carpentry room and the window used in the escape has been photographed a number of times by newspapers in recent years."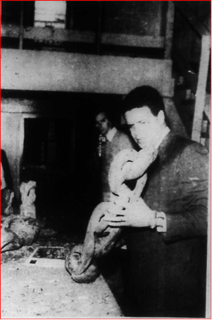 ESCAPE:
Premier the Hon. John Swan visited the Casemates
carpentry room in 1981. The window used in the
escape is at the top of the picture.
PAGET RESIDENTS TOLD TO STEP UP THEIR SECURITY
RG Friday, November 15, 1985
"Escaped Casemates prisoner Kenneth James Maxwell "Eggs" Smith is a notorious burglar and Police said yesterday warned householders – particularly in the Paget area – to step up security.
Smith, who first broke out of Casemates in 1971, has often turned to burglary sprees in the Paget area when released from prison.
Paget West MP Mr. Harry Soares last year ended up tackling Smith after he surprised the burglar in his Rural Hill home, which is a stone's throw away from those of the Premier and the United States Consul General.
In March last year Smith, who has served time for rape, was sentenced to 15 years in jail for a series of burglaries in the Paget area.
Mr. Soares said yesterday,
"After he was incarcerated in 1984 the criminal action s around the Paget area, particularly burglaries, significantly reduced. As a father and a citizen, I am very concerned about the fact that he is loose. I am also gravely concerned that this man has a record of violence of a sexual tendency."
Mr. Soares said he would request everyone to make sure their homes were secure.
"Don't take any chances," he warned Paget householders adding that people in Bermuda tend to be a bit too relaxed when securing their homes.
"There are still a lot of Bermudians who do not lock up their homes," said Mr. Soares, adding that he had confidence in the Minister of Health and Social Services the Hon. Ann Cartwright DeCouto, [who lived in close proximity to Mr. Soares] to look into the circumstances regarding the break out of the prisoners.
It was on the night of March 10 last year Mr. Soares came face to face with Smith, described at the time as Bermuda's most wanted man. Mr. Soares disturbed Smith during the early hours of the morning while the convict was going through his home. The MP challenged Smith with a piece of cedar he was fashioning in to a lamp.
"He was a huge black guy and when I went to try and restrain him he gave me a push, as if I were a child, and I went flying across the room," Mr. Soares told the RG at the time. And despite having bruised ribs and a sore ear, the MP chased Smith off the property.
Smith was only the second prisoner ever to escape from Casemates when he fled in 1971. The first was in October 1966. But he was already notorious as a criminal and an escapee from St. Brendan's Hospital [when] the RG reported his escape with the headline 'Eggs' Smith escapes – again: This time from Casemates."
"EGGS" SMITH SEEMS TO BE GOING ALONE
RG Saturday, November 16, 1985
"Three Casemates prisoners remained at large last night more than two days after they scrambled to freedom from the Dockyard prison.
Police received more than 30 sighting tips from all over the Island during the first 48 hours of the escape.
Search coordinator Det. Insp. Victor Richmond said particular attention was being given to two tips but he would not give details. "We don't want them to know what we are doing."
At large are:
Convicted rapist Maxwell (Eggs) Smith, 37, serving 15 years for a string of burglaries last year. He escaped custody before and is considered dangerous and known as a notorious house breaker.

American drug smuggler Marco Julio Puga, 24, who was jailed last year for four years.

Carlton Eugene Minors, 35, who was sentenced to 18 years last August for trying to smuggle more than $1 million worth of cocaine.
Police are almost sure that Eggs Smith is on his own. Insp. Richmond said one sighting reported Thursday evening led to an 80 percent confirmation that Smith was in the central area covering Paget, Devonshire and Smith's parishes. [The Inspector] also said Police had been in contact with the fugitives' relations although "It's hard to say whether it assists or hampers the search."
While there was a strong possibility Minors and Puga were off the Island with outside help, Police were working on the assumption the men were still here. Telephone tips have reported sightings of three and two men. The search last night was still being conducted on an Island wide basis. Police teams have been operating from headquarters at Prospect and the West and East Divisions. A special contingent of 26 officers and several prison officers have been assigned full-time to the search.
Insp. Richmond acknowledged that marine transportation was much more difficult to keep tabs on than Airport traffic. "We're trying as best we can to check of every boat leaving the Island but it's not easy", he said.
Harbour Radio's help was enlisted to keep track of all boats leaving the Island. A spokesman said it was conceivable that the fugitives could force passage on one of the estimated ….. ocean going yachts departing here. There have been no reports of stolen boats in the past few days. "What we are looking for is a boat that departed without saying anything," the spokesman said, indicating that about six boats leave the Island daily for the South at this time of the year.
"Every boat that has left so far has been okay" he said, "We make certain of that by asking them their next port of call, electronic gear and who's on board. We're looking for something strange that one wouldn't normally come across. If we have the slightest qualms we'd call Police."
Police said it was possible the fugitives had replaced their dark blue Casemates outfits, but said they were relying more on identification by facial features than by clothing.
Meanwhile residents were observing Police warnings to keep on the lookout for suspicious characters and to tighten household security. Many parents with children telephoned schools yesterday to ask that their children go to their offices rather than home to an empty house.
One Paget resident telephoned Police yesterday after her neighbour saw three men lurking in the woods near the old railway at Cobbs Hill. Police immediately attended the area only to learn the three men were Police officers participating in the search."
CONVICTS LEAVE ELUSIVE TRAIL OF RUMOURS
RG Monday, November 18, 1985
"Three escaped Casemates prisoners continued to leave an elusive trail of shadow and rumour over the weekend.
There was little letup in the public vigil by anxious residents who flooded Police with dozens of sightings of the fugitives who escaped the Dockyard prison last Wednesday night.
Eggs Smith, the 6' 2" convicted rapist seemed to be on everyone's mind.
A late-night Saturday break-in attempt at the Elbow Beach Hotel was widely thought to be him. More than 20 Police officers converged on the hotel after a night porter disturbed a man breaking into a kitchen at the Hotel's Surf Club at 11.10pm. An extensive all-night search of the grounds and surrounding area turned up nothing.
A night watchman reported that the Club door had been kicked by an enormous foot. And the night porter, who could speak little English, said the fleeing figure he saw was Smith. Police later estimated a better than 50 per cent chance it was Smith.
On Friday night, Police said they were almost sure Smith, who is a notorious housebreaker, was travelling through the central parishes of Paget, Devonshire and Smith's on his own. Their suspicions that Smith was the Elbow Beach Hotel culprit were bolstered by the fact that the person was trying to break into a kitchen, possibly for food.
Police tips that Carlton Eugene Minors, who was sentenced to 18 years last August for trying to smuggle more than $1 million of cocaine, was in the East End of the Island where he has relatives. Weekend searches of seaside caves in the area turned up nothing for Minors.
Police figure that the fugitives are moving mostly at night and hiding out during the daylight hours. The longer they stay on the loose the greater the suspicion grows that they are receiving help from people. This is particularly true for 24-year-old Florida resident Marco Puga who received a four-year sentence last year for drug smuggling.
The suspicion is less for Eggs Smith who Police regard as an extremely resourceful criminal with a penchant for bold break-ins.
Police have repeatedly visited the places associated with the criminals and conducted sector searches, but the hunt remains a more re-active exercise. They are relying to a large degree on tips from the public and incident reports such as the Elbow Beach Hotel break-in Saturday."
EGGS SMITH AND FELLOW FUGITIVE BACK IN CUSTODY
RG Tuesday, November 19, 1985
"In a blaze of flares and searchlights, police captured Kenneth (Eggs) Smith during the early morning hours yesterday in the sea off Gibbet Island, in Flatts.
And they captured his escape-mate Marco Puga several hours later, hiding in some bushes just south of North Shore Road in Shelly Bay.
Convicted cocaine smuggler Carlton Minors, who escaped with Smith and Puga last Wednesday, was still at large last night.
According to Det. Insp. Vic Richmond, who's heading up the search, police were notified of the whereabouts of the two escapees at 1.37am by a Flatt's couple who discovered them trying to steal a rubber dingy from behind their house. (See separate story this page).
Det. Sgt. Steve Rollin and Det. Con. Kenneth Bourne were first on the scene and when they arrived Smith and Puga attempted to escape by diving into the water. Smith swam towards Gibbet Island while Puga headed east toward Shelly Bay.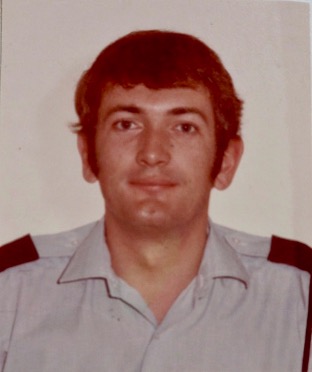 Steve Rollin
Det. Con. Bourne and Det. Con. Keith Senior dove into the water to pursue Smith, who was quite visible thanks to a Hamilton Fire Brigade searchlight. The two officers were picked up enroute by a police boat and deposited on Gibbet Island after Smith was seen climbing ashore. Smith was captured minutes later however by the police boat which was circling the island.
Puga meanwhile had managed to elude the searchlight and flares and police boat sight of him, said Det. Insp. Richmond. "He managed to get out of the water and cross over North Shore Road," said Richmond.
[Earlier] the same morning police responded to a call from Mildred Dyer a private nurse on duty at a Shelly Bay home. She told Police Puga had approached the nurse and asked her for help. Officers responded immediately and upon arriving were directed by a man working in the area to an overgrowth just south of North Shore Road where they found Puga hiding. He was arrested without a struggle Richmond said.
Both Smith and Puga were then treated at King Edward VII Memorial Hospital for abrasions and lacerations to their arms and hands [undecipherable…….]".
MEET BO'S'N, THE REAL CAPTURE HERO
RG Tuesday, November 19, 1985
"The real hero of yesterday's dramatic capture of 'Eggs' Smith and Marco Puga is four years old, hairy, has four legs and answers quite enthusiastically to the name Bo's'n. Bo's'n belongs to the Joneses (not their real names, they prefer anonymity), and it was Bo's'n who first noticed Smith and Puga trying to steal a rubber dinghy from behind their Flatts home.
In an interview yesterday, Mrs. Jones said Bo's'n started to growl around 1.30 am yesterday waking her up. She said she heard noises outside which sounded like someone dragging their dinghy down the steps towards the water. "They were in the water by the time I convinced my husband to get up," said Mrs. Jones.
At first, they thought it was just kids, she said. "We didn't think it was 'Eggs' at all."
When they realized what was happening, they called the police who responded almost immediately, said Mrs. Jones.
"They knew we knew they were there," she said. "My husband called out the window – "You buggers you better tie that boat up when you get to the other side" to which, she said, "Eggs" Smith responded, "Yeah, yeah we will." "They didn't," she added.
Mrs. Jones said they weren't really nervous. "They were going the other way," but she wondered where Smith and Puga thought they could get with the dinghy, which had no motor, oars, and one deflated pontoon. Ironically, Mrs. Jones said they've had complaints in the past about Bo's'n from neighbours who objected to his barking at night."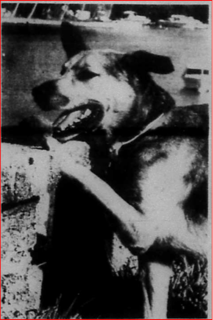 HERO DOG: Meet Bo's'n, the dog who alerted his
owners to the presence of two would be dinghy
thieves, who turned out to be escaped convicts
Eggs Smith and Marco Puga
NURSE TELLS OF CHAT WITH PUGA
RG Tuesday, November 19, 1985
"A 43-year-old Pembroke West woman told how she confronted fugitive drug smuggler Marco Puga and refused his plea not to turn him in to the Police.
Private nurse Mrs. Mildred Dyer described how she arrived at her job yesterday in Shelly Bay shortly before 8.0am. She went upstairs to write some notes sitting at a desk from which she could see through a window to the walk below. When she looked out that window, she said she saw a man standing on the step looking and pointing in different directions. He looked like he didn't know what to do or where to turn.
That man whom Mrs. Dyer first thought was a gardener, was Marco Julio Puga, the convicted American drug smuggler who, along with three others, escaped from Casemates last Wednesday.
Mrs. Dyer went down stairs still thinking he was a gardener, and asked if she could help him. "He told me he was an escaped convict," said Mrs. Dyer in an interview last night "But that didn't phase me." According to her Puga looked calm, though disheveled and wet. Small wonder, considering the swim he'd taken a few hours earlier. (See story above).
Mrs. Dyer told Puga she'd have to call the Police. "He begged me not," she said, and told her she didn't "know what it's like in prison." "I told him 'No I don't, and I don't want to know'." She told him if she didn't call the police, it would be tantamount to helping him and that as a "law-abiding citizen" she couldn't do that.
Puga told Mrs. Dyer he'd been with "Eggs" Smith, but Smith had already been captured and Puga didn't know his way around the Island. Mrs. Dyer directed him to the road – "where I thought the police would be able pick him up and I closed and locked the door before calling the police. I just want him to go away."
LETTER TO EDITOR
In the following letter to the Editor penned in November, 1985, and published in the Roayl Gazette, the writer refers to the escape of drowned Guyanan conman George Janniere in 1982 [see below]; and to the escape of cruise ship steward Giuseppe Roncari in 1981 – [and who was recaptured in 1998 and returned to Bermuda to serve out his remaining sentence]. Notably, neither of these escapes involved "Eggs" Smith.
Dear Sir,
Once again we witness the abysmal security at Casemates with four prisoners escaping.
Lest we forget, several years ago a prisoner escaped from Casemates and was subsequently found drowned whilst another escapee has never been recaptured.
And to this catalogue of incredulity add the escapes made from both the lower and Supreme Courts while prisoner were being held in custody.
Security means freedom from danger or fear, so to the authorities involved, I say, let's have that security we warrant, or you'll be replaced.
AD REM City of Hamilton.
CLICK HERE: to read about Roncari's escape resulting in a 17-years-long INTERPOL hunt which culminated in his arrest in Florida followed by his escorted return to Bermuda in 1998 to serve out his remaining sentence. As you will read, Roncari was later strangled to death in 2017 in Greater Manchester, England by a fellow cocaine dealer.
The following well-thought-out editorial is worthy of reflection:
EDITORIAL
Bermuda Sun Friday, November 22, 1985
"The escape of four inmates from Casemates Prison has raised questions as to the extent of the security measures applied and, as usual when such incidents occur, there are suggestions that either the normal precautions instituted are not as sound as they ought to be, or that some members of the prison staff were delinquent in their duty.
What the actual facts of the case were the public does not at present know and, indeed, might never get to know, for it is not always in the best interests of the public that details of an escape should be publicized. If it is revealed how one prisoner managed the trick, then it might be telling others how to do it too.
However, it is quite wrong to jump to the conclusion that the prison system is wrong, or that one or more officers were in default. If there were repeated instances of prisoners "going over the wall" then there might be reason for grave concern, but this is not the case. Escapes from Casemates over the years have been relatively few – and probably no more, percentage wise, than anywhere else in what we know as the "free" world. Most countries have different grades of prison. Some are specially designed as "maximum security" institutions where dangerous criminals are incarcerated. Yet, although these places are veritable fortresses, and have all the modern electronic means of surveillance, prisoners still manage to escape.
In present-day times when the big cry is for "prison reform" and "humane" treatment of inmates, there are greater opportunities for escape than once was the case. Prisoners are no longer locked up in cells for 24 hour a day. And there are so many of them that, given their new-found "freedoms" in the way of exercise and recreation periods, it is virtually impossible for a comparatively small number of warders to see everything that is going on.
There are those who, thankful that certain privileges are accorded, will gratefully accept them and settle down to serving their time as model prisoners. On the other hand, there are the tough, habitual criminals who, no matter what the conditions of their incarceration, will always be looking for a chance to "run". Judging from past and present records, we now have one such person back in Casemates again. Will he ever be firmly secured? There are those who doubt it, under present conditions. But what an outcry there would be were he to be permanently shackled and "treated like an animal." The fact is that certain risks have to be taken, and the consequences recognized. When somebody escapes, it is unfair to jump to the decision that it is the fault of the warders.
Our prison staffs have no easy job. Not only not easy, but often not pleasant. The good-doers seem to forget the welfare of the wardens when they demand better treatment for the prisoners.
Finally, what has to be remembered is that nowadays Casemates houses men associated with the traffic in drugs. There is big money in that business. And where there is big money there is a bigger chance of prisoners not only getting out of the prison, but also getting away from the Island. That, in itself, might not be such a bad thing after all. So long as we make sure that they never come back."
BAILEY'S BAY POLICE SWOOP FOR MINORS
RG Thursday, November 21, 1985
"Police yesterday evening swooped on the Wilkinson Avenue area of Hamilton Parish after a sighting of escaped Casemates prisoner Carlton Minors. No-one was caught. They conducted a search of Tom Moore's jungle. ………….
MAN ACCUSED OF AIDING ESCAPEE
A 26-year-old Hamilton Parish man appeared in Magistrates' Court on Friday, November 29, 1985 and pleaded not guilty to harbouring escaped prisoner Carlton Minors who was still on the run. The RG reports that the man, of Wilkinson Avenue, was represented by Mr. Michael Scott and was remanded in custody until December 13.
Despite continued search efforts during the remainder of the year, escaped convict Carlton Minors remained at large for close to five months. Police considered him armed and dangerous and executed frequent house searches and road blocks after reported sightings emanating mainly from the East End where liaison with US Naval Base security authorities continued unabated. However, with local help Minors eventually absconded the Island from the Hamilton docks in an empty shipping container. He was captured in late March, 1986 in North Carolina, USA.
JAIL BREAK REPORT TO STAY SECRET
Mid Ocean News Friday, December 6, 1985
"A report into the four-man jail break at Casemates Prison last month will be kept secret. "This is an internal matter and for a number of reasons, especially security, it will not be made public," said Health and Social Services Minister Mrs. Ann Cartwright DeCouto yesterday.
She said she was given a full report on the November 13 escape the following morning and has no plans to hold another inquiry. She said that although there are rules under Government standing orders covering discipline for all civil servants, no one was disciplined for allowing the four prisoners to escape.
Drug dealer Carlton Minors, 35, is the only prisoner still at large. American Patrick Edwards, 48, turned himself in hours after the escape. Kenneth "Eggs" Smith, 36, and Mario Puga, 24¸were captured within a week.
Mrs. DeCouto said she would not divulge the details of the escape but did say at least one media report on the prisoners being left unsupervised was erroneous. But United Bermuda Party backbencher Harry Viera said that the report should be made public. "Obviously there has to be an inquiry of some sort", said Mr. Viera. "It shouldn't be entirely internal. If they don't, it's like asking people to investigate themselves. How do they do that?" Mr. Viera said that one of the problems with commenting on the jailbreak is that he had very little hard information on the subject.
He said that he, like most politicians, have only learned about details through the media."
1986
MINORS CAPTURED IN NORTH CAROLINA
Minors was captured on March 28, 1986 [Good Friday] whilst fishing with his girlfriend on a lake in the woods in North Carolina, USA. The Bermuda police had tracked him to Carolina after he had made a collect call home from a pay-phone in that state. After initially fighting extradition, he was returned to Bermuda escorted by local officers to continue serving the remainder of his sentence.
In late 2022, Minors told me personally while we sat 'on de wall' in St. David's that he had written his memoirs whilst in prison but he didn't have possession of the many exercise books he had filled with his stories. He said that prison authorities had kept his writings within the system and despite him asking for them over the years they had not been handed over to him. Minors told me of the circumstances under which he had left the island in 1985 in a 'marked' container from the Hamilton docks and that he had mingled with the seamen aboard the freighter during the journey and had been fed by them. In New Jersey he had simply mingled with other members of the crew and had walked off the ship unchallenged making his way into New York City and then on to North Carolina. When questioned he told me that no passport or papers were ever asked of him at any time.
"EGGS" WANTS TO REPRESENT HIMSELF AT HIS ESCAPE TRIAL
On April 9, 1986 Kenneth 'Eggs' Smith told a Supreme Court judge that he wanted to represent himself in his upcoming Supreme Court trial. He is charged along with Marco Puga and William Edwards with escaping from Casemates Prison last November 1985. Smith told the judge that he was upset because his lawyer, Mr. Michael Scott, had asked for a short form preliminary inquiry. Smith stood up in the dock and protested, demanding he be given the papers necessary to represent himself. Mr. Richard Hector, representing Puga, calmed Smith down explaining to him that one more mention date would be necessary before the inquiry. The trio were further remanded in custody to appear in court again on April 22.
The Court learned that a fourth man, Carlton Minors, who escaped with the trio, had been captured earlier on Good Friday [March 28] in North Carolina, USA and that extradition procedures were under way.
"EGGS" SMITH DOUBTS HE CAN GET A FAIR TRIAL
During their arraignment in the Supreme Court on June 2, 1986, one of the three convicts charged with escaping from Casemates told Chief Justice the Hon. Sir James Astwood that he doubted they would receive a fair trial "because of all the publicity we've been getting." The RG wrote the following day that the Chief Justice had responded to 36-year-old Kenneth "Eggs" Smith's claim by insisting that the trio would indeed get a fair trial.
Patrick Edwards, 49, Marco Puga, 24, and Smith, 36, denied escaping from lawful custody last November 13. Puga and Smith, who is not represented by a lawyer, denied removing a boat that same day. They both also denied charges that they stole $100 worth of clothing between November 13-15, that they broke into a house and made off with $80 worth of food and clothing between November 13-18, and that they removed another boat on November 18. Smith denied a further separate charge of attempting to break into a house on November 16. The trio were remanded in custody to appear for mention on July 7.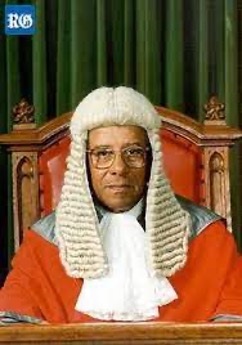 Sir James Rufus Astwood
Chief Justice of Bermuda
(Photo courtesy Royal Gazette)
1977 - 1993
"EGGS" SMITH PLEADS GUILTY AND IS JAILED FOR ANOTHER 7 YEARS [IN TOTAL]
Having been arraigned before the Supreme Court the previous day both "Eggs" Smith and Patrick Edwards pleaded guilty to escaping from Casemates in November last year.
The RG reported [in part] on November 5, 1986 as follows:
"The saga of Kenneth "Eggs" Smith's dramatic escape from Casemates 12 months ago ended yesterday when he was jailed by the Chief Justice for another seven years. The Hon. Sir James Astwood ordered Smith to serve the seven years after he completes his current sentence – he has already served two years of a 15-year term for a series of burglaries in the Paget area.
Smith admitted breaking out of Casemates, for which he received two years jail, housebreaking (five years), attempted burglary (two years) and removing a boat (six months). Sir James ordered the first two sentences to run consecutively and the last two concurrently. Mr. Brian Calhoun, prosecuting, had asked Sir James to impose consecutive sentences which would make other prisoners think again about trying to escape. Previous escapes had been dealt with through the prison's own disciplinary system. "It's high time for the Supreme Court of Bermuda to speak on the matter. Then Mr. Smith and the others will know what this court's attitude is," he said.
Smith told Sir James he probably would not have escaped this time if he had realized the punishment he would be getting. He was at large for three weeks and had earlier said: "If the rules and regulations had been explained to me much clearer, I might not have committed something like this."
The escape was the latest in a long line for Smith – he fled St. Brendan's Hospital a number of times in the 1960's and, in 1971, became only the second man to break out of Casemates. The escape involved cutting through a wire-mesh window in a prison's hobby shop, lowering down a makeshift step-ladder to a roof, followed by a climb down a 125-foot cord secured with homemade grappling iron.
The Chief Justice also gave Smith's accomplice, US drug smuggler Patrick Edwards, an extra year in jail for his part in the four-man break-out last November.
Edwards read an hour-long statement to the court, in which he complained of unfair treatment at Casemates in comparison to Bermudian prisoners. Bermudians were able to apply for child support payments for their families and received regular visits from their families, as well as being allowed to work on the prison farm. None of these applied to him or the other foreign prisoners who were allowed just one overseas collect telephone call a month. Meanwhile, he had two elderly parents and two children whom he had not seen since starting his 12-year sentence in June 1983, for conspiring to export heroin worth more than $1.5 million. He complained that his treatment was discriminatory and broke the Human Rights Act and he said his frustration partly explained why he had joined the escape attempt. "Bermudian escapees are not subject to nearly the same pressures as foreign prisoners," he said. He joined the escape on the spur of the moment and had given himself up within three hours. Edwards also said he had been unfairly treated during his [conspiracy] trial and had received a much higher sentence [12 years] than he had been led to expect.
Miss Jo Carol Robinson, defending, said Edwards had been a successful businessman with an active mind who was having trouble adapting to the austerity of prison life.
The third man in the jail break, Bermudian cocaine runner Carlton Minors is still fighting extradition from the United States, although his return to Bermuda is expected soon.
The fourth Casemates prisoner Marco Puga has denied escaping lawful custody was again remanded to appear at the next arraignment session in December."
JAIL-BREAKER MARCO PUGA GETS ANOTHER 1½ YEARS
CARLTON MINORS IS BACK IN CASEMATES
Some three-weeks later, at his December 1, 1986 arraignment, Marco Puga pleaded guilty to escaping lawful custody and theft of a boat. He had already served 1½ years of a four-year sentence for attempting to smuggle into Bermuda 36 pounds of cannabis with a street value of $90,000. The Chief Justice jailed him for an extra 18 months for the escape to run consecutive to the four years. He was handed a further six-months for taking a boat while on the run with Smith which sentence was to run concurrently with the extra 18 months on top of his four-years. Puga continued his claim to be a US citizen and Mr. Richard Hector, defending, told the court several factors had prompted his client to escape from prison, including a new policy which denied him parole as a drug offender.
"Puga had also been discouraged by the treatment he had received at Casemates Prison," said Mr. Hector. "He had been unable to obtain a work release, take academic courses for free or phone his family often. The health of his old mother had preyed on his mind, and he had been wounded by another inmate three months before the escape. These factors weighed heavily on him and in November, 1985, he succumbed to the temptation to escape. He went along with the plan because he had nothing to look forward to. Since his capture, Puga had spent eight months in solitary confinement," said Mr. Hector.
Puga apologized to the court for his escape from Casemates Prison. "I realize what I've done is wrong. My reasons for escaping were based on my concern for my widowed mother who depends on me financially. Even though there were ulterior motives, such as the double standard that exists in prison policy, the concern for my mother prevailed over all others. My situation is grave and unpredictable and I pray for the court's mercy," he said.
But Sir James told him: "I have a duty to do and see the laws of the country are administered." Sir James also rejected Puga's claims of a double standard in prison as a reason for his escape: "When it comes to the terms of imprisonment, surely they will be different for foreigners."
Puga, 25, claims to come from Florida and says he was a student at Houston University when he travelled to Bermuda. His trip ended with his arrest for drug smuggling. US authorities deny Puga is an American, believing him to be Columbian. Records show a person called Marco Puga was born on the same day and at the same place as the Casemates prisoner claims. But US officials think there was another Marco Puga, who died when a child."
MISC. MENTIONS OF "EGGS" SMITH
Upon his release in 1999 after his 1984 imprisonment for 15 years, "Eggs" Smith is next mentioned as having come to the notice of police on diverse dates thereafter. The following press reports were created by the RG in February 2011 when they were archived by the newspaper and, although not recorded with their actual publication date, they provide an insight into Smith's continuing life of crime after his release. As you will read, Smith was again imprisoned upon his conviction for drug related offences involving heroin and cannabis.
1) RG created 9 Feb 2011
[It was reported that] – "following his 1999 release from prison, Chesterfield Johnson had faced heated opposition from community activists and neighbours in the past. At that time, he was undergoing regular psychological counselling sessions with the Prison Fellowship. He, along with another convicted rapist, Kenneth (Eggs) Smith roomed together in a St. George's apartment, causing neighbours to become wary. And since his release he had been relocated several times – now he has landed in the Somerset neighbourhood."
2) RG created 3 Feb 2011
"Organizers of a program aimed at bringing former prisoners back into the mainstream have called on Government to help keep it afloat. The religious-based Wood Shop program, which has saved several people from the revolving door prison system, is financially strapped. In addition to the expenses of running the program, the organizers are looking for some $25,000 a year to help two infamous prisoners -- convicted child killer / rapist Chesterfield Johnson and rapist / burglar Kenneth (Eggs) Smith – who are soon to be released."
3) RG created Feb 8, 2011
"Edward King and defence lawyer Larry Mussenden tangled yesterday at the beginning of the drug trial of Kenneth "Eggs'' Smith, who is charged with four counts of intent to supply heroin and cannabis. Mr. Mussenden asked for an adjournment, explaining that [he had been notified that] the Office of the Director of Public Prosecutions (DPP) had not completed a set of papers for the defence, so he had not seen all the relevant case documents. "It's not a slight on my learned friends (Crown counsels); I know how hard it can be,'' Mr. Mussenden said.
Mr. King responded: "There will be no adjournment for the reasons you stated.''
Mr. Mussenden tried to push his point that his client faces a harsh punishment for the drug-related charges, allegedly committed in an increased penalty zone, near a nursery school. Mr. Mussenden said Smith's defence would be crippled if the case went ahead without the defence lawyer seeing the documents from the DPP.
Mr. King accused Mr. Mussenden of purposely entering the court room to "upset'' him: "You come into my court to upset me this morning -- I don't have to record a word!''
Mr. Mussenden replied: "So we haven't started yet?''
The Magistrate got up and left the court room, calling for a break.
When he came back, about 10 minutes later, the court dealt with another matter before continuing with the "Eggs'' Smith trial. Smith is charged with four counts, possession of heroin with intent to supply, knowingly handling heroin with intent to supply, possession of cannabis, possession of empty plastic bags, cigarette papers and bag ties equipment fit and intended for use in connection with the preparation of a controlled drug.
Police Detective Constable Calon Hollis testified that on October 10 of last year, he and fellow plain-clothes Narcotics officers – acting on information received – arrested Smith on the corner of Dundonald and Princess Streets, near a nursery school, with a green lighter full of heroin and cannabis. Mr. Mussenden refused to cross-examine Crown counsel Graveney Bannister's witness. The case is set to continue today at 9.30am.
Kenneth "Eggs'' Smith, 52, of York Street, St. George's was found guilty of possession of heroin with intent to supply, possession of cannabis with intent to supply, and possession of empty plastic bags, cigarette papers and bag ties which was equipment fit and intended for use in connection with a controlled drug. Magistrate Edward King said: "The strength of illicit drugs is tearing up this community. Those who supply must be dealt with harshly by way of an immediate custodial sentence.''
Smith was sentenced to 12 months' imprisonment for possession of heroin with intent to supply and an additional 12 months for being in an increased penalty zone.
On the possession of cannabis charge, Smith was sentenced to 28 days' imprisonment, [and] 12 months for being in an increased penalty zone.
For possessing drug paraphernalia, the plastic bags and cigarette papers, Smith was imprisoned for 28 days, and 12 months for being in an increased penalty zone.
Smith will serve two years for possession with intent to supply heroin. The possession of cannabis and drug paraphernalia offences will be served concurrent to the first charge. Mr. King said: "You must be taken out of circulation.''
4) RG created Feb 8, 2011
"Prison Commissioner Mr. Dyer said:
In regard to injuries sustained by Kenneth (Eggs) Smith, which the prison officer claimed were caused when the long-time inmate jumped the wall between the Prison Farm and the Co-ed facility. His injuries were consistent with a fall and there is no evidence to support that they happened elsewhere. The officer had reported that Smith was found in his cell with broken toes and a gash in his head after being checked earlier in the night when he was not injured.
The responsibility of officers on duty at night is to be observant, but not to unnecessarily put themselves at risk to stop someone from getting out of the facility. They are required to report any occurrence first to the Police and then to prison officials. We have not been notified of any occurrence.''
ADDENDUM
BREAK OUT! A LOOK AT SOME PAST PRISON ESCAPES – – NONE OF WHICH INVOLVED "EGGS" SMITH
Since we're on the subject of historical abscondments from Casemates perhaps some readers might find it of interest to recall some of the more fascinating earlier prison escapes on record. Following the escape of the four prisoners from Bermuda's maximum security prison in mid-November 1985, the Living section of the RG dated November 26, 1985 took a look back at just some of the Island's more memorable jailbreaks – We'll start in 1958 with an escape from the old Hamilton Prison on Parliament Street, Hamilton.
1958
LANDY, Herman James:
"When Herman James Landy broke out of jail, he did it the old-fashioned way. He sawed through the bars of his cell at Hamilton Prison, then climbed over the prison wall, using a rope made from strips torn from his blanket. Landy was 27, a short stocky black Bermudian when he broke out the night before New Year's Eve in1958.
Landy, however, remained at large for another five months. His escape – the second in two years – prompted a public outcry, and two prison officers were later disciplined for "incompetence."
At first, the belief was that friends had helped the fugitive flee the island. For months detectives working on the case believed him to be soaking up the sun in the West Indies. Then, at 2 o'clock in the morning on Thursday, May 21, 1959, two young police officers on routine patrol in Hamilton spotted a man riding a motor cycle at a "furious pace."
For more than a mile, the Police officers dogged the trail of the cyclist through town until he crashed on North Street, Hamilton. The limping man – whom the officers eventually recognized as Landy from his wanted posters – was finally apprehended as he tried to run away from the accident. Police officials later speculated that Landy had evaded capture for so long by living the life of a hermit, sleeping by day, and venturing out and about at night, sometimes disguised as a woman."
HUTCHINSON, James McDonald:
Climbed to freedom along with Landy and was recaptured just two short weeks after the break out. Hutchinson, alias "Scarface" and "Jim Garlic" was eventually run to ground by Police on Parson's Road in Pembroke, following what Police Chief Superintendent Mr. James Lodge called "wonderful" work by officers assigned to the case."
1966
UNNAMED CASEMATES PRISONER CAUGHT IN THE SEA:
Perhaps the earliest escape bid from Casemates prison was reported by the RG in October 1966. The inmate's name was not made public and to this day his identity remains unknown. There is no evidence however to indicate this escapee was 'Eggs' Smith, but it is an interesting story nonetheless which describes in detail one of the very early escapes (of which there have been many) by inmates from within the Casemates prison located in HM Dockyard.
Royal Gazette (RG) October 20, 1966
"A prisoner being exercised at Casemates Prison made a dramatic bid for freedom on Tuesday watched by scores of workers in the Freeport area at Ireland Island. Warden of Prisons, Mr. P.T. Manley confirmed last night: "A man did escape over a fence in an exercise yard which was not in our maximum-security area. He was under observation at all times and was caught – after diving into the sea – by prison staff within 20 minutes."
Last night an eyewitness – standing with other Freeport workers – said he saw the escape bid at 2pm. on Tuesday. He said:
"I understand the man made two down-hill leaps of 40 feet each. He ended up in the dockyard with prison officers behind. The prisoner raced onto the Chauncey M. Depew which was alongside, and he went onto the top deck. The prison officers were in hot pursuit. On the top deck the prisoner took off his shirt and shoes and dived into the water. The prison officers plunged in after him. A third prison officer got into a punt and rowed out to reach the man, who attempted to overturn the boat while the prison officer beat his hands away with an oar. The three prison officers who were swimming finally caught up with the prisoner and subdued the man and took him to the dock where a prison van was waiting to take him back to Casemates."
1980
JANNIERE, George:
Escape # 1
"Guyanan national George Janniere could not seem to stay out of prison – and neither could he resign himself to life behind bars. Janniere began serving a ten-year sentence at Casemates in September 1980, after being convicted of cheating the Bank of Butterfield out of $39,000.
The 34-year-old Guyanan had spent seven years hard labour in a Jamaican prison before coming to Bermuda, and had a record so shocking – with nearly 40 previous convictions – that Judge Mr. Hector Barcilon, in sentencing him, declared he "had seen nothing to match in my 50 years at the Bar."
One month after arriving at Casemates, Janniere made his first bid for freedom, jumping overboard and attempting to swim away. The official version of the escape story was that the 34-year-old Janniere bolted while outside on a prison work detail. Later however, one prison officer claimed that the Guyanan had really been working inside the prison's carpentry shop when the escape took place. An investigation was subsequently launched. Not that prison officials were overly worried. A Police launch picked up the bedraggled convict just moments after his escape."
Escape # 2
"Two years later, Janniere tried again. This time even prison officers had to admit that the light-skinned slender black man had managed to break his way out from inside the confines of the prison walls. Again, he took to the sea. This time though, there was no rescue by Police. Five days later Janniere's body was spotted bobbing in the waters off Cambridge Beaches. Medical examiners later confirmed what Police had expected. The fugitive had drowned not long after entering the water."
Scenes of Crimes officer, Roddie Barclay recalled:-
"I remember the case of George Janniere the drowned escapee. I went out with the Marine Section at the retrieval of his remains and also visited Casemates and photographed aspects of his escape route."
Chief Inspector Dave Barber also recalls:-
"A body was found in the water near 'One Tree Island' which was taken by the police marine section to the police club dock in Somerset for onward transport by land to KEMH. It was later discovered the escapee had tried to swim to avoid crossing Watford Bridge in anticipation of a police blockade."
1981
RONCARI, Giuseppe:
"For prison officials it was not just another routine trip escorting inmates to the Government dental clinic in Somerset. For Italian Giuseppe Roncari, accused drugs smuggler, it was as timely a lifeline as he was ever likely to be offered. The slender, auburn haired, green-eyed New York resident was due to be arraigned in Supreme Court in a week on charges of importing cocaine into the Island. Instead, he slipped his prison guards and made it off the island. Rumour had it he even sent a postcard from Italy to the CID. [I can vouch for the fact that no such postcard was ever received by the CID].
As Deputy Commissioner of Prisons Mr. Milton Pringle told the story, Roncari was one of five inmates taken to the Government clinic on Mangrove Bay Road. The outing was a routine one, and prison guards had no reason to be suspicious. "After everyone was settled down, he made good his escape," Mr. Pringle said. Though Police cordoned off the Mangrove Bay area within minutes after Roncari's escape, it was as if the Italian had vanished into thin air. One newspaper article speculated that the alleged drugs dealer had had "face altering surgery."
CLICK HERE: to read about the ensuing 17-years-long INTERPOL hunt for cruise ship steward Roncari culminating in his arrest in Florida and his escorted return to Bermuda in 1998. As you will read, Roncari was later strangled to death in 2017 in Greater Manchester, England by a fellow cocaine dealer.
1989
ANOTHER TWO-MAN ESCAPE FROM CASEMATES PRISON
For context I record here that as Acting Assistant Commissioner 'D', I attended COMOPS between 2000 – 0100 hrs. on Tuesday, May 9, 1989 regarding the escape of two inmates from Casemates.
Reported the following morning by the RG, the details evolved as follows under the heading:
COCAINE IMPORTER ESCAPES
"Cocaine smuggler Anson Carson Fubler, who on conviction swore to have "justice" done to others he said were involved in his drug ring, escaped with another man from Casemates prison last night.
Fubler, 26, was jailed for 20 years just three weeks ago, the stiffest drugs penalty ever handed out in Bermuda for conspiring to import nearly two kilos of cocaine, potentially worth more than $1 million.
Breaking out with Fubler was another drugs smuggler Karnal (Apples) Robinson, who was serving 10 years for importing cocaine, heroin and cannabis.
The two were noticed missing around 8pm., said Police spokesman Inspector Roger Sherratt. He did not say how they escaped, and Prison Commissioner Mr. Milton Pringle could not be reached last night.
Roadblocks were set up all around the prison, including Watford Bridge as Police stopped vehicles searching for the two escapees. Insp. Sherratt said Police would also be manning the airports and docks. Police also called on the Fire Service to help with the search, using the floodlights on their trucks. At press time last night, neither man had been found.
Robinson, 24, was convicted in December last year after admitting importing more than $800.000 worth of cocaine and heroin, and a small amount of marijuana. Fubler was convicted along with his wife, 31-year-old American Gina Fubler. She was also jailed for 20 years.
"I was honest enough to admit my part in the conspiracy and I will see to it that those not before the court will get justice done to them," Fubler vowed in the Supreme Court moments after hearing his sentence on April 11. During his trial Fubler claimed senior Police officers were involved in the drug ring, which he said had brought between 30 and 40 kilos of cocaine into Bermuda over the past two years."
The hunt for these two escapees ended after 15 hours when officers found the men still behind the prison walls with one suffering a fractured leg.
FIFTY-FOOT WALL FOILS JAILBREAK
RG Thursday, May 11, 1989
"Drug smugglers Anson Fubler and Karnal (Apples) Robinson went missing from an exercise yard at 7.30pm. Tuesday, prompting an Island-wide lookout involving scores of Police and prison officers.
All night road blocks were set up to check cars and trucks leaving Somerset, and officers were posted at the airport and shipping docks, while intense patrols continued through Dockyard and its marina until day break.
The search was finally called off at 10.15am. when Robinson was pulled from an embankment that bordered an excavation site. He was handcuffed and returned to his cell.
Fubler was found five hours earlier when prison officers heard his cries coming from an off-limits courtyard. He was forced to abandon his jail break after fracturing his leg leaping from a 50-foot wall.
Both men had climbed from a fenced-in area at the northern end of the property to the southern perimeter near the front walls.
Prisons Commissioner Mr. Milton Pringle said the men disappeared during an after-dinner break in prison's exercise yard between 6.30 and 7.30pm.
"There were two officers watching the area – one in the tower and one in the yard with the men," Mr. Pringle said. "But nobody realized until 7.30pm. when the men were called back in." Neither of the officers saw the pair leave the yard, and Mr. Pringle said it is still not clear how the men escaped.
Prison security called in as many as 20 off-duty officers and about 70 Police, including narcotics and marine officers, to hunt down the men. The search inside Casemates was given up during the night and started up again at daylight. But officers continued the search outside the walls, scrutinizing people leaving the Island on yesterday's Pan Am flight to New York and checking all cruise ship passengers boarding ships in Hamilton and Dockyard. Police cars scouted the Dockyard area through the night, while marine and narcotics officers carried out two separate searches of boats docked at the new marina.
Fubler and Robinson will face internal charges which could see them serve their full jail terms, giving up any time off they might have won for good behaviour.
"They will have to go before the Treatment of Offenders Board and will most likely be charged with attempting to escape," said Mr. Pringle. "They may have to forfeit some or all of the time they could have gotten off for good behaviour." The two could also face Magistrates' Court charges of attempting to escape custody when they could be sentenced to additional time in prison.
A search of prison grounds Tuesday night failed to locate the men, and Mr. Pringle said both areas where the men were found were patrolled the night before. "It's very hard to break out of Casemates – it's not impossible, but it's difficult, especially during the night," he said. "The walls are very high, there's barbed wire all over, and there are holes in the ground. It's a pretty treacherous area."
Fubler is listed in stable condition on a general ward at King Edward VII Memorial Hospital. Mr. Pringle said he was to have surgery yesterday to the multiple fractures in one leg."
1991
SHORTER, Troy:
A convicted murderer, Troy Shorter broke out of Casemates prison in 1991 having been convicted of the July, 1986 murder of Hayward's Supermarket worker Roger Redman, who he shot in the back of the head with a handgun during a holdup. He was originally sentenced to death but this was reduced in 1989 to life in prison.
Two years later he was a free man after breaking out of Casemates and taking the bus home. Many thought he had left the country but after a five-month manhunt he was finally caught in the attic of his mother's home in Pembroke.