FUGITIVES WHO LIVE IN FEAR
Those who have run……….
Written by George Rose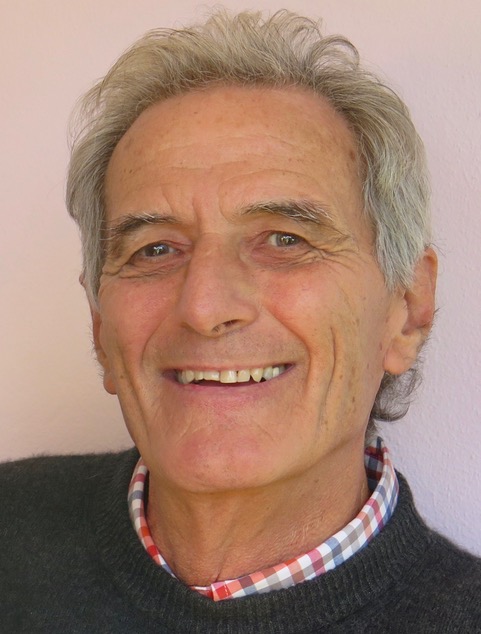 Retired D/Supt. George Rose
As Head of the Bermuda Police Narcotics Department during the late 1970's and into 1980's I had charge of all domestic related drug investigations unfolding both within and without the Island's jurisdiction.
1981 was a particularly active year concerning fugitives who had escaped the Island's authorities' from as far back as 1972. Consequently, I took steps to collect all the drug case files including related exhibits concerning absconded drug fugitives and caused them to be placed into secure storage within the Narcotics vault pending any future arrests of the wanted men wherever they may be.
Further, during an interview with the Royal Gazette in November 1981, I reflected on the following cases in an effort to communicate to the general public the seriousness of this worrisome problem. No matter where in the world they are, each fugitive remains a
'rolling-stone' and will live in fear until their respective cases are judicially determined.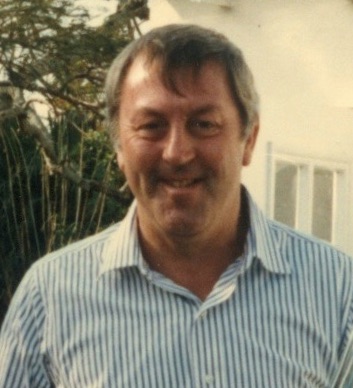 D.C. Brian Callaghan
Working with DC Brian Callaghan who occupied the Bermuda desk of INTERPOL (ICPO), Red Notices were successfully applied for and issued for a number of our fugitives. These Notices remain in effect until the offender is either arrested or the warrants are rescinded. One such arrest is itemized below together with its tragic murder aftermath.
I told the Royal Gazette that a Jamaican gunman known only as "Rocky", and Kurt Kennedy, David Stuart Robinson, Gary Thomas, Giuseppe Roncari and John Hilton (Bobby) Bassett all had something in common. They are all fugitives who skipped the Island and are now wanted for crimes they are alleged to have committed.
"Although Roncari's disappearance was noted immediately – he escaped from the custody of a prison guard whilst visiting a private dentist – most made their break for freedom in a quieter fashion. They simply failed to show up at a scheduled court hearing. Subsequent enquiries revealed they are likely no more in the Colony, leaving in their wake warrants issued for their arrest and out of pocket friends and relatives who had to pay the bail they automatically forfeit.
"Although the missing men have managed to elude authorities, they are not necessarily free men. Shortly after they disappear, their "wanted-by-the-Bermuda Police-status" and photographs are relayed to Interpol.
"D. Insp. George Rose who, as head of the Police Narcotics Division with responsibility for those who ran off while awaiting drug charges, says information about the fugitives is circulated throughout Interpol's international network.
"They are going to be fugitives for the rest of their lives," he said. "If they see a policeman coming towards them each will have to ask himself, "Is he coming for me?"
"They are international fugitives from justice and they will remain so until their matter is resolved in a court of law, no matter where they are," he added.
"The Bermudian fugitives have a vested interest in returning home," said Insp. Rose. But he added that if they come back voluntarily they would almost certainly be remanded into custody at Casemates pending trial for escaping lawful custody in addition to the outstanding charges against them.
"The man who has managed to escape local authorities for the longest time is a former member of the Black Beret Cadre, John Hilton (Bobby) Bassett, who is now 35. A warrant was issued for his arrest in July 1972 after he failed to attend court to answer charges of the theft of rifles, which were the property of the Cadet Corps. The rifles, a Police spokesman said, had gone missing from the Bermuda Technical Institute, which is now the Bermuda College.
"Exactly one year later [1973] a warrant was issued for the arrest of 20-year-old Ottiwell Simmons Jr. who failed to appear in Supreme Court to answer a charge of receiving stolen property. Neither man has been seen by local authorities since. [1981].
[SIMMONS UPDATE – Man arrested after 10 years goes free
The Royal Gazette on 30th July, 1983 reported –
'Ottiwell Simmons Jr. walked out of Magistrates' Court a free man on Wednesday after the Attorney General's chambers could not find the information in the case against him.
"Simmons, of Tribe Road, Pembroke, was arrested on July 14 on a warrant issued nearly 10 years ago. Attorney General Mr. Saul Froomkin told the court that the original
Information had not been found. "The information not having been found, I have no further business before the court," he said.
"Magistrate the Wor. Roger Garfield said that as there was "no legal process" against Simmons "there is nothing required of him by this court." Lawyer Michael Scott appeared for Mr. Simmons on behalf of Mr. Julian Hall who was ill.']
"The real name of "Rocky", the Jamaican gunman, or even what he looks like, is not known to local Police. He is wanted, a Police spokesman said, in connection with the shooting of [Bermudian] Alphonso Eastmond, late last year.
"Unlike Bassett, a self-styled revolutionary, those who have recently become fugitives are usually facing drug charges.
"Gary Thomas, 31, of Pearman's Hill, Warwick, is alleged to have imported more than eight pounds of cannabis from Jamaica to Bermuda in an engraved headstone. Thomas failed to appear for his Magistrates court trial on March 5 of this year.
"A bench warrant was issued for his arrest," said Inspector Rose, "and on that date his sureties were given a week to get the accused to court."
On March 13, his relative Mr. A. Thomas, who stood surety for Thomas, forfeited $500 bail. "We have reason to believe that Thomas left the Island for Jamaica on January 30, 1981," said Insp. Rose.
"David Stuart Robinson, 23, skipped the Island with two charges over his head. He failed to appear at a Supreme Court hearing on February 25, 1981 on charges of obstructing a Police officer, possession of cocaine with intent to supply and possession of drug equipment. A warrant was issued for his arrest and the trial was set down for March 2.
"Robinson never showed up for the trial, leaving his co-defendant Betty Jean Steed, to face an obstruction charge alone. She was subsequently found guilty and sentenced to 18 months' probation.
"Robinson was also facing a Magistrates court trial on March 3 for a possession of cocaine charge. He did not appear in the lower court on that date and his father [name redacted] who stood as surety on both charges, was ordered to pay the courts a total of $1,250 in forfeited bail.
"Also wanted for possession of cannabis with intent to supply is 20-year-old Norman Manuel Mello of Chain Gate Hill, Devonshire, who is believed to have left Bermuda after failing to appear in Magistrates court on April 30 of this year.
"Giuseppe Roncari, 26, an Italian, made his successful bid for freedom on June 11 [1981]. Remanded in custody at Casemates Prison, he slipped from the custody of prison wardens while he was seeking dental treatment in Somerset. He faces a charge of trafficking 25 grams of cocaine.
It was believed at the time that Roncari had left the jurisdiction with assistance from Italian crew members' aboard one of a number of cruise ships then serving Bermuda. After a period of time during which local searches proved futile, I initiated an INTERPOL Red Notice alert (effectively an international arrest warrant) for Roncari's capture.
[See UPDATE below concerning Roncari's capture and later, his murder].
"Kurt Kennedy, 24, an American citizen of Bermudian parents, is charged with conspiracy to import heroin, importation of heroin and the export from Bermuda of foreign currency. He did not appear for his trial on July 6 and his mother ….and his great-aunt ….were ordered to pay a total of $20,000 to the courts in forfeited bail.
"Insp. Rose said he is becoming concerned about the numbers of people failing to appear in court "especially where drug trafficking charges are concerned."
Asked whether those facing serious charges should be forced to surrender travel documents, he said: "To what extent one should restrict their movements prior to their trial is a situation that the courts must consider. "One must always remember" he added, "that a person is innocent until proven guilty."
"The Police Department has to rely on the judgment of the magistrate or the judge hearing the application for bail. We have no argument with their decisions," he added, "since they are most often found to be fair to all."
"He noted also that those freed on bail are able in most cases to travel.
"All it (the granting of bail) means is that you have to appear in court on a certain date," he explained.
"Those who chose to flee rather than face trial must always be on their guard. Wherever they are for the rest of their lives, they should not get involved with Police even on a minor matter, such as a parking offence.
"If he enters a Police docket for any reason, anywhere, he stands a chance of being discovered for who he is," said Insp. Rose.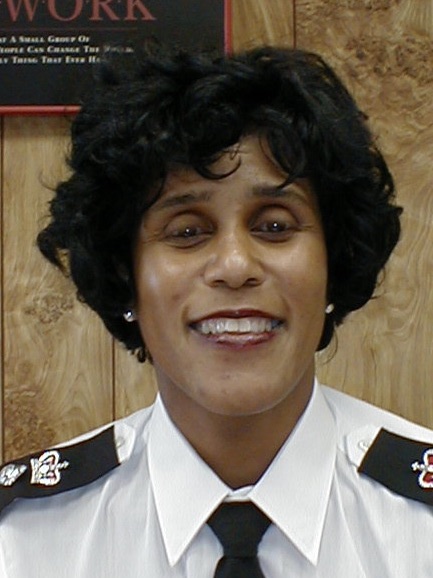 Assistant COP Roseanda Jones
Some ten years later on December 20, 1991, police spokeswoman Sgt. Rosanda Jones revealed to the Royal Gazette that more than a dozen drugs suspects were being hunted by the law having fled Bermuda over the past decade.
"There are people who were arrested for drug offences and [are] awaiting trial or escaped from prison while awaiting trial. The oldest case on the list is Guiseppe Roncari, who escaped from prison guards while being taken to a dental appointment [from] Casemates in 1981. Roncari, a cruise ship worker charged with trafficking 25 grams of cocaine, was 26 years old at the time."
"Interpol has been alerted and, as a result of that, we found that one of the persons on the list, a US citizen, is actually serving a14 years in Maryland on a kidnap charge," Sgt. Jones said.
"He's in until the year 2000. So by the time he gets out, his case will be 18 years old. The case will probably be reviewed at that time to see whether or not it's worth bringing him back for trial."
Sgt. Jones said, "Of the 14 people on the list of drug fugitives, 11 are Bermudian, one is Jamaican, one is a US citizen and one is Italian. Police are convinced that none of them are in Bermuda. We believe that they are in the US, Canada or down in the Caribbean.
Of the Bermudians, one thing is for sure – wherever they are, they are illegal immigrants there because they didn't have pre-clearance from us."
Sgt. Jones continued, "We don't specifically know where they are, but we have alerted all the authorities, the foreign customs and police officials. Maybe, just maybe, some of the family may encourage them to come back here and face what they have to face. All they are doing is living a lie and living under the fear that they will be caught."
At the end of 1991 a list of more than a dozen drug fugitives wanted by Bermudian authorities was published.
A further seven years passed before fugitive drug smuggler Guiseppe Roncari was captured in late 1998 in Florida after his 17 years on the run. His complete case file and original exhibits from 17 years ago was retrieved from the Narcotics vault and entered into evidence supporting a request for extradition proceedings to commence.
His arrest was reported by The Royal Gazette on December 12, 1998 –
RONCARI ARRESTED IN FLORIDA ON INTERPOL WARRANT
RETURNED TO BERMUDA AND PLEADS GUILTY TO DRUGS' OFFENCE
"An Italian fugitive who escaped from Bermuda 17 years ago was finally jailed for eight years yesterday for smuggling cocaine.
"Cruise ship steward Giuseppe Roncari dodged prison guards while getting treatment at a Somerset dentist in June 1981. He fled to the US to rebuild his life in New York restaurants – then moved to Florida where he even worked for Police Association charities.
"But the 42-year-old was extradited from the US after being picked up by Police following a 17-year search. He was finally convicted at a [Bermuda] Supreme Court hearing yesterday, after pleading guilty to possessing $31,759 worth of cocaine intended for supply.
"Roncari was found with the cocaine -- 21 percent pure -- during a search at Bermuda's Airport in March 1981. The drugs were found taped to Roncari's groin.
"But his lawyer Mark Pettingill pleaded with Puisne Judge Norma Wade Miller to consider Roncari's new "exceptional" lifestyle before passing sentence.
"Instead, the judge sided with Crown counsel Brian Calhoun, who argued Roncari had to be sentenced according to 1981 law. Mr. Calhoun insisted Roncari's life after 1981 could not be taken into account -- because it would encourage other prisoners to dodge
Police "then hope to get credit for it." Mrs. Wade Miller said she could not let Roncari's escape affect her sentence because he was not charged with running from the law.
"But she added his new life as a "model citizen'' also had to be ignored, "because that would simply give encouragement to others to avoid appearing."
"I take into account your expressions of remorse," the judge told Roncari.
"But the sentence of this court is one of eight years.''
"Roncari, wearing orange regulation prison uniform, stood head bowed as his sentence was doled out.
"Moments earlier, he told Mrs. Wade Miller he had only escaped because he felt "scared". "There are not many things to say about it, besides saying sorry to everyone,'' he said in broken English. "Sorry is the word that everyone understands. I have tried to stay out of trouble. Whatever sentence you give to me, I will carry on. I will try to do my best. I will try not to raise my voice to anyone.''
"Mr. Pettingill had earlier described his client as a "patsy'' and a "mule'', duped by big time drug dealers to smuggle the cocaine.
"But Mr. Calhoun said: "Here, [in Bermuda] Mr. Roncari did the buying and did the selling, or was about to. That was his plan. He was not a mule, or merely a patsy.''
"The court heard that Roncari bought the drugs, weighing over 25 grams, in New York for $2,000. He told Police he planned to sell them for $3,300.
"But Mrs. Wade Miller was told the cocaine, with a 1998 street value of just $2,000, could have fetched more than $30,000 if sold in 20 percent pure "decks'' -- or $25 portions of 20 milligrams of cocaine. In 1981 it would have fetched up to $60,000 if sold as ten percent pure, the court heard.
"Mr. Calhoun said Roncari told Police the cocaine would be sold to a Bermuda resident called "Desi'', whom he had already supplied six or seven times while working on cruise ships.
"The sentencing was delayed a week after Chief Justice Austin Ward said he could not preside over the hearing. Mr. Ward declared a conflict of interest, revealing he signed Roncari's original indictment in his role as Solicitor General."
APPEAL AGAINST SENTENCE WITHDRAWN
Three months later, Roncari decided not to proceed with his appeal against his eight year sentence and his new lawyer formally withdrew the application before the Appeal Court.
"Cruise ship steward Giuseppe Roncari, 42, was initially charged with being in possession of $31,750 worth of cocaine back in 1981. But he managed to escape the Island and was on the run in the US for 17 years before finally being picked up by Police last year.
"Last December Roncari finally received an eight year prison term for the offence after being extradited to the Island.

"And in the Court of Appeal this week his lawyer withdrew an application to have the length of sentence reduced on the grounds that Roncari might be given an even stiffer punishment by the court if they had the opportunity to reconsider his case.
"Attorney Marc Telemaque said that having taken some instructions and in relation to what other courts have said, we are abandoning this application today.''
"Appeal's Court Judge Sir James Astwood told Roncari that he was taking the right course of action by not appealing the initial sentence, hinting that, had he committed the same offence today, he would be sent to prison for a much greater length of time.
"Your case has a long history – your lawyer's quite wise," he said.
"Roncari, dressed in prison-regulation orange overalls, told the court that he intends to spend his time in custody writing a book."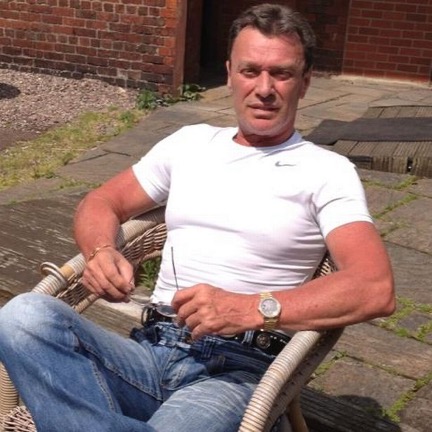 Giuseppe (Giorgio) Roncari
MURDERED
On Saturday, April 15, 2017 Giuseppe (Giorgio) Roncari was strangled to death in his riverside apartment on Blackburn Street, Salford, Greater Manchester, England after a drugs row. His body was found on the following Easter Monday.
Police investigations revealed that Giorgio, better known as Giuseppe was the manager of the Italian restaurant 'Avalanche' in the City Centre. Notably, only weeks before his murder, Roncari had appeared at Manchester Crown Court, where he entered not guilty pleas to three charges of possessing class-A drugs with intent to supply.
As a condition of Roncari's bail he was required to report to Longsight Police Station each day. When he failed to turn-up during the weekend of April 15 and 16, police visited his flat the following Monday. It was only then that Roncari's body was discovered and a murder investigation was launched.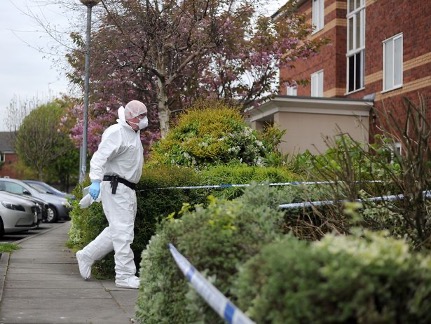 A murder investigation was launched after Mr. Roncari's body was found
IMAGE: Manchester Evening News
Investigations revealed that he had been strangled to death by a waiter he employed after he had refused to supply him with drugs. After the killing the waiter stole his boss' Jaguar car and bank cards and went on a spending spree.
The waiter, Vincenzo Tavano, 33, of Park Lane, Poynton, Cheshire was later charged with murder, fraud and taking a vehicle without consent. He was remanded to appear at Salford and Manchester Magistrates Court on April 27, 2017.
Link https://aboutmanchester.co.uk/man-charged-with-murder-of-giuseppe-roncari/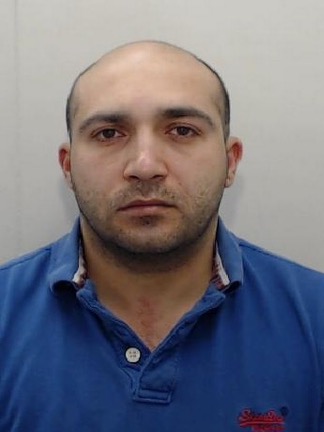 Vincenzo Tavano
GUILTY PLEA
In early October, 2017, Manchester Crown Court heard how Tavano had put a plastic bag over Roncari's head strangling him to death. Giorgio had the life "squeezed" out of him by his friend and employee of four years, who was trying to buy drugs before they began arguing.
Tavano admitted murder, fraud by false representation and taking a vehicle without consent and was jailed for life with a minimum term of 17 years.
"The Court was told that Roncari was the manager at the trendy Italian restaurant 'Avalanche' in Manchester which boasted celebrity clientele such as footballers Frank Lampard and Robin van Persie.
"But the 60-year-old was also leading a double life as a cocaine dealer and had sold drugs to his waiter Milan-born Tavano. When Tavano ran up a debt with Roncari he was refused more drugs and when the older man confronted him about the debt he owed, the defendant grabbed him by the throat and choked him to death.
"Tavano claimed to have put a plastic bag on his head to see whether the former cruise ship entertainer was still breathing before taking his wallet, cards and keys to his car.
The court heard he then used the dead man's bank cards at least 18 times in stores and online.
"When arrested eight days after Roncari's body was found Tavano answered "no comment" to questions, but later fully admitted his involvement.
"He later told investigating officers that when he arrived at his boss' apartment for a social visit, things quickly became heated. Cocaine-addicted Tavano asked his friend to sell him some drugs but Roncari refused.
"Tavano already owed money to Roncari who refused to sell to him on credit, the court heard.
"In a fit of rage Tavano grabbed his friend around the neck and started to choke until his eyes rolled back and he dropped to the floor.
"The killer later told police he had placed a red plastic bag over Roncari's head to see if he was still breathing as he was not sure if his friend was dead. He helped himself to £20 and several bank cards, and also took Roncari's Jaguar from outside his home.
"The car was later dumped on Chester Street in Manchester city centre at 4.50am by Tavano, who was caught on CCTV taking a taxi home to Poynton. Within hours Tavano
had used the bank cards to withdraw £270 from Roncari's account.
"He said that over the next few days he made 18 purchases using Roncari's accounts including a chocolate bar, a McDonald's meal, a coffee machine, a drill and a baseball cap. After tracing online purchases which had been collected by Tavano using his friend's bank cards, police also tracked him on CCTV buying items with Roncari's bank card.
"The Court heard that just days before the murder on April 25, Tavano had been sentenced for possession of cocaine while on community service.
"He told officers Roncari was a 'kind man, a sweet man' and a good friend who would lend him his bank cards because he knew he liked to spend money. He initially told detectives his friend was 'alive and well' when he had left his flat on Friday night. But he later admitted that they had argued and he had grabbed Roncari around the neck choking him. He insisted that he had not intended to kill him but he did admit murder.
"Andrew Thomas, defending, said former street-cleaner Tavano is 'truly sorry' and had lived a 'blameless life' until recently.
"The barrister said Tavano had been helping his friend to import and sell wine and almost all his income came from him.
"He did not intend to kill Roncari but he accepts that in his anger he intended really serious harm," he added.
Sentencing him to life, Mr. Justice Davis said –
"The man you killed was a good friend of yours. He was a man who was respected by friends and family and did a great deal of good for the community. You say you are truly sorry not least because he was such a good friend. On a visit to his home you asked him for drugs and because you had not the means to pay, he refused. Instead you began to strangle him and you accept it was about a minute that you were squeezing the life out of him. Having killed him and put a plastic bag over his head you went through his flat and stole what you could."
Justice Davis continued:
"Instead of grieving or seeking assistance you gathered up his bank cards and set about fleecing his bank and credit card accounts and spent about a week doing so. This leads me to believe that the remorse and sorrow you feel has come rather late in the day."
Senior Investigating Officer Duncan Thorpe, of the Greater Manchester Police's Major Incident Support Unit, said:
"Tavano's anger fueled his actions that night, taking a man's life over a dispute. The immoral and opportunist behaviour he displayed after he murdered a man proves there is no place better for him than behind bars. Giorgio was a well-liked and popular man in Salford and will be terribly missed. My thoughts remain with his family and friends at this time."

Links:
https://www.ibtimes.co.uk/killer-waiter-strangled-restaurant-boss-when-he-was-refused-drugs-then-stole-victims-car-bank-1642206
https://www.mirror.co.uk/news/uk-news/drug-addicted-waiter-murdered-boss-11299723