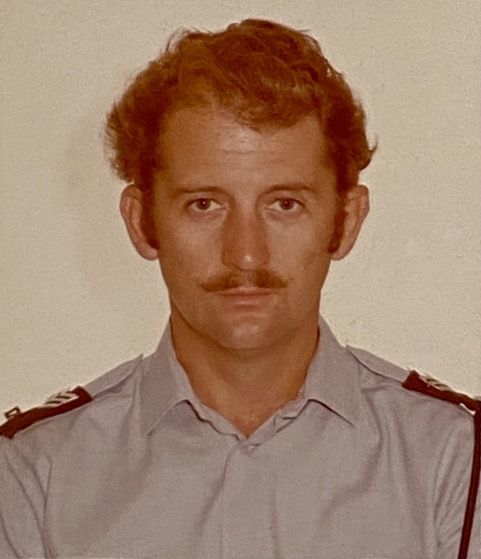 Young Sgt Dave Cook - 1973
In late 2023, one of our most popular retired police officers, Dave "Cookie" Cook, passed away at the age of 80. Dave had served in the Bermuda Police since first arriving here, along with 14 other experienced police officers, in September 1966. Dave's excellent administrative skills soon became obvious and he put them to good use in the various departments in which he served during his 25 year police career, and also in the social activities he became involved with from the moment he set foot on the Island.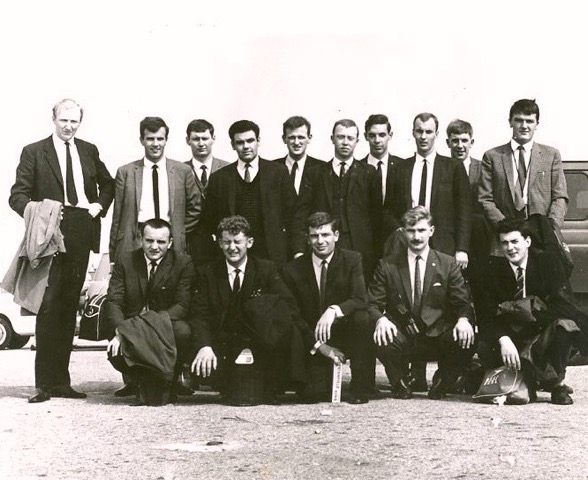 Stepping off the plane in Bermuda - September 1966
(l-r) Top Row - Bob Roberts, John Graham, Les Brown, Brian Kent,
John "Coco" Eve,
Les "Bloodnut" Tomlinson, Dennis Brookes, Alan Keagle,
Alan White, Dave "Big Joe" Needham
Bottom Row - Pat McBride, Dave "Cookie" Cook,
Ian Mitchell, Fred Church, and Vic Richmond
As he progressed through his career as a police officer, Dave was popular and highly respected amongst all who served with him, and who worked under his supervision as a Sergeant and as an Inspector.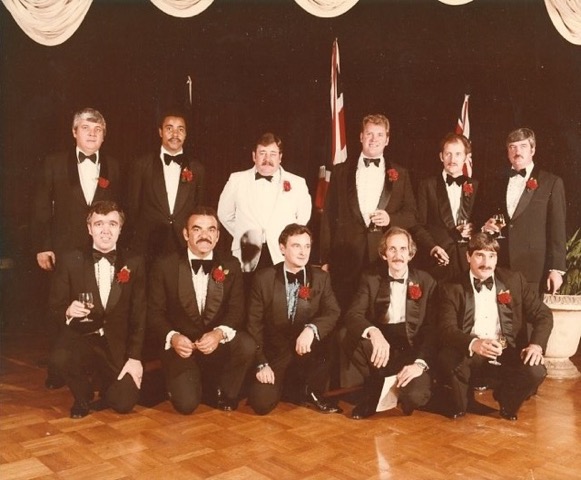 Members of the Police Boxing Organising Committee - circa 1980
Back row (l-r) - Merv Willey, Richie Basden, Howard "Stumpy" Kirkham,
Graham Alderson, Dave Cook, Vic Richmond.
Front row - Cyril Plant, Eddie Foggo, Neil Anderson, Ron Robinson, Ken Lewis.
Dave was also actively involved in social and sports activities including his invaluable contribution to the running of the Police Boxing Committee where he played a vital role in its development; as organiser of the Police road running group; and following his retirement Dave was instrumental in the re-vitalisation of our Bermuda Ex-Police Officers Assocation (ExPo). For many years Dave also played an active role as a Masonic Lodge Member, and it's a sign of his leadership skills that he went on to hold the highest office in Masonic Lodges here on Island with the title of Right Worshipful Grand Superintendent of the Scottish Lodges in Bermuda.
When he first arrived in Bermuda on a BOAC flight, Dave initially intended to complete his police contract and then return to the UK, but little did he realize then that fate was soon going to completely change his plans for the future because after just two weeks he met a beautiful young lady, Miss Patsy Powell!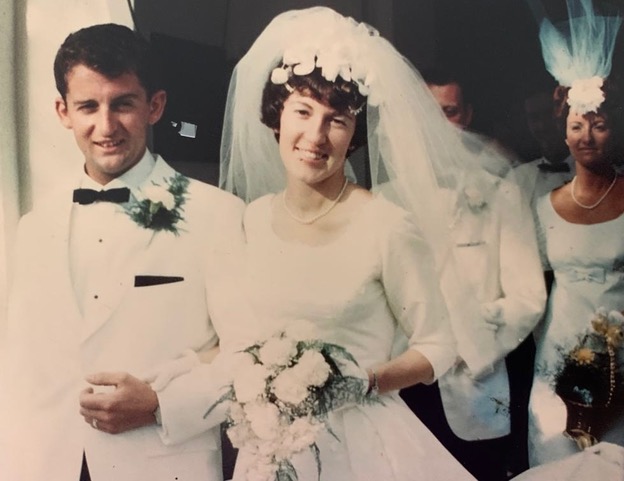 Dave and Patsy on their Wedding Day
It was love at first sight and two years later Dave and Patsy were married at St. John's Church in Pembroke. The two were a formidable team! They enjoyed a long and happy marriage, had two children and three lovely grandchildren, and lived life to the full.
At Dave's funeral on 2nd November 2023, those of us present heard two wonderful tributes to our dear friend and colleague. The first was from retired Inspector Calvin Smith, the current President of ExPo who had served briefly under Dave when he was a young constable. The second Tribute was given by ACOP Martin Weeks in his capacity as the Right Worshipful Grand Superintendent of the Scottish Lodges in Bermuda which is the highest position in Scottish Freemasonry in Bermuda, and the position previously held by Dave.
Dave's daughter, Melony Kendall, gave a most moving Eulogy to "Our Dad" on behalf of their family.
Here are the two tributes, along with the eulogy which, together, provided wonderful insights into the life and personality of our dear friend, Dave, as a police officer, lodge member, husband, father, grandfather, and good friend who touched the lives of all who were privileged to know him.
Tribute given by Inspector Calvin Smith
I have the honour of providing a Tribute to our good friend and colleague, Inspector David "Dave" Cook, or as we all knew him, "Cookie" on behalf of the Bermuda Ex-Police Officers Association (ExPo),and the Bermuda Police Service.
I'm aware that Dave was born in Rotherham, England,and was raised in Cumberland near the Lake District. (More on that in a moment.)
He began his police career in 1963 when he joined the Lancashire Police, serving in Wigan and St. Helens, before successfully applying to join the Bermuda Police Service.
Dave arrived in Bermuda in September 1966, and served initially in Central Division, Hamilton, in uniform. It wasn't long before his first-class administrative abilities were recognized and he became Divisional Clerk for 3 years to the late Chief Inspector James McMaster.
Dave then worked in Central Parishes, and after just 4 years in the Service he was promoted to Sergeant and served as a Watch Sergeant in Hamilton. He went on to serve in Operations (Traffic), and Western Division (Uniform) where his administration skills continued to be put to good use.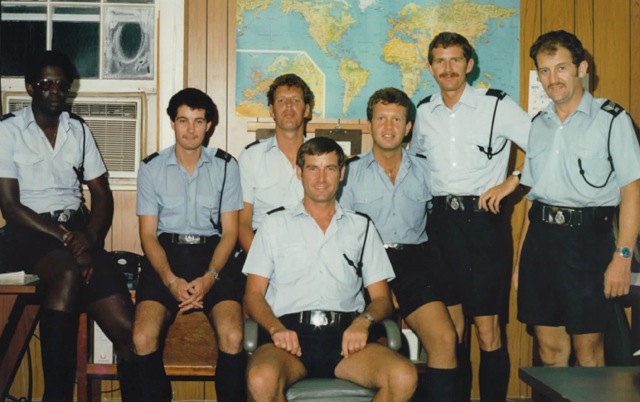 Sergeant Dave Cook with "D" Watch, Traffic Department - July 1979
(l-r) Wayne Hodgson, Iain Morrison, David Smith,
Barry Higham, John Dale, Eddie Davies, Dave Cook
In April 1983, Dave moved to Central CID where he served as Office Manager and was both highly efficient and also very well liked by all who worked with him. He was promoted to Inspector in September 1988, and served as second-in-command of Operations (Traffic Division) until his retirement in October 1991, after 25 years devoted service to the Bermuda Police.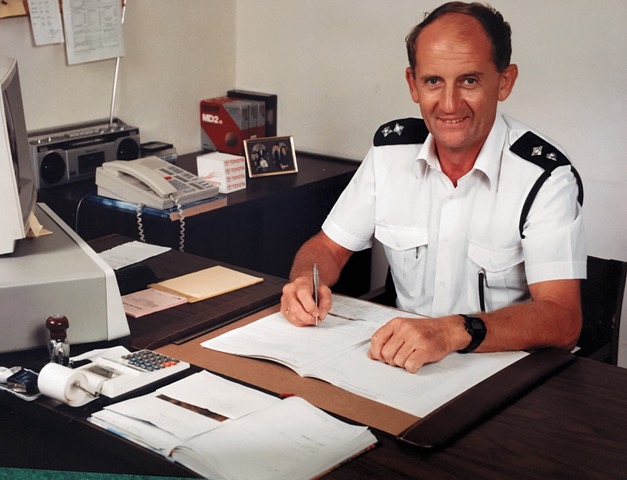 Inspector Dave Cook in Operations (Traffic)
Throughout his service in the BPS, Dave played a very active role in sports and social activities. He was a key member of the Police Boxing Team Committee, where he served as Chairman for several years. Never one to stand still he also represented the police in Inter-Services running events. He invariably gave 100% effort in everything he did and that included competing in Inter-Divisional Tug o' War!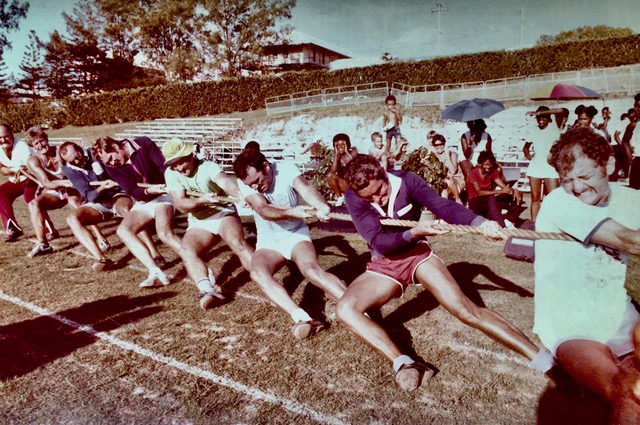 Inter-Divisional Tug o' War at Police Sports Field - 1981
(l-r) Stuart Innes, Derek Richardson, Godfrey Davis,
Tony "Bumper" Laughton, Jeff Baker, Barrie Mancell,
Our ExPo Facebook page has been flooded with messages of condolences as our colleagues here, and around the world, got to hear of Dave's passing. There is a common thread in their many comments about what a
thoughtful, caring, popular, unflappable, and highly efficient officer Dave was - and always with
agreat sense of humor. Dave was clearly held in high regard by all who served with him.
This may be coincidence but I understand that Dave was raised not far from where former Commissioner Clive Donald was born and raised - in Cumberland near the Lake District, and although they didn't know each other, they both flew 3,000 miles to come out to Bermuda as Police officers, and they both married beautiful young Bermuda ladies - who happened to be related to each other. They chose well!
Dave and Patsy were married in June 1968, and they had two children, Melony and Ian, and three grandchildren, Mila, Ruby and Holly.
Although I never personally worked with Dave, I got to know both him and Patsy when I first became a member ExPo, and I know first-hand what an exceptionally reliable and hard-working couple they have been whenever we hosted ExPo social activities at the Police Club.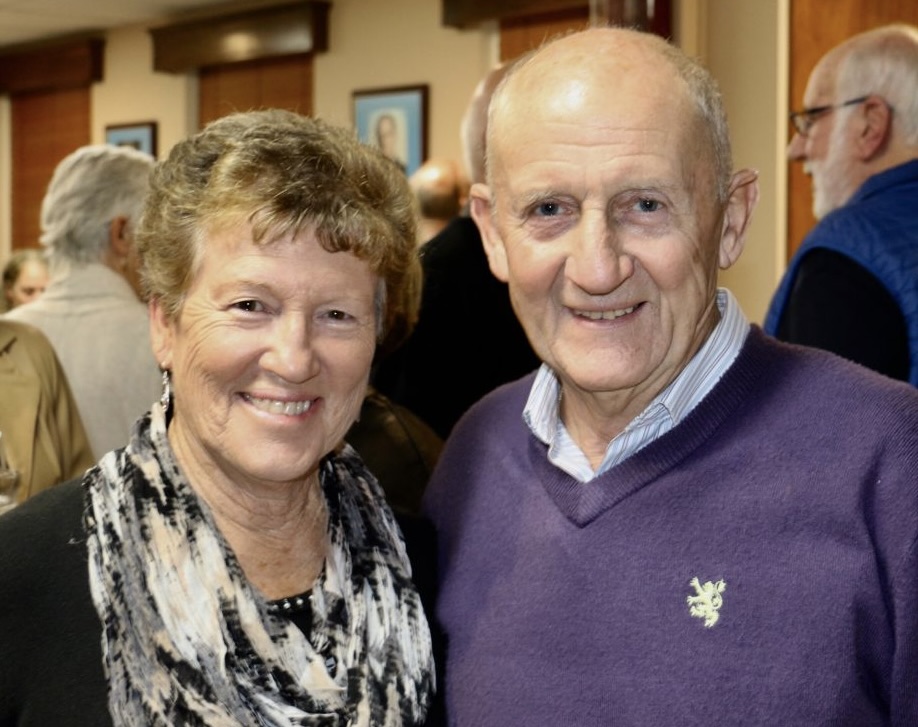 Patsy and Dave at one of the numerous
ExPo functions they helped to organise
On behalf of all of our colleagues, both serving and retired police officers, I express our sincere condolences to Patsy, to Melony and Ian, and to all of their family.
In conclusion I would like to give credit to Dave for coming up with the idea over 20 years ago of holding an annual pre-Christmas lunch for former police officers at the Mariners Club in their Mad Hatters Restaurant.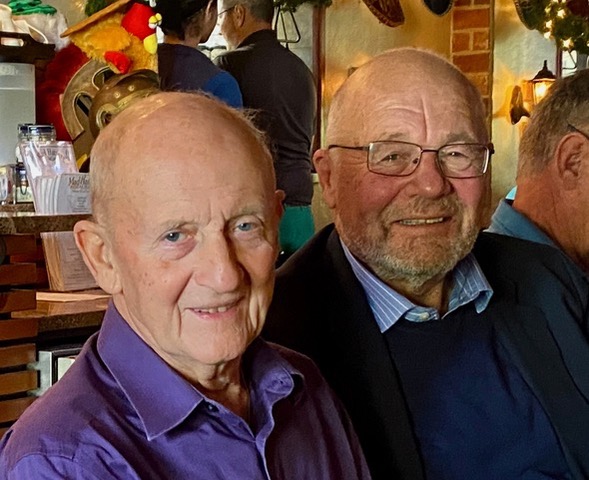 Mad Hatters (hairless) organisers at pre-Christmas Lunch
Dave Cook and Bill Butterworth
This event has evolved over the years and is so popular it is usually packed to capacity each year. May it long continue as a lasting testament to Dave's contribution to the esprit de corps of our ExPo family. I know we will be giving a toast to Cookie at this year's luncheon and for many years to come.
Tribute from Assistant Commissioner of Police, Martin Weekes,
Right Worshipful Grand Superintendent
of the Scottish Lodges in Bermuda.
Masonic Tribute - Bro. G "Dave" Cook
Brother Gordon David Mansfield Cook, Past Master, Honorary Senior Grand Warden of the Grand Lodge of Scotland, Right Worshipful Immediate Past Grand Superintendent of the Scottish Lodges in Bermuda.
Brother Cook was considered a "Ruler in the Craft" as Freemasonry is known by its members here in Bermuda. He was well known across the Island and in Scotland as a man of excellent repute and an asset to Freemasonry.
Brother Gordon David Mansfield Cook

Right Worshipful Grand Superintendent
of the Scottish Lodges in Bermuda.
Bro. Cook was Initiated into Lodge Civil & Military No. 726 on the Roll of the Grand Lodge of Scotland in Hamilton Bermuda on February 18th 1991. He was passed to Fellow of Craft Degree on October 7th 1991 and was raised to the Sublime Degree of a Master Mason on 14th September 1992
In November 1999 he was elected Master of Lodge Civil & Military and was later granted the Honorary Rank of Assistant Grand Treasurer by the Grand Lodge.
Bro Cook was also active in other Masonic Orders here in Bermuda including:
The Royal Order of Scotland
The Royal Ark Mariners.
The Royal Arch: St Andrew's Chapter No. 270 where he was elected 1st Principal in 2010.
Additionally Bro Cook was made an Honorary member of many other lodges in Bermuda across English, Irish and Scottish Constitutions of Freemasonry.
In 2017 he was Commissioned by the Grand Lodge of Scotland for a five-year term as Grand Superintendent, the Head of Scottish freemasonry in Bermuda.
On handing over the reins of the Bermuda District in 2022, Bro. Cook was rewarded for five years of dedicated service by being promoted to the rank of Honorary Senior Grand Warden of the Grand Lodge of Scotland.
His commitment to Lodge Civil & Military, as well as Freemasonry in general in Bermuda, was unrivalled.
Brother Cook was a pillar of Bermuda Freemasonry, a Brother who was always willing to share his knowledge and love of the Craft.
During his many years as a freemason, Brother Cook exhibited all those strengths of character inculcated within our ceremonies and.as a citizen, assiduously practiced those duties outside the lodge which he, as a mentor, taught within it.
Eulogy given by Melony Kendall
"Our Dad"
Born on December 31, 1942, to Arthur and Flora Cook in Wath-on-Dearne, South Yorkshire, England. His father, a dedicated minister, served in various parts of England before settling in the Carlisle area, where he ultimately became Canon of Carlisle Cathedral.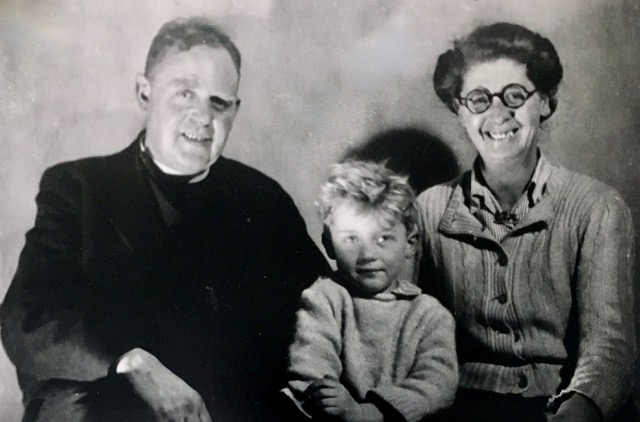 Young David with his parents Arthur and Flora Cook
Dave attended school nearby and spent his summer breaks assisting with the nearby dairy farm milking cows. At the age of 21 he made the decision to join the police force where he underwent rigorous training in Ashton-in-Makerfield.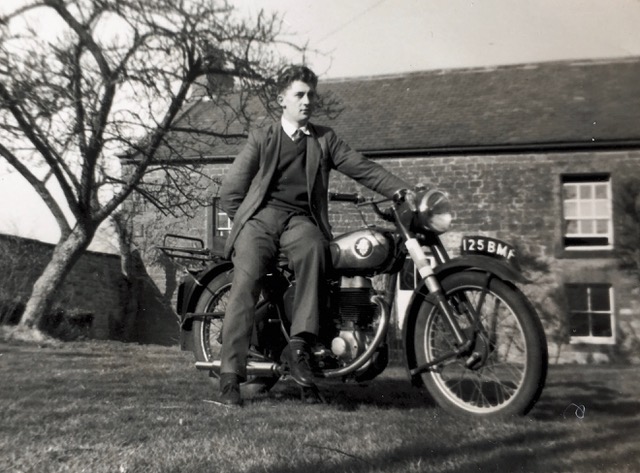 Dave looking cool on his motor cycle
At the age of 24, Dave set his sights on a unique opportunity with the Bermuda Police Force, envisioning it as a two-year stint to gain additional experience. On September 5, 1966, he boarded a BOAC flight with 14 fellow officers to embark on his Bermuda journey.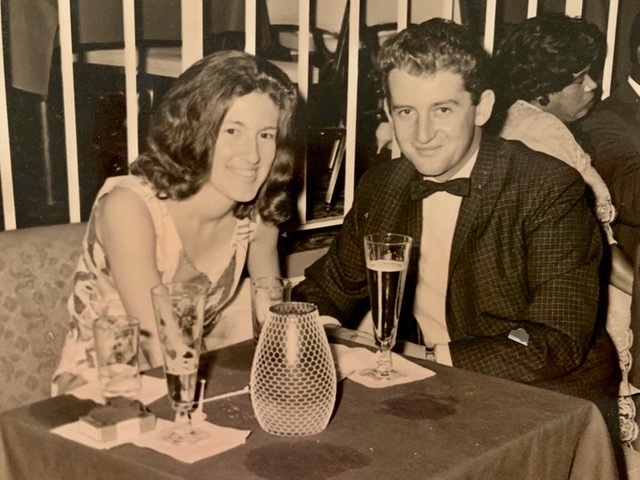 Love at First Sight
Just two weeks after arriving, Dave found not only a new home, but also the love of his life! It was love at first sight and two years later Dave and Patsy exchanged vows on June 20th, 1968. Patsy being one of seven siblings, Dave joined a vibrant and well let's just say 'bigger' family. Soon after marriage his mother-in-law Marion was involved in an accident and was overseas recuperating and he found himself being a surrogate father for Patsy's younger siblings. Amongst many things they recall him dutifully escorting them to school and during dinner his unwavering insistence on them finishing their vegetables.
Now being an integral part of the 'Powell Clan' Dave got to experience many family gatherings, birthday celebrations and even the momentous family picnics.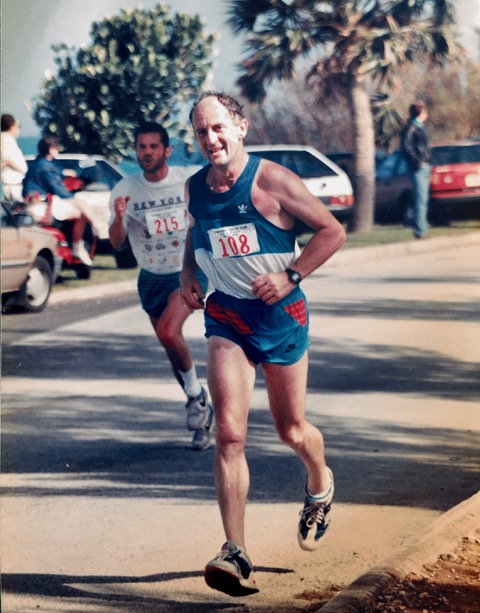 Dave tackles the Triathlon
Health and exercise were always a priority demonstrated in daily running or cycling, and his participation in triathlons. He was passionate about police boxing events even integral in organising it. His devotion to wellness took him to water aerobics later in life where laughter and friendship echoed through the pool area.
On the 15th of November 1970 Melony was born and this family of 3 moved and lived happily in the Police apartments in Prospect. With the family tree incomplete it was four years later when they welcomed their son Ian which necessitated a move to their family home on South Road in Warwick.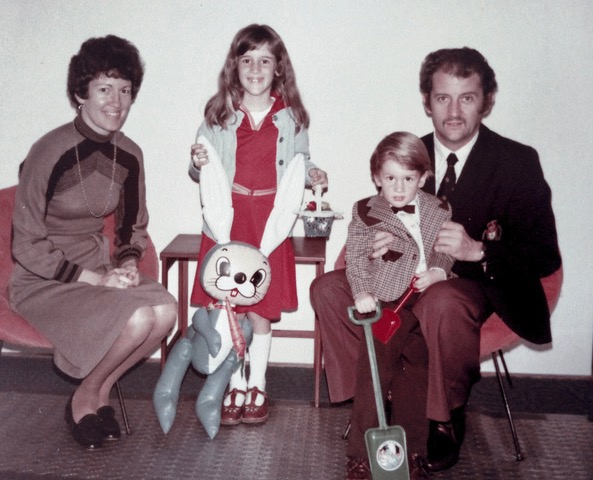 Patsy and Dave with Melony, Ian - and Bunny!
Dave was a proud father, always there to offer guidance, support, and even a little tough love when needed. His lessons included teaching Melony to fix her Suzuki moped, how to clean the spark plug and carburettor, however, when it came to teaching her how to drive it was only after two lessons he quickly realized it was time to call Gary Venning to finish the task.
Melony recalls getting collected from Gilbert Primary one day in the police car. Mel had to hide on the passenger floor as Dave pulled a tourist over telling her to put a shirt on because she could not ride her rental bike in just her bikini.
As Melony reached the age of 18 and started going out to clubs on weekends, Dave, being a concerned father, set a strict curfew for her. He also took a moment to ask her about her drink of choice when she was out. Nervously, Melony confessed to enjoying "Rum and Coke." Dave, in his typical protective manner, responded, exclaiming, "For goodness sakes, why do you drink coke? that stuff is so bad for you!"
Amongst many stories Ian recalls summer weekend and overnight trips on the boat. Dads planning made boat trips memorable from safety checks to fishing gear, every detail considered. We enjoyed nights under star-studded skies while during the day the kids enjoyed the water including one activity called 'sink the punt'.
In 1996 after 3 year old Alicia Benevides was attacked and bitten by a stray dog in our neighborhood Dave diligently approached the newspaper to raise awareness of the dangers of strays, however, the Royal Gazette mixed up the story with another article. We did not recognize the photo of the person in this dog article. The article above it was about an Eastern European country and low and behold there appeared a very good looking handsome photo of Dave with the words 'Prince Alexander' as the caption.
He was a great Dad, and the marriage between him and Patsy was a solid partnership, setting a great example to both Ian and Melony. Especially the honey-do lists that he diligently worked on for 55 years.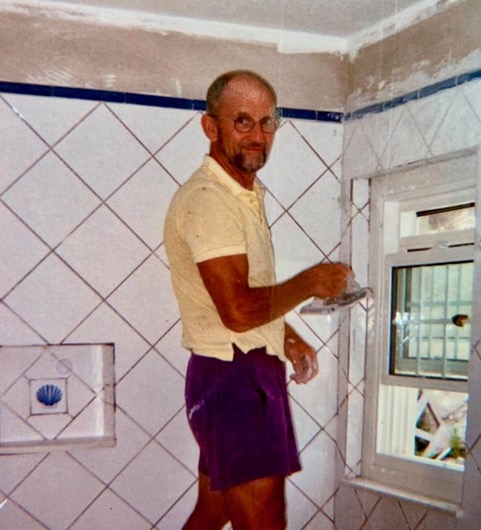 Multi-talented Dave tackles tiling
A man of many talents, Dave was a skilled handyman, devoting countless hours on his homes, and Melony and Ian's homes. His dedication to hard work were evident in every task he undertook. He carried lumber, lifted block, sand, jackhammered, tiled, wall papered, help paint the roof and to the contractors' surprise - painted the whole interior of Mel's house over one Cup Match holiday.
He was a modest person and was not a 'show off' but was a solid and reliable person who was not afraid of hard work or doing the jobs that others did not want to do. Often, he would not take the easy way out. He and Johnny co-owned a 32 ft cabin cruiser. They would sand the bottom paint off by hand !!!! and this was after power washers were invented! Over the years they shared many boats and Patsy recalls as new boat owners to one particular boat 'Crazy 8' where they were approaching a dock Patsy, Beryl, and Kathy would have to yell 'FEND! Holding out feet and arms.
Dad prized experience over possessions as he knew that memories last forever. To instil these memories, he saved for trips and holidays both near and far. The family enjoyed many magical trips to Disney, adventurous ski vacations, and journeys across continents.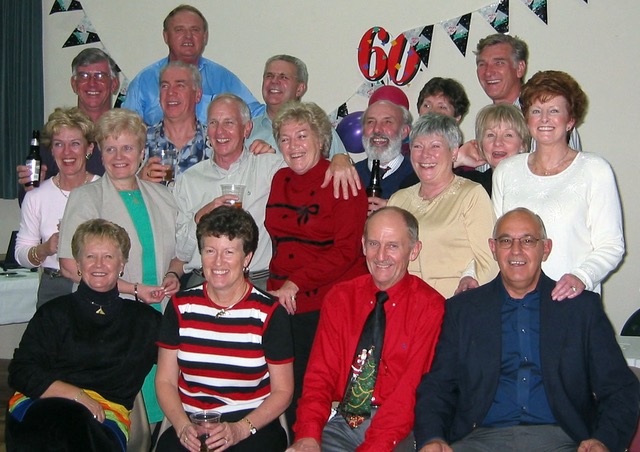 The Gang at Dave's 60th Birthday Party
Top left - Stuart Pearson
Back row (l-r) Tony Greaves, Vic Johnson, Martin Whitley, Pat Haynes and Peter Haynes
Middle row - Jacquie Greaves, Christine Crerar, Stewart Crerar, Beryl Pearson,
Bill Young, Wendy Young, Hilary Johnson, and Kathy Whitley
Front row - Linda Lee Tavares. Patsy and Dave, and John Tavares
These lasting memories were also shared with the group of couples known as "The Gang". This bonding friendship lasted their whole lives and enveloped all the couple's children who have remain close friends. Many a memorable party and BBQ was held at the family home. Annual New Year's Eve Parties were a given because that was Dave's birthday! Countless dinner parties, and special seasonal holidays.
If my parents can give any advice, it is "make good friends" These good friends have enriched our lives in countless ways. You know who you all are whether you are here in person or spirit. They have been the ones we turn to in times of joy and in times of need. Their laughter has echoed through our homes, and their presence has made our gatherings memorable. The Gang has shown us the true meaning of friendship, demonstrating support and genuine care.
Dad's Christmas list was always a modest list of gadgets until one year he surprised us all when a top-of the line iPhone appeared on the list! Of course, one of the motivations was to record and enjoy memories of his three beloved grand-daughters Mila, Ruby and Holly. Baking sessions became lively affairs with joyful giggles and smell of freshly baked chocolate chip cookies throughout the house, a signature scent of their cherished time together.
The aquarium outings were another cherished tradition. Dave's eyes would light up as he watched the wonder and amazement in the girls' faces as he patiently answered their many questions or watched in the shade as they played in the park. Poppa's presence will be sorely missed.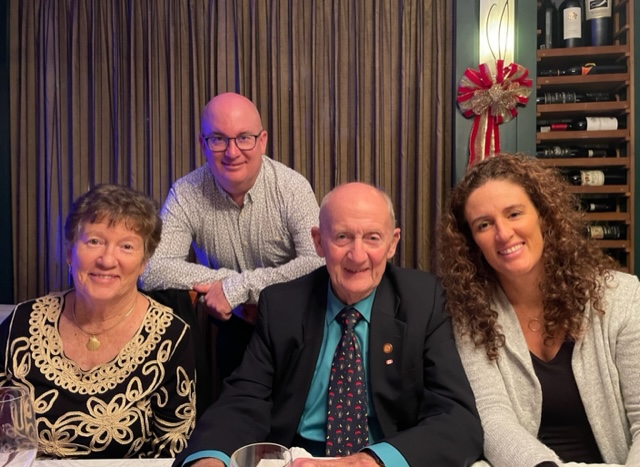 Dave's 80th Birthday with Patsy, Ian and Melony
Last Christmas marked a milestone that we were all immensely grateful for. It was Dave's 80th birthday, a momentous occasion that deserved to be celebrated in style. An unforgettable affair at Ascots where warmth and joy filled the room were a testament to the impact Dave had on each of us.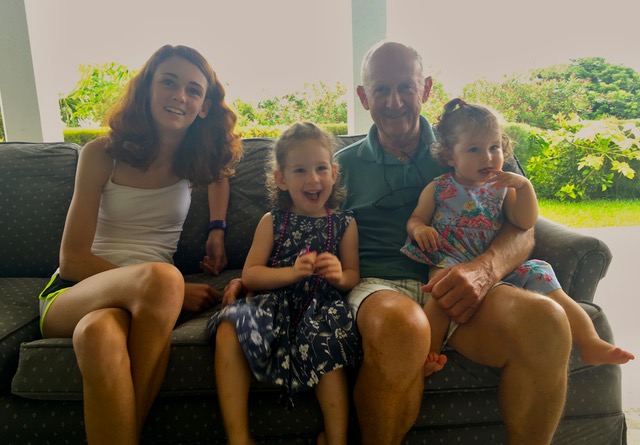 Papa Dave with granddaughters Mila, Ruby and Holly
We will sure miss you Dave please find peace and freedom from this earthly plain.
We pray for your ascendance in the worlds above, may all your service on earth be humbly offered at the threshold of Thy Oneness.