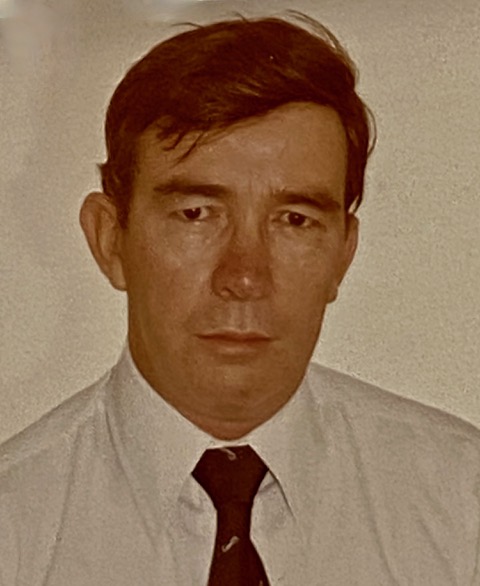 J.C.P. "Jim" Hanlon
This Hall of Fame article about the Late former Assistant Commissioner of Police, James Christopher Patrick "JCP" or "Jim" Hanlon, has been compiled with valuable input and assistance from JCP's wife, Elizabeth "Liz" who made a recent visit to Bermuda in early October 2023.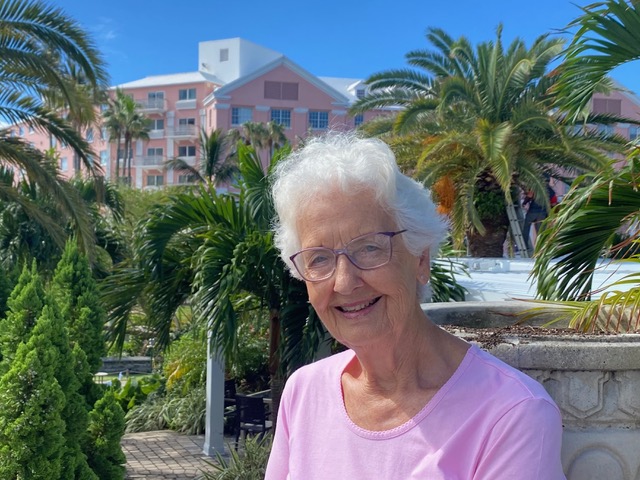 Elizabeth "Liz" Hanlon visits Bermuda - 2023
James Christopher Patrick Hanlon was born on the 19th December 1929, the eldest child of Alice and Joseph Hanlon, in Drogheda, County Louth, Ireland. He was brother to Nick, Marie, Bernie, Tony and Vera, all now unfortunately deceased.
Liz recalls that Jim always said he owed the Christian Brothers a debt of gratitude for the education he received, which he put to good use. He had a good brain and a phenomenal memory.
As a child, playing "soldiers " was his favourite game. He did confess he was always "in charge" so it was almost inevitable that he should enter a disciplined profession.
Police Forces in Ireland, neither North nor South, were recruiting in 1952 so Jim decided to apply to join the Colonial Police. This could have been Palestine, Hong Kong or Rhodesia, but after an interview in London he was accepted as a "Constable Third Class" in the Bermuda Police Force, with a salary of £510 per year rising to £550.

Royal Gazette article
Jim arrived in Bermuda by BOAC on 15th February 1952, and he was one of ten new recruits, all of whom were from Ireland. The Royal Gazette heralded their arrival with a headline, "10 NEW POLICEMEN HERE – ALL FROM IRELAND, and the article read as follows:-
"Bermuda's Police Force will have to find a nickname other than "Paddy" for their Irish members, otherwise they may find themselves in trouble.
Last night ten "Paddies" arrived here by BOAC from the Emerald Isle to augment the Colony's police establishment. Oddly enough, not one of their names is Patrick. They were recruited by Police Commissioner J.S. McBeath who is still in the United Kingdom.
All ten have three things in common. They are Irish, six feet tall or over, and none of them has served in a police force before.
There are the brothers Daly, Ralph and Leo from Limerick; George Wright and Christopher Murphy, also from Limerick; Jim Walsh and Frank Walsh from Kilkenny; John Sheehy from Cork; John O'Brien from Wicklow; James Hanlon, from Drogheda; and Michael Boylen, from Kerry.
Leaving Shannon Airport on Thursday afternoon. They flew here via Boston and New York. They were met last night by Inspector John Brown.
It was stated last night that the new recruits will go through a training period lasting several weeks before being assigned to duty."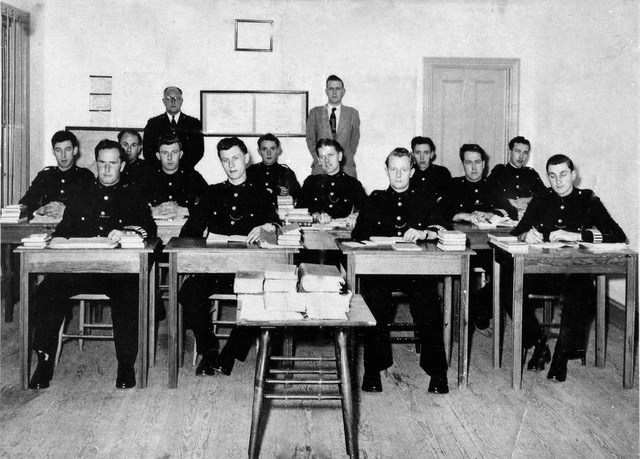 Training Course for new recruits held in March 1952
Standing (l-r) Percy Miller (Instructor), Thomas D. "Tommy" Doyle
Back row seated:- (l-r) F. Walsh, L. Daly, R. Daly, and J.C.P. "Jim"Hanlon
Middle Row:- Clement "Clem" O'Brien, C.N. Murphy, G. Wright. and Jim Walsh
Front Row:- C. King, John Joseph Sheehy, Terry Moody, and M.J. "Mike" Boylan
The ten Irish officers attended what was probably the first ever group training course for new recruits. Prior to that any new recruits without previous police experience would usually spend a few days at Hamilton Police Station under the supervision of a senior officer who would brief them on police procedures and the law.
On completion of the training course, young Jim was posted to general duties in Hamilton where the Police Station was located on Parliament Street opposite the House of Assembly (where the Government Administration building now stands). He would have started on the beat but in 1953 he worked as Station Constable in Hamilton, and in the same year he was transferred to the Administration Office. Jim's administrative skills were already coming to the fore.
In 1954 Jim transferred to C.I.D. and worked for a while in the Criminal Records Office. He received a Commendation in 1955 following his investigation of larceny cases resulting in the clearance of a series of crimes committed by a group of juveniles. While serving in CID Jim attended a CID Course at Bishopgarth in Wakefield, Yorkshire, in 1957, and was placed third in the final examination; very commendable as he was competing with experienced officers from England.
Liz described Jim as a lover of words, and it was Jim who started the Police Magazine in 1955. He was the driving force behind the magazine and was its Editor until his retirement in 1984 during which time some 35 magazines were published. The first magazine was published in July 1955, and for many years there would be quarterly issues complete with numerous articles, along with photographs usually provided by the police photographers in CRO. Regular features were "Divisional Notes" submitted by individual contributors, reports on sporting and social events, details of new recruits, promotions and retirements.
Jim wrote numerous magazine articles, and an example of the excellent quality of his penmanship can be viewed in our ExPo website article "RCMP visit Bermuda" describing a historic visit by the RCMP mounted musical ride team in 1968. This was the first time the RCMP had ever performed in a British Colony and also the first occasion for which they had transported their horses by air. CLICK HERE to review JCP's superb article as it appeared in the police magazine,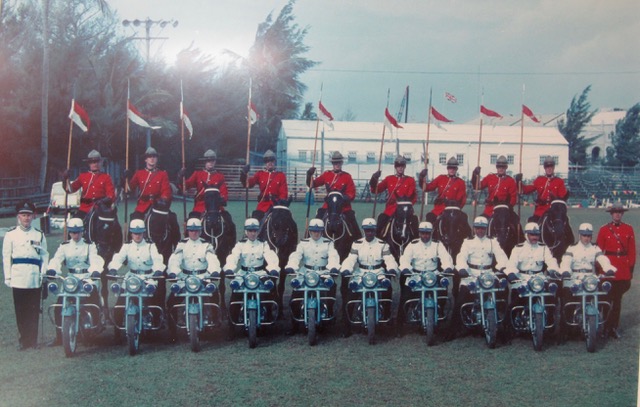 Royal Canadian Mounted Police Musical Ride and
Bermuda Police Motor Cycle Display Team
performed at BAA Field in November 1968
Jim was posted to Prosecutions in 1958, and Liz recalls Jim would later relate tales from his time in the courts such as "when a well known gentleman broke a window or threatened to do so every Christmas Eve in order to get into Casemates for Christmas dinner The same gentleman when offered a suit of clothes by the equally well known Magistrate, (no doubt the Wor. Minty) requested the Magistrate to have them dry cleaned first! I presume this tale to be true."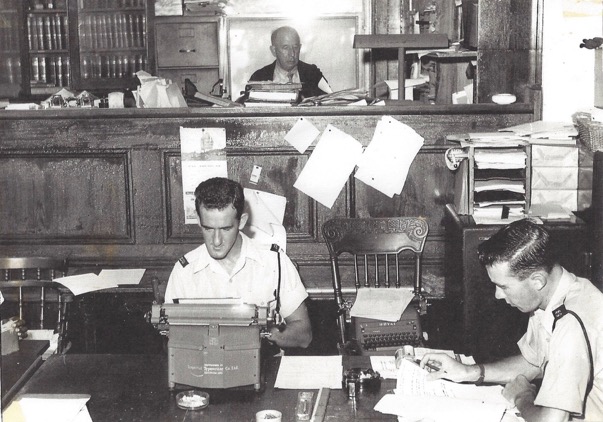 Hamilton Magistrates Court on Parliament Street next to Hamilton
Police Station circa 1958. On the bench is The Wor. Leonard Minty
Seated are P.C. Jimmy Woodward (centre) and P.C. JCP Hanlon (right)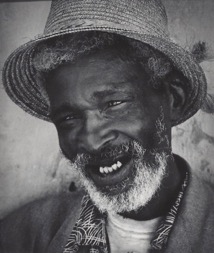 The irrepressible "Weatherbird" Mills
Editors note – There is no doubt that the gentleman in question was Bermuda's legendary Rummy, "Weatherbird" Mills.
While in Prosecutions, Jim found himself involved in one of the most serious incidents in Bermuda's History - the Dockworkers Strike - in September 1959. Young P.C. Mike Cherry had arrived in Bermuda only two months earlier when Hamilton's dock workers went on strike. After several days of unrest, and with the docks empty and at a standstill, Mike described how "a handful of policemen were issued with ex-army tin helmets, wicker shields, and long wooden batons, and marched down Front Street led by Superintendent Percy Miller, to be met by an unruly mob of dockworkers supplemented by others, all seemingly armed with an assortment of ugly weapons."
Dock workers armed with a variety of weapons
in confrontation with police officers in attendance
In his account of that day Mike says, "No formal training in the use of wicker shields and wooden batons had yet been organized, but as most of us were military trained we at least gave an indication that we knew what we were doing. Although I do not think that the wooden batons would have lasted long against some of the nasty looking swords and pieces of rebar that were apparent. Fortunately after being read the "Riot Act" by magistrate Ronnie Grey from the balcony of H A & E Smith's store, ably assisted by Sergeant JCP Hanlon, the mob dispersed without serious incident, and also due to the efforts of longshoreman 'Pork Chop' Mills."
CLICK HERE to view Mike Cherry's "Then and Now" article on our ExPo website.
Jim, in his capacity as the Sergeant in Prosecutions, would no doubt have been directly involved in the drafting of the relevant section of the Riot Act read by Magistrate Grey and he was present when it was read to those congregated on Front Street. This is probably the only time in Bermuda's history where the "Riot Act" has been read in order to quell a riot.
While serving in Prosecutions Jim had been promoted to Sergeant in December 1958, and two years later, in 1960, he was one of 4 officers posted to the newly created Special Branch. The four officers were Superintendent John MacGregor, and Sergeants Ian Morrison, JCP "Jim" Hanlon, and Peter Stubbs.
Jim was promoted to Inspector while serving in Special Branch where he served until his transfer to Somerset in July 1963 as the Officer in Charge of Western Division.
Although he was not actively involved in sports, Jim was a member of the Police Shooting Team. Their practice range was located at Prospect behind the Police Headquarters building. He was a member of the Police Pistol Team which took part in, and won, the Caribbean Pistol Competition in 1964. The team comprised Detective Inspector JCP Hanlon, Detective Sergeant Leslie Waddell, Sergeant Tim Willis, and Constables Nick Hall and Colin Jowett.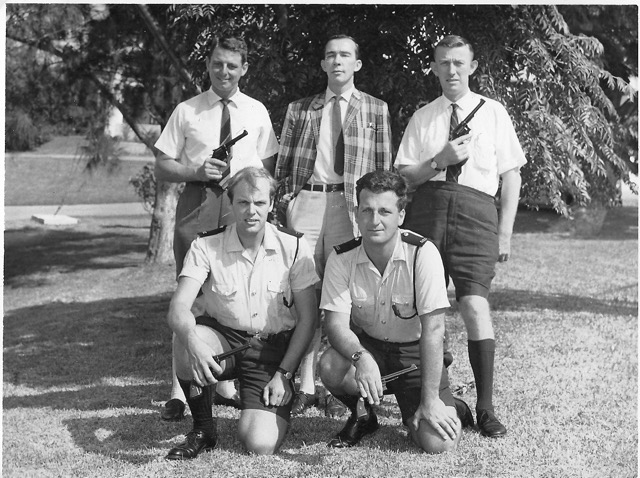 Caribbean Police Pistol Competition – 1964
Standing (l-r) Sgt Tim Willis, D/Inspector JCP Hanlon and D/Sgt Les Waddell
Kneeling - Colin Jowett and Nick Hall
One of the most significant events in Jim's police career occurred in June 1964 when he was seconded to the Administration Department by then located at the Police Headquarters building, Prospect, at the former Military Garrison. Three months later he was made OIC of "A" Department (Administration). He spent 3 years in Special Branch from June 1965 - October 1968, then, apart from a brief stint at Travel Control at the airport in June 1969, Jim spent most of the rest of his career in Administration where he was promoted to Chief Inspector in November 1970, and to Superintendent in December 1973 at which time he was made OIC of both "A" Department (Administration) and "B" Department (Finance).
1970 was a very special year in Jim's life. According to a most reliable source, Jim saw an attractive young lady while attending the annual Floral Festival, and took the number of her auxiliary cycle. The rest, as they say, is history. The young lady was Miss Hester Elizabeth "Liz" Hyndman from Northern Ireland who came to Bermuda as a nurse at King Edward Hospital. Jim and Liz fell in love and were married in Coleraine, Northern Island, on 18thSeptember 1971.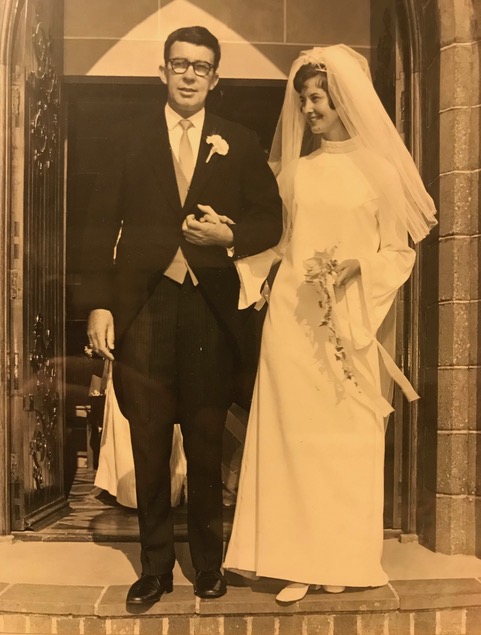 Jim and Liz on their wedding day in 1971
There is no question that JCP "Jim" Hanlon, with his exceptional administration skills, had a highly successful career as a Bermuda Police Officer, rising through the ranks to his final promotion as Assistant Commissioner (Crime) on 21st December 1981, a position he held until his official retirement in February 1985.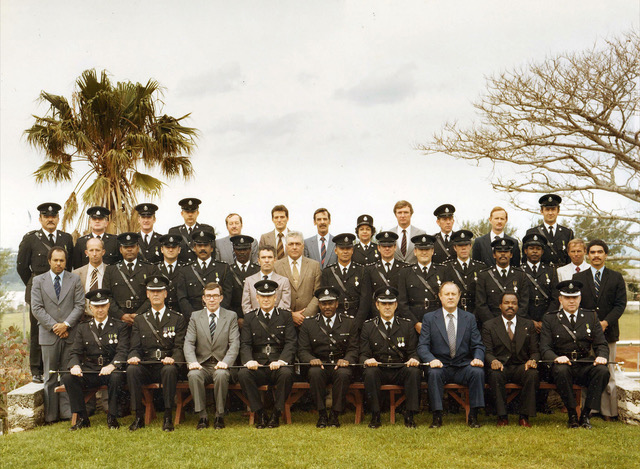 Bermuda Police Senior Officers - Late 1981
Back Row (l-r) Edward "Boxhead" C Foggo*, Dave Barber, Mike Burke, Alan Bissell, Dave Chew,
George Rose, Tom Cassin*, Jean Vickers, John "Barry" Smith*, Geoff Sanders*, Neil Cox, Derek Jenkinson
Middle Row - Ed Bailey, Brian Flook*, Custerfield "Custy" Crockwell*, John Williams*, Sinclair "Brinky" Tucker,
Gerry James*, Andy Bermingham, Lawrence Jackson*, Hilton B Wingood, Tim Willis*, Alex Forbes*,
Robin Henagulph ,Larry Smith, Cal Christopher*, Ian Scotland*, Wayne Perinchief
Bottom Row - Bill Bryan*, Gerry Harvey*, JCP Hanlon*, Clive Donald, COP Frederick "Penny" Bean*,
Harold Moniz*, John Joe Sheehy*, Lennet "Lenny" Edwards*, and George Garrod*.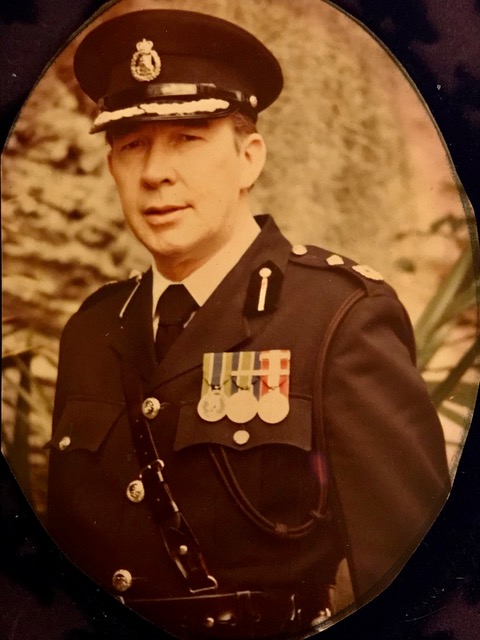 Assistant Commissioner James "JCP" Hanlon
Jim was awarded the Colonial Police Medal for Meritorious Service in 1967, the Colonial Police Long Service and Good Conduct Medal in 1970, the CPM clasp for 25 years service in 1977, and the 30 year clasp in 1982.
On the occasion of Jim's retirement the then Commissioner Mr Fred "Penny" Bean sincerely thanked him for his outstanding service to the Bermuda Police Service and paid tribute to his "dependability, integrity, enthusiasm, sense of justice, and unselfishness."
Liz says that she and Jim returned to Ireland in 1985 to live on Minnistown Road, Laytown, in County Meath, where neighbours became friends and he became Jimmy to the children of the road. He stayed involved with their community in Neighbourhood Watch, Probus, reorganising the library of the local hospital, and as President of The Past Pupils Union of the Christian Brothers.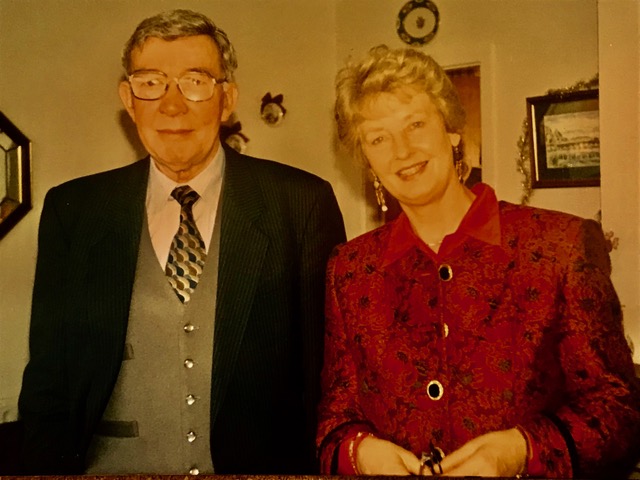 Jim and Liz enjoying retirement in Ireland
Sadly, his retirement was cut short by the onset of Alzheimer's Disease which he described as a "Robbing Disease". The hobbies he loved most - reading, writing to friends, visiting friends, listening to music, travelling, and "using words" - were gradually taken away from him.
JCP died on 27th March 2002. However his funeral was held on Easter Sunday in St Mary's Church Drogheda, with all the most wonderful, joyous, up-lifting, celebratory music, full of pomp and circumstance! He would have appreciated and enjoyed all of it.
Editors Note - I had the pleasure of meeting Liz Hanlon here in Bermuda in October 2023, while she was on holiday staying at the Rosedon Hotel. While reminiscing about good times in Bermuda, Liz indicated she had retained some of JCP's files which she kindly sent to me for inclusion in this Hall of Fame article.
Having spent the past 11 years operating and editing our ExPo website, I have a great appreciation for the enormous amount of time and effort and energy that JCP clearly devoted to producing and editing the Police Magazines for almost 30 years.
Perusing through old copies of the Police Magazine is fascinating for anyone who served in the Bermuda Police during the years it was published. It is an invaluable resource for anyone interested in researching our history. A complete set of all the police magazines is now housed in the Police Museum in the Officers Mess at Prospect, and in this regard it's a pleasure to report that through the generosity of Mr. Rees Fletcher - son of the Late retired Sergeant Derek Fletcher - the National Museum of Bermuda is currently embarked on a project to scan all of the magazines with the intention of being able to host a searchable data base so they can be readily accessible through the internet.
It will be a lasting legacy to JCP "Jim" Hanlon if one day soon we can provide internet access to all of the contents of our Bermuda Police Magazines.