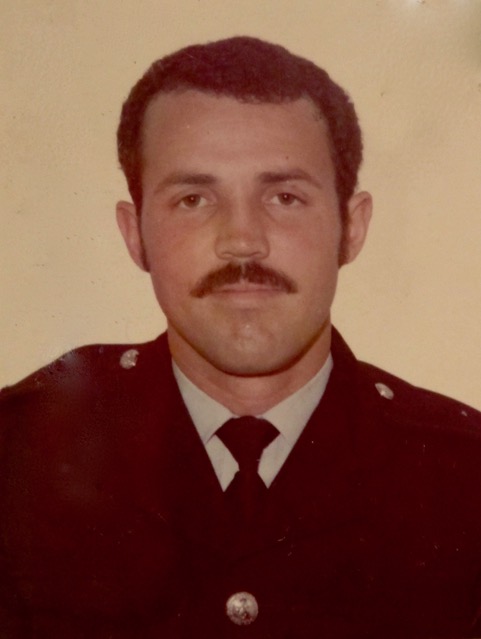 Young P.C. Ralph Lindo
We are deeply saddened to report the passing of retired P.C. Ralph Lindo earlier today (Wednesday 22nd February 2023). Ralph had been in failing health for some time.
Ralph first joined the Bermuda Police as a young Cadet in September 1969. On reaching the age of 19 he attended Basic Training Course #15 held from March - July 1972 after which he was posted to Central (Uniforn) in Hamilton
Basic Training Course #15
March - July 1972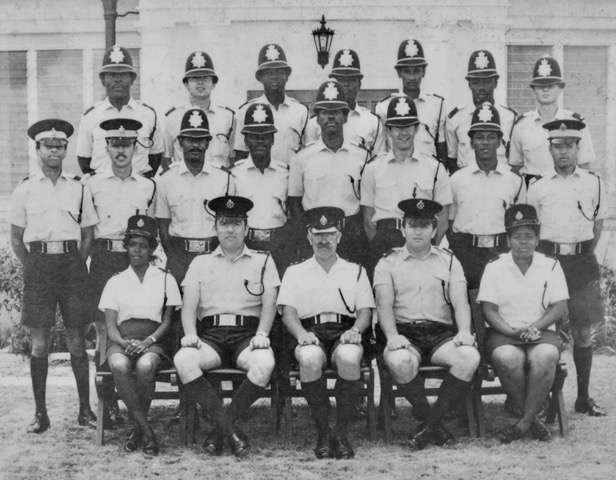 Top Row (l-r) Orville Ramsay, Wayne Robinson, Eustace "Legay" Farley, Dennis Gordon,
Franklyn DeCouteau, Michael Telemaque, Jann "Willow Moon" Pearce
Middle Row - Jerome Simons (Cadet), Ralph Lindo, Franklyn "Frank" DeAllie,
Barry Walkes, McDonald Fingall, James Sugrue, Desmond Waithe, Leon Fubler (Cadet)
Seated - Clara Saunders, Sgt Dick Murphy, Insp. Dave Parsons, A/Sgt McBride, Lynette Baker
The following year Ralph spent several months in the Murder Room before being transferred to Western (Uniform) in 1973. He had spells in CID, on Beach Squad, and in both Central (Uniform) and Western (Uniform) before moving to Operations (Traffic) in November 1975.
A year later Ralph moved to Motor Cyce Patrol Section (MCPS), a posting he relished, and he spent the next 8 years in MCPS.
After short stints in CID as an Aide and on the Task Force in 1984, Ralph was posted to Marine Section where he proved to be the ideal man for the job and was very highly thought of by all who worked with him.
In September 1987 Ralph was awarded the Colonial Police Long Service and Good Conduct Medal, and he remained a very efficient and popular member of the Marine Section until his retirement in 2007.
Ralph had played football for the Police Recreation Club team and was a very sociable member of the Service.
Following his retirement Ralph operated a taxi and had an extensive list of clientele, including business people from abroad who would hire his services whenever they came to Bermuda.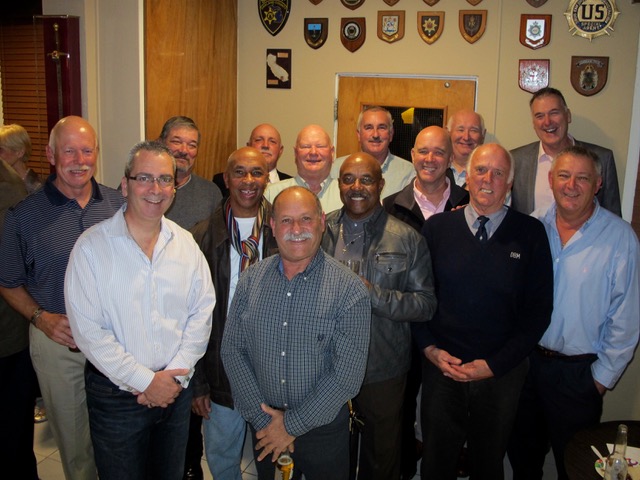 Former "Old Salts"
Members of Police Marine Section at our Annual ExPo Reception in 2017
(l-r) Mike Shaw, Michael DeSilva, Brian Robinson, Jerome Simons,
Ralph Lindo (back row), Kenny Roberts, Phil Taylor, Reese Bartley,
Ian MacMillan, Mark Bothello, John Skinner, Brian Malpas, Keith Senior, Paul Cranage
Ralph continued his close association with the BPS and was a regular attendee at many of our ExPo social functions. He will be sorely missed by his many friends and former colleagues.
We offer our sincere condolences to Ralph's family.