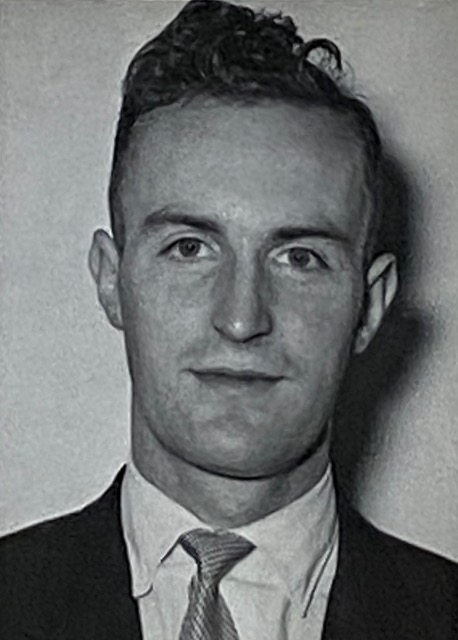 Young P.C. Frederick "Fred" Beard - 1959
We were saddened to hear the news that one of our former colleagues, Frederick "Fred" Beard passed away peacefully at the age of 84, on 22nd October 2022, after exceptional care at the Royal Jubilee Hospital in Victoria BC.
Born in Dorset, England, Fred had served in the Royal Military Police from 1956 – 1959, after which he joined the Bermuda Police as a young constable He attended the Police Training College at Hendon from June - September 1959, along with Keith Lovell who had also served with Fred in the Royal Military Police.
Fred and Keith arrived in Bermuda on 2nd October 1959, and Fred's first posting was to St. George's. He transferred to Central Division (Hamilton) in March 1961, and 12 months later he was appointed as Pembroke Parish Constable. His last posting was in the Prosecutions Department.
Fred met his future wife, Marion Miller, who was working here as a dance instructor at the Arthur Miller dance studio along with Jade McDonald, and both young ladies married policemen.
Marion married Fred in December 1961, and Jade married Keith.
While serving as a parish constable Fred received a Commissioner's Commendation for "zeal and devotion in the successful investigation of a number of cases of willful damage involving 6 youths."
Fred resigned in November 1963 after he and Marion decided to head for Canada. They lived for a while in Calgary, Metchosin, and Hawaii prior to settling in Victoria BC where they raised their two sons, and Fred had careers as a real estate investor and a computer store entrepreneur.
Although they left Bermuda almost 60 years ago, they stayed in touch with Keith and Jade, and always retained fond memories of their time in Bermuda.
We understand that in keeping with Fred's wishes, his family will celebrate his life and scatter his ashes privately. Fred is survived by his wife, Marion, and his two sons Paul (Nola) and Michael (Chelsea).