This section of our website is intended for you to literally keep in touch with all of your fellow colleagues who have served in the Bermuda Police. We welcome news, however brief, and would also encourage you to send us a recent photo. Sadly we sometimes have to report "bad" news such as illnesses - or worse - but we are always delighted to receive positive news! We can be contacted at This email address is being protected from spambots. You need JavaScript enabled to view it.
November 28th
Mike Parris in Demand - Would you believe it! We just received a second email asking for the whereabouts of Big Mike Parris and Les Tomlinson, this one from one of their former colleagues in the York City Police, Chris Brough. Mike has not yet joined the computer age but we managed to get in touch with him the old fashioned way - by telephone - and passed on the requests from both Tony Gordon and Chris Brough. In chatting to Mike he says that he's living a fairly quiet life these days in West Sussex, and that his wife of more than 20 years, Denise, is having a few health problems at the moment. We wish her a speedy recovery. Mike sends his regard to all his old colleagues in the Bermuda Police.
We've had no luck so far in tracking down Les Tomlinson, but understand that the last time anyone heard from him he was living somewhere near Skipton in West Yorkshire. If anyone has any information about Les please get in touch with us at This email address is being protected from spambots. You need JavaScript enabled to view it.
November 20th
TWO DAVID'S IN SPAIN! We have heard from Dave O'Meara in Spain who was recently surprised to be paired up at his local golf club event with a former Bermuda policeman, ex-PC 475 David Clark who served here briefly from March to October 1974.
David Clark was saying that he joined with a group that included Roger Beschizza, Charlie Dorrington, John Riordan, George Swanborough, John Wild and Peter "Killer" Walgate. He recalled that his first Sergeant was Bob Hay, and he also remembered Doc Hall.
David returned to England and apparently joined the Fire Service in Bristol. He retired to Spain a couple of years ago, and was delighted to hear about our website.
We can report that Dave O'Meara's golf game is clearly on the "up and up". He had a good round a few days ago and won a bottle of brandy – his 3rd in a month!
TRYING TO GET IN TOUCH - We have just received a request from Mr. Tony Gordon who attended Archbishop Holgate's Grammar School in York many years ago and is trying to contact two old school mates, Mike Parris and Les Tomlinson, to invite them to a school reunion dinner. All he knows is that both Mike and Les left England to join the Bermuda Police Force.
Anyone who served in the Bermuda Police in the late 1960's to early 1970's will remember "Big Mike" and Les.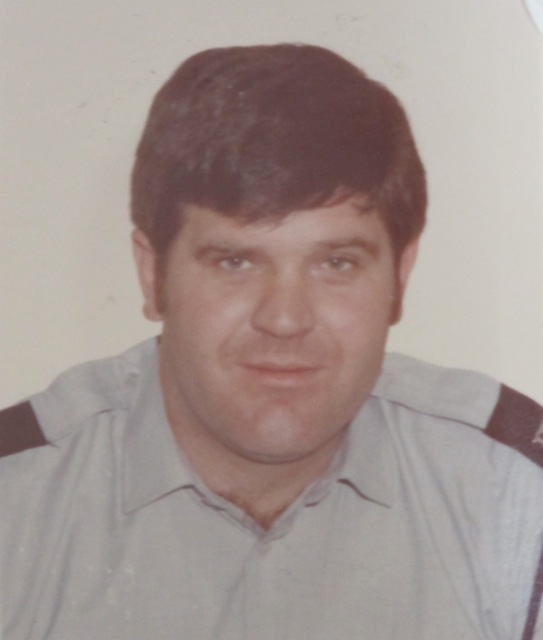 "Big Mike" Parris
We have contact details for Mike and will do our best to put him in touch with Mr. Gordon, but we have no contact details or information about the present whereabouts of Les Tomlinson. If you can assist us in locating Les please contact us at This email address is being protected from spambots. You need JavaScript enabled to view it.
November 8th
John Van de Weg - We spoke with John and Mary Van de Weg this afternoon at the Spalding Rehabilitation Hospital in Boston and can report that John is making some progress after his recent operations.
After travelling to Boston for treatment for his "frozen" shoulder and other health issues, John underwent an emergency triple bi-pass operation, followed by a spinal synosis for compression of vertebrae causing the "frozen" shoulder.
As John said this afternoon, he had the bi-pass just in the nick of time, and after the second operation he couldn't move at all and was in a "terrible state". The good news is that he is now making some progress, getting out of bed and walking with assistance and a walking frame.
Mary is with him every day, and when not at the rehab centre she is staying in a nearby apartment and travelling to and from the centre by train.
John asked us to thank all those friends and former colleagues who have called him, and he says that their calls have really helped to raise his spirits with his latest callers including Jerry Lyons and Jim Costello. His number at Spalding is 617-573-7412.
At this point it is difficult to say when John might be returning to Bermuda and we suggest that anyone who wants an update on how he's doing can receive the information first-hand by calling him directly. He greatly appreciates the calls.
October 28th
John Van de Weg - Emergency Heart Surgery - We have been advised that our good friend and colleague, John Van de Weg recently had emergency three-bypass heart surgery while receiving treatment at Boston General Hospital. John had been unwell for several months and after being treated locally he finally went to Boston General 4 weeks go for treatment.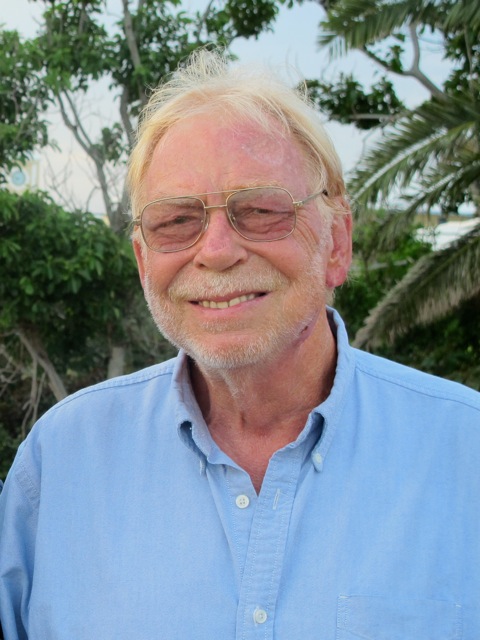 John Van de Weg
After just 3 days there he underwent emergency heart surgery and has since had additional surgery on his neck.
He is now located at a Rehab Clinic in Spaulding, Mass, and is expected to be there for some time with further treatment and possible operations anticipated. His wife Mary is with him and staying with friends. Mary can be reached at their regular email address.
We have been asked by their daughter, Rachel, to let John's friends know that he has a direct line in his room at the Rehab Clinic and would no doubt appreciate calls. The number is 617-573-7412. He can also be visited if any of our colleagues are in the Boston area. If you require more details or Mary's address and phone number please email us at This email address is being protected from spambots. You need JavaScript enabled to view it.
September 30th
Mick Caulkett and Tom Barnes on a "beach"! - We recently received this photograph of Mike Caulkett and Tom Barnes taken on what Mike describes as the "beach" at Aldwick Bay near to the home of Tom and his wife, Juliet, in Bognor. Mike and his wife, Jill, visit the Barnes' on a regular basis.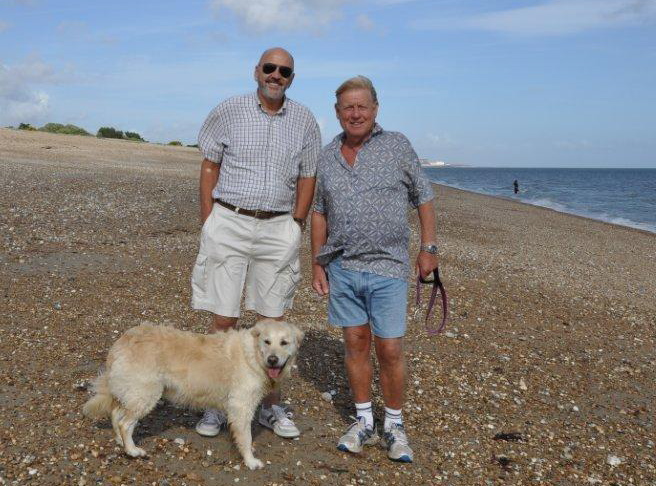 Mike Caulkett, Tom Barnes and Tom's faithful dog on the beach at Aldwick Bay
Mike also continues to keep in close touch with Ray Banks out in Western Canada, and both share a passion for cycle riding. They were ecstatic at Bradley Wiggins superb victory in the Tour de France and also with the U.K's incredible successes in the Cycling events at the London Olympics.
Unfortunately, Mike suffers from attacks of a condition similar to 'Menieres disease' which stems from a problem with his inner ear causing sudden attacks of vertigo (dizziness) resulting in vomiting and is extremely unpleasant. There is no know cure for this condition but he is having some treatment in hopes of receiving help in managing the condition.
We hope that his treatment provides some much needed relief.
September 27th
Richard "Dick" and Jenny Coulthard - Richard "Dick" Coulthard and his wife Jenny must have travelled further than most to make a return visit to Bermuda this past week. Richard and Jenny now live in Adelaide but they are presently on a "walkabout" and while on the Island they made their way up to the Police Cub on Thursday 27th September to meet up with old friends and to renew acquaintances.
Richard served in the Bermuda Police from 1970-1976 and he and Jenny were married here in Bermuda before they left to live in Canada where Richard joined the Peel Regional Police (CLICK HERE for article on Richard in our "Then and Now" column).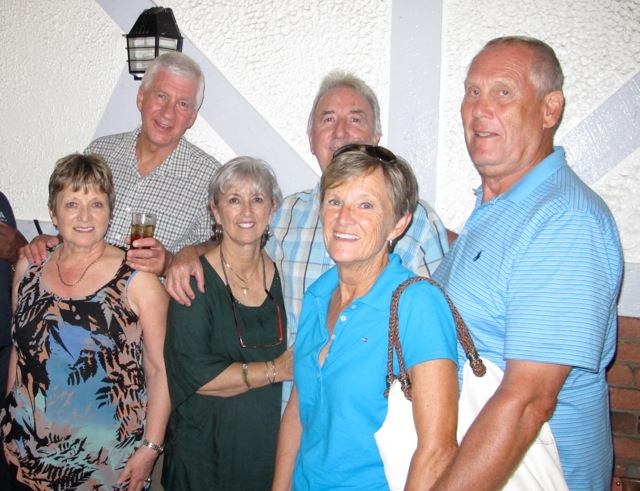 Who Says Marriages Don't Last? Three Happily Married Couples
(l-r) Jenny and Richard, Debbie and Ray Bell, and Bron and "Moby" Pett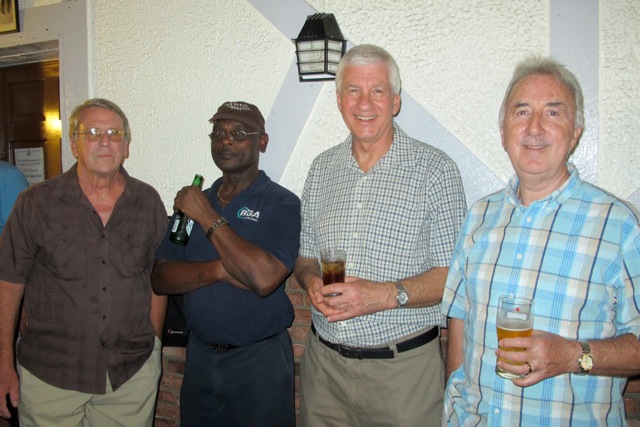 Steve Dunleavy, Dennis Gordon, Richard Coulthard and Ray Bell
They thoroughly enjoyed meeting up with such friends as Ray and Debbie Bell, "Moby" and Bron Pett, Dave Ashurst, Steve Dunleavy, Dave Cook, Reese Bartley, Andy Lavery, Dennis Gordon, and Roger and Marian Sherratt, at the PRC. Richard also had a long chat with Jerome Simons during his stay, and introduced Jerome to our website!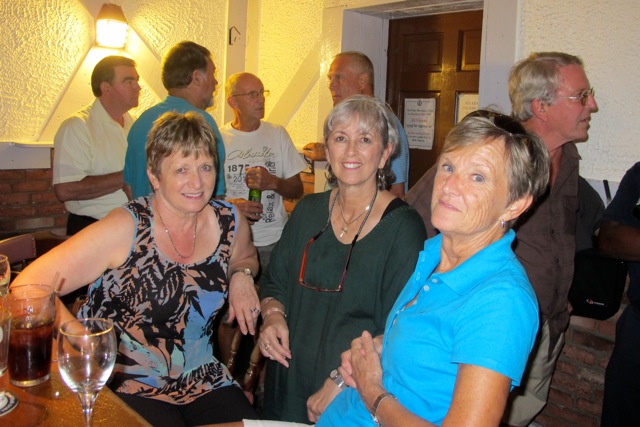 Jenny, Debbie and Bron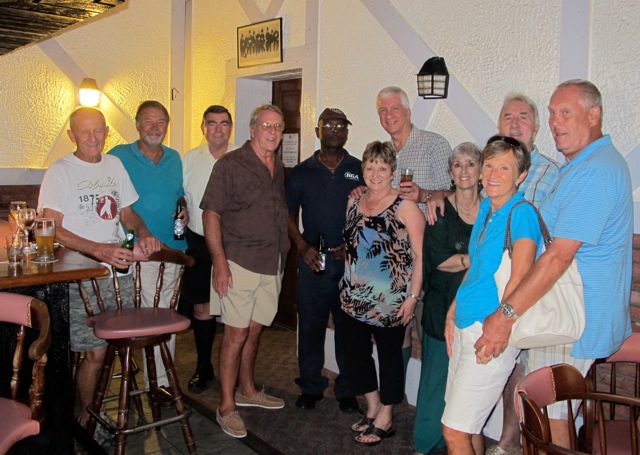 Happy Hour at the PRC
(l-r) Dave Cook, Dave Ashurst, Andy Lavery, Steve Dunleavy, Dennis Gordon,
Jenny and Richard Coulthard, Debbie and Ray Bell, and Bron and "Moby" Pett
After their Bermuda visit they were off to Canada to meet up with Colin McKenzie, Paul Hendrick and perhaps other ex-Bermuda police officers before returning Down Under. Richard has promised to write and let us know how his trip went as soon as he is back at home.
September 23rd
It was Dark and Stormy at Paul Hendrick's Annual BBQ - We just received this photo taken on 28th July at Paul Hendrick's annual BBQ in Canada where some 80 guests included a group of stalwart old friends from the Bermuda Police Force who seize this opportunity to get together and reminisce about the "good old days" and participate in Paul's annual ritual!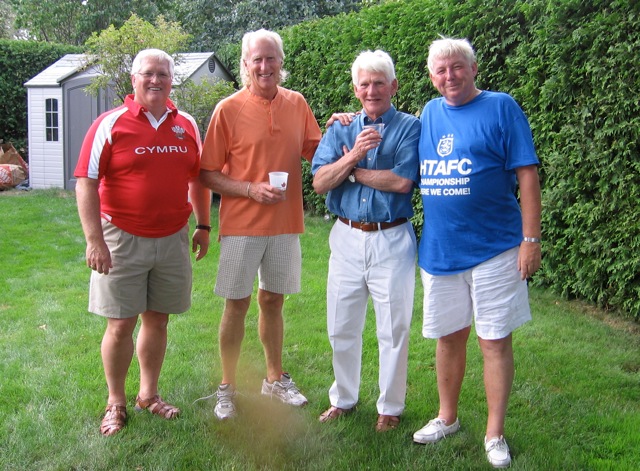 Paul Hendrick's Annual BBQ 2012
(l-r) Jeff Baker, Colin McKenzie, Ian Ganson, and Paul Hendrick
At 6pm promptly a large bell is rung, and Paul produces the magic formula of Barritts ginger beer brought in specially from Bermuda on one of Paul's visits to the Island, and of course, Goslings Black Seal rum which is available these days in Canada. Paul prides himself on making the best "dark and stormies" in North America – and a very good time is had by all.
As you can see from the photo, the ex-Bermuda contingent this year comprised Jeff Baker, Colin McKenzie, Ian Ganson and Paul. Missing this year was "Paddy" Ackroyd who has recently settled back in the U.K. We hear that Jeff (see photo of young P.C. Baker below) is recovering from an operation to repair a detatched retina, and is still serving in the Peel Regional Police, while Ian is still running and eating healthy foods. Ian joined the Bermuda Police Force in the 1960's and had a reputation as an excellent CID officer. He is mentioned briefly in Pat McBride's article (CLICK HERE to read article) and it's good to hear that he still keeps fit and active.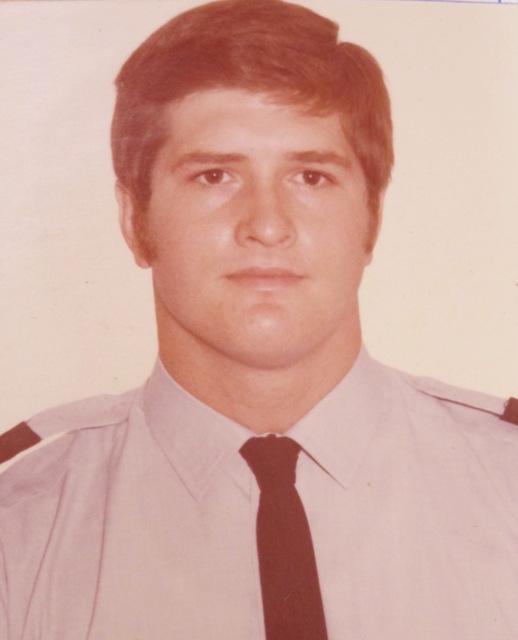 Young P.C. Jeff Baker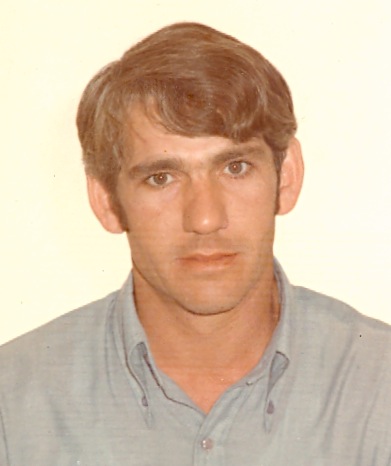 D.C. Ian Ganson
On the subject of fitness, Colin plays lots of golf these days and has recently been giving squash lessons twice a week at the local YMCA. He is an active Rotarian and is also involved in a Habitat for Humanity project with other partners building a house for a family in need.
Paul assures us that the photo was taken BEFORE 6pm. That may explain why Paul and Jeff are both empty-handed!
September 14th
Ron Shelley Visit to Bermuda - We just had a surprise visit from Ron Shelley who came to Bermuda as a young constable back in the early 1960's and left here for New York after falling in love with a beautiful young American ballerina during her visit to the Island as a tourist. Ron went on to make a name for himself on Broadway, which is not at all surprising as he was co-founder of the Bermuda Police Drama Group along with Colin "Dusty" Hind. (See previous entry dated 25th July)
During his brief time in Bermuda Ron made friends with Dave Garland, Neville Darrell who he remembers as an outstanding partner when they worked together on Cycle Squad, and Brian Malpas. One of Ron's enduring memories is seeing Brian's wife walking along Front Street in her Pan Am uniform with Mike Cherry's wife Anne - two stunningly beautiful women!
After finding our website, Ron said it immediately brought back a flood of memories and at the first available opportunity he flew down to Bermuda to meet up with some of his old friends and to see for himself how much Bermuda has changed. He had been saddened to hear of the death of Jim Lyons who was one of the young officers who occupied Band Block – a group about whom there are many stories as yet untold.
Ron spent a great few hours in Somerset with Brian Malpas reminiscing about the good old times - most of which cannot be published on our website! He was disappointed not to be able to see Dave Garland who happened to be off Island attending his son's wedding, and he tried in vain to contact Neville Darrell. However, Ron met up with Dusty Hind and myself at the Crisson & Hind Gallery on Front Street (for anyone who hasn't seen it this is a superb gallery featuring the finest African art) and we spent the afternoon sharing experiences of Bermuda during the early 1960's and particularly the success of the Police Drama Group thanks to Ron and Dusty.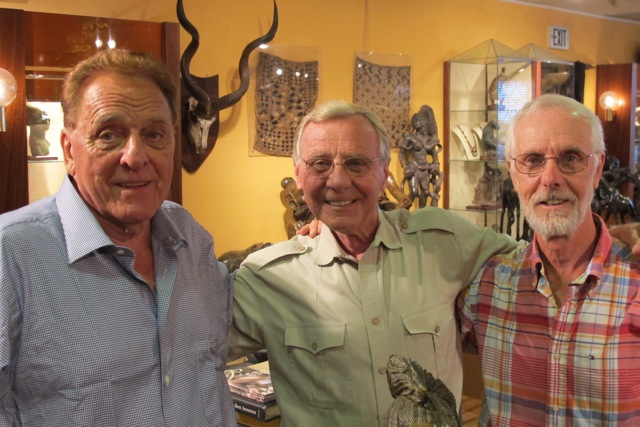 Ron Shelley, "Dusty" Hind & Roger Sherratt
Ron commented that for all the changes, Bermuda still has tremendous charm and he thoroughly enjoyed his short stay at the Fairmont Southampton.
He sends best wishes to all those who served with him from 1961-1963.
September 13th
Les and Heather Brown -
Les and Heather Brown have been on Island for the past few days and they took the opportunity to meet up with old friends at the Police Club on Thursday afternoon 13th September. Les caught up with his fellow police officers, while Heather enjoyed some time with her fellow nurses from KEMH.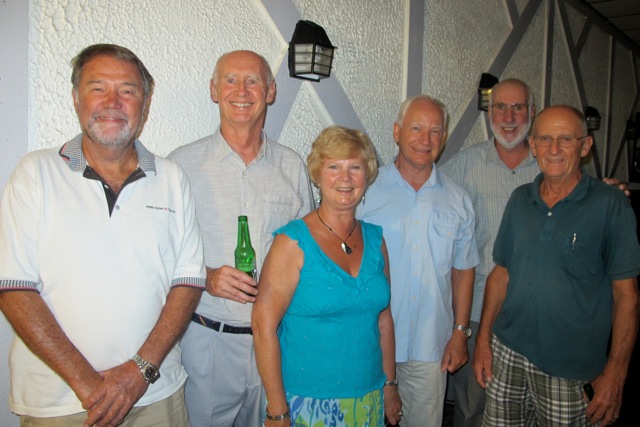 Les and Heather visit the PRC
(l-r) Dave Ashurst, Les, Heather, Ernest McCreight, Malcom "Malcy" Smith & Dave Cook
Les with Reese Bartley and Dave Cook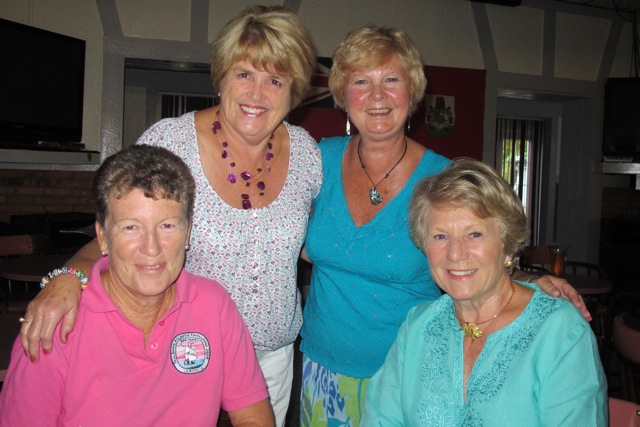 (l-r) Patsy Cook, Barbara McCreight, Heather and Pat Laing
Barbara, Heather & Pat were nurses together at KEMH
They have been staying at Grotto Bay Hotel and report that they are really enjoying their week in Bermuda.
September 10th
TRAGIC DEATH OF FORMER SERGEANT
CHRIS WHEDDON IN THE U.K.
We deeply regret to report the death of Major Chris Wheddon of the Bermuda Regiment who was killed in a road traffic accident in the UK on Sunday 9th September 2012, as reported in today's Royal Gazette (CLICK HERE for details).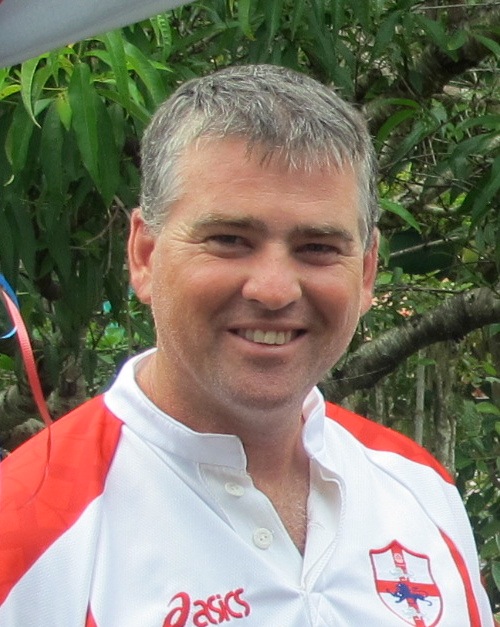 Major Chris Wheddon
Photo taken at a function celebrating the
Diamond Jubilee of Her Majesty Queen Elizabeth II
Chris also served in the Bermuda Police Service from 1997 to 2005 before joining the Bermuda Regiment. He rose to the rank of Sergeant whilst in the Police Service, and in an article in Tribute to Chris on Bernews (
CLICK HERE
for details), Commissioner of Police Michael DeSilva said: "On behalf of my senior colleagues and all officers and staff of the Bermuda Police Service, I offer my sincere condolences to the family and friends of Major Chris Wheddon. Major Wheddon joined the Bermuda Police Service in February 1997 and was promoted to the rank of Sergeant in 2003.
"He served a portion of his career in our Information and Management Services (IMS) department, working on computer systems. He ended his service as a police officer in March 2005 and joined the Bermuda Regiment on a full time basis.
"His duties in the Regiment kept Major Wheddon connected with the Bermuda Police Service and he made as many friends in our ranks after he left as he did while he served with us. He is very fondly remembered as a professional, genuine and kind man. This is indeed a most heartbreaking and premature loss. His family have our thoughts and prayers that comfort may find them during this sad time."
On behalf of the Bermuda Ex-Police Officers Association we add our heartfelt condolences to Chris's family.
September 5th
Les (Paul) Brown - We have just received word that Les (Paul) Brown and his wife, Heather (nee Richardson), will be arriving in Bermuda on 11th September for a one week visit to celebrate their 40th wedding anniversary. They will be visiting the Police Club at 5.30pm on Thursday 13th September in hopes of meeting up with old friends.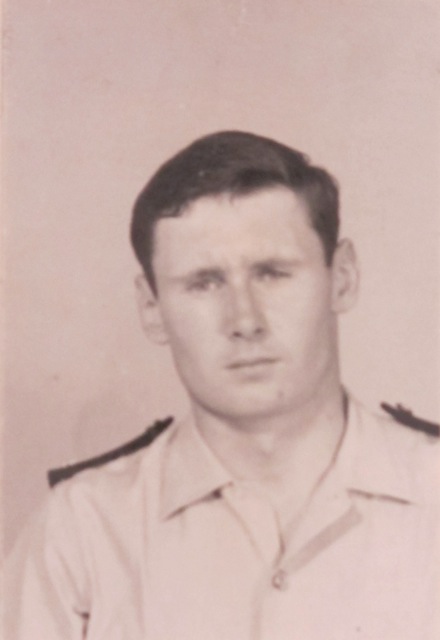 P.C. Les (Paul) Brown
Les joined the Bermuda Police in September 1966 and served for 9 years in Hamilton, St. George's, Traffic and CID, before returning to the UK and joining the North Yorkshire Police where he worked as a Beat officer, Panda officer, and Traffic officer in the York area. In 1983 Les was promoted to Sergeant at Thirsk and then as Acting Inspector at Ripon, before being transferred to Richmond in North Yorkshire where he was kept busy as Crime Prevention Officer, Special Liaison Officer, Community Affairs Officer, and Wildlife Liaison Officer - all at the same time.
Les retired from the Force in 1996. He and Heather are looking forward to their trip to Bermuda.
August 6th
News of the sudden passing of Doug Rogers -
We were shocked and saddened to hear about the sudden passing of Doug Rogers who died at his home in Bridlington, East Yorkshire, on Sunday 5th August 2012.
Doug joined the Bermuda Police Force in August 1965, having previously served as a constable in the Oxfordshire Police from 1962-1965. Anyone who knew Doug will remember is wry sense of humour. He served in Central Division from 1965-1967 before being transferred to Traffic where he served until leaving the Force after 7 1/2 years in February 1973. He and his wife Susan (nee Booth) married in January 1967 and they went to live in the U.K.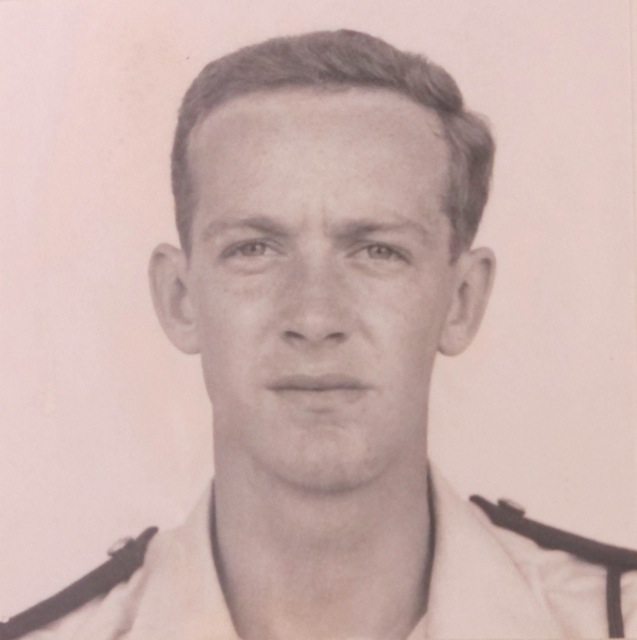 Bill Pritchard advised of the news on Sunday 5th August, and we will pass on any further information here on our website. Anyone wishing Sue's home address can write to us at This email address is being protected from spambots. You need JavaScript enabled to view it.
We have been advised that a Humanist service will take place at Octon Crematorium, Bridlington, at 1.00.pm on Tuesday, 14th August, 2012.
July 25th Ron Shelley - Following the recent death of our former colleague, Jim Lyons, we heard from one of his old friends on the Police Force, Ron Shelley, who served here from 1961-1963. Ron was keen to send his condolences to Jim's wife, Betty.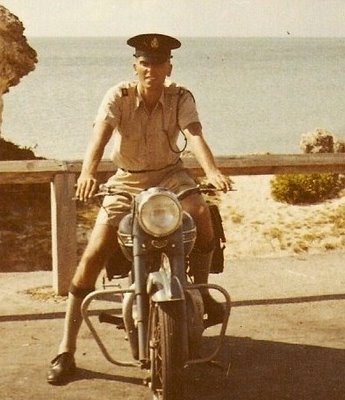 Young P.C. Ron Shelley on his Triumph motor cycle
in Cycle Squad (minus crash helmet) circa 1962
Ron had been an usher at Jim and Betty's wedding back in 1961. He was the proud owner of a Grundig tape recorder in those days and was invited to be an usher at many police weddings to record the event. Ron recalls he was the first constable in Bandblock at Prospect – and the very last one out. Jim Lyons and Ken Norman were good friends who lived next to him along with Clive Thompson, Bill Smith, Denis Byrne, Roger Chard, Roy Livesy, Connell McBurnie, Ian Davies, Andy Heggie, Colin Chiswell, Vic O'Neill, and a couple of others whose names he can't recall. He asked whether it might be worthwhile starting a Bandblock Alumni page on our website!
Ron has fond memories of parties held at Bandblock and of visits to Admiralty House which was a favourite place for nurses, visiting college girls and young single policemen!
Ron's name is synonymous with the creation of our very successful Police Drama Group which was started by him and Colin "Dusty" Hind when they produced the first Bermuda Police Drama Group play, "The Long & The Short & The Tall" with Dusty as Private Bamforth. Ron's says, "We did perfect type casting with all the characters in the police at that time. We not only silenced all the critics at the PRC, but they actually stood in line to join up and perform in the next production. It seems that "Everybody Wants to be in Hollywood!"
After leaving Bermuda, Ron headed to New York in February 1964, a few days ahead of the Beatles, and he attributes the English Invasion to having helped him continue in the entertainment business. (We hope Ron will write more about what he's been doing since his arrival in New York). On thing for sure, he clearly retains his links with the world of entertainment as can clearly be seen by this recent photo of Ron with the multi-talented Kelli O'Hara, the star of South Pacific, at a Broadway charity event.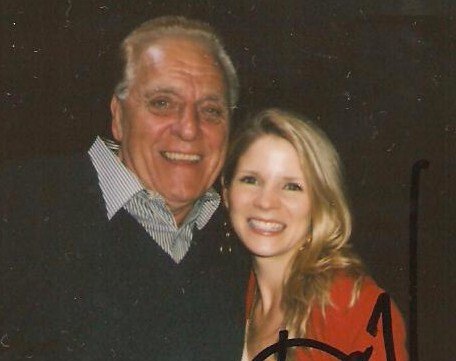 Ron at Broadway charity event
with beautiful South Pacific star Kelli O'Hara
Ron tells us he hopes to visit the Island in September this year, and is keen to meet up with his old colleagues including "Dusty" Hind, Brian Malpas, and Dave Garland who he worked with in Cycle Squad.
July 15th Mick "Wally"Lumb - Norman Wilson has advised us that Mick "Wally" Lumb will be on Island for the next week, and is planning to visit the Police Club at 5.30pm on Thursday 19th July in hopes of getting together with his old colleagues.
July 11th Bob Payne - We have just received word from Bob Payne who served in the Force from April 1970 to May 1975. Bob worked in Central, St. George's and Traffic. He recently discovered our website and has promised to write a biography in due course. He and his wife, Pat, are both well and living in Devon, England. Bob has also provided us with his email and home address and would be delighted to hear from anyone who served with him in Bermuda. Anyone wishing to contact Bob can email us at This email address is being protected from spambots. You need JavaScript enabled to view it. and we are happy to pass on the message.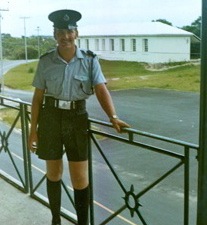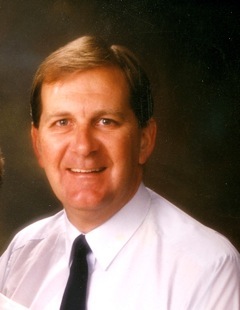 Young P.c. Payne Recent photo of Bob
July 10th
News of Death of Jim Lyons - It is with great regret that we have to inform you that we just received word from Jim Lyons daughter, Jayne, that he died on the evening of Tuesday 10th July 2012. We will pass on more details re the funeral etc. as soon as we receive them. I have written to Jayne and asked her to pass on sincere condolences to her mum, Betty, and to her family.
Jim served in the Bermuda Police Force from 1960 – 1966, mainly in Traffic, and he was an outstanding sportsman who represented Bermuda internationally at both cricket and football. He will be sadly missed by all who knew him.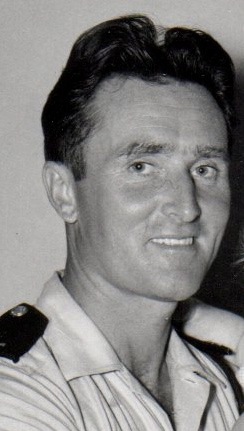 P.C. Jim Lyons
Jim kindly wrote an article for our "Then and Now" column in April this year. CLICK HERE to read the article.
Betty Lyons has been in touch with us and advised that Jim's funeral will take place at Christ Church, Coatham Road, Redcar, on Friday 20th July, followed by cremation. Fortunately, Betty has a great family and circle of friends around her at this very difficult time. If anyone would like Betty's email or home address you can contact us at This email address is being protected from spambots. You need JavaScript enabled to view it.
June 29th
Mike Ross - Mike visited the PRC, along with his daughter Catherine, on 28th June and was delighted to meet up with some of his old colleagues as per the photo below. He has promised to write about his visit and to write an article for our Then and Now column.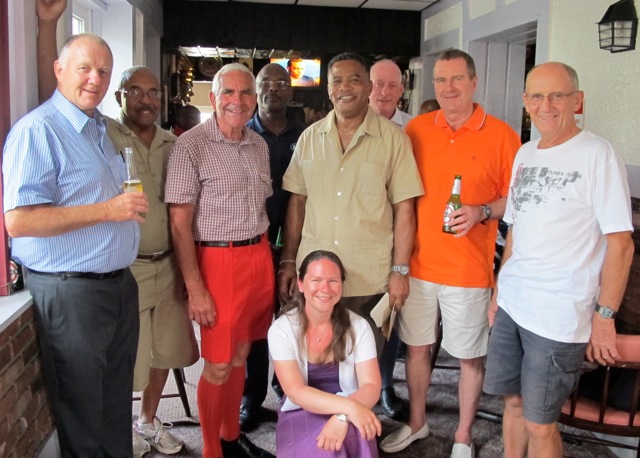 Mike Ross visits the PRC with daughter Catherine
(l-r) Dave Cart, Reese Barclay, Mike Ross, Dennis Gordon, Pat Hamlett,
Norman Wilson, Eddie Davies and Dave Cook. Kneeling is Catherine Ross.
June 12th
Mike Ross - We have just heard from former P.C. Mike Ross (served from 1975 – 1982) who is coming out on vacation with his daughter later this month. Mike will be here from 25th June – 5th July, and would love to meet up with some of his old colleagues while here. We have suggested that Mike and his daughter visit the Police Club at 5.30pm on Thursday 28th June to met up with friends.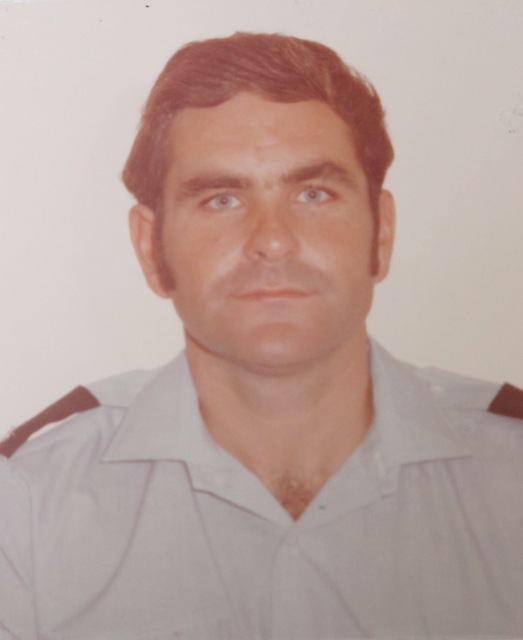 P.C. Mike "Mick" Ross
Mike arrived in Bermuda on the same plane as Eddie Davies, Dave Cart and Graham Alderson, and after Training School he was posted for a while to Eastern Uniform before being transferred to CID (Murder Squad) on the "Stringy" Simons murder investigation along with Bob Porritt and many others. He also spent a few months in Central Uniform before being transferred to Operations (Traffic) where his Sergeants were Dave Cook and John McConnie, and his Watch included Eddie Davies, Stan Francis, Frankie "Bill" Foggo, John Dale, and Cyril Plant.
After returning to the UK in 1982, Mike rejoined the Hampshire Police and retired as an Inspector in 2004.
Mike is looking forward to his return to Bermuda and would be delighted to meet up with old friends at the PRC - at 5.30pm Thursday 28th June.
May 26th
David Shakeshaft - alias 'Shakey' who served with us from 1970 - 1978, wishes to be remembered to all those who knew him. He sent an e mail to David Cook when he received that news of Allen Pugh's passing, with whom he worked with in St Georges many years ago.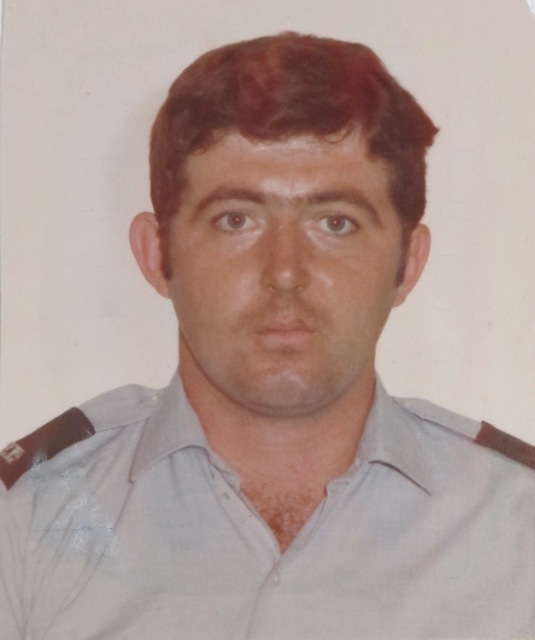 "Shakey" Shakeshaft
May 23rd Bob Porritt back in Bermuda for Visit - Bob Porritt and his wife, Pam, arrived in Bermuda on 22nd May by cruise ship for a quick visit and after spending his first day visiting old friends in St. George's, including Perry Fox and Dave Chew, they paid a visit to the PRC at Prospect today and met up with more of Bob's old colleagues as shown in these photographs. Bob and Pam will be enjoying the festivities on Front Street on the May 24th holiday, including the Marathon and the May 24th annual Parade, but any rumours that Bob had secretly been training for the marathon were adamently denied during his rendezvous at the Police Club.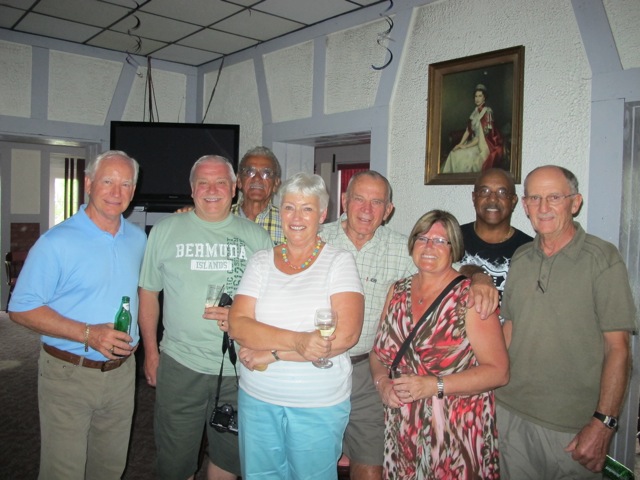 Gathering at the Police Recreation Club
(l-r) Ernie McCreight, Bob Porritt, Eddie Foggo, Sue Garland,
Dave Garland, Pam Porritt, Reese Bartley and Dave Cook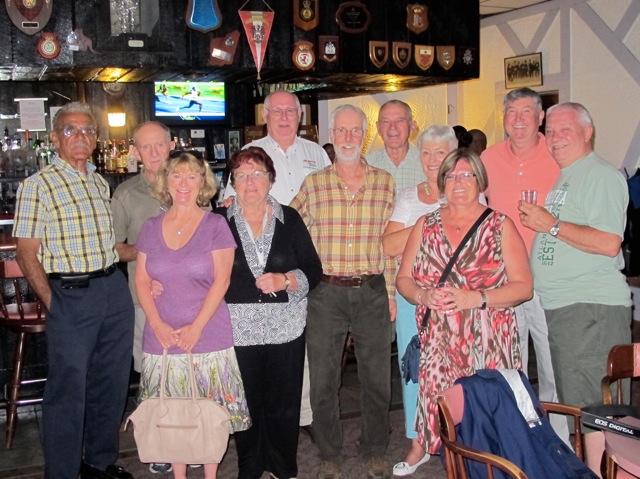 Training for May 24th!
(l-r) Eddie Foggo, Dave Cook, Tricia Foggo, Sheila Skinner, John Skinner, Roger Sherratt,
Dave Garland, Sue Garland, Pam Porritt, Brian Foster, and Bob Porritt
May 22nd
Passing of Allen "Bugsy" Pugh - We have just received the following sad news from Peter Shaw while on vacation in the U.K.
I have to announce the death of Allan 'Bugsy' Pugh earlier this month of Lung Cancer. I have spoken to to his wife, Debbie, and passed condolences onto her and his 4 children. Allan served mainly in Eastern Division fromn 1973-1978, when he returned to UK with his first wife Jane. He served in the Beds and Luton Constabulary, until his retirement, and then continued in a civilian capacity. The funeral is due to be held on 1st June.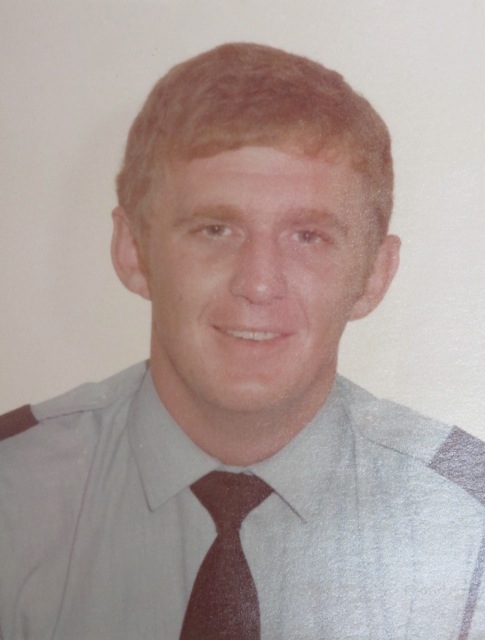 Former P.C. Allen Pugh
April 23rd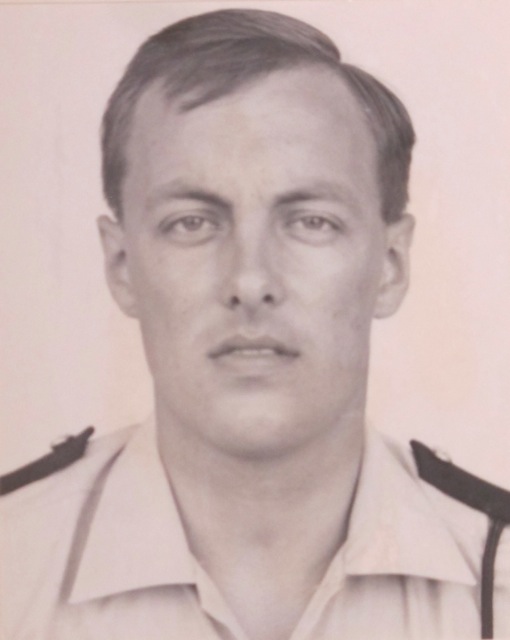 P.C. John Napier
John Napier - We just heard indirectly from John Napier who served in the Bermuda Police from 1965 -1968 in Central Division, having previously served for 4 years in the Lothians, Peebles Constabulary.

After leaving Bermuda, John returned to his native Scotland and took a law degree and joined the Procurator Fiscal Service (the equivalent of the Crown Prosecution Service in England) for some 26 years before officially retiring from the PF Service in 2002 at the mandatory retirement age of 60.

John continued for another 4 or 5 years on a self employed basis doing court prosecutions. He is now settled in Musselburgh, near Edinburgh with his wife, Janet, and they have two daughters and three grandchildren.

He still keeps active at the age of 70 and goes out shooting, hill walking at least once a week, and is an active member of the local camera club.

John returned to Bermuda on holiday in 1988 and realized that things had changed since he left in 1968. He felt that he had made the right decision to return to Scotland but says he considers himself to be very lucky to have had such an exciting life between the Police in the UK and Bermuda, and enjoying his second career in law.

John adds that hardly a day goes by when he doesn't think about Bermuda and the fine people he met here (one of his good friends was Howard Mitchell who is mentioned in an article about former P.C. Joe Mercer in our "Then and Now section) and John is delighted to be following our website.
April 22nd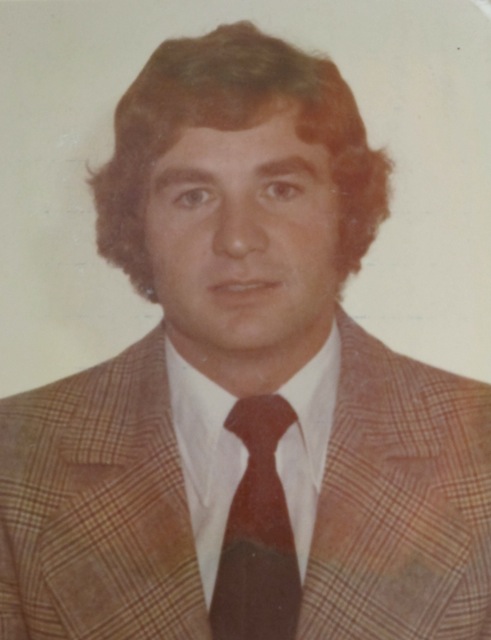 P.C. Bob Kinnon
ROBERT 'BOB' KINNON - We're delighted to hear from Bob Kinnon who served for 7 years in the Bermuda Police, and will be coming out with his family and with Ian Graham and his wife, in early August. For more information about Bob's police career please see our "Then and Now" column or CLICK HERE.
Editors note - we are planning our summer BBQ to coincide with the visit of Bob and Ian and their families in early August, and will publish the date as soon as it has been decided.
April 17th
MIKE BURKE - This has been quite a week for making contact with our "old" colleagues, especially those featured in the photos of the 1986 reunion in Edinburgh. We just made contact with Mike Burke who settled back in his native Jersey, the Channel Isles, with his wife Carolyn ('Cam') after leaving Bermuda.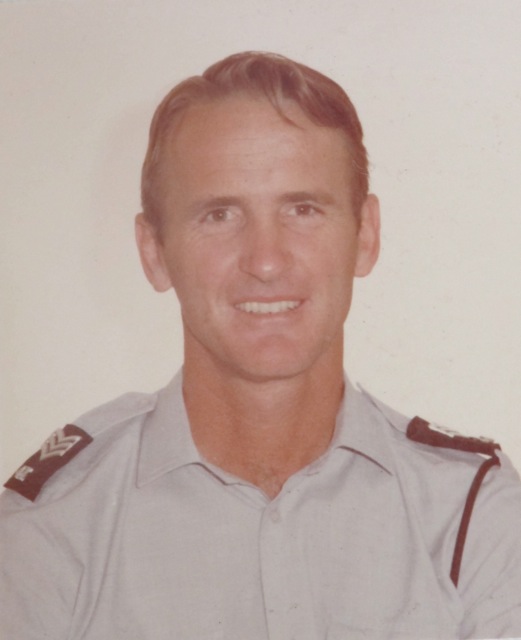 Sergeant Mike Burke
Mike served in the Bermuda Police from 1958 – 1982, retiring as Inspector having served in numerous departments, including Central (Uniform), Central CID, Eastern (Uniform), Operations, "A" Department and Airport Security. Mike met and married his Canadian wife, Carolyn, here in Bermuda, and both their children, Mark and Sally were born here.
After returning to Jersey, Mike worked in Security for many years and spent 3 years doing security at Jersey Airport until he retired at the age of 70. He still enjoys playing tennis, and he and Carolyn love ballroom dancing. Mark is a Sergeant in the Jersey Police and Sally is a school secretary. Both have 3 children.
Mike and Carolyn send their regards to their old friends in Bermuda, and Mike has promised to write an article for our "Then and Now" column.
IAN GRAHAM - Ian has recently been in touch with us and he very kindly provided us with great copies of a series of photographs taken at the reunion held in Edinburgh in 1986 which are our featured in this week's "Who, Where and When" column. (CLICK HERE to see Edinburgh reunion photos)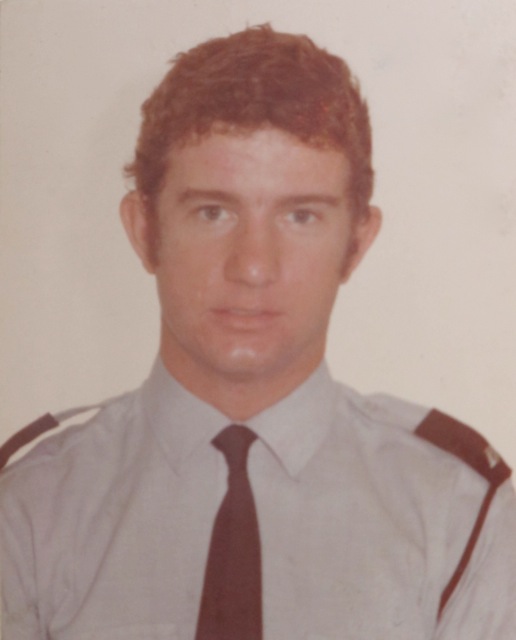 P.C. Ian Graham
Ian served in the Bermuda Police from 1973 – 1979, starting in Central Division for about 2 years before transferring to Eastern Division and then to Operations (Traffic). Ian returned to Scotland in 1979 and joined what was then Strathclyde Police, having previously served in Renfrew & Bute Constabulary. He served mainly in CID although he managed to get a desk job for the last few years before retiring 5 years ago as an Inspector.

It was Ian, along with Bob Kinnon, who organized the very successful 1983 reunion in York and the 1986 reunion in Edinburgh of former Bermuda police officers and their spouses, along with friends who had also spent time in Bermuda.

Ian returned to Bermuda several times quite quickly after returning to Scotland, but then took a 20 year break before returning again for a holiday with his wife Maggie who was a nurse at KEMH. Ian and Maggie are both tennis fans and are presently visiting Monte Carlo where they were due to watch Andy Murray playing in the first round of the Monte Carlo Masters championship this morning (they must have enjoyed their morning because we checked with BBC Sports and read that Murray had an excellent match, winning 6-0, 6-3). Maggie played tennis while in Bermuda and as Maggie Moyse she was the Bermuda Police mixed doubles tennis champion in 1979.
Ian and Maggie clearly have a lasting affection for Bermuda because they are planning to visit us again in early August this year, along with Bob Kinnon and his wife.
We are planning to hold our annual summer BBQ at the PRC to coincide with their visit, so if you would like to meet up with Ian and Bob again please make a note in your diary to be on Island in early August.
April 8th
TERRY CABRAL - We recently heard from Terry Cabral who answered our recent WHO, WHEN AND WHERE question about the photograph of three young detectives from the 1970's (CLICK HERE for the photo of our "Mod Squad" detectives).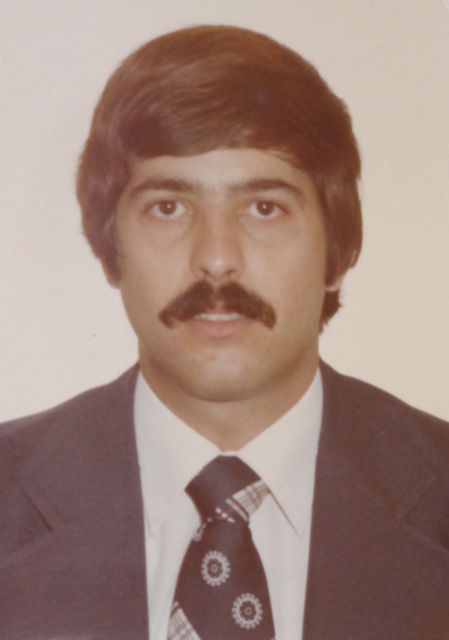 P.C. Terry Cabral
Those who knew Terry will remember that he was born and raised in Bermuda, and joined the Bermuda Police as a Cadet in 1967. He became a Constable after passing through Training School in 1969, serving in Central Division (Hamilton), as Diplomatic Mail Driver, in Cycle Squad, Eastern CID, Admin, and in the Marine Police before leaving the Force in 1984.
Terry worked for a while with a local contractor before he and his American born wife moved to the U.S. where they have now settled in Virginia. Terry worked for most of the last 20 years as manager of a Wood Mill but he is now retired, along with Barbara, and they have also managed to travel the world. They are planning on chilling out for the next year, but in his spare time Terry enjoys fishing the Chesapeake Bay and lakes. They have two wonderful children, a boy and a girl, and also a lovely granddaughter.
April 4th
ARTHUR ROSE - We called Arthur Rose's home this morning to enquire about his condition with his sister, and lo and behold, Arthur answered the phone! He was released from hospital last week after having a hip replacement operation. Arthur says he's making slow and steady progress - one leg is now about an inch shorter than the other so he's having to wear a shoe insert. He's a keen Arsenal fan and is pleased with their performance this season. If anyone wants to contact him we would be happy to provide you with his phone number if you email us at This email address is being protected from spambots. You need JavaScript enabled to view it.
March 31st
JOHN HEADEY - Anyone who worked in Eastern Division, St. George's, from 1971 – 1977 will no doubt remember P.C. John Headey who hailed from Yorkshire and had previously served in Huddersfield Boro Police and in the West Yorkshire Police. As a single man John shared an apartment for a while with Russ Delahaye.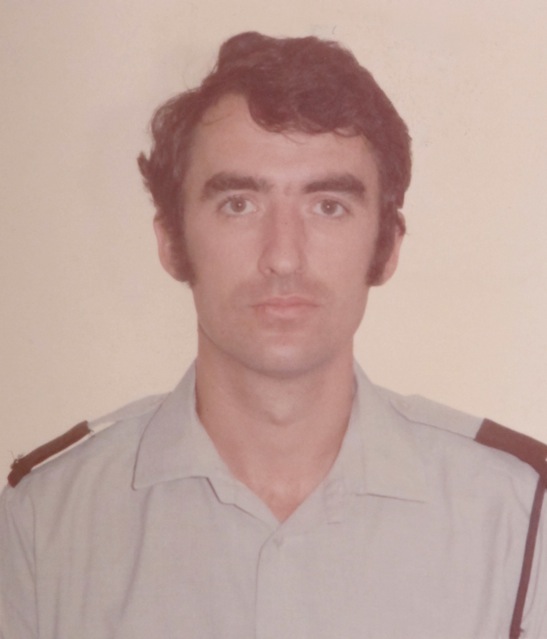 P.C. John Headey
While in Bermuda, John fell in love with Susan (Brown) who was working at the Bank of Bermuda as a teller in Hamilton and then in St. George's. The two were married in 1972, and their daughter, Lena, was born here in Bermuda the following year. During his time here John worked exclusively in the 'East' - in uniform and CID, and he also played football for the Police Team, going on tour to New York with the team back in 1973.
We were delighted to hear through an article published in Bernews on 29th March (CLICK HERE for the article) that Lena is now an accomplished actress who is starring in the HBO hit series, "Game of Thrones" which starts its second season on 1st April.
John and Susan are currently in Los Angeles with Lena and their grandson, and John confesses that chasing their 2 year old grandson around is taking its toll! They recently attended a private screening of the first episode of the show. As John says, "Lena plays a pretty cruel character, but hey, what can you do?!" No doubt he's extremely proud of his beautiful and talented daughter who embarked on an acting career at the age of 17 after she was discovered during a school theatre performance and given a role opposite Jeremy Irons in the 1992 movie, "Waterland".
John has written to us to say that after returning to the U.K. they initially settled in Huddersfield, but within a year they moved to Burnham on Sea in Somerset. John was working for his brother's company (importers of cane furniture and basketware) as Sales Manager for the South West and South Wales. Lena started school at Burnham, and her brother, Tim, was born in Taunton in 1980. Tim now works for British Airways at Heathrow.
After 5 years in the South West they returned to Yorkshire in 1983, and started a Glassware and Giftware importing 'arm' of the business, with John as Managing Director and Susan as part time assistant and pretty much full time Mother. As John says, "The business took up much of our time and required us to travel to various parts of the world on buying trips and to exhibitions. The main line of the company was recycled glass products made in Spain, and our regular visits there gave us a liking for the country and the people. We also imported goods from many other parts of the world, and were fortunate enough to travel numerous times to Portugal, China, Vietnam, Philippines, Hong Kong (sadly I never saw Russ Delahaye there), Taiwan and India.
John also pointed out that when he first arrived in Bermuda, one of his fellow recruits was Steve Taylor. John and Susan met Steve's parents, Bob and Joan, when they moved back to England and became great friends. When business took John and Susan away from their young family, Bob and Joan were kind enough to take care of them on many occasions.

John and his wife ran the business independently until 2005 at which time it was merged with his brother's firm, and this presented them with the opportunity to take fairly early retirement, which they duly did in 2008.

Since then John and Susan have continued to travel, taking holidays in Malaysia and Australia, and spending considerable time in LA with Lena and family. But despite their world travels John maintains that his 'home' is still West Yorkshire.

John has asked that we send regards and best wishes to Peter Stubbs, who was Inspector OIC Eastern Division when he arrived in Bermuda. He was delighted to see Peter's photo on the website (in this column) and we are delighted to say that Peter continues to make progress after his recent illness.


March 30th
CARL BECKLES sends greetings from Canada. While searching for information about the Bermuda ex-Police, former P.C. Carl Beckles recently came across our website and has written to say hi to all his old colleagues. Carl was one of the first intake of recruits from Barbados who joined the Force as a young 20 year old in February 1967. His first posting was to St. George's but he also served in Central Division (Hamilton) before deciding to head to Canada after almost 4 years in Bermuda.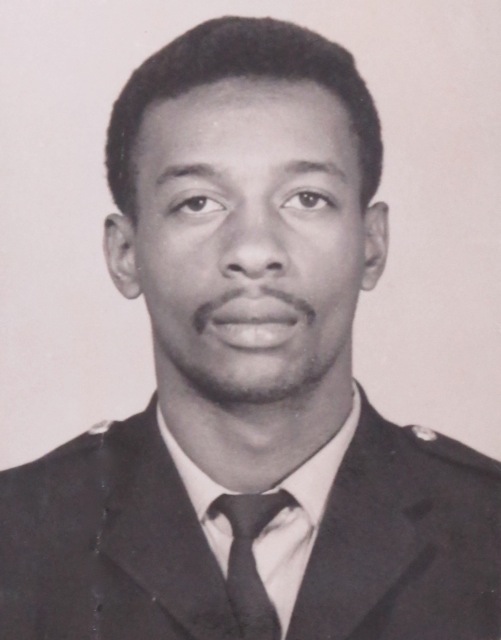 Young P.C. Carl Beckles
Carl studied power engineering, qualifying as a first class stationary engineer, and has been working continuously in this field for the last 30 years.
Carl is sending us more information and some photos for our THEN AND NOW column. But in the meantime he asked us to pass on best wishes to all his former colleagues, and says he has fond memories of his time in the Bermuda Police.
BOB PORRITT visiting Bermuda - We just heard from Bob Porritt, who served in the Bermuda Police from 1970-1975 . He will be visiting Bermuda on a cruise ship in May and is keen to meet with his old colleagues while here.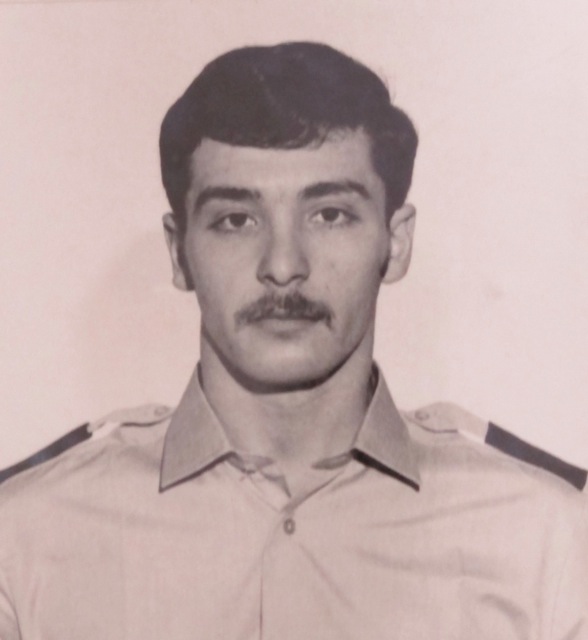 Young P.C. Bob Porritt
Bob worked for a while in Central Division but spent most of his service in CID, first at Central CID then at Eastern CID, including a spell in Murder Room
He will be arriving in St. George's on Monday 21st May and departs on Friday 25th May. We've tentatively suggested a get together at the PRC at 5.30pm on Wednesday 23rd May.
March 25th
BRIAN CALLAGHAN - We have received the following message from Ann regarding Brian's progress.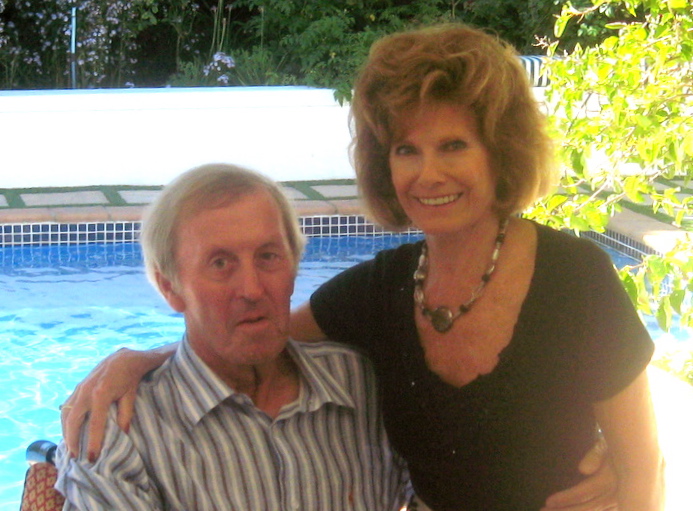 Brian is doing so well; he started water therapy in early February and does this once a week - his physiotherapist goes in with the water physio specialist and they both work with him. He is now getting the right leg to lift and step forward on his own - a very BIG step forward indeed! He continues to have speech therapy and physio three times a week and occupational therapy twice a week. Next week we are getting him started with a gym workout three times a week as well (we have a fully equipped gym available where we live and where he does the water therapy at the spa pool).

As you can see, Brian is kept quite busy but it is all working to his benefit. He sends his thanks to all who are concerned about his recovery.

Love,
Ann
March 22nd
PETER STUBBS - You may have heard that Peter Stubbs was admitted to KEMH on Monday morning with a high fever and elevated blood pressure. We checked with Kate on Wednesday 21st March and she advised us that Peter is improving and should be out of hospital in the next few days. He has been diagnosed with a respiratory infection and is now on antibiotics. Peter is still quite weak and not keen to have visitors other than family and close friends but he is hoping to be home by the weekend. (Update 31st March - Peter is out of hospital and recovering well)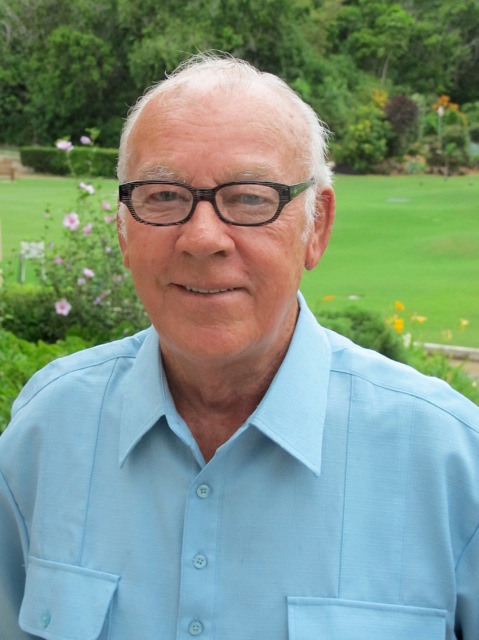 Peter Stubbs
March 8th
RICHARD 'DICK" COULTHARD - News On Two Fronts - Richard "Dick" Coulthard just contacted us from Australia. He had read about the passing of Jerry Perry on our website and says, "Sorry to hear about Jerry Perry. I enjoyed working with him. Jerry was instrumental in me meeting with a long lost old school friend. Just after leaving the Police Force Jerry worked as a shipping agent and was responsible for assisting the Royal Navy with supplies. A friend of mine happened to be the Catering Officer on the supply ship and had heard that I was in Bermuda, so he asked Jerry 'You wouldn't happen to know a Dick Coulthard would you?' As a result we got together and my friend also kindly gave me a quantity of Her Majesty's steaks!"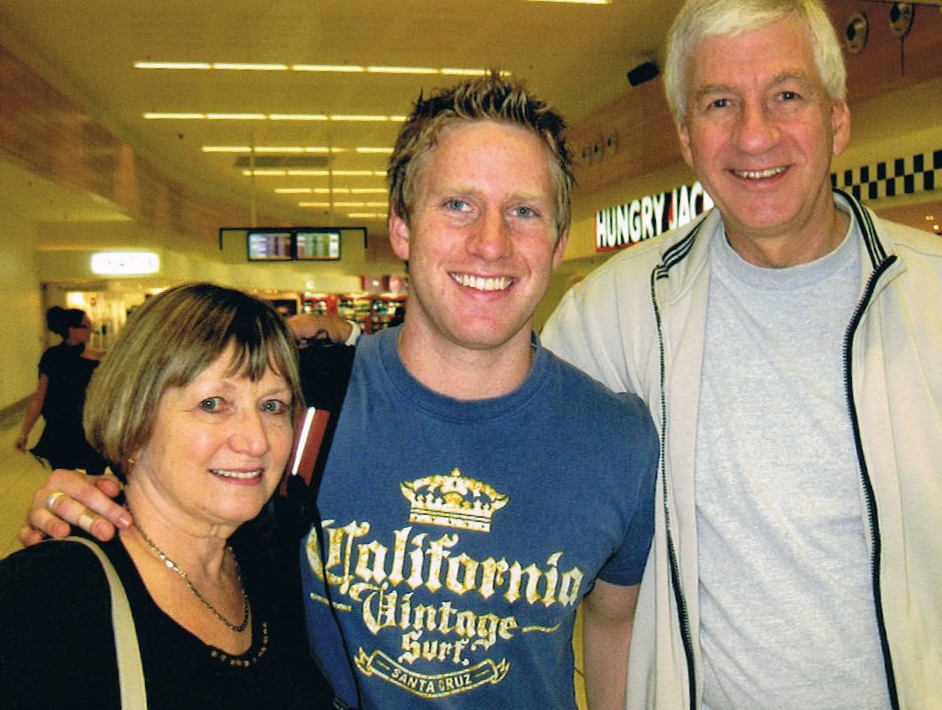 Dick and Jenny Coulthard with son, Aidan.
Dick & Jenny will be visiting Bermuda in late September
Just thought I would let you know that Jenny and I will be visiting Bermuda later this year. We had booked a BC/ Alaskan cruise and then thought maybe we should visit Ontario as we were already in Canada. The natural consequence of that was, as we would then be so close to Bermuda, maybe we should go there as well. Anyway we will be in Bermuda between 24 Sep and 1 Oct and hope to see some of our old friends during our visit.
March 8th
TRIBUTE TO ANDREA - We just received this letter from Staff Sergeant Monique Rollin of the Sault Ste. Marie Police Service, in Ontario, paying a very moving tribute to her good friend Andrea, and thought it appropriate to print it here:-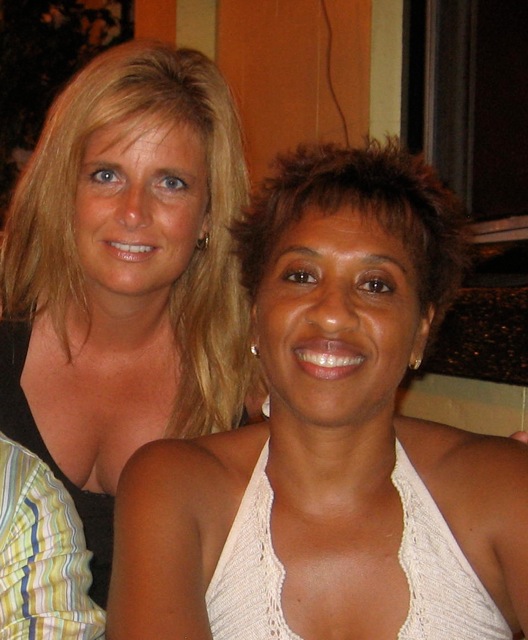 Monique and Andrea
Dear former members of Bermuda Police,
I found your site and tribute to my dear friend Andrea Browne. I wanted your colleagues to know how special policing was to Andrea and we often talked for long hours about our police experiences and shared advice. I first met Andrea on the supervisor's course at the Ontario Police College in 1996. We met in residence the night before classes started and Andrea had arrived in Canada in the winter with no luggage. Being from Northern Ontario I lent her some warm, but too big, clothes and off we went to shop. This began a long and close friendship that has remained steadfast for 16 years – Andrea Browne was what all of us hope to have in a best friend. We visited dozens of times and I found a love for Bermuda. We spoke weekly and shared all the good and bad times in our lives.

Andrea was diagnosed with breast cancer at Christmas of 2010 and was resolved to win the battle. My dearest friend would jog to have her blood tested and worked out all the way through her chemo. She managed surgeries without complaint and was truly my hero. We spent a week together in Boston while she was having radiation treatment going shopping, whale watching and treating our time like a girls vacation. Never once did I hear a complaint or a waiver in her positive attitude.

Every day in policing I hear the woes and complaints of people around me, colleagues who don't realize that life is too short to waste. If there is a message here it is to live every day to it's fullest and be the person we knew Andrea Browne to be. For those of you who knew and worked with Andrea you know she was a truly wonderful, giving and gracious person with so much life left to live. For those of you who had not known her, I only wish you had and have the chance to live your lives like her.

Sincerely,
Monique Rollin
Staff Sergeant
Sault Ste. Marie Police Service
Ontario, Canada

This email address is being protected from spambots. You need JavaScript enabled to view it.
March 5th
ANDREA BROWNE (nee Durrant) - It is with great sadness that we have just heard of the passing this past weekend of one of our much loved colleagues, retired Sergeant Andrea Browne (nee Durrant). We don't as yet have any further details but we understand that Andrea had been very ill for some time. We will post details of funeral arrangement as soon as possible. (Please CLICK HERE for Andrea's obituary notice published in the Royal Gazette)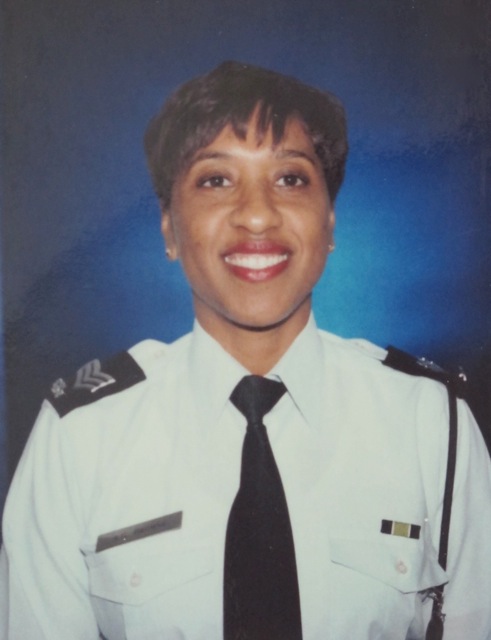 Sergeant Andrea Browne (nee Durrant)
Andrea joined the Bermuda Police as a Cadet in September 1979, and was appointed as a Constable in October 1980. She worked in a wide variety of Departments, including Central Uniform, the Police Women's Department, Operations (Traffic), Administration, as Government House Security Officer and as Supreme Court Officer.
Following her retirement in 2005 after 26 years service, she went on to a career as a Claims Administrator with Axis Capital.
Andrea was a very popular and well-liked officer who was always a great credit to the Bermuda Police Service. She will be sorely missed by all who knew her. Our sincere condolences go out to her brother Junior Durrant and to her family.
We have just received this poem as a tribute to Andrea from her good friend and fellow former Police Officer, Shinah Simons.
My Forever Friend
Andrea Gail (Durrant) Browne – Sept. 21, 1961 – Mar.5, 2012
In life when you have a forever friend,
You relive joyful experiences over and over again,
Smiling at all the things we would do,
Like sharing our lunches as far back as infants one and two.
During high school years we had our fresh start,
But for us it was merely two buildings apart,
Throughout those formative years what we'd do,
Talk and keep sharing of changes we were going through.
Fate so happened to bring us back together again,
When I joined the police along with my forever friend,
During our last trip to the Pequot Indian Reservation,
We talked, ate and visited without hesitation.
Much has happened since 1961 when we were born,
So I will not cry because you are gone,
I will smile because it happened.
One day I hope to see you again,
When I can laugh, hug and talk with you,
My Forever Friend.
Shinah – March 5, 2012
Shinah also provided us with these two photos:-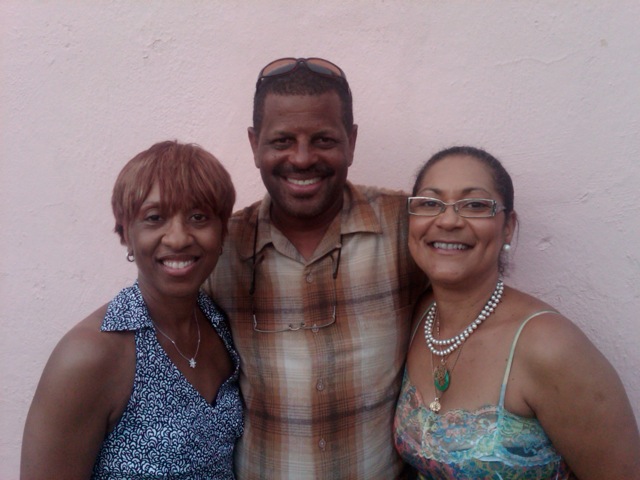 Sharing a happy moment with Andrea, Shinah and Andrea Smith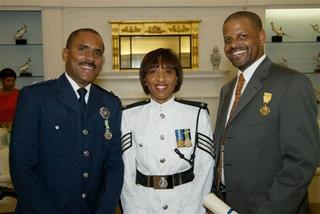 Sgt Andrea Brown flanked by Steven Caines (left)
and Shinah Simons (right) at Awards Ceremony at Government House
JIMMY 'THE WOP' COSTELLO -
We bumped into Jimmy 'the Wop" Costello this afternoon up at Police Headquarters, and some may be aware that he was admitted to King Edward Hospital just after Christmas with a severe throat infection. Although released after his initial visit, he had to be re-admitted for 2 weeks for further treatment due to not being able to eat - or drink!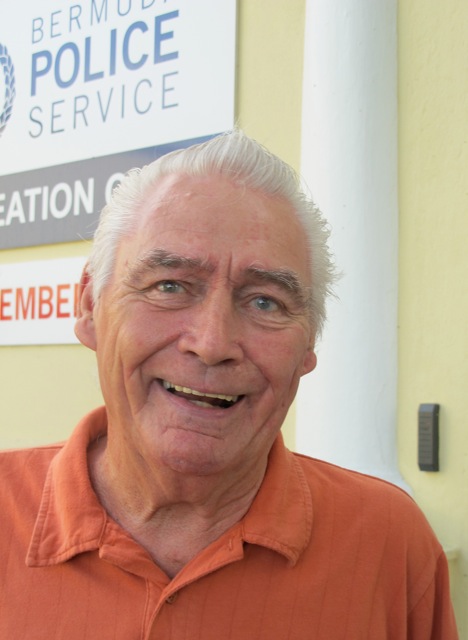 Jimmy Costello stands on the spot
where he outran Pat McBride in 1979!!
We're glad to report that Jimmy is make a good recovery and was in fine voice this afternoon. He kindly agreed to have his picture taken but only on condition that it be noted that it was at the same location (outside the Police Recreation Club) where he finished 2nd to Jeff Payne in the first ever official PRC Mini-Marathon in 1969, and WELL AHEAD of Pat McBride who managed to finish in 5th place. CLICK HERE for a separate article about the First PRC Mini-Marathon written by Pat McBride.
March 2nd
ARTHUR ROSE - We called Arthur's sister, Jean, for an update on his condition and she advises that he is still in hospital having been transferred recently to Bexhill Hospital where he is undergoing physiotherapy. Arthur had a setback when the previous hospital he was in had a bout of winter flu through the wards - and Arthur was no exception. The flu bug halted his progress but Jean says he's doing better now although she has no idea when he might be returning home. We passed on our regards together with those of Frank and Elizabeth Maddern who we have just been in touch with in BC, Canada. We're hoping to receive an article about Frank for our THEN AND NOW column. Frank will be familiar to many of our old timers. He served in the Force in the 1950's, married a Bermudian, Elizabeth (nee Outerbridge) and had his own business here for some years before moving to B.C.
February 28th
RALPH SEALY - We heard recently from former PC 94 Ralph Sealy who joined the Force in 1966 along with the rest of our first contingent of recruits from Barbados. Ralph was stationed in Central Division (Hamilton) and lived in the barracks during his time in Bermuda.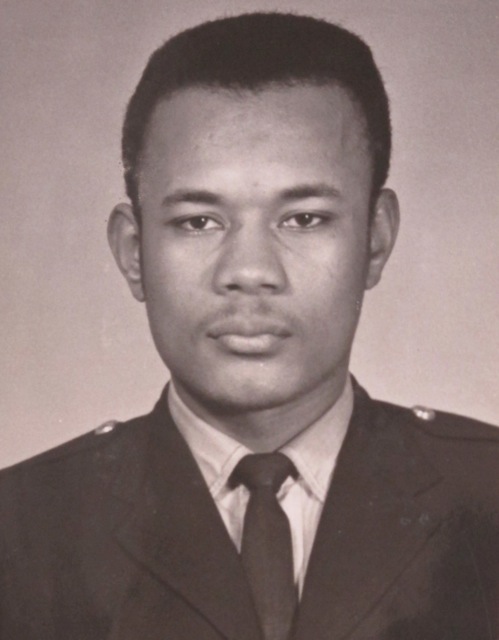 Young Police Constable Ralph Sealy
Ralph emigrated to Philadelphia in the USA in 1968 with his American wife Jennifer who he met in Bermuda. They moved to Philadelphia when Jennifer's father was seriously ill. Ralph had a successful career in commercial banking and is now fully retired. He and Jennifer have been happily married for 44 years and have raised a son and daughter. They are now living in Willow Grove, a small town in Montgomery County – not far from Philadelphia
Ralph heard about our website from Orson Daisley and says he has really enjoyed reading about some of his old mates on our site, including Pat McBride, Dave Kerr, Mike Parris, Tommy Barnes and Alastair Johnson.
Ralph would love to hear from some of the folks he served with back in 1966-1968. We would be happy to pass on email addresses etc. to any of our readers but would prefer not to post such details directly on our website because of the potential for misuse by outsiders.
DANNY BROGAN - Another former Bermuda Constable, Danny Brogan, just found our website and has been in contact with Dave Cook. Danny served in the Manchester & Salford Police before joining the Force in 1971, serving in Central Division (Uniform), the Mobile Reserve, and as chauffer at Government House. Danny was the driver for H.E. Sir Richard Sharples, having taken over from Les Brown, and was working at Government House at the time of the assassination of Sir Richard and Hugh Sayers. Danny left Bermuda in 1973-74 to work at the British Embassy in Washington, and is still there but due to retire soon. We hear that he's already met our new Governor.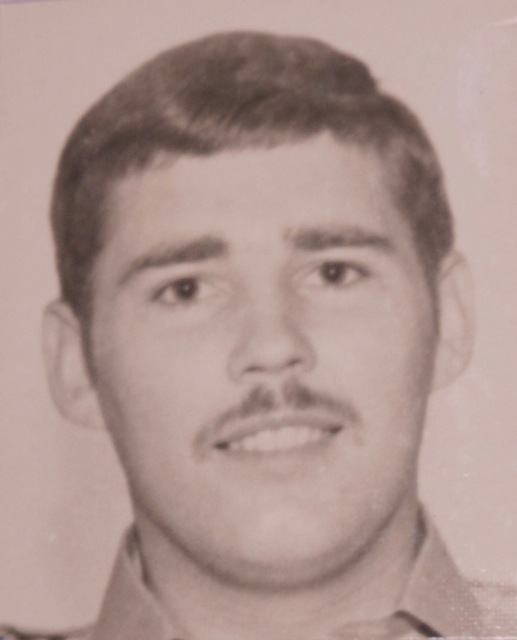 A very young P.C. Danny Brogan
Danny is coming down here at Easter and will be staying at Elbow Beach Hotel. We'll do our best to arrange a get together at the Police Club for those who worked with Danny.
DAVID DOAK - Yet another visitor to our website is David Doak, originally from N. Ireland who served here from 1981 – 1984, having previously served in the Lancashire Police for 4 years. David was initially posted to Eastern Division (Uniform) and was then transferred to Traffic where his Sergeant was Dave Cook.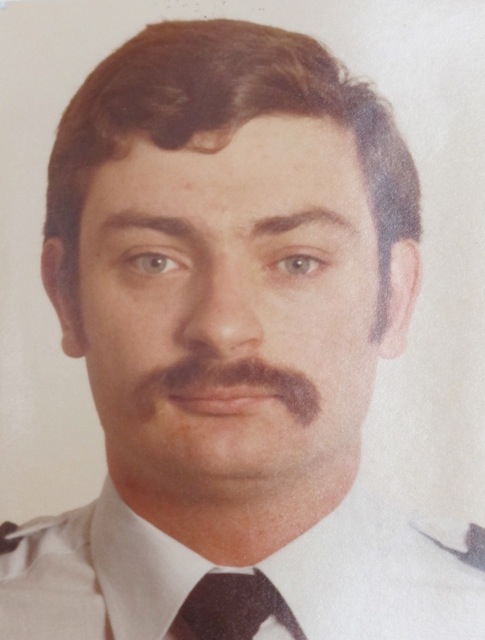 P.C. David Doak
After leaving Bermuda, David headed for the U.S. He is now a Captain with Thomas Cook Airlines and has been with them for the past 15 years. His career has taken him to the Middle East and Australia before he settled in Scotland with his wife who is from Thailand. They bought a house in Thailand a few years ago and have plans to move out there when David retires later this year.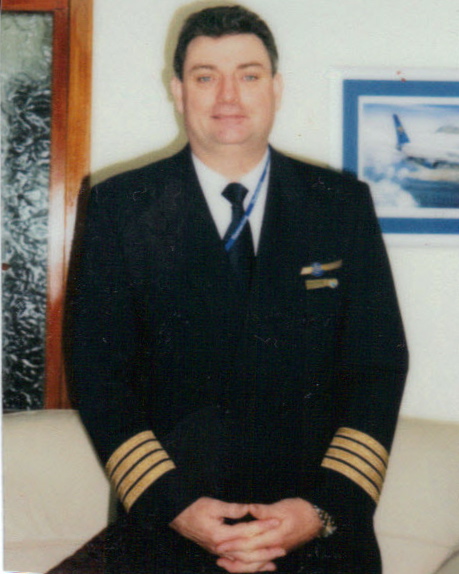 David sends his best wishes to all the guys he worked with, especially Keith Senior, and his Watch in Traffic. He says he has many fond memories of those good old days – and the warm weather - hence his reason for wanting to retire to Thailand.
February 9th
PASSING OF JERRY PERRY - We were saddened to hear the news that former P.C. Jerome Kern "Jerry" Perry passed away on Monday 23rd January 2012, in Toccoa, Georgia. Jerry served as a P.C. in the Bermuda Police from 1967 - 1971. Notice of his passing appeared in the Royal Gazette on 9th February, and we have sent our condolences to Jerry's family, and in particular to his brother Terry who also served on the Force and has since settled in Toccoa. CLICK HERE for the Royal Gazette obituary.
February 7th
ARTHUR ROSE - We have just received news that our good friend and colleague, Arthur Rose, had a nasty fall last Friday 5th February and fractured his hip. He was operated on at the weekend and we understand that the surgery went well. We will do our best to keep you informed of Arthur's progress. Arthur is not on email but he has a phone when he is at homne. Anyone wishing to call him can obtain his telephone number by contacting us at This email address is being protected from spambots. You need JavaScript enabled to view it.
January 29th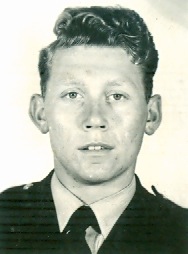 Sgt. Geoff Hunt
GEOFF HUNT - We have just heard from former Sergeant Geoff Hunt who served in the Force in the late 1950's and 1960's. Geoff is aware of our website and has promised to write an article for our Then and Now column soon after he and his wife Olive, return to the U.K. from a trip they are about to take to the Canary Island to celebrate their Golden Wedding Anniversary, which Geoff points out is 18,250 days of marriage! Congratulations Geoff and Olive on your 50th. We look forward to hearing from you soon.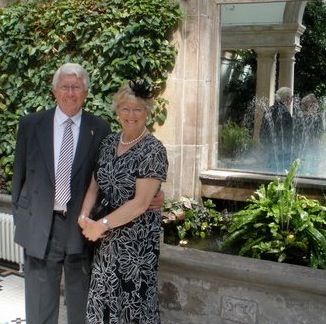 Geoff & Olive at a recent wedding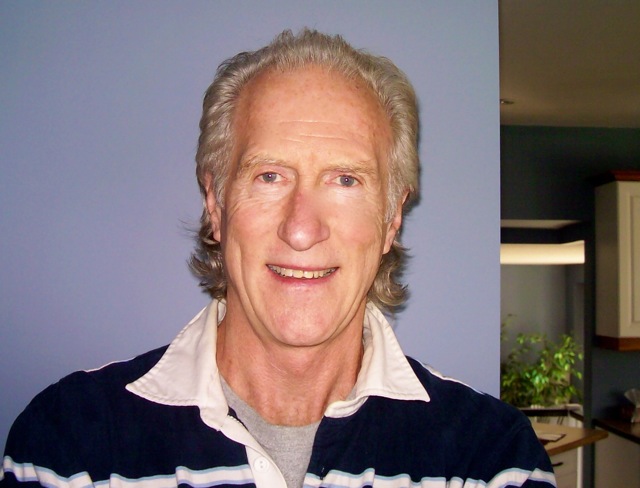 Colin Mackenzie is staying in shape
Colin Mackenzie who served in the Bermuda Police from 1970 – 1979, left here for Canada and lived and worked in St. Catherine's, Ontario as a Private Investigator for several years before moving to Toronto in 1984 to work as an investigator with the Ministry of the Attorney General. He's always worked in the Justice system, most recently as a lead investigator and Acting Manager of Investigations with the Ministry of Consumer Affairs – a consumer protection agency - in Toronto.
Colin retired in October 2011 after 27 years in public service and is now living in Peterborough, about an hour east of Toronto. He is married to Laura, is a grandfather, and they have two grown children.
Colin still has fond memories of arriving in Bermuda with, amongst others, Paul Hendrick and Ian Ackroyd, who both also moved to Canada. While here he served in Central Division, Traffic and in SB where he was assigned to bodyguard duties. Always a sports enthusiast, he was a keen rugby player and represented Bermuda and the PRC at tennis and squash. Colin continues to play squash and tennis, he is an avid runner and gives his free time to Rotary and other worthy community causes.
He says he is enjoying checking out our website to catch up on all the news from his old colleagues.
January 3rd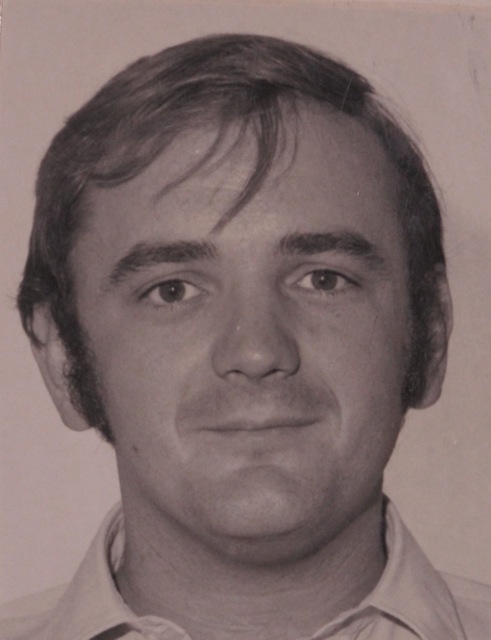 Young P.C. Russ Delahaye in 1971
Update on Russell "Russ" Delahaye - We are all saddened to hear of the passing of Russ, who served in the Bermuda Police from 1971 – 1973, first in Eastern Uniform, then Central Uniform, Mobile Reserve, and in Central CID, before resigning to join the Hong Kong Police. As anyone who knew him well would be aware, he always had a passion for sailing and for boats, and we understand that he headed the Marine Police in Hong Kong before finally settling in Australia with his Bermudian wife, Daphne, and their two children, Gareth and Sarah.
Russ was retired and he and Daphne were cruising on their 42 foot Halberg Rassi yacht 'Andiamo II' in Phuket in mid-December when he was taken seriously ill and died within 24 hours.
There was no way that the family would have a traditional funeral for Russ! The funeral was held at the Wat Tai Temple in Phuket on Wednesday 21st December, with traditional prayers conducted by the monks, and anyone in attendance was invited to say a few words. Russ was cremated at Wat Chalong.
Daphne tells us that she and Russ set sail from their home in Brisbane almost 2 years ago in what was intended to be a circumnavigation. They sailed up to Darwin, across to Kupang in southern Indonesia and then spent 3 months wending their way up the archipelago to Singapore. Russ and Daphne spent the last 12 months exploring the west coast of Malaysia and Thailand up as far as Phuket when tragedy struck. Russ was taken to hospital and diagnosed with pancreatitis – something he had never had before - and sadly, his condition quickly deteriorated, losing the battle on Friday 16th December.
Daphne now has the task of returning Andiamo home to Australia but wants to meet up with those who knew Russ in Bermuda when she next visits the Island, perhaps in a few months time.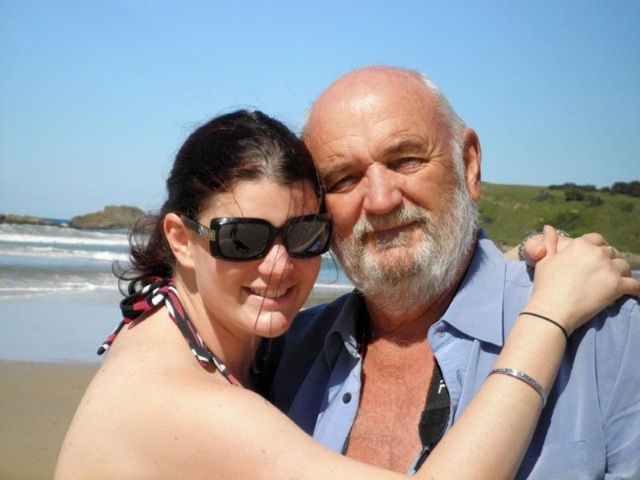 Recent photo of Russ with Sarah
For those who could not be there for the funeral, Daphne asked that friends pray for the family, and that "you raise your glasses to Russ at the appropriate time wherever you are in the world". For all those who knew him from his time in the Bermuda Police the "appropriate time" would be whenever you receive this message.
January 3rd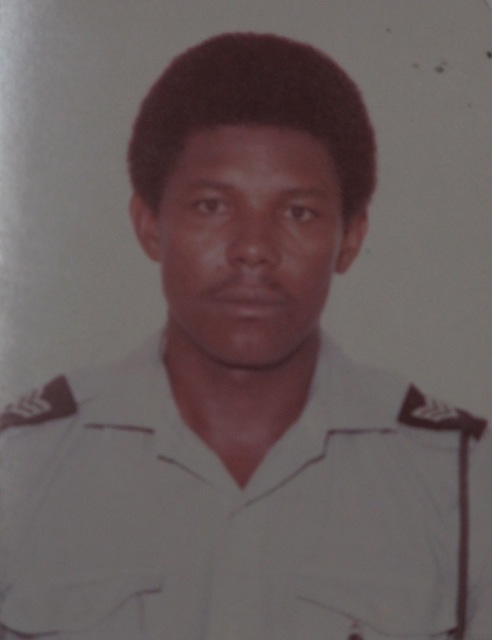 Young Sgt Johnny McConnie
John McConnie - Johnny is still a familiar sight to all of us in Bermuda as he travels the length and breadth of the Island in his taxi. You may recall that Johnny was one of the first group of officers recruited from Barbados in February 1966. The others were Orson Daisley, Erskine Warner, Vendell Bridgeman, Ralph Sealy, Tony Timothy, and Robert "Bob" Strickland. Johnny was always an active sportsman, and playing cricket for the Police as well as squash. He's no longer active on the sports field but still follows all sports - with passion.
After retiring from the BPS Vendell has joined the Fairmont Hamilton Princess in their Security Department and is a keen golfer. We have already reported on Orson who is presently on vacation in Bermuda visiting his daughter, and attended the COP's recently re-introduced Annual New Year's Party on 2nd January.
Tony Timothy and his Bermudian wife, Millicent, split their time between here and Barbados. Tony is now retired after spending some years in the Auditors Department in Barbados after he left the BPS. Both Tony and Johnny were working in the Barbados Auditors Department prior to joining the BPS in 1966, and Johnny says it was he who talked Tony into coming to Bermuda.
After leaving Bermuda Bob Strickland and his wife settled in Atlanta, Georgia, where Bob worked in accountancy. He retired just recently.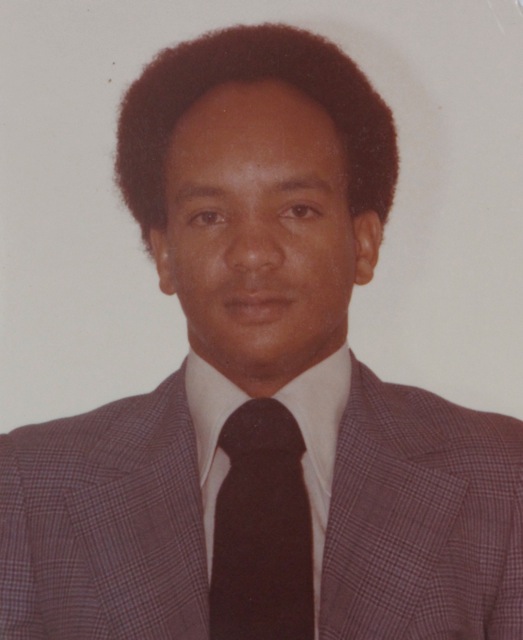 Young D.C Erskine Warner
Erskine Warner is now living in Miami and according to his brother Archie Warner, who also served in the BPS before taking up a legal career, Erskine is in good health doing fine. After working as a lawyer for several years Archie was appointed as a Magistrate and is now Bermuda's Senior Magistrate. He also attended the COP's New Year's Party on 2nd January.
January 1st 2012
News of the Passing of Russell Delahaye - Sadly, we have just received news of the recent passing of Russ Delahaye. Details are scarce at the moment but we will keep you informed as we receive any further information. Our condolences go out to Russ's wife Daphne and to Gareth and Sarah. We would like to write or email Daphne on behalf of all our members. If anyone knows either the email or postal addresss of Daphne could you please forward it to This email address is being protected from spambots. You need JavaScript enabled to view it.
December 30th
Funeral for Milton Murray Marsh - The Funeral Service for retired Detective Inspector Milton Murray Marsh was held at Holy Trinity Cathedral in Hamilton at 11am on Friday 30th December. The Service was attended by Commissioner of Police Michael DeSilva, Deputy Commissioner Mike Jackman, and other senior officers from both the BPS and the Reserve Constabulary. The BPS also kindly provided volunteer uniformed pallbearers and honor guard, and the coffin was draped with the official Police Flag. Retired Commissioner Frederick "Penny Bean was an honorary pallbearer, and a Tribute to our oldest pensioner, who passed away just 2 months short of his 103rd birthday, was read by retired Chief Inspector Roger Sherratt on behalf of the BPS and all Milton's former colleagues (click here for the Tribute). Amongst the attendees were retired Chief Inspector Hilton "Jellybean" Wingood, and retired Sergeant Dudley Proctor who both worked with Milton in CID. Milton was buried in St. John's Churchyard.
December 26th
Update on Mike Phillips
We have heard that Mike returned home from Baltimore on Christmas Eve after surgery. We understand that he is doing much better but still has a long way to go. It's a good sign that he was allowed to fly back to Bermuda and that he was planning to join his sister and her family for Christmas Dinner. His wife, Ann, thanks everyone for their prayers and telephone calls which have helped her, Jennifer and Richard, and their extended family through this difficult time. We look forward to hearing that Mike is continuing to improve.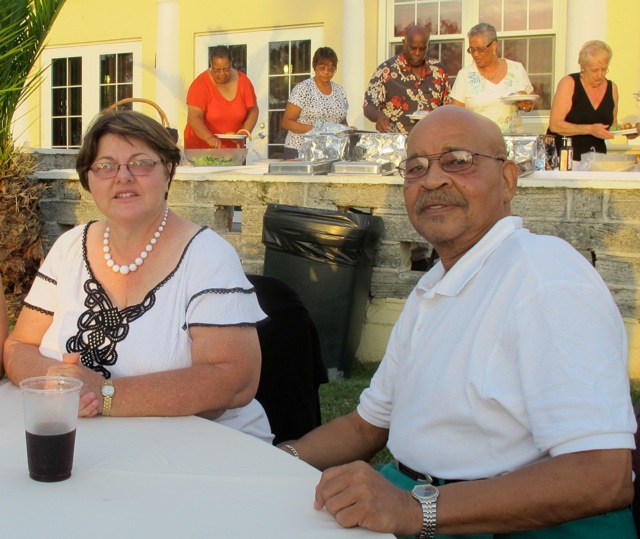 Ann and Mike Phillips at our Bermie Ex-Po BBQ
held at the PRC, Prospect in August 2011
Steve Smedley
Ex-PC 131 Steve Smedley, who served with the Bermuda Police from February, 1975 until August, 1977, when he left to marry his Canadian wife Peggy, retired from the RCMP in June. He and Peggy were in Bermuda for the month of August and Steve was able to meet some old friends at the Bermie Ex-Po's barbecue at the PRC. After over forty-one years in policing, Steve's now happily puttering around the house in Regina, Saskatchewan, while Peggy continues to work as a nurse to keep the beer fund topped-up!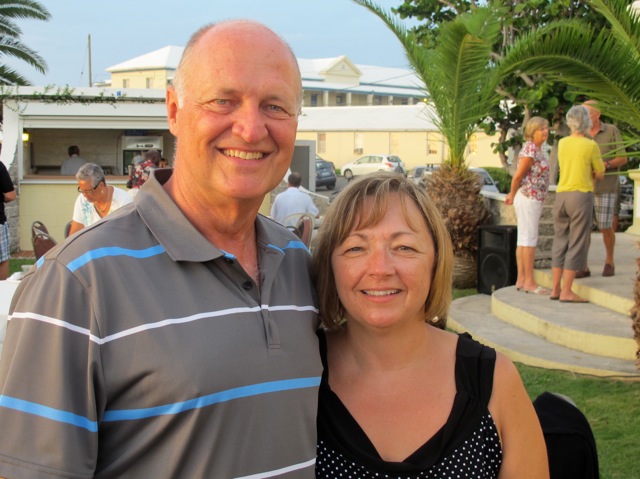 Steve & Peggy Smedley at our Bermie Ex-Po
BBQ
held at the PRC in August 2011
December 24th
We have just received the following message from Ann and Brian Callaghan in George, South Africa, and wanted to share it with you:-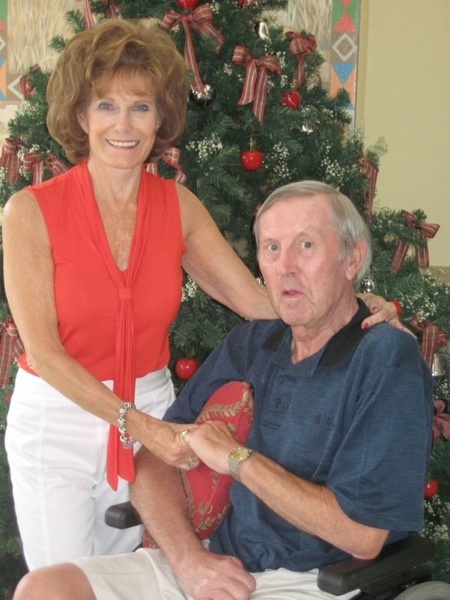 BRIAN AND ANN WISH YOU ALL A VERY MERRY CHRISTMAS
AND A
HEALTHY, HAPPY NEW YEAR!!!!
I have not had time to write out Christmas cards this year and hope that you all understand.
This has been a most unusual year for the Callaghan's; no visits to Bermuda, USA and the UK to see family and friends and no exciting trips which we enjoy.
As many of you know, Brian had a massive stroke in early May of this year and has been committed to recovery ever since. We thank all of you who have sent prayers and caring messages to us throughout all of the unknowing periods in the ICU and continuing into his rehabilitation away from and at home. The prayers seem to have been most important since Brian is progressing so well with his rehabilitation programme at home that he is truly a miracle to see. We still have a very long and slow road ahead of us, but Brian has his lovely sense of humour to keep us going in the right direction.
Although we consider 2011 our personal 9/11, we are hopeful that 2012 will bring us more mobility so that we can begin, once again, to explore the wonderful place in which we live and to see family and friends.
With much love, Brian and Ann XXX
December 22nd 2011
Hassan Merrouni (Ex. Pc 770) - We just heard from Hassan who served in the Bermuda Police for about 18 years (17yrs. 9 months to be exact). In May 2008 Hassan and his wife Anna, along with their two boys Matthew and James, now 6yrs and 3yrs, all relocated to the Highlands in Scotland. Inverness is the closest city, only twenty minutes away, and they are comfortably situated in a small village named Croy which is close to the Culloden Battle Field and a walking distance through the woods to Kilvarock Castle.

Hassan worked briefly for a local private security service before joining a meter reading company. On his travels, which can take him all over Scotland, he's often in the company of Alastair "Shakey" Johnson who now lives in Inverness and who often joins Hassan and his family for a roast dinner. Hassan says they have also had the pleasure of visits from Davie Kerr and Scott Drysdale since settling in Croy.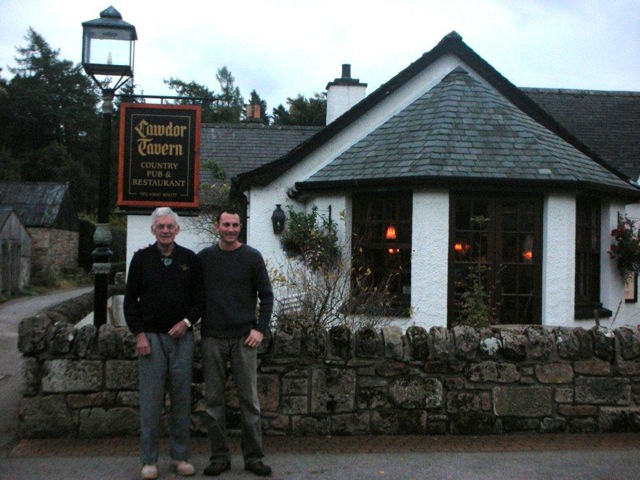 Alastair "Shakey" Johnson and Hassan Merrouni often travel around Scotland
together.
They are seen here in front of the Cawder Inn after having a wee dram
Hassan spends a lot of time with his family going for walks in the woods and they all pedal cycle the long cycle paths in Nairn. They also spend quality time in their garden on the weekends, playing with their dog and looking after their two chickens who provide them with large eggs for breakfast. Hassan reports that he still plays tunes on the piano, but usually when everyone is out of the house.

He sends Merry Xmas wishes and a Happy New Year to all.
December 21st 2011
Milton Murray Marsh - We were very saddened today to learn of the passing of our oldest retiree, former Detective Inspector Milton Murray Marsh, shortly after being admitted to KEMH. Milton was just 2 months shy of his 103rd birthday. We understand that the funeral will be held on 30th December and we will pass on further details once they are confirmed. Our sincere condolences go out to his family. Tragically, Milton passed away just days before our website was launched. We hope that he would have approved of the article that appears in our "THEN AND NOW" section.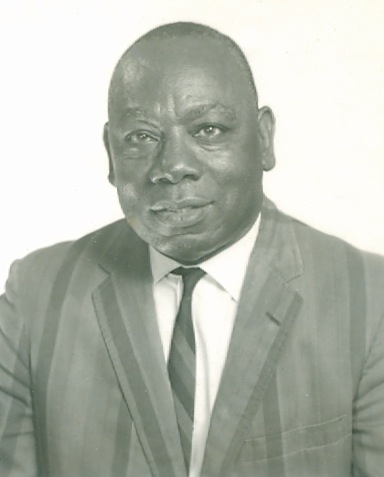 D/Insp Milton Murray Marsh
December 16th 2011
Michael Phillips- We were very concerned to hear that earlier this week our good friend and colleague, Mike Phillips, was taken seriously ill and had to be flown out by air ambulance to John Hopkins Hospital in Baltimore on 14th December. We understand that he is undergoing tests and will soon have an angioplasty. Our thoughts and prayers are with Mike and his wife and family. Hopefully we will have more positive news about him soon.
Alastair (Shakey) Johnson has been settled back in Inverness, Scotland, since leaving Bermuda 2 years ago. He still gets out to walk and tries to take advantage of the benefit of free rides on the bus to anywhere in Scotland, and half fare on the Highland Railway system. He also practices playing the piano a couple of times a week at a nearby church and recently played at an evening service. When I spoke with him on 10 December 2011 he said he was in good shape bearing in mind that he turned 80 in August.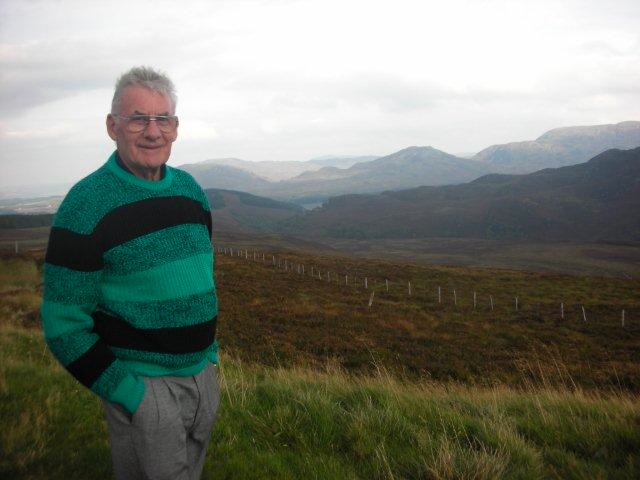 Alastair enjoing the views near Ullapool
on one of his many trips with Hassan
He often sees "Hassan" Julian Alami-Hassan Merrouni and his wife Anna who live just 8 miles away in Croy. Alastair reports that since being back in Scotland he has very little to drink. Alastair has a computer and an email address (let us know if you would like to contact him) but he admits to getting very frustrated with computers! However, he says his New Year's resolution is to use the computer more often, and we're hoping that he will be able to navigate our website and see that he's mentioned in dispatches!
Alastair was interested to know what the weather was like in Bermuda in December (it was around 73 degrees during our conversation), because it was very cold and wintery in Inverness, with 2-3 inches of snow on the ground and more expected. Just a few days earlier there had been exceptionally high winds in the area, especially in the Cairn Gorms where winds reach 165 miles and hour.
If you are up in that part of Scotland Alastair is always happy to see visitors.
Orson Daisley, who joined the BPS in 1966 as one of the first intake of recruits from Barbados, has been back in Barbados with his wife Madeline since 2006. Orson says he is enjoying life in his homeland and has just returned to his hobby of planting and gardening. Most of his time is spent in his garden. He and Madeline are both very active members of the Barbados Horticultural Society. They entertain many Bermudians who visit Barbados and will be visiting Bermuda during Christmas 2011 to spend time with their family.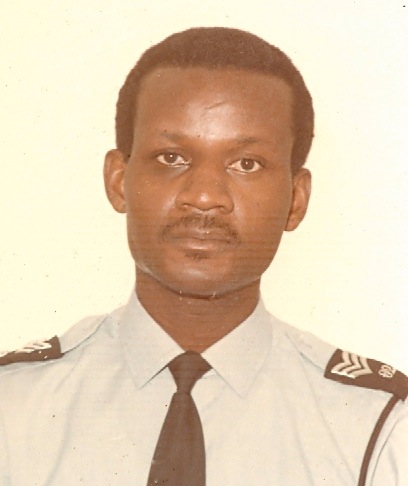 Orson before being promoted to Inspector
Arthur Rose who now lives in Hastings, Sussex, is doing well after having triple bi-pass surgery last Christmas. He lives with his younger sister, Jean, who accompanies him on a walk every morning and also takes him out for runs in her car. Arthur, always an avid sportsman, no longer plays tennis, but he enjoys watching sports on television especially football and tennis. He is just recovering from a bout of shingles but is otherwise in good spirits, and he appreciates calls and visits from friends including George Hammond and Bob Stewart.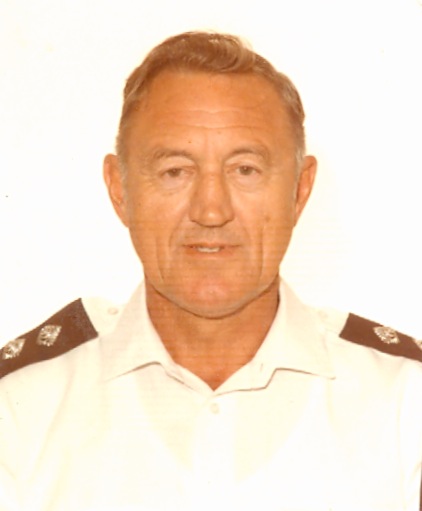 Inspector Arthur Rose
We have been keeping him in touch about our website although neither he nor his sister are into computers. However, he has a nephew with a computer and we'll be sending him details of the website in hopes that Jean can drive him over to his nephew to see just what the modern age has to offer! We would be happy to provide contact details to anyone wishing to call or visit Arthur.
Tom Gallagher Anyone serving in the Bermuda Police during the 1960's and 1970's will remember our good friend Tom Gallagher who was not only an outstanding football player (Devonshire Colts) but also an outstanding rugby player for the Police Rugby Team. For those of you not aware of it Tom and Helen are now in Dublin, and Tom has been very ill for some time. He undergoes dialysis 3 times a week. Helen, is coping quite well (she always was his nurse!) and says that they've had visits from the Petts, the Prices, Dave Woodcock, and Pat O'Riordan (who flew over from Atlanta for a day to see Tom when he'd been in hospital for 11 weeks. They also see Bill Nixon and Sharyn (Cassidy) regularly. When we last spoke with Helen she wished all of their friends in Bermuda a Happy Christmas and all the best for the New Year. For their contact details just email us at This email address is being protected from spambots. You need JavaScript enabled to view it..
Helen has also promised to work with Tom to write down some of his reminiscences about their time in Bermuda for our website. We look forward to being regaled with stories by our honorary policeman!
Wanted - Duncan Batchelor! In 1966 a group of young Bermuda Pc's, Mike Caulkett, Ray Banks, Jim McIlwain, and Duncan Batchelor embarked on an 8,000 mile road trip around the U.S. and Mexico. They have stayed in touch with each over the years, but havn't heard from Duncan Batchelor for a while. If anyone has contact details for Duncan can you please pass them on to us.
Hamilton Saunders - We recently read about the passing of 84 year old Hamilton Saunders on 11th December in Costa Rica as reported in the Royal Gazette. We know that Hamilton joined the Bermuda Police in 1949, when he came out on the RMS Caronia with a group of ex-Palestine officers, including Douglas "Red" Hebbard. We understand that Hamilton remained in the Bermuda Police for a few years , and apparently lived here for many years, but we havn't found anyone yet who knew him. If you can tell us anything about him and his time in the Bermuda Police please contact us through our email address listed above.
Passing of Eric Laing We were saddened to hear that Eric Laing passed away in Arbroath, Scotland, on 19th November 2011 after a long illness. We sent our sincere condolences to his wife, Candace on hearing of her loss.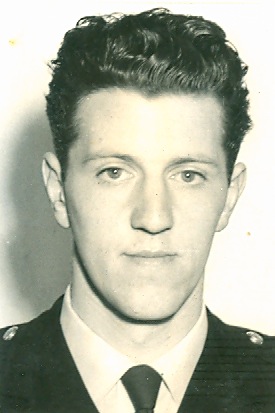 Sergeant Eric Laing
Eric was born in Edinburgh in 1938, and served in the Royal Navy from 1957-1959 before joining the Bermuda Police in 1959. He worked in Central Division and in 'E' Department and Operations, but spent most of his service in Eastern Division, as a Parish Constable in St. David's, and latterly as a Sergeant at St. George's. He left the Police Force in 1973 to pursue his career elsewhere. We have received a number of emails from colleagues who have fond memories of working with Eric, especially in St. George's.