We received this photo in November 2020 of a group of characters who appear to be in some kind of sports kit, along with a team mascot! There was a story behind the photo because we published a somewhat similar team photo in our "Who, Where, and When" column about 18 months ago, and they too had their own mascot. At that time we had some idea of the make up of their opponents but didn't know where to find their photo - and finally, here it is.
So now we wanted to know who is in this photo, where and when was it taken, what was the make-up of the team, and finally, what was the final score in this "grudge" match!
We had some good attempts at identifying everyone in the photo, especially from Terry Cabral who could pick out most of the guys and the goat! We also had quite a few answers posted on our Facebook page where was now simultaniously pubish our "Who, Where and When" photos.
However, the person who pointed out that this photo first appeared in the Winter 1974 edition of the Police Magazine, is John Headey, who also provided us with all of the names as listed in the caption except "Ringeye" Paynter who must have been made an honorary members of the team which was the Eastern Division single men's football team who played against the married men's at the RAA Field, with the game ending in a 2-2 draw.
CLICK HERE to view the opposition Married Men's Team in our earlier "Who, Where and When"article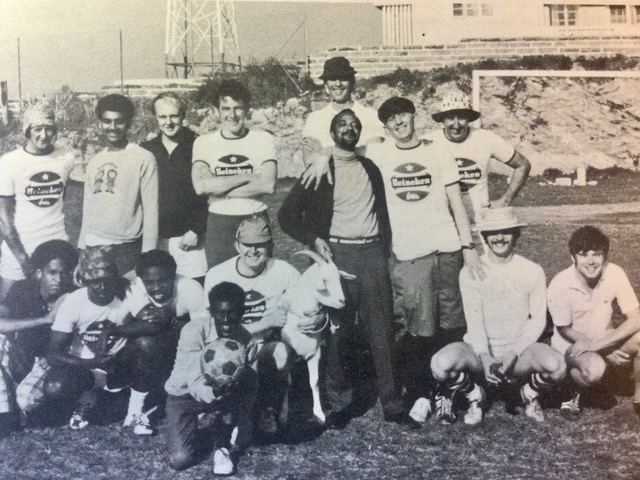 Eastern Division Single Men's Football Team 1974
Back row (l-r) Ronnie Boggan, Lenny Crichton, Frank Wood, Paul Hendrick, Pete Shaw,
Allan "Bugsy" Pugh with his arm around guest "Ringeye" Paynter, and A.J. Tony Smith
Front row - Des Waithe, Ken James (?), Mike Telemaque, Joe Burrows (barman),
Gordon Farquhar with "Goat", Bob Porritt, and Wayne "Crack" Robinson.