Vic and Jimmy's lads!
We had just published this photo elsewhere on our website and wondered if you could find it. But we also wanted to know who, where and when, as usual. We don't usually do this but we had to disqualify one person from giving us all the answers for at least 48 hours because he was too closely connected with both the photo and the team and he would, without question, know all the answers!
We are referring to our "Kilt Wearing Walking Book of Knowledge" Davie Kerr, who completely lived up to expectations by letting us know that this was the Prospect Football Club in the Commercial League Cup Finall at the National Stadium probably around the 1977-78 season. Davie kindly provided us with all their names, and even included asterisks for those who were civilian players.
Davie mentioned that our good friend, the Late Vic Richmond was the team manager, and Jimmy "The Wop" Costello was team trainer. We have recently reported that Jimmy hasn't been so well and was staying at Westmeath Home in Pembroke. Our latest report was that he was doing quite well and was hoping to come out as soon as he can after the coronavirus pandemic settles down.
Davie wrote - "I think that was Prospect FC in a Commercial League Cup final at the old National Stadium pitch (which many people including me think should never have been torn up anyway, but that's another story!), probably around '77-'78, and the people are ....." As expected, Davie had all of their names correctly as listed in the caption below.

Davie added, "Bernie and I played together for Bermudiana FC '73-'76, but oddly enough I have no recollection of him playing for Prospect!"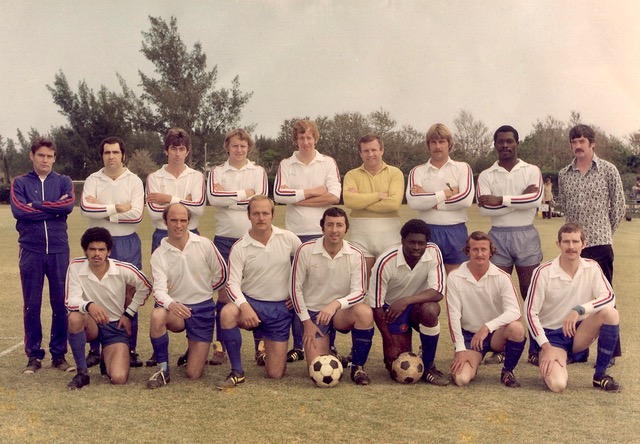 Prospect Football Club Team
in Commercial League Cup Final circa 1977-78 season at National Stadium
Back from L:- Jimmy Costello (trainer), Derek Medeiros*, Bob Henderson*, Paul Eurell,
Keith Hazell*, Davie Kerr, Paul Wakefield*, Archie Husbands, Vic Richmond (manager).
Front from L:- Ronnie Smith, Gerry Benson, some Somerset bloke who wishes to
remain anonymous but whose initials are Steve Smedley, Ray Bell, Bob Anthony,
Bernie Gay*, Eddie Davies.
* = civilian players.