We figured that although this photo is slightly blurred we had no doubt the vast majority of our ExPo members would immediately know what sport they played, but we needed to know where they were, what were they doing there, when was the photo taken, and why on earth is Ron Wallace in this photo?!
Phil Taylor was quickly able to identify most of the players in this Police Rugby Team who went on tour to Boston in 1972 where they played against Boston Rugby Club and Beacon Hill Rugby Club, with the Police Team winning one match and losing the other. Maybe it's because of the passage of time but there's a minor query about which match was won and which was lost. Several members think the team lost to Boston Rugby Club and won against Beacon Hill, but Dave Garland remembers it the other way around. "Moby" Pett and Davie Kerr have both assisted in identifying those that Phil wasn't sure about and I believe we now have just about everyone identified.
We now have Dave Garland, Jeff Baker and "Moby" Pett all confirming that our Police team won their first match against Boston Rugby Club which was considered to be the best team in the Boston area, but the boys lost their second match after several of our players were out of action due to injuries.
Dave Garland (bottom left of the photo) was Secretary and Treasurer of the Rugby Club at that time and he recalls going to the airline in Hamilton to book 21 seats, and being advised that if the party was 22 they could have a special deal with two free tickets. Ron Wallace who was not a rugby player at all, had enquired about joining the guys on the trip so he was told he was in, and the cost of the tickets was divided between all 22 minus the cost of the two free tickets. Dave also remembers getting a great deal on hotel accommodation and that all in all, it cost $240 per person.
Moby pointed out that four players are missing from the photo - John Price, Colin MacKenzie, Dai Thomas and John Dale, although that would mean there was 23 guys on the tour. Our collective memories can fade after almost 50 years.
We would be happy to post any more photos of the tour here on this page, plus any recollections from the players from almost 50 years ago.
One final note, we were kindly provided with this photo by Ken Van Thal who recently reported to us that he gave Ron Wallace's wife a call to see how he is doing in these uncertain times. Ken reports the following:- "Ron is in a care home a short distance from his wife's house in Scotland. He is keeping very well apparently but she and Ron are both on "lock down" until this (pandemic) is over. She is able occasionally to speak to him on the phone so I asked her to give him Very Best wishes from his former colleagues in the Bermuda Police which she is going to do."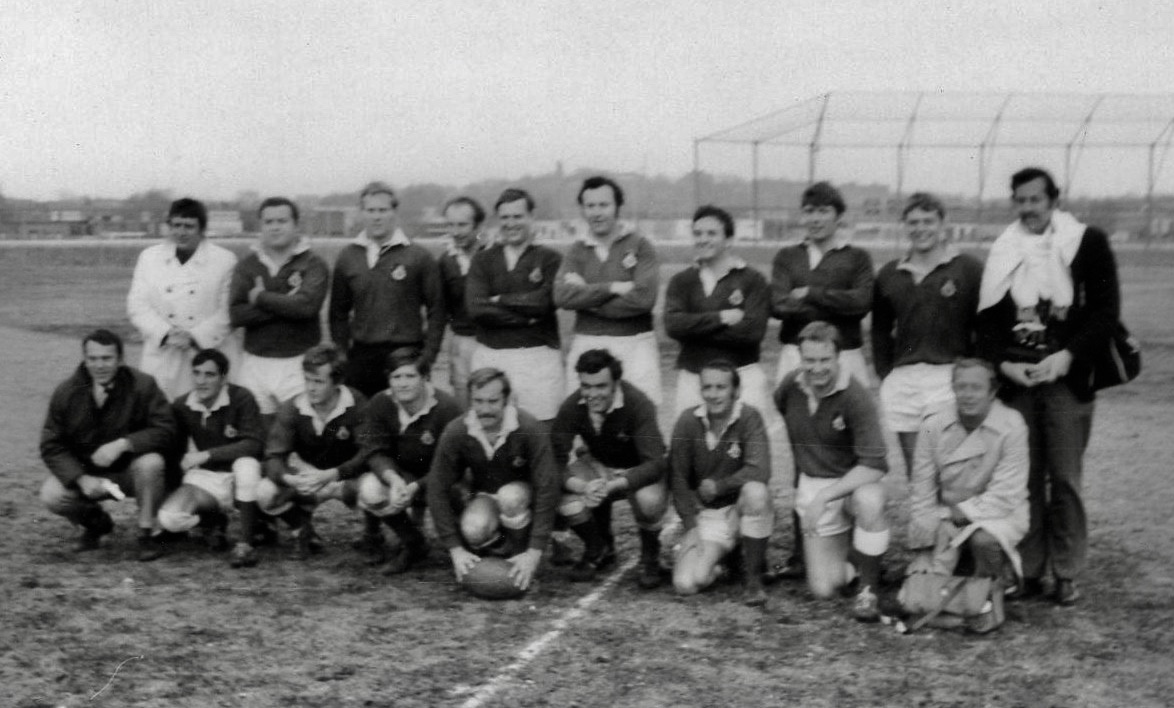 Bermuda Police Rugby Team Tour to Boston - April 1972
Back row, L-R John Williams, Tom Gallagher, Maurice "Moby" Pett, Ron "Casper" Beech,
Brian Hanney, Dave Lunn, Pat McBride, Paul Field, Bill Butterworth, Ronald 'Percy' Wallace.
Front L-R Dave Garland, Howard D'Olivera, John Arlott, Jeff Baker, William J Buchanan,
Colin MacDonald, Norman Rennie, Pat O'Riordan and Les Tomlinson
Missing from Photo - John Price, Colin MacKenzie, Dai Thomas and John Dale
5th June 2020
Editors note - We have received the following from Jeff Baker who was a stalwart on the team and is now living in Canada:-
We played two games. We won the first game against Boston Rugby Club, but suffered a number of key injuries in vital places and although we fielded a good side against the second team we played Beacon Hill, a number of players were playing out of position.
Boston were the top team in the area at the time and were annoyed that we beat them and lost to Beacon Hill, who although a very old Massachusetts rugby team were not in the same league as Boston at the time.
Hope you and family are coping under these terrible times.
Please pass my regards on to all who may have known me. Thanks for all your efforts in keeping us old fogies united in our memories.
With grateful thanks,