Here we have a group of "Old Timers" from a bygone era, and we wondered just how many of these characters we can collectively recognise, and when and why was it taken. As you scroll down, in addtion to the original photo we have enlarged three sections it to better help you see who is there. So we want to see how many in total can we identify, and althugh the answer is easy, we would like to know and when his photo was taken. We suggest that it will be easier if you identify those in the enlarged photos i.e Photos 1,2 and 3.
23rd June 2020
Editors note - As of today I believe we have been able to identify everyone in this large group except just 2 people (1) the lady in photo 1 standing next to Howard Mitchell, and (2) the police officer in photo 3 standing at top left on the back row behind Dave Ashurst. It took a while to confirm that the lady in photo 2 sitting between John Irving Pearman and Fred Bean is Corrine Clark (Nobby's wife), and the lady in photo 3 standing between Carola Farrell and Ernie Moniz has now been confirmed to be Gwen Nixon (Joe Nixon's wife).
18th August 2020
Editors note - We just received the following comment from our good friend George Rose which not only confirms the date this gathering took place, but also the precise reason for the luncheon. Many thanks George.
Referencing Comments 5, 6 and 8 below as to the date of this gathering, I have in my hand an A45 (remember them?) dated 29th September, 1994 distributed to Superintendents and Chief Inspectors from A/Commissioner A. J. Forbes which reads as follows:
115TH ANNIVERSARY LUNCHEON FOR RETIREES
The 115th Anniversary Luncheon will be held at the Police Recreation Club from 12 mid-day to 3.00 p.m., on Friday 21st October, 1994.
The Commissioner would appreciate your attendance at this function if at all possible.
Signed. A.J. Forbes, A/Commissioner of Police.
So, I guess that seals the date of this event.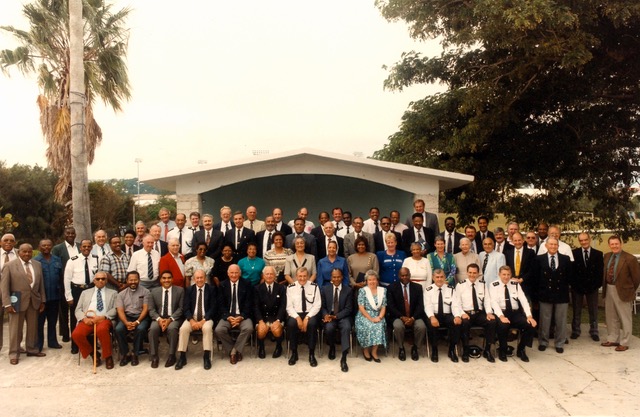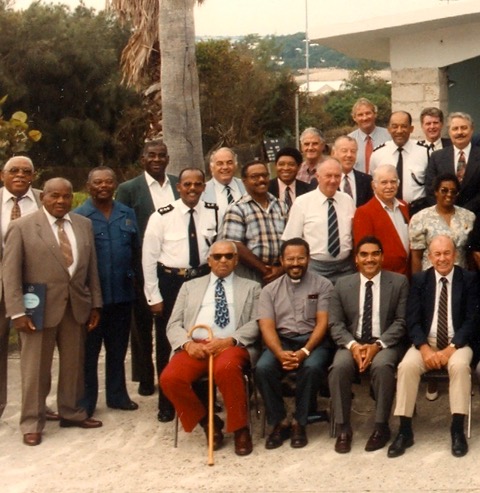 Photo 1
Standing from L:- Sinclair Bean, Westmore Bean, Hubert Simmons, Leon Bean, Larry Smith,
Derek Taylor,
Reese Bartley, Dudley Proctor, Bill Bryan, Keith Pratt, Peter Stubbs, Alex Arnfield,
Howard Mitchell, Winston Esdaille, George Rushe, John Instone: Who is the lady next to Howard Mitchell?
Front from L:- George H.R "Mike" Cann, Stewart Lambert, Wayne Perinchief, Jim McMaster.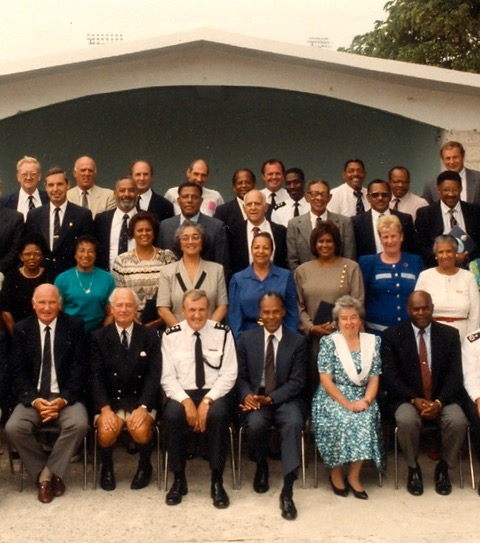 Photo 2
Back from L:- Derek Fletcher, Brian Malpas, Derek Jenkinson, Jeff Payne, Hubert Swan, Phil Every,
Vendal Bridgeman, Custerfield Crockwell, Norrell Hull, Bill Butterworth.
3rd row from L:- Denis Brookes, Arthur Bean, Dudley Swan, John Marshall,
Charles "Bongo" Williams, Mel Gibbons, Lawrence "Mincy" Rawlins.
2nd row from L:- Brenda Lewis, Dee Tavares, Barbara Clarke, Norma Smith,
Jean Vickers, Natalie Morris, Marian MacNiven, "Mrs B!".
Front from L:- Clive Donald, HE the Governor Lord Waddington,
Alex Forbes, John Irving Pearman, Corrine Clark, Fred Bean.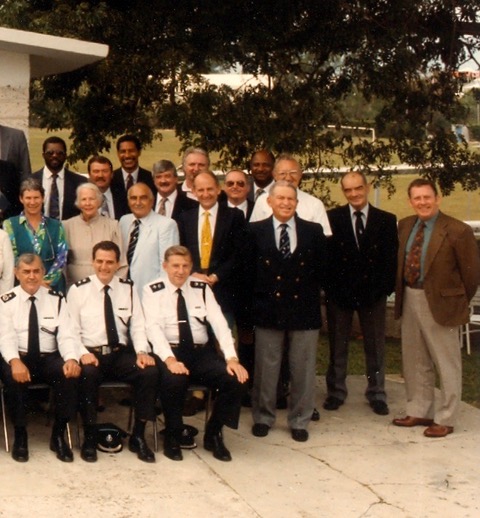 Photo 3
Back from L:- Possibly Albert Dowling?, Carlton Adams, Barry Smith, Dennis Ramsay.
3rd row from L:- Dave Ashurst, Vic Richmond, Dave Chew, Arthur Rose.
2nd row from L:- Carola Farrell, Gwen Nixon, Ernie Moniz, Dave Cook,
Anthony Roberts, Bill "Spider" Mackenzie, Jeff Sanders.
Front from L:- Harold Moniz, George Rose, Alan Bissell.