It didn't take 24 hours for us to have all the answers as to the names of these seven superfit looking young men, who were, of course, the Outward Bound instructors team during the highly popular series of local OB courses held on Paget Island during the summer of 1991. Sean Morris had every reason to remember who they all are because he was one of them that year.
I found the photo in my personal photo album and can confirm that it was dated 1991. Next to it was the photo below of me doing the high ropes course that same afternoon. I was OIC "F" Department at that time and went over to the Island for a routine visit. I had no intention of even trying the high ropes course but my daughter, Joanna, had just completed the course and this bunch bullied me into not being humiliated by a 15 year old girl!
I have to wonder how many hundreds of young Bermudians went through the Police Outward Bound programme, either locally or abroad, and accomplished things they never dreamt they were capable of doing. Of all the public relations activities undertaking by the Bermuda Police, Outward Bound has to be at the very top of the list, thanks to the great efforts of Tony Diggins and Lynn Hall who started the programme, and to Bernie Pitman and the outstanding contribution made by Mark Norman for many years.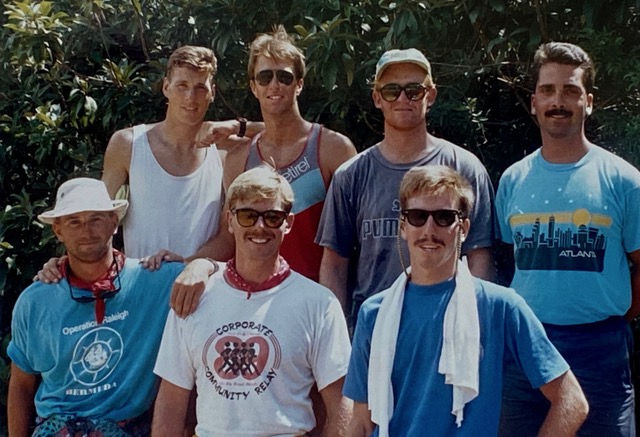 Bermuda Police Outward Bound Instructors - 1991
Back Row (l-r) - Paul Towlson, Pete Thompson, Calum Welsh, Mike Desilva.
Front Row - Paul Hitchens, Steve Palmer and Sean Morris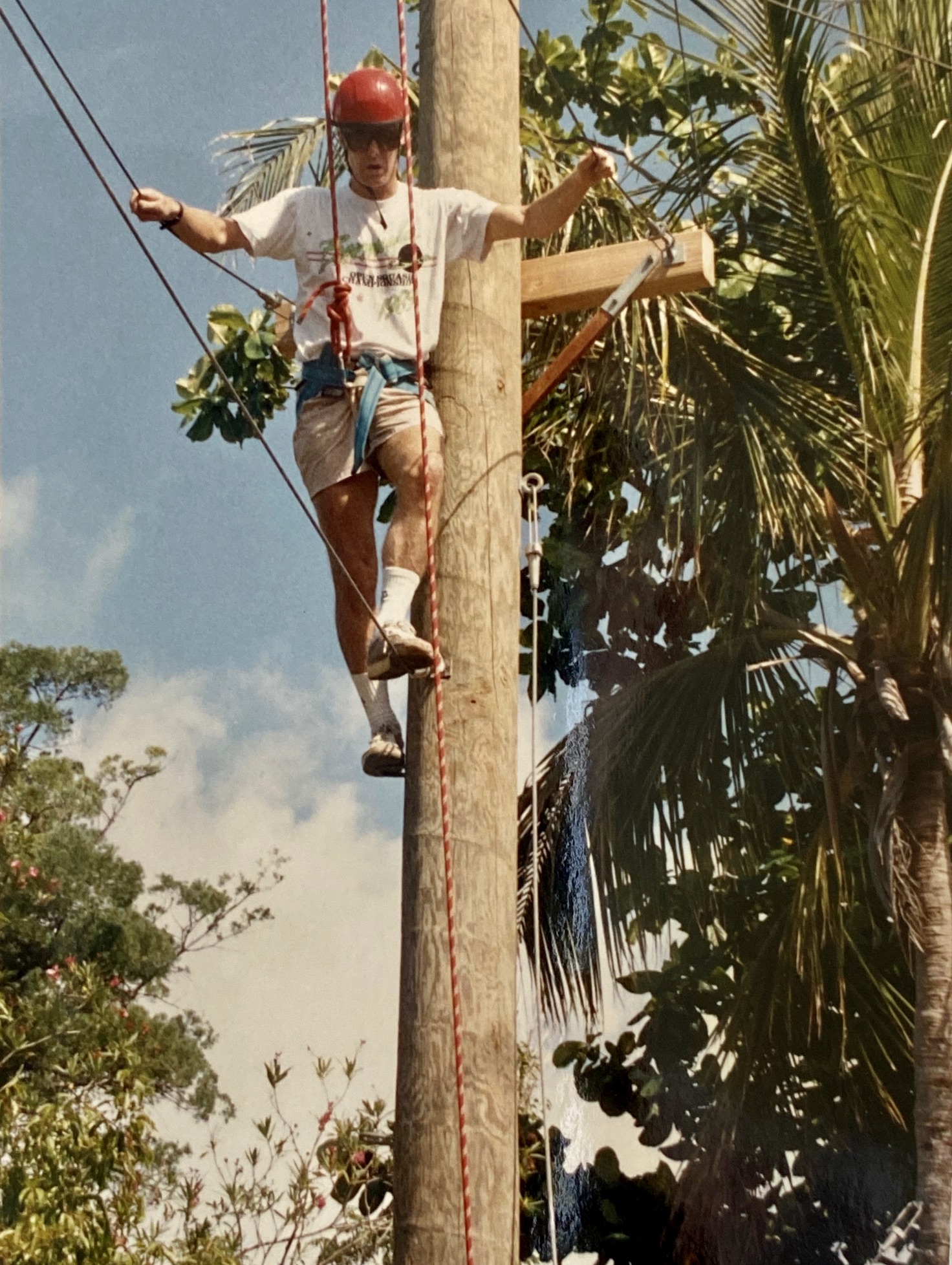 Inspector Roger Sherratt (OIC "F" Department) -
not to be outdone by his teenage daughter Joanna -
reluctantly tackles the high ropes course at Paget Island
9th May 2020
Shortly after posting these photos we heard from Sean Morris who was one of the Outward Bound instructors on this course and Sean kindly sent us the following two photos from the same course. As you can see, Sean looks fit and well, but he wasn't so sure about Calum Welsh who he pointed out is exhibiting a Scottish tan!
Young Sean Morris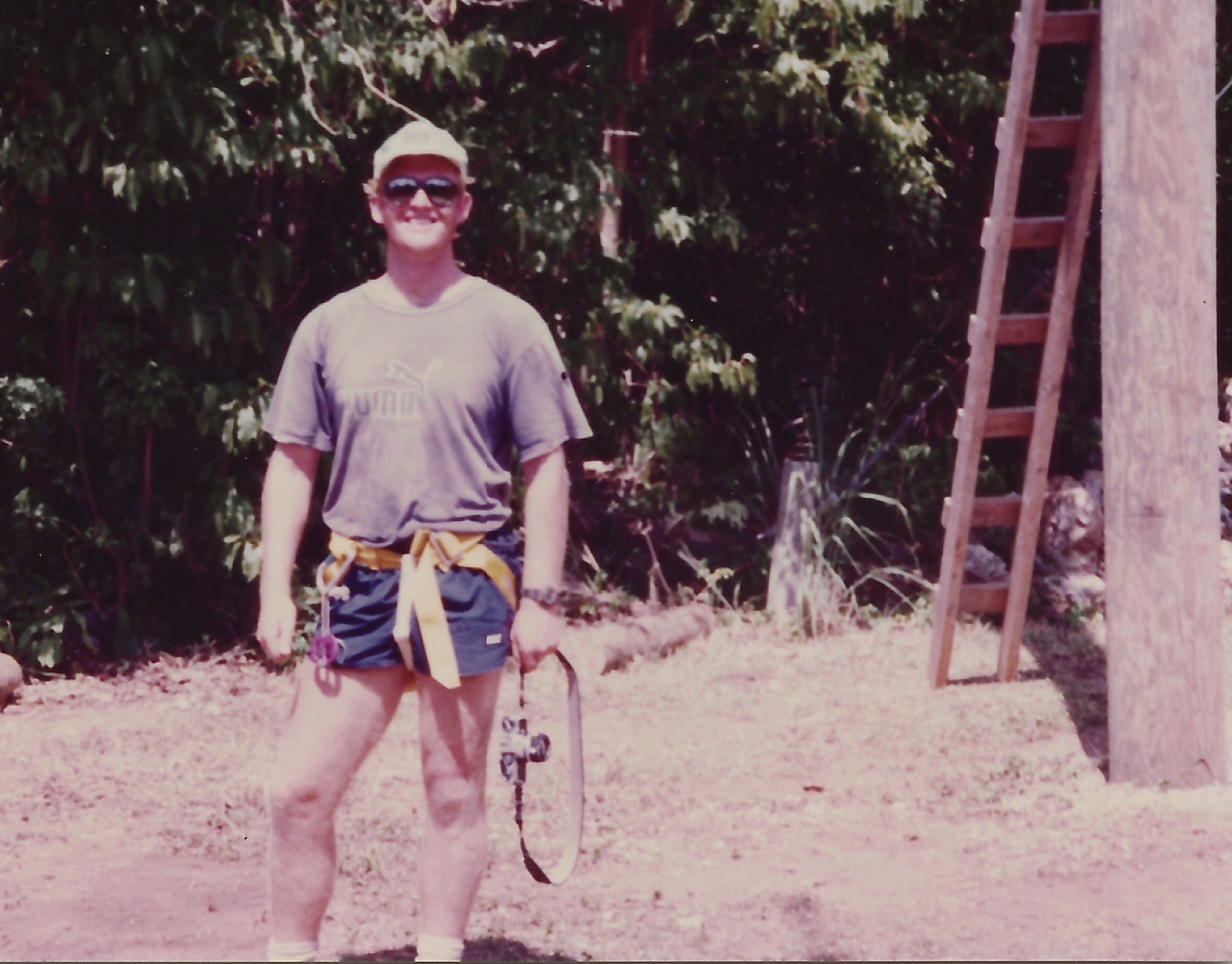 Calum Welsh sporting his Scottish tan!