The photo was taken on the first tee at Port Royal Golf Course, probably within a couple of years after it officially opened in 1970. Steve Taylor arrived on Island in November 1971 from the Wirral where he played golf at Wallasay Golf Club where he had a four handicap. Although there were a few golf trophies in the PRC trophy cabinet when Steve arrived on Island the Police Golf Section was inactive, and Steve was very keen to see it revived. He jumped in at the deep end and, with Alex Forbes as President, Keith Cassidy as Secretary, and Steve as Treasurer, they resurrected the Golf Section and stayed on the Committee for many years. Their dedication to the Golf Section resulted in all three being made honorary members of the Police Sports Section for their efforts.
Sadly, "Custy" and "Spider" are no longer with us, while Stan and his wife Hilary emigrated to Australia a few years ago. Steve remained in Bermuda and was also responsible for the revival of our Ex-Police Officers Association for which we are most grateful. Steve just recently left the Island and has retired to his home area in the Wirral where he has every intention of getting back to golf at his old club, Wallasay, which for golf afficianados was also the home club of Dr Frank Stableford who created the Stableford scoring system.
Our comments section below lists some other members of the Golf Section and we welcome any more comments.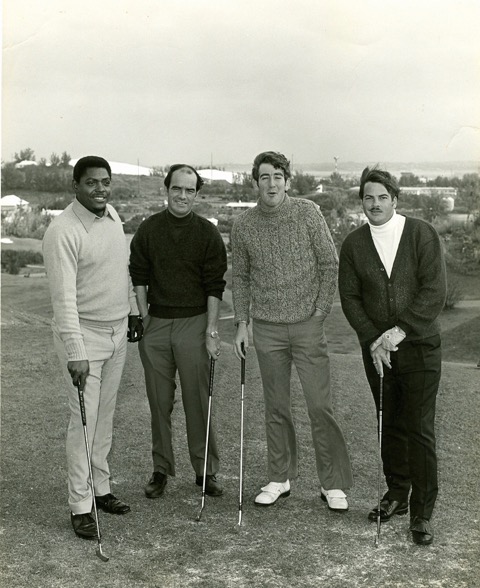 Ready to Tee off on the first hole at Port Royal Golf Course - circa 1972
(l-r) Custerfield "Custy" Crockwell, William "Spider" MacKenzie,
Steve Taylor and Stanley Hill
Editors Note - We are saddened to report that our good friend and colleague Stanley Hill passed away on 19th November 2019 in Australia where he had settled with his wife Hillary and family.
On a more positive note, our former ExPo President, Steve Taylor, is now residing in the U.K. but he managed to make it out here to Bermuda, despite the ongoing Covid pandemic, to celebrate the 50th Anniversary of his arrival as a young police constable on 4th November 1971. CLICK HERE for an article about the 50th Anniversary Reception and Celebration held at the PRC on 10th November 2021, which was attended by Steve and his lovely partner Jan, along with a number of colleagues who celebrated their 50th Anniversary of joining the Bermuda Police Service in 1970 and 1971.This was our first Expo function to be held in 2 years and was very well attended.