We received a copy of this excellent photo from a former colleague who is also mentioned in one of our latest posts. We wondered if you could figure out who sent the photo to us (figuring out who is the "tallest" in the photo will give you a clue) and also asked you to name everyone else in the photo, which department is it (on a need to know basis) , along with where and when it was taken? We provided you with a copy of the full picture, together with two blow-ups of it to assist those of us whose eyesight might not be what it used to be!
27th February 2023
We're delighted to report that our good friend Iain Morrison (not to be confused with Ian Morrison who had been head of Special Branch for many years prior to this photo being taken) has kindly divulged the names of all present at the taking of the photo overlooking the Police sports field. Iain also correctly guessed that the photo was kindly provided by Mark Vincent who is the tall guy in the middle of the top row, and he estimates that it waas probably taken in the late 1980'sr the early 90's. We'll have Mark confirm when it was taken.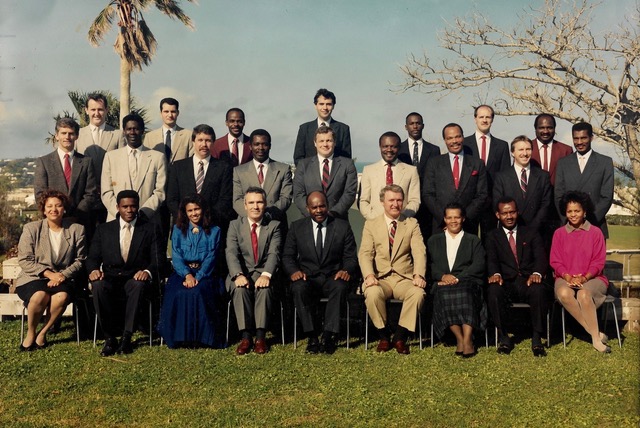 Special Branch Team
(Top Row L to R) - Alan Earl, Iain Morrison, Miguel Medford,
Mark Vincent, Steve Nurse, Des Peters, Greg Grimes.
(Middle Row L to R) - Kevin Reeves, Wayne Hodgson, Roger Brydon, Archie Husbands,
Bill Butterworth, Foster Burke, Oliver Bain, Peter Walgate, Owen Watson.
(Front Row L to R) - Desiree Woods, Lionel Haynes, Ms. Debbie Binns (civilian)
Andy Bermingham, Fred Bean, Barry Smith, Mrs Phillips (civilian) Orson Daisley, Beverly Pitt.