Mrs "B" - Lucretia Brangman
Cook at Police Club 1964-1988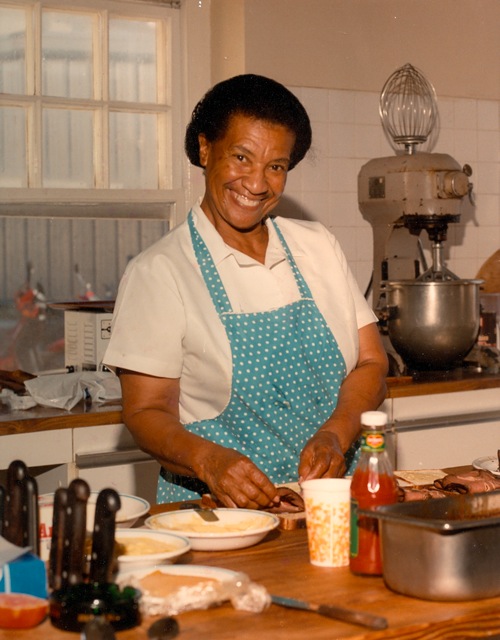 Mrs "B" in action at the PRC kitchen
Here's a question for anyone who passed through the Police Barracks between 1964 and 1988. If we asked if there's anyone you would regard as your "second mum" at that time who would it be? Chances are just about 100% that the answer is "Mrs B"!
Mrs B (Lucretia Brangman) still speaks fondly of "my boys and girls" as though all the hundreds of police officers she fed at the Police Canteen were her own children – and with good reason! That's the way she treated us and fed us.
Mrs B was born in the Knapton Hill area of Smith's Parish in 1923, and attended Talbot's School near to Marsden Methodist Church as a child. Her parents were Kenneth and Beatrice (nee Scott) Smith, and while she was still quite young her mother moved to Somerset, near George's Bay, to look after twin boys who belonged to her mother's brother. It was while the family were living in Somerset that young Lucretia met and married Gerald Brangman, a mason, who also lived in Somerset.
If you were to ask Malcy Smith on what day did Mrs B get married he would have no hesitation in providing the answer. It was 23rd July 1942 - the same day that Malcy was born - and that would be 70 years ago this year!
Mrs. B worked for a short while as a maid in a private home until she and her husband started their family, after which Mrs B stayed at home where she cared for their children - all 8 of them - 4 boys and 4 girls.
As their children grew up, the Brangman's moved back to Smith's Parish, and Mrs B decided it was time to go back to work. After seeing an advertisement in the newspaper for a cook at a private home, she went to L.P. Gutteridge's offices in Hamilton where she saw Mrs. McNiven (Jim McNiven's wife) who advised her that the job had already been taken but asked if she would be interested in working as a cook at the Police Club.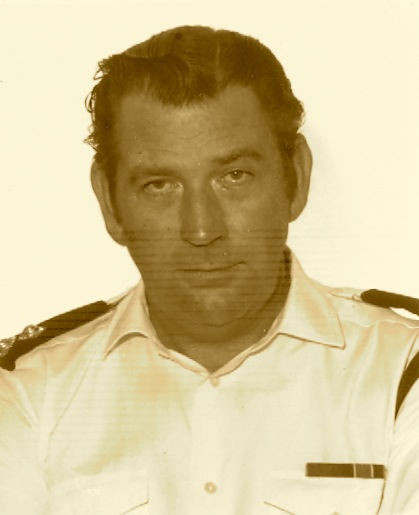 Jim McNiven was Manager of the PRC in 1963
Mrs B thought to herself, "How can I handle all those men?" After raising 8 children she sure had some experience! She figured she could do it and was invited for an interview with "Grim Jim" McNiven, and Ken Morris at Police Headquarters. Jim had recently taken over managing the Police Club and the PRC kitchen had just been renovated.
She was duly offered the job and started work on Monday 18th November 1963 – a week she will never forget because President John F, Kennedy was tragically assassinated 4 days later on 22nd November.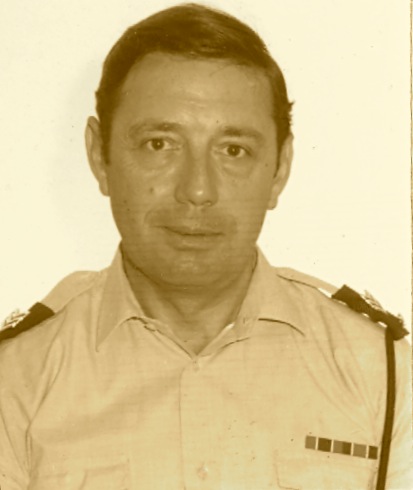 Mrs B says that Sergeant Ken Morris was on the Police Club Committee and he was very good at showing her the ropes. She was a quick learner and was soon running the kitchen by herself, doing the ordering, organizing meals, and cooking breakfast and lunch for 50 or more young police officers.
Mrs B related one incident which seems to sum up the affection in which she was held by "her boys". She remembers a very tired young constable who came in one morning for breakfast after a hard night on duty and said, "Good morning Mrs B. It's so nice to be greeted by a smiling face after the night I've had." As Mrs B says, "I always tried to treat everyone the way I treated my own boys".
Some of us will well remember the time when Rudy Bachetti was hired to take over as manager of the Police Mess, making him Mrs B's boss. As Mrs B says, "He had no idea how to take care of staff" and the two of them quickly parted ways. Mrs B left to take a job at the Royal Hamilton Amateur Dinghy Club (RHADC) in Paget. Suffice it to say that the Police Mess went through a very difficult time after she left.
Mrs B recalls that by then the Manager of the PRC was "Happy" Duerden, and one day he came to see her at the RHADC and explained that Superintendent Joe Nixon wanted her to take her job back. She had no hesitation in returning to her boys – without the presence of Mr. Bachetti.
The Police Mess was trying to provide 3 meals per day, with Mrs. B continuing to cook breakfasts and lunches, while Mr. Butterfield, who also owned a restaurant in Warwick near to the 7th Day Adventist Church, was hired to cook evening meals.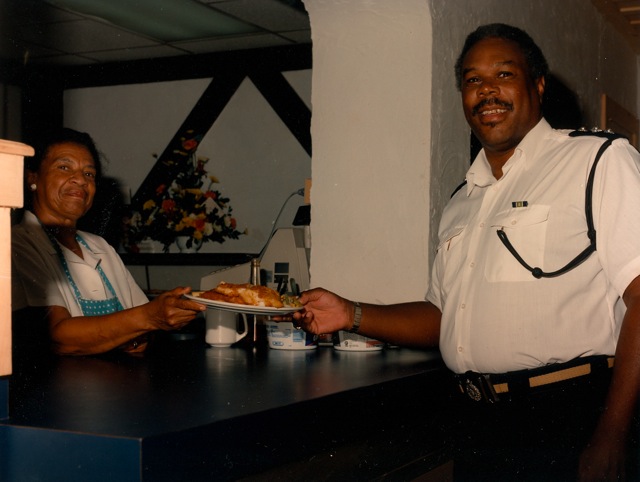 Mrs B her specials to Supt. Campbell Simons (above)
and PC John Sweeting (below)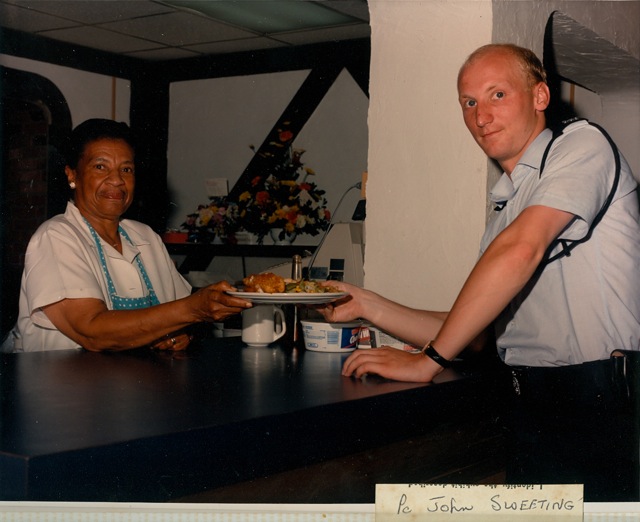 Nevertheless, Mrs B re-introduced her tried and tested menus for lunches. When she first started in 1963 she cooked every day of the week except Sundays, but she later cooked 5 days a week, excluding weekends. Her favourite routine was to serve roast beef and roast potatoes with Yorkshire pudding and veggies on Mondays. Tuesdays it was fish cakes and veggies, while Wednesdays would be varied. Thursdays were always a chicken dish, and Fridays would be fish and chips. Mrs B points out that she seldom cooked French fries except on Fridays so her boys would eat healthy.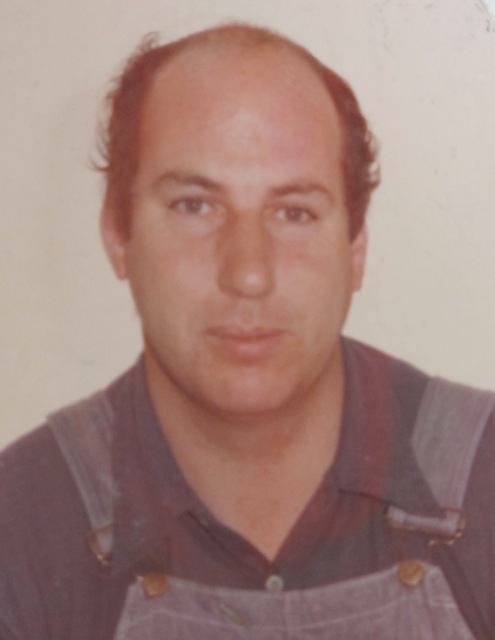 Our Force Carpenter, Malcy Smith
When asked about her favourite customers, Mrs B says she enjoyed cooking for just about everybody. Perhaps two of her favourites though were Jimmy "The Wop" Costello when he was working at Stores, because he was always popping over for a coffee and he always made her laugh with a ready joke, and also the Force Carpenter, Malcy Smith who was always in and out because his workshop was located next to the kitchen.
Over the years she had a number of staff to assist her, including one young lady who would come to work under the influence of drink, and after complaints about her, Mrs B reported the problem to Sgt Crawford Rae who promptly fired the young lady in question. Mrs B was delighted when Allison Leverock came to work at the canteen. Allison had been friendly with Mrs B's children and had a good sense of humour. "She lightened up the show and made it very pleasant to work with her" says Mrs B.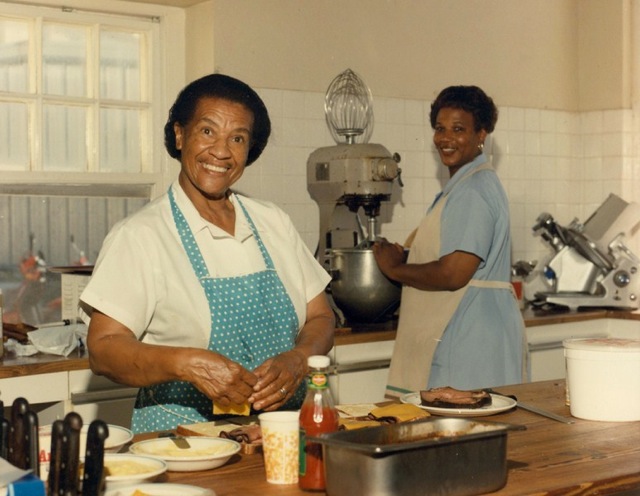 Mrs B is happy with her new colleague Allison Leverock
Finally, in July 1988, Mrs B was advised by then Commissioner Fred "Penny" Bean, that she had unfortunately reached the age when Government employees had to be retired. She was 65 and had worked at the Police Mess for some 25 years.
Mrs M fondly recalls that the PRC Committee gave her a lovely farewell lunch at Ariel Sands, and readily admits that since retiring she has really missed the wonderful times she had as cook and mum to all those young men and women who passed through the Police Mess.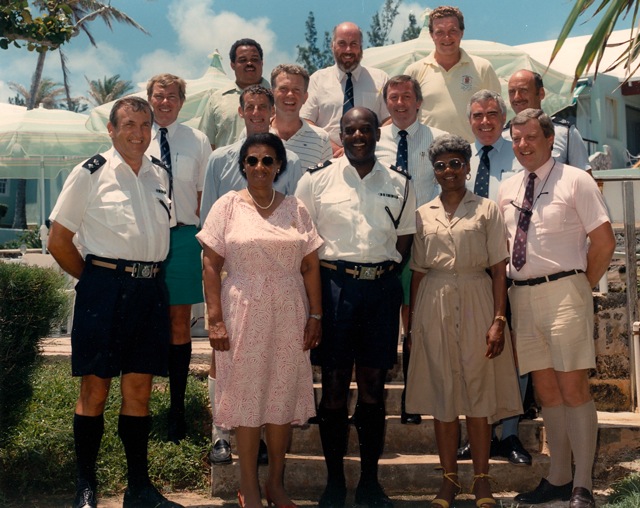 Mrs B with Commissioner Bean and Members of the
PRC Committee attend her Retirement Lunch at Ariel Sands in 1988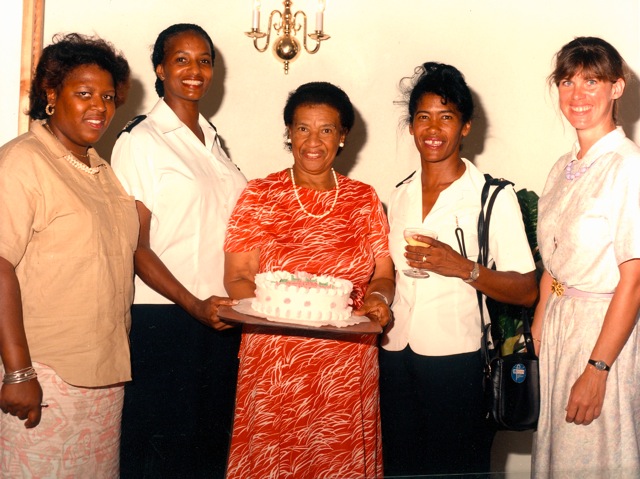 Mrs B with Policewomen at her Retirement party held at the PRC
(l-r) Cherie Bean, Juanita Allchin (Shaw), Mrs B, Gertie Barker, and Gail Correia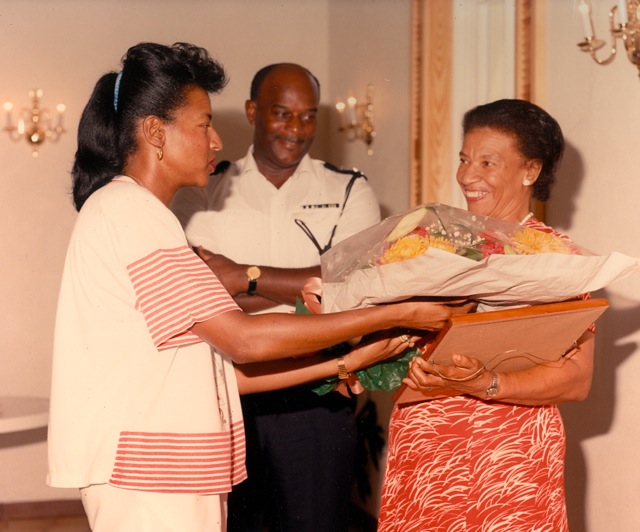 Mrs. B receives a bouquet of flowers from Juliette Powell
and Commissioner Frederick "Penny" Bean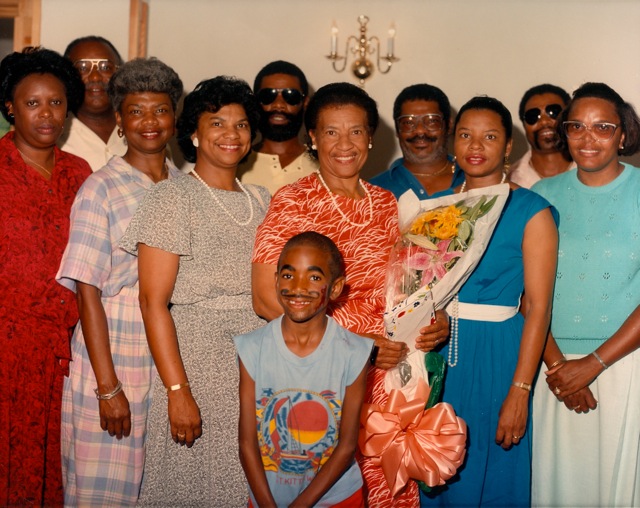 Mrs B and her family at the Retirement Party
(l-r) Pat Brangman (daughter in law), Rodney Smith (son-in-law), Eulene Brangman (daughter),
Evette Smith (daughter), Walter Brangman (son), Mrs B, Gerald Brangman (son),
J
anet Dublin (daughter),
Stanfield Brangman (son), Deborah Brangman (daughter-in-law), and standing in front of Mrs B is her grandson Shawn Brangman.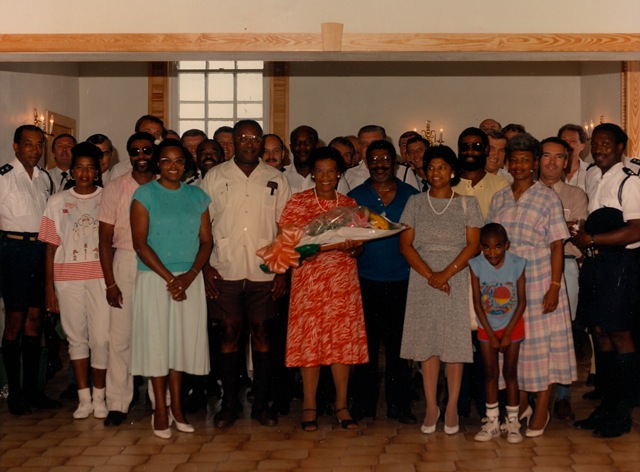 Mrs B with friends and family
Following her retirement Mrs B worked for a while at Bluck's on Front Street West before fully retiring quite a few years ago. Mrs B says she doesn't go out too often these days but she likes to attend meetings of the "Young at Heart" Seniors Club in Somerset, and "Golden Hour" at the Peace Lutheran Church, and for the past 15 years she has also worked on Fridays as a volunteer Pink Lady at King Edward Hospital.
Sadly, her husband, Gerald, passed away 30 years ago this month (March 2012) but her children, Eulene, Eulette (Smith), Gerald, Walter, Kenneth, Janet (Dublin married to Gary – who works as a civilian for the Bermuda Police Service), Stanfield, and the late Ulette Brangman, have between them produced 17 grandchildren, 7 or 8 great-grandchildren, and 6 great-great grandchildren – the latest was born on 26th March 2012.
You can be assured that they have all been showered with the kind of mothering that so many of us received from Mrs B during her years at Prospect.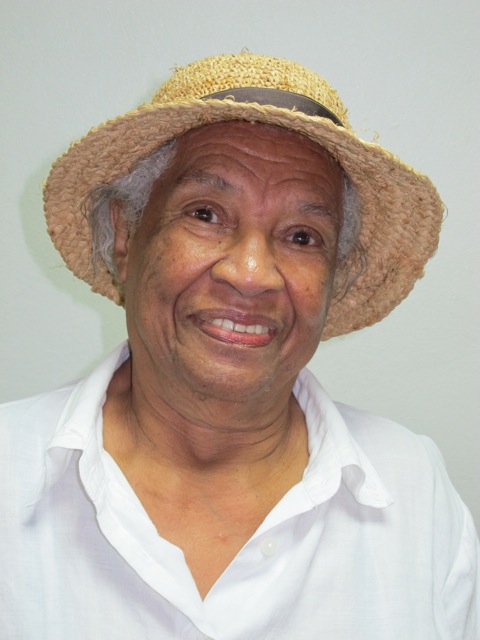 Mrs B in Hamilton in March 2012
I happened to see Mrs B in Hamilton a few months ago and persuaded her to have her photograph taken. I'll let you judge for yourselves if this is the exact same smile you were greeted with whenever you walked into the Police Mess.
SAD NEWS ABOUT "MRS B"
We were deeply saddened to hear that our dear friend, Mrs "B" passed away on Tuesday 1st April 2014, as we reported in our Latest News column (CLICK HERE to view). Mrs "B" was 90 years young and still had that beautiful smile when we last saw her. We understand that she died peacefully at her home surrounded by her close family.
Mrs "B" was an institution at the Police Mess for many, many years and will be fondly remembered by all who passed through her kitchen.
A beautiful funeral service for Mrs. B was held at a packed St. James Church in Somerset at 11am on Monday 7th April 2014, and was attended by many of the former and retired police officers who were serving during the time she worked as our cook at the Police Mess.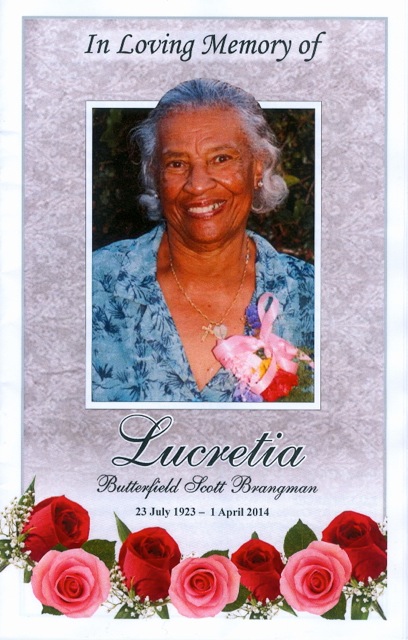 We were kindly provided with the following Eulogy which was delivered by Mrs B's granddaughter Nadine Kirkos, and two of her great granddaughters, DeShae Sampson-Smith and Eliana Kirkos.
Eulogy for Lucretia Butterfield Scott Brangman
Lucretia Butterfield Scott Brangman was born on 23rd July 1923 to the late Kenneth and Beatrice Smith. She was the elder of five sisters and one brother.
Educated at The Talbot's School in Smiths, her sisters remember her being a quiet, calm and gentle older sister. She completed school at the age of 16 and then went out to work until July 23rd, 1942 when she married the late Gerald Brangman. She remembered that the wedding reception had to be small because it was during the war and resources were low. Out of this union eight children were born - 4 girls and 4 boys, the greatest gift that God could provide her with. One of the first lessons she taught her children was that family comes first and that we were to look out for one another.
Lucretia loved flowers and took great pride in her roses and lilys. Coconuts from her tree were also a delight. She would sit on her porch eating them as she said it would give you a beautiful complexion. She was very generous and would share her flowers and coconuts with family and friends. Her real enjoyment, however, came from cooking and baking, she was always in the kitchen – pies and cakes were her specialty. All of her children were guaranteed to have a homemade half-fruit, half-plain birthday cake. The grandchildren and great-grands could look forward to receiving a birthday card filled with money equal to the age they were turning. Many people have asked for the recipes for her farine pie, and fruit and plain cakes, which she willingly shared, but no one has managed to make them quite like hers. This poem expresses just how Lucretia cooked;
"Grandma's Recipes"
This has always puzzled me, just how much is a pinch?
These recipes of dear Grandma's surely are no cinch.
A "snip" of this, a "dab" of that, a "lump" of something else,
Then "beat it for a little while", or, "stir until it melts."
I have to be a wizard to decipher what she meant,
By all these strange proportions in her cookbook worn and bent.
How much almond in the pound cake? Grandma wouldn't flinch,
As she said, with twinkling eyes, "Oh, just about a pinch."
There must have been in her wise head a measuring device,
That told her just how much to use of sugar, salt and spice.
Author: Unknown (adapted)
She looked after her children until the youngest one went to school then she quickly found a profession that allowed her to do what she loved. In 1963, she became a cook for the Police at the their canteen and remained with them until her retirement in 1988. For 25 years, like a mother, she kept hundreds of police well nourished with her delicious meals, and was fondly referred to as 'Mrs B.'. She worked under four different commissioners, as well as four club managers.
The close relationships she fostered with the members of the Bermuda Police Service afforded her unofficial immunity for minor offences. She always told the story of her being pulled over for speeding in Paget. The officer who pulled her over was quite surprised when he discovered that the person who had sped through his radar was his beloved Mrs. B. and gently asked her to drive slowly home. He knew that if he gave her a ticket the delicious meals he had grown accustomed to would be in jeopardy.
Lucretia's greatest achievement and passion was her family. We are a very close-knit family and she loved to spend time with us all. She has 15 grandchildren, 17 great-grandchildren and 8 great-great grandchildren. Lucretia's memory was sharp. She not only knew everyone's name, she knew our voices when we called. Even when you would call and try to trick her by disguising your voice she would know. Lucretia attended graduations, birthdays, Grandparents day at school, sports days, Christmas plays, - no function was too small for Lucretia to attend.
Kwahmae, her great-grandson, would share a special bond with her as he could always depend on her being at home with him for the last 12 years. Lucretia's love and care for family extended to her late Aunt Lucretia Butterfield Scott (Aunt Lou), who she was named after, and later her late godmother Arlene Wingood, both of whom she moved in with to look after as they aged.
Around 1969, on Scott's Bay Road, Lucretia started our own family tradition to ensure that the family started each New Year together. We would get together the first Sunday in the New Year for our "Christmas Dinner", complete with her famous pie and all the Christmas trimmings. A few years later this tradition moved from Scott's Bay Road to Fairhaven Lane where it has remained for the last 40 years. We will miss her presence there, but we commit to continue this legacy of family togetherness that she started for us.
In 2001, she was voted Glamorous Granny, a title that she earned, deserved and enjoyed. She could frequently be seen at events smiling, wearing her tiara and her Glamorous Granny Sash. Upon her retirement from the Police Club she did not intend to sit at home and grow old. She found another job, at Bluck's selling fine china and remained active throughout the community. She participated in activities at the Young At Heart Club, the 50 Plus Club and the Golden Hour Club. Once a week she could also be found at the hospital volunteering as a Pink Lady.
Lucretia's faith in her Lord and saviour Jesus Christ was unwavering. She would start each day with quiet time reading her bible and praying, including reciting the following poem:-
Although she had a very quiet and reserved demeanor her faith could be seen through her actions; you knew she lived for the Lord. She was a faithful member of the St James church and guild, women's fellowship and the choir at St. James. She also attended weekly Bible study at Heydon Trust. Lucretia was a very busy senior attending nearly every senior's function to be held – senior's teas, picnics, and cruises – she couldn't be stopped.
When she didn't feel as comfortable driving, she still could not be slowed down. Public Transportation became her personal chauffer and she would still be seen all over Bermuda. Although she didn't feel as safe driving she kept her license current. Last July when she went 90 she successfully passed her driving test and then drove home from town under the care of Stanfield.
She has travelled extensively with her daughters around the world on several cruises throughout the Caribbean and visiting places such as Washington DC, Las Vegas, Virginia, Paris, England, Canada and Amsterdam. At 87 years old, in Virginia for Christmas, she saw snow for the very first time. Not too fond of the cold, she decided that would be her last trip and that she would hang up her travelling shoes – giving thanks for all of the places she had visited.
Lucretia remained busy and active until a month ago when we realized that her health was declining. She became insightful and reflective – expressing gratitude for her 90 years of life, for being blessed to see two of her children reach 70 years and for having a large and loving family around her. It is hard to say good-bye to someone you love, someone who has always been there, someone whose presence made you feel safe and secure, someone who you thought would be there forever. Saying good-bye, however, was made a little easier through our last family time together which will be etched permanently into all of our hearts. Last week Monday on the evening of Monday 31st of March her sister Bea, her children, grandchildren and older great-grands gathered at her side, and with the guidance of Rev. Carl we had a wonderful time in the Lord. We read her favorite scripture - Psalm 46, sung her favorite song, prayed, expressed our love and thanks for her and released her into the care of Jesus. The following day, after 90 years, 9 months and 9 days our dear mother, grandmother, great-grandmother stepped into eternity peacefully, gracefully and with dignity – the same way she walked this earth. She has left us here to nurture and preserve this legacy of love so that all who follow will experience the love of Christ.
No one is ever born into life alone. Everyone has shared the bond of family – at least at birth – and for many people it is a bond which will follow them throughout life. For us "we begin and end, with family".
She was predeceased by sisters Gertrude Woolridge and Alice Burch, daughter Ulette Hogan and great-grandchildren Alshantae Brangman and Frederick Smith.
She leaves to cherish her memory:-
Three daughters - Eulene Brangman, Eyvette Smith, Janet Dublin (Gary)
Four sons - Gerald (Janet), Walter, Kenneth, and Stanfield Brangman
Fifteen grandchildren - Derek Smith (Fatima), Sheena Hogan, Daren Brangman, Eugenia Wilson (Dion), Derek Burrows (Julie), Stanfield Brangman Jr (Crystal), Nadine Kirkos (Michael), Leroy Hogan, Gernee Brangman, Tasha Outerbridge, Shawn Brangman, Mary Hogan, Shawnette, Jubilee-Ann and Shawnae Brangman
Seventeen great grandchildren, Eight great-great grandchildren
Two sisters - Barbara Bean and Mary Susan Smith
Five sister-in-laws - Grace, Shirley, Iona and Rose Brangman and Myrtle (Sally) Perinchief
One brother in law, Maxwell Brangman
Special friends – Alice Bean and Family, Myrtle Foley and Family, Marjorie Grant and Family
Fellow members of The Hospital Auxillary, St James Stage Group, Young at Heart, Fifty Plus
St James Church family
And many nieces, nephews, cousins and friends too numerous to mention.
On behalf of the Brangman Family we would like to extend our heartfelt gratitude to Dr Sherratt-Wyer, Nurse Kathy Fox, Evernell Davis (who she enjoyed many days driving and exploring Bermuda with), Joanne Knights, Rev. Carl Williams and Rev. Musa Daba for their very supportive pastoral care.
We would also like to acknowledge the presence of everyone here today and to thank everyone your prayers, telephone calls, floral tributes and all the ways no matter how small in which you have expressed your concern and condolences. May God bless you may his grace be with you.