WPC Aideen Fletcher (nee Forde)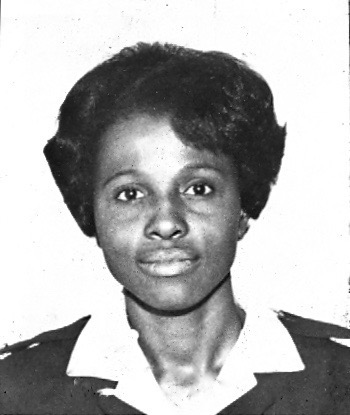 Aideen Fletcher (nee Forde) was born and raised in Barbados. Her parents were Joseph and Doreen Forde (nee Marshall) and her father was a Bermudian who went to live in Barbados. She attended Saint Matthias Girls School in Christ Church, and after graduating Aideen worked for a while as a clerk/cashier in a store. She had always wanted to become a Police Woman but didn't apply to join the Barbados Police.
Her father being a Bermudian prompted her to come to Bermuda to meet other relatives including the Cholmondeley family. Shortly arriving here in March 1969 for a vacation, Aideen saw a local advertisement for the recruiting of police officers and prison officers, and decided to apply for a job with the Police. She took the entrance examination test and the medical, passing both before being interviewed by Chief Inspector Oliver Trott who gave her the good news that she had been accepted.
Aideen attended the Police Training School on 15th September 1969, on Basic Training Course #12 along with a local female, Cecilia Bean, and a group of young men from Bermuda and the West Indies - Grenada and St. Vincent. The Bermudians included Terry Cabral, Perry Fox, David Furbert, and Russell Paynter, while the West Indian recruits included Oliver Bain, Mike DeLeon, Jimmy Dumont, , Wilbur MacLean, Douglas Victor and Gladwin Henry, all from Grenada, along with Arden Cato and his brother Jamel Cato, Norrell Boyd (Hull) and Wendall Richards who hailed from St. Vincent. Aideen recalls that their instructors were Aideen recalls that their main instructors were Inspector Dave Parsons and Sgt Dick Murphy along with Neville Darrell who taught self defence, assisted by Gary Perinchief.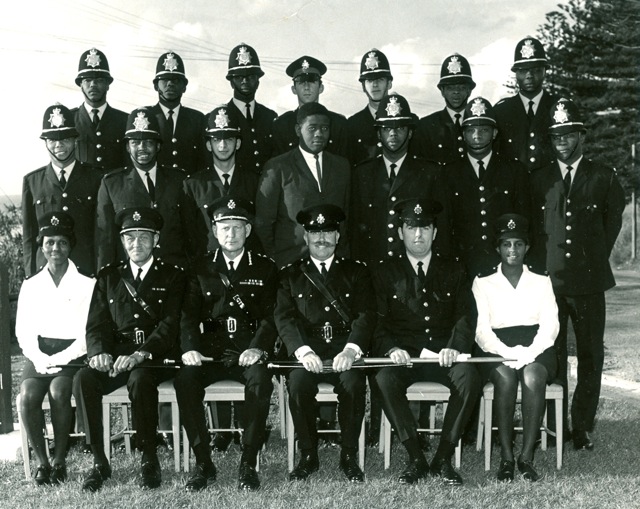 Basic Training Course # 12
Top Row (l-r) Douglas Victor, Wilber MacLean, David Furbert, Alfred 'Perry' Fox,
Terry Cabral, Norrell Boyd (Hull), Wendall Richards
Middle Row - Oliver Bain, Russell Paynter, James Dumont, Jamel Cato,
Mike DeLeon, Arden Cato, Gladwin Henry
Front Row - Aideen Forde (Fletcher), Superintendent Oliver Trott,
DCOP Frank B. Williams, Inspector David Persons, Sgt Dick Murphy,
and Cecilia Bean (Missing are Instructors Neville Darrell and Gary Perinchief)
At their graduation ceremony, Aideen recalls that she and Cecilia had to wear white shirts because Stores didn't have any uniforms for women, while Jamel Cato wore a suit because at upwards of 300 lbs there were no uniforms to fit him. They graduated from Training School in December 1969, just before Christmas, and the new recruits all found themselves involved with the busy task of dealing with Christmas traffic in Hamilton, keeping vehicles moving and directing traffic on busy junctions in the City centre.
Aideen then began routine training in the Policewomen's Department under the guidance of a trained officer, (the late) June Dickenson. At that time the Policewomen's Department consisted of one Inspector, Isobel Lee, who had been recruited from the U.K. to set up the Policewomen's Department, and was the highest ranking police women on the Force; one Sergeant, Jean Vickers (Mattis) who was the first Bermudian woman police officer and went on to head the Policewomen's Department, and four women constables, Pearl Trott (Fox), June Dickenson, Gertie Cannonier (Barker) and Jean Trott (Tucker). With the addition of Aideen and Cecilia it brought the total to 8 women.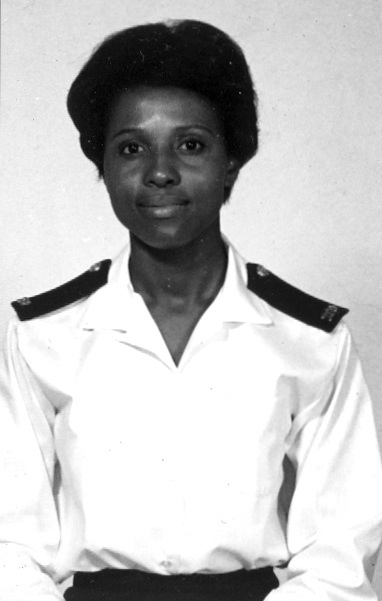 Aideen was always immaculate in uniform
There were very few traffic lights in the City in 1969, and it meant that police officers had to cover various junctions during the morning and evening rush hours. On school days the policewomen also had to perform traffic duties at the school crossing on Cedar Avenue at the junction with Angle Street for Mount St. Agnes and Delwood Schools.
There were several beats that female police officers had to patrol by foot. At that time policewomen dealt with any incidents involving females and juveniles – sitting in on interviews, conducting searches etc. and also dealing with parking issues in the City.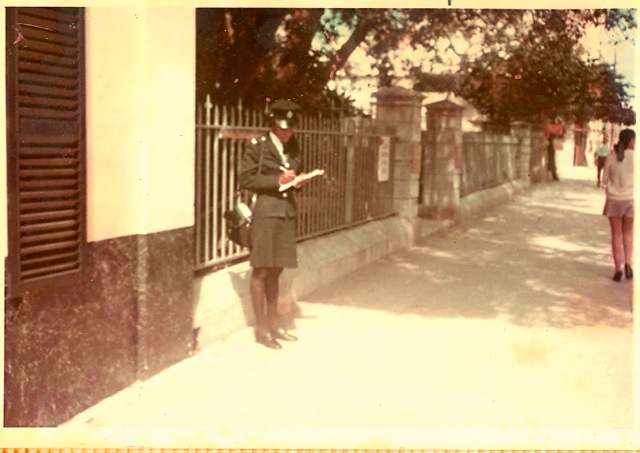 Aideen makes a point on Queen Street in front of the Hamilton Library
The department worked three shifts; 8am – 4pm, 10am – 6pm, and 4pm – midnight, and after midnight the females on 4pm – midnight were on call-out for any duties required.
Women police officers also did 3 month attachments in C.I.D. (Criminal Investigation Department). Aideen had the opportunity to work many stints and was involved with a number of murder enquiries. She recalls working with "Spider" MacKenzie on the Jean Burrows murder investigation in which a young Royal Gazette reporter was attacked and killed and her body was left floating off Pomander Road at the Foot-of-the-Lane. "Spider" and Aideen conducted "boat to boat" enquiries, tracking down all of the boat owners who kept their boats in the area and meticulously interviewing them to see if anyone could remember any suspicious activities in the vicinity.
At that time Aideen was the first and only female from the West Indies on the Police Force and that remained so for years.
In April 1974, Aideen married Gerald Fletcher, originally from Trinidad, who had joined the Prison Service in 1972, and who later transferred to the Police Force in 1979, serving until 1989. Aideen and Gerald were divorced 22 years ago but have remained good friends.
It was also in 1974 that Aideen's police career made a dramatic turn. The Force was looking for officers to work in the Scenes of Crime Department (S.O.C.O.) formerly C.R.O. and Aideen was successful in applying for a position, thus becoming the first female to join and train in this department. The job involved attending crime scenes and accident scenes, taking and classifying fingerprints, searching crime scene marks, assisting in filing, and attending court when required to give evidence. Aideen was joined a few years later by Gail Correia who became the second female to work in S.O.C.O.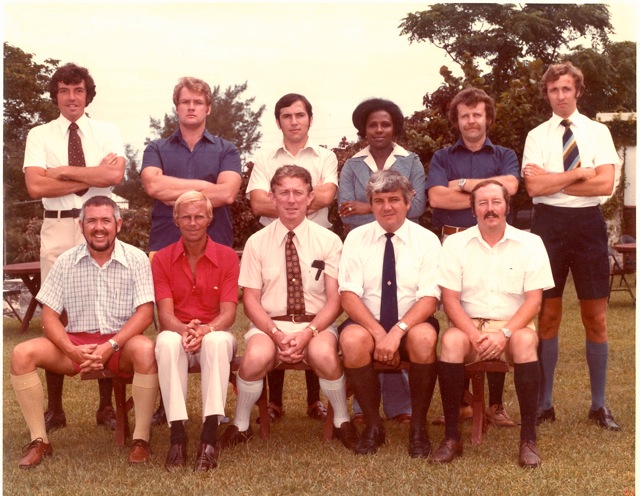 Scenes of Crime Office Personnel
Top Row (l-r) Phil Bermingham, Graham Alderson, Lincoln Pratt (465!),
Aideen Fletcher, Roddie Barclay, Keith Cassidy
Bottom Row - Paul Farrell, Ian Scotland, Les Waddell, Merv Willey, and Dave Chew
At the time Aideen joined S.O.C.O. it was staffed by Inspector Les Waddell (OIC), Sergeants Cal Christopher and Paul Farrell, and D.C's Merv Willey and Keith Cassidy - Keith having joined just a few weeks before Aideen.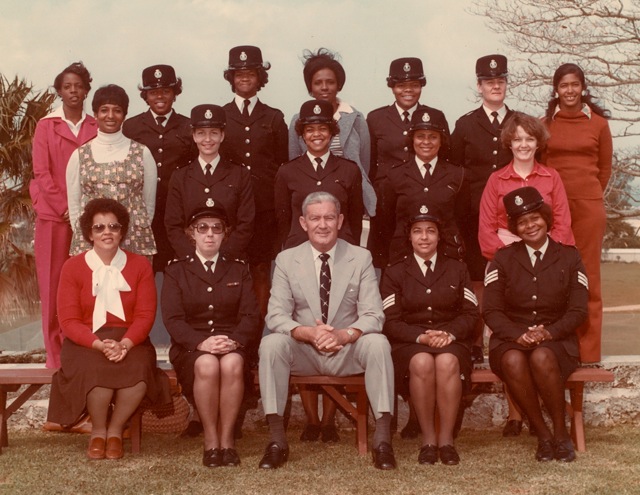 The Bermuda Police Women's Department
Top Row (l-r) Clara Saunders, Sherrie Bean, June Pitt, Aideen Fletcher,
Tracy Armstrong,
Marjory Amos, Gertie Cannonier
Middle Row - Juanita Allchin (Shaw), Kathy Dorrington,
Coralie Trott, Barbara Clark, Maureen Connor
Front Row, June Dickinson, Insp. Isobel Lee, COP L.M. "Nobby" Clark,
Sgt Jean Mattis (Vickers)
and Sgt Pearl Trott (Fox)
Later in 1977 Aideen attended a Fingerprinting Course at Bishopgarth, Wakefield, West Yorkshire in England, and later an advanced course in Fingerprints at New Scotland Yard in London.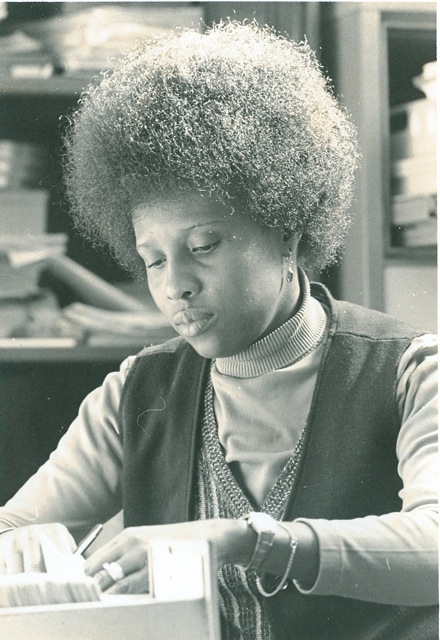 Aideen at work in S.O.C.O.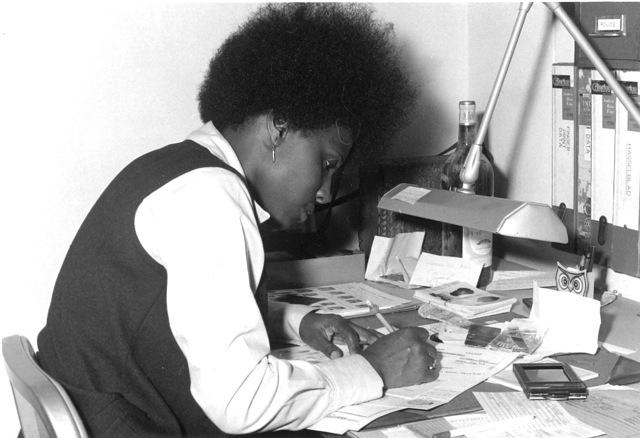 S.O.C.O saw the need to concentrate on searching crime scene marks and thus some officers, including Aideen, Merv Willey and Keith Cassidy concentrated mainly on the taking of fingerprints, classifying, searching, filing and preparation for court cases when required, while other members of the department would attend crime scenes to search for forensic evidence and fingerprints.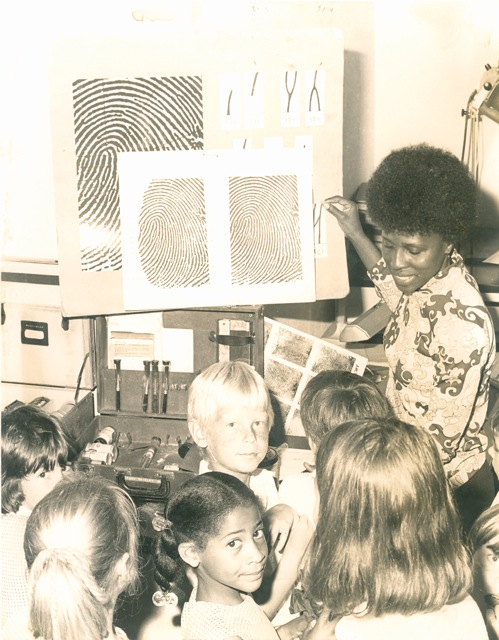 Aideen explains the science of fingerprints to a group of school children
For many years the S.O.C.O. office was located on the ground floor at Police Headquarters, then in the early 1990's it was moved to the Baselands (Southside) at St. David's.
Aideen spent many years on the Police Recreation Club Committee and for years organized the annual Children's Christmas Party. She was an active member of the Black Stockings consisting of members of the Policewomen's Department and Traffic Wardens, which organized numerous bake sales and other fund raising activities for charities. On an annual basis the Police Women sponsored youths to the Outward Bound Scheme both locally and overseas, as well as donating funds to a variety of other charities.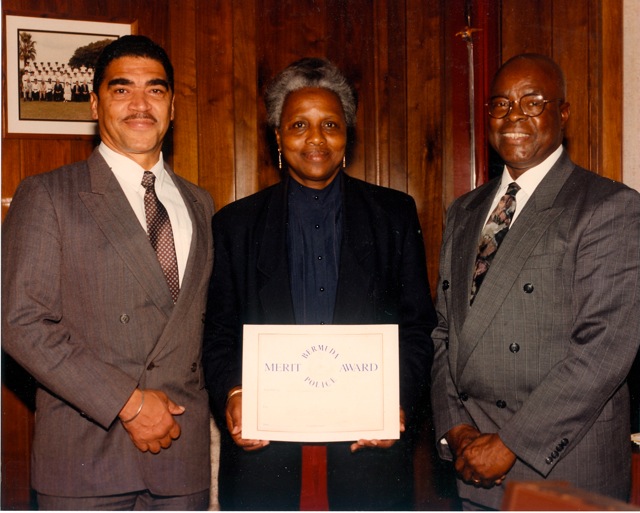 Aideen is presented with a Merit Award by C.O.P. Lenny Edwards (right) and D/Supt. Wayne Perinchief
During her years on the Police Force, Aideen received several letters for good work done and was awarded the Colonial Police medal for Long Service and Good Conduct in 1987 and her 25 year clasp in 1994.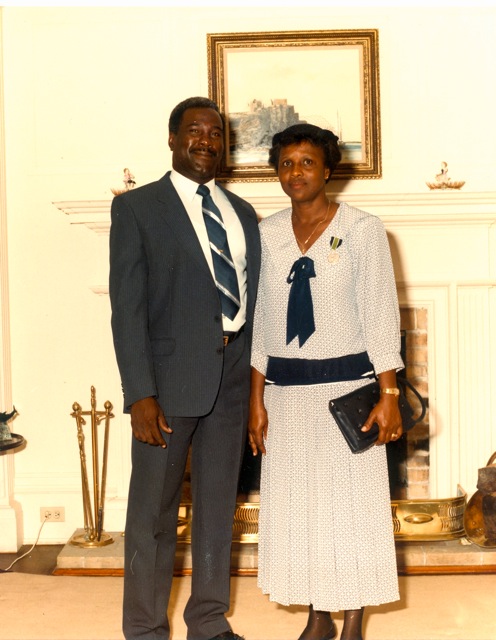 Aideen attends Government House along with Gerald to receive her
Colonial Police
Medal for Long Service and Good Conduct
With the requirement for mandatory retirement at aged 55, Aideen retired in July 1997, having given the Bermuda Police 28 years of service, of which more than 23 years were spent in the Scenes of Crime Department.
Shortly after retiring she returned to Barbados for almost a year to care for her elderly mother who had suffered a stroke.
On returning to Bermuda she was offered a position in security at the Hamilton Princess Hotel where retired Inspector Winston Esdaille was Director of Security. When Winston moved to the Southampton Princess his position was taken by retired Sergeant Laurie Phillips.
Aideen worked at the Hamilton (Pembroke) Princess for 13 ½ years and during that time she was made a Supervisor and 2nd in charge. By the time she retired, the security department was headed by another retired senior police officer*, Chief Inspector Vendal Bridgeman.
Aiden has for many years been an active member of St. Anne's Church serving on the church committee and singing in the choir. She joined the Lioness Club of Bermuda in 1977 and is now a member of the Hamilton Lions Club. Aideen is also a member of the West Indian Association, the Barbados Association, and a member of the West Indian Association Folk Singers.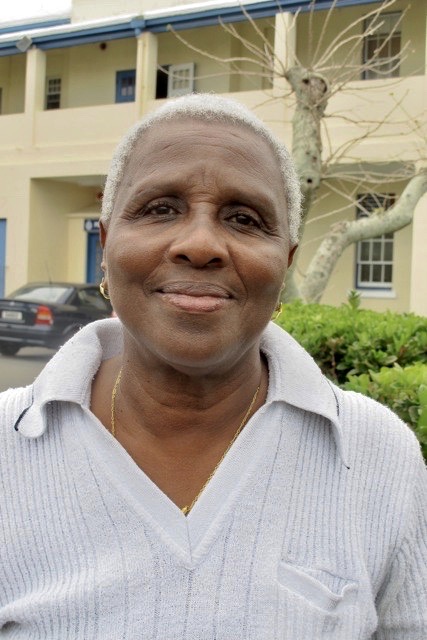 Aideen on a recent visit to Police Headquarters
Now that she is officially retired for the second time, Aideen, who keeps well, is planning on returning to Barbados on 6th June 2012, to spend some time with her eldest sister who is due to have knee replacement surgery. She might have left the Police Service but she is still committed to giving service to her family and her community.
* Editors Note - The Princess Hotel clearly has a strong preference for having former senior police officers in charge of their security because they had hired retired Chief Inspector Roy Chandler as Director of Security after he left the Police Force having come out to Bermuda in 1962 from the Cheshire Constabulary in England to set up the Bermuda Police Training School.