"A Scots Tale"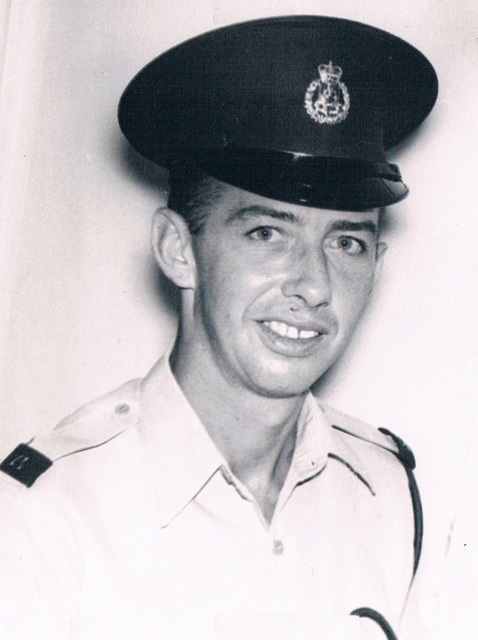 Served as a Constable from 1955 - 1960
I was born in July 1930 in a little town in Scotland called Alyth. At the age of nine I was evacuated to a farm in Padanarm (another small village in Scotland) just before World War II started.

A group of us were all sent to a local school, with name tags and gas masks attached, and the local farmers wives cruised the room looking for the type of wee kid the farm could use.

I was lucky and went to decent folks on a 100 acre farm, one of the wealthiest in the neighbourhood, belonging to Mr. & Mrs. George Maxwell, who treated me very well.

I learned a lot on that farm and the stories have stayed with me until now. I especially loved the Clydesdales, and caring for them.

Our schooling was in Padanarm and as anyone my age can attest, the teachers were older than Methusula, all dragged out of retirement and many certainly not pleased about it.

I joined the Scots Guards in 1949, serving in the UK, Germany and Malaya and was lucky enough to be in the celebration of Queen Elizabeth's Coronation in 1953. Around this time in London our Battalion experienced the London Great Fog, which lasted for 4 days, where thousands of people died of respiratory conditions, the fog was so thick you couldn't see 2 feet in front of you.

As a little historical aside, during this fog we had to take the subway from Sloan Square to perform our duties. To get to the subway we walked in single file with the man in front of you holding the muzzle of your unloaded rifle and you held the butt, I held the muzzle of the rifle of the man behind me in my free hand. Normally, we would have marched through the city.

1954 brought my 5 year service to an end and I applied to the Crown Agents of the Colonies, in London, to join the Colonial Police Force.

1954 also took me to Police College in Millmeece, Staffordshire, along with John Bull, John Hobbs, Barry Ward, and Joe Colton. It was there that I first met John Bull who had served in the Coldstream Guards and was wearing his Guards tie when we first bumped into each other. I said to myself, "There's someone I would have something in common with" despite the fact that he was ex-Coldstream and I was ex-Scots Guards, and from that moment on we became best "buds".
I remember one night during our time at Millmeece John and I decided to go to the movies in Stafford with just enough money for the show, and with pooling our change we had enough for two half pints, but worst of all, we missed the last bus, and had to walk all the way back to camp. It seemed like a heck of a long way so to pass the time we sang most of the way back, and spent the rest of the time being drill sergeants and giving orders to each other. Thankfully, no one saw us because we were convulsed with laughter.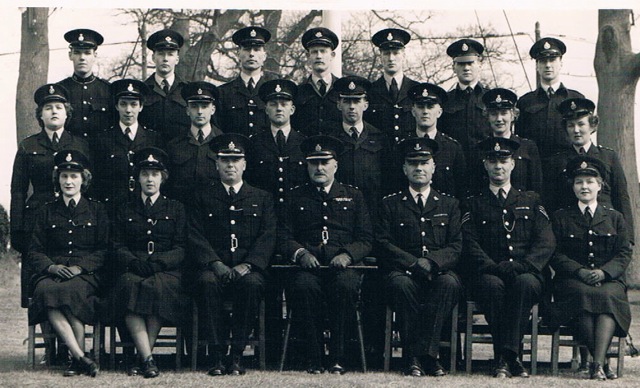 PC Ian Ferguson with his training college colleagues at Mill Meece
Ian is 4th from right on middle row
After completing my training at Millmeece I was given a choice of Colonies to go to, in Africa, Hong Kong, the Falklands and Bermuda, and I chose Bermuda of course. I arrived there in 1955.
We sailed on a Royal Mail Ship that carried 12 first class passengers, along with the Bahamian Police Commissioner and his family. The gentlemanly Scottish captain took great pride in teaching us dining etiquette, including not drinking from the finger bowl, which one member did.

My first position as a constable was on the beat, out of the main Hamilton station with 'Trusty', the station german sheperd at my side. (Editors Note - CLICK HERE for a story about 'Trusty' in our Interesting Articles section) 'Trusty' would go with any copper who could cadge him a raw hamburger at the Buckaroo. This was also the time that I was in the bird cage at Heyls Corner.
When we started walking the beat John Bull was definitely not enamoured by the whole experience, and about one week later a bulletin came from the Commissioner asking for volunteers for the Prison Service. Both John and Tony Saunders jumped at the offer and it seemed that within a matter of days they were gone from the Police Force. John never looked back because it wasn't long before he was in charge of the Prison Farm at Ferry Reach, and later Warden when he moved to Casemates. He married his wife Valerie at St. Peter's Church in St. George's.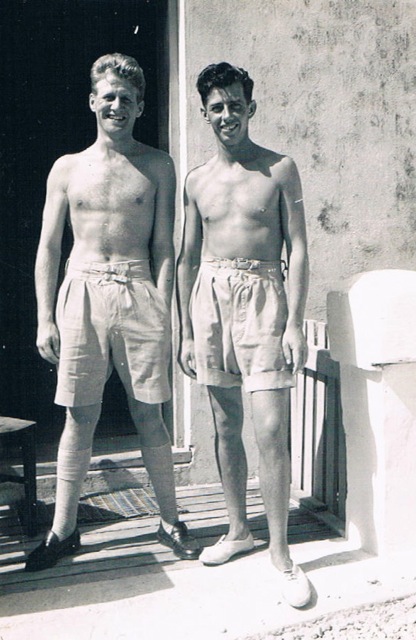 John Bull and Ian Ferguson outside the Police Barracks
While stationed in Hamilton I first met Nobby Clarke and learned to drive. Bob Railton and I would go down to a park in the "back of town" (Bernard Park) on the night shift and that is where he taught me to drive in the old "dog car" - a stinky old Vauxhall.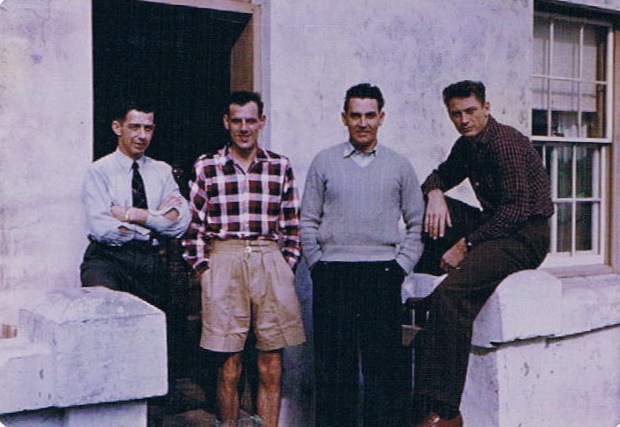 Ian (left) with Derek Selby, Walt Snedden, and Rick Hodgson
This was also the time, when walking the beat in town you got to know all the 'characters' and the ones to be given a wide birth, such as "Weatherbird".

If you did get involved with them in court, in front of Magistrate Minty, a retired Indian Army officer, they would embarrass us to no end with their outrageous comments.

I was then transferred to the Traffic Unit under Inspector John Marshall, a nice man who treated his officers well and we repayed him by pulling all sorts of tricks on him, especially those coppers, once again, on night shift. My partners were John Eastwood, Harry Lister and Hilton "Jellybean" Wingood.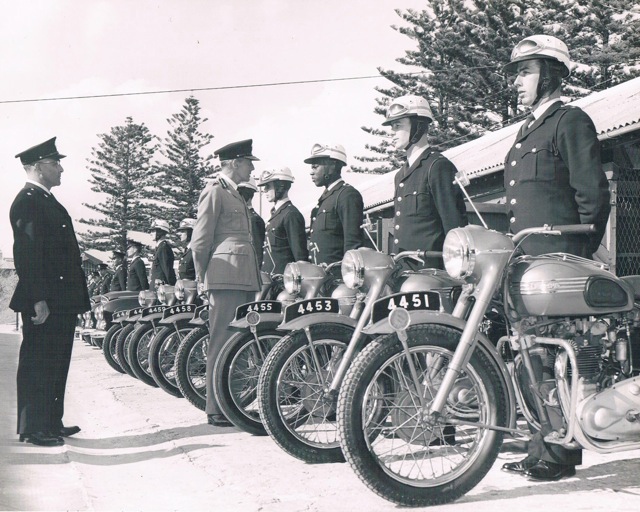 P.C. Ian Ferguson (right) along with fellow officers being inspected at the Traffic Department,
Prospect, under the watchful eye of Inspector John Marshall (left).

During this time, I was given the assignment to drive Tuckers Treasure, the artifacts etc. that Teddy Tucker found off the Island around a sunken Spanish galleon to the airport on its way to The Smithsonian in Washington D.C.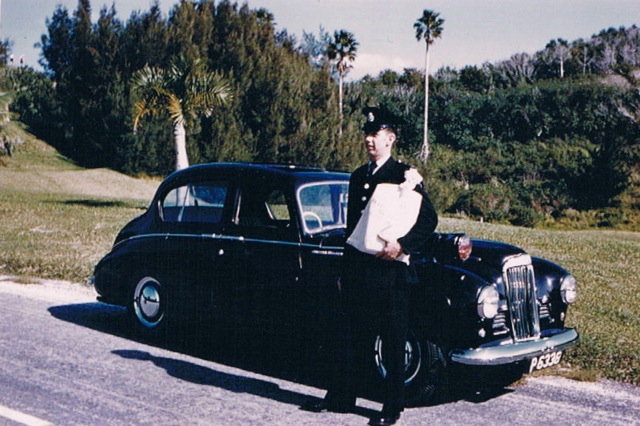 P.C. Ian Ferguson stands by his Sunbeam Talbot patrol car
holding the Teddy Tucker Treasure before heading off
to deliver it to the airport.
In March of 1958, I met my wife to be Margaret , a nurse at King Edward VII Memorial Hospital. We got engaged in June of that year at Admiralty House, Spanish Point, and that December we were married in a village in Ontario, returning in January1959 to take up residence in Prospect.
We made many friends during our time living in Prospect and keep in touch with each other even now, after all these years. Sadly though we have lost many of the men I worked with.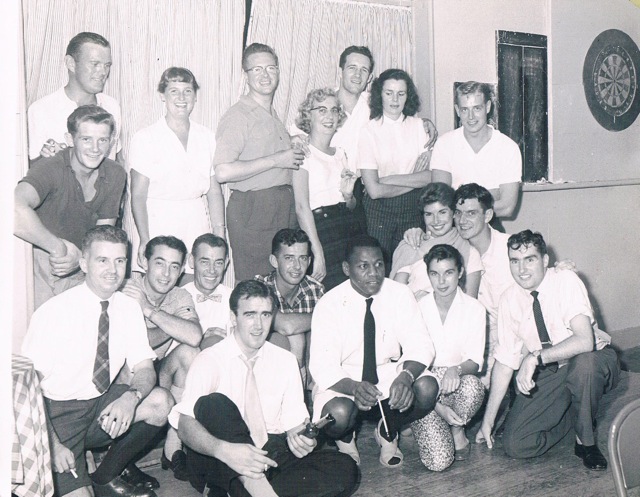 This photograph was taken with members of the Police Darts Team and Castle Harbour Darts Team
We can identify the following:- Top row - far left is John Logan, 3rd from left is Brian Jones.
Kneeling - far left is John Mullan, Jimmy Maitland and his father, Ian Ferguson (in check shirt)
and at far right is Ian "Crash" Kane.
On the sports scene, I played softball on Nobby`s team, and darts with the Police Club Darts Team. One afternoon , Nobby and I played 25 games and I beat him by one game. Later in 1959 I won the Bermuda Singles Dart Championship, and Jack Shaunhessy and I won the doubles. The awards were presented by Commissioner Henderson and the Mayor of Hamilton, The Rt. Wor. Roddy Williams.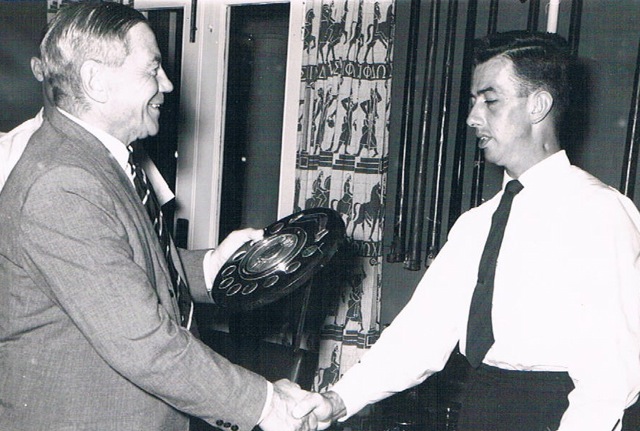 Ian is presented with the Bermuda Singles Darts Championship
Shield by The Rt. Wor. Roddy Williams, Mayor of Hamilton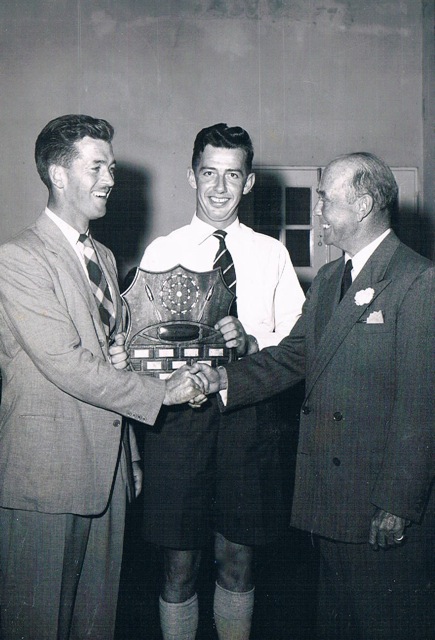 Jack Shaugnhessy and Ian Ferguson receive
the
Darts Doubles Shield from Mayor Williams
I was on the Rifle Team with Assistant Commissioner Maxie Parker, Jim McMaster, Sid Styant and Jack Straw.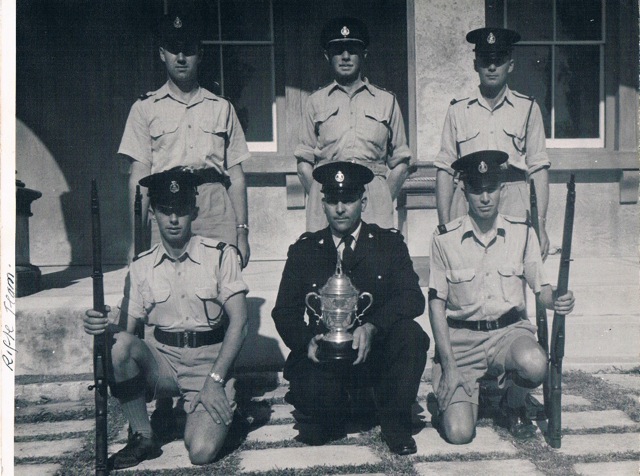 Bermuda Police Rifle Team
Top row (l-r) Sid Styant, ACOP Maxie Parker, Jack Straw
Kneeling - Ian Ferguson, Inspector John Marshall, Jim McMaster
Early in my Bermuda career I used to fish a lot with Nobby at his house on the South Shore. There was one big fish that time after time broke our lines, Finally Nobby took clothesline, along with a 6 inch hook, and a mullet as bait, and caught a 90 pound grouper.

We had many, many good nights in the old and new police clubs playing billiards, pool, darts, and Tombola.

I can recall the time when Mr. Bulley, the undertaker for white folks, had received a request from an elderly English lady with no family, to have her casket carried by six Bermuda policemen, and I was one of those asked to be a pallbearer.

Mr. Bulley would make frequent requests for police officers to be pallbearers whenever pallbearers were needed and it became a tradition! Often in the back of the church Mr. Bulley would say, in jest, "Okay you s.o.b`s. I'll give you an extra 5 shillings if you shed a tear"!

I have vivid memories of Magistrate Minty who "wore his meals on his clothes" and always looked like he stepped out of a rag bag.

Our good friend John Bull (until his death in 2010), left the Police Force and joined the Prison Service where he rose to be Warden of Prisons until his retirement.

There are so many names that I remember but don`t know where they are now; John Logan, John Lewis, Bob Irons, Jack Shaughnessy, Sean Sheehan, and Peter Edney among them

We have been back to Bermuda several times and saw some of the fellows I used to work with, but sadly so many of them have died.

I resigned from the Bermuda Police Force in 1960, It had been my intention to visit New Zealand and perhaps work there as a police officer, but after hearing there were few jobs for coppers out there, we returned to Canada. We were rather relieved to be able to make the flight from Bermuda to Canada in May 1960 because Margaret was 8 months pregnant at the time and we had concerns they may not allow her to travel.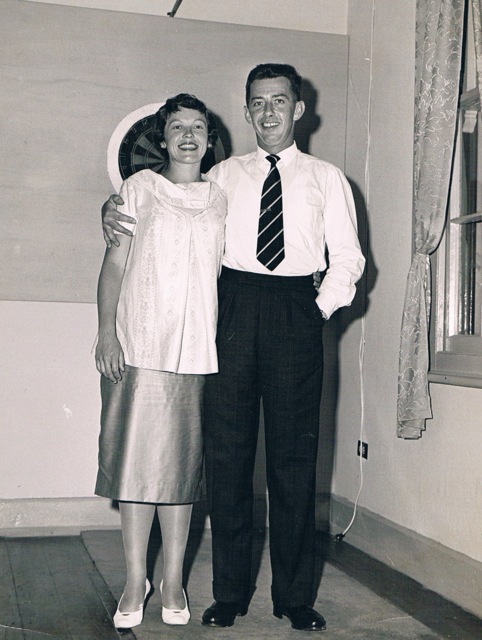 Ia
n and Margaret just before returning to
Canada with Margaret 8 months pregnant
That same year, 1960, I joined Metropolitan Toronto Police, eventually rose to Staff Sergeant in 43 Division.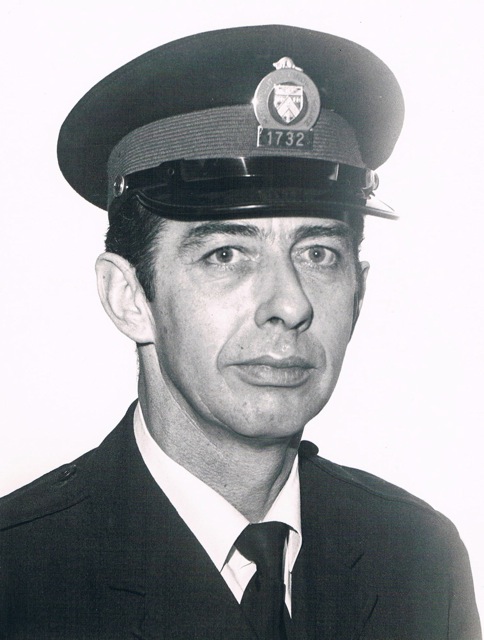 Ian in Toronto Metropolitan Police uniform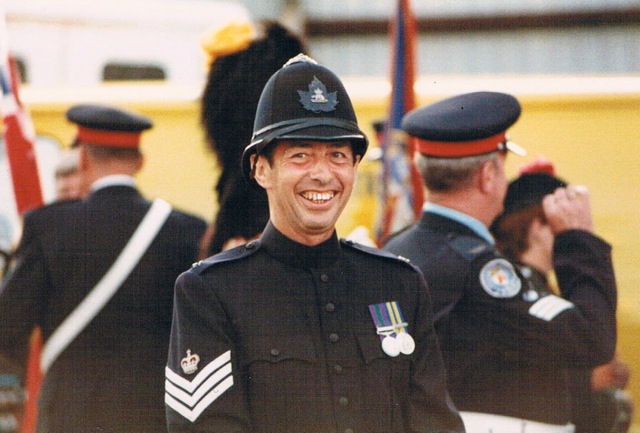 No, this is NOT Ian in a Bermuda bobbies hat in uniform
(just check the maple leaf helmet badge).
He was wearing a period uniform for the Toronto
Metropolitan Police Centennial - and clearly felt quite at home!
During these years my wife worked at Scarborough General Hospital and we had three wonderful daughters, Jeannie, Susan and Kyle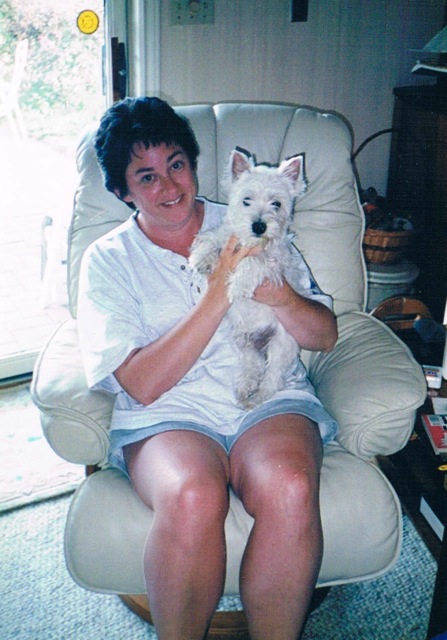 Jeannie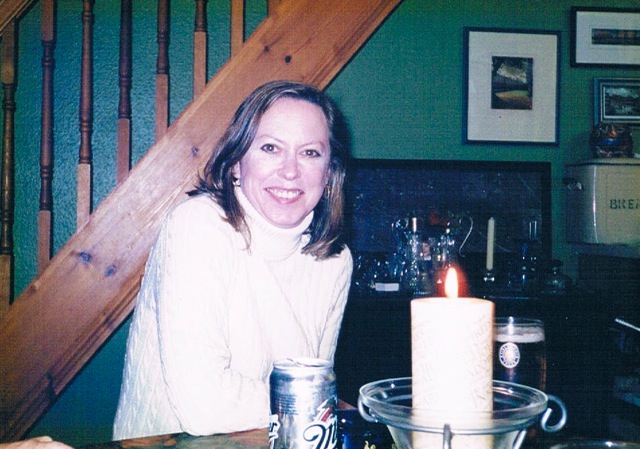 Susan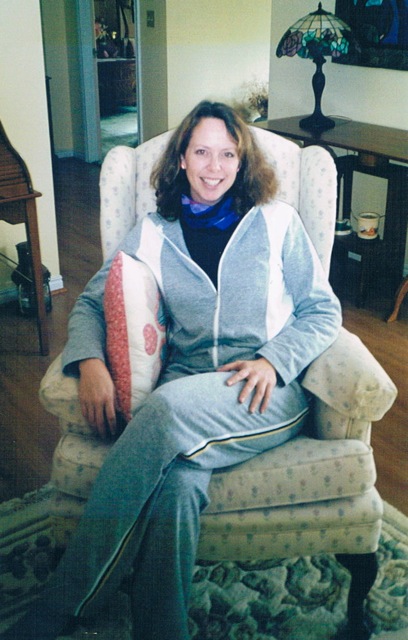 Kyle
We were in Bermuda for our 30th wedding anniversary when John and Valerie Bull had a huge party for us, with all the fellows that I worked with and their wives attending. What a "catch up" time that was. We were staying with Marion McNiven/Cumming, this being shortly after Mac (Jim) died. Mac used to write articles for the police magazine and he called them, "The Meanderings of a Critical Copper."
In 1990 I retired after 30 years, and we left Toronto for Prince Edward County, Ontario, where we bought a house on Adolphus Reach, an arm of the Bay of Quinte, 25 kilometers from town, We were there for 11 years and then moved into the town of Picton.

We would spend our winters in Portugal, Mexico and Florida, and finally when the snow and cold got to us in 2005 we moved to British Columbia. After scouting out the Comox Valley for two winters with our two Westies, we decided that this is where we wanted to settle, so this time, we had a house built.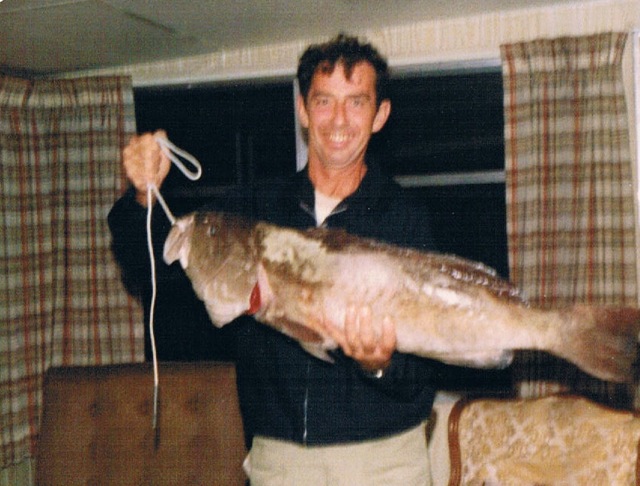 Ian caught this 25 lb grouper, the largest fish he's ever caught,
in Florida, but ever the optimist fisherman, he's convinced
that he can better this record when he heads off
to Vancouver Island this July on a fishing trip
Our life here in Courtenay is very full, with fly fishing, walks with our Westies, gym and aquatic classes, theatre and music, and volunteering.

We have wonderful group of friends with many, "pot luck" get-togethers, and outings, and we are also great grandparents.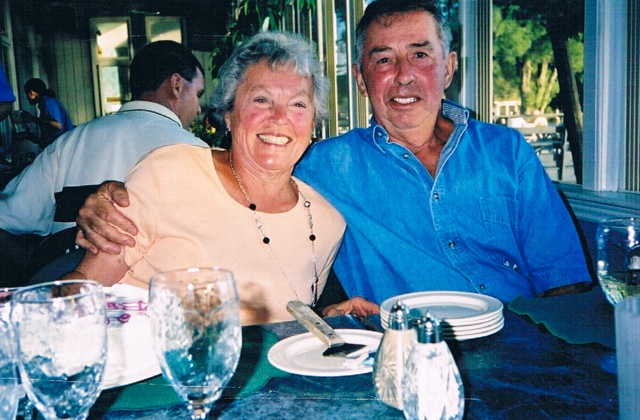 Ian and Margaret celebrate Ian's 72nd birthday in 2002
We had a cruise to Bermuda last fall, 2011, and found it just as beautiful as always, but I have to say that it has lost the wonderful charm of the 1950`s and 1960`s.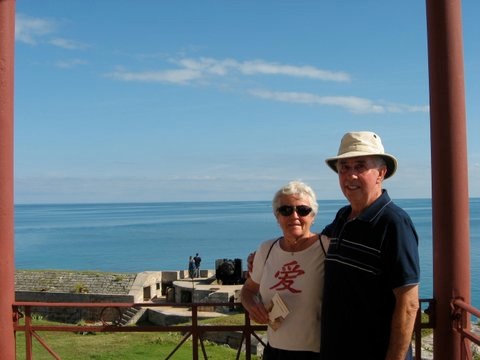 Ian and Margaret at Commissioner's House, Dockyard in 2011