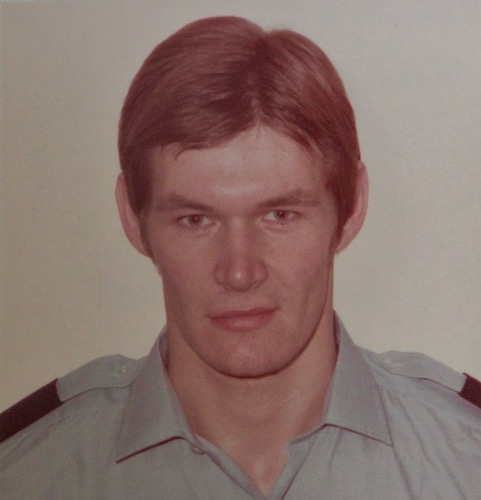 Young P.C. Derek Richardson
We recently heard from former P.C. Derek Richardson, who served with us here in the Bermuda Police from 1976 – 1980. Derek was encouraged to write an article for our "Then and Now" column and we were delighted that he did so as follows:-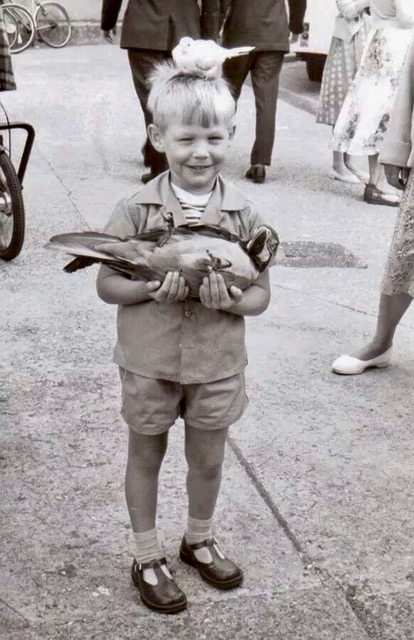 Young Derek "pulling birds" in Wakefield!
I was born and raised in Wakefield, Yorkshire and first became a police officer in 1971 when I joined the West Yorkshire Metropolitan Police. While stationed in Morley I met fellow Yorkshireman, Jerry Benson, who had joined the Bermuda Police, and he recommended I do the same.
I had served in the West Yorkshire Police for 5 years and decided to follow Jerry's advice. I made an application and was called for an interview in London where I was asked point blank what rugby position I played for Wakefield and the West Yorkshire Police team, and would I still play if offered the position. Apparently my stellar Police record was a distant second qualification! I was accepted and officially joined the Bermuda Police on 6th October 1976, along with Donald Friend, Alan Wilcock, and a guy named Tony Imlach who only stayed for about 2 weeks before resigning.
Following a Localization Course, I was posted to Central Division (Hamilton). One of our duties was to direct traffic in the birdcage at Heyl's Corner on Front Street in Hamilton, where we would be subjected to endless questions from visiting American tourists while wearing our "bobby hats" and Bermuda shorts, about why we weren't carrying a firearm!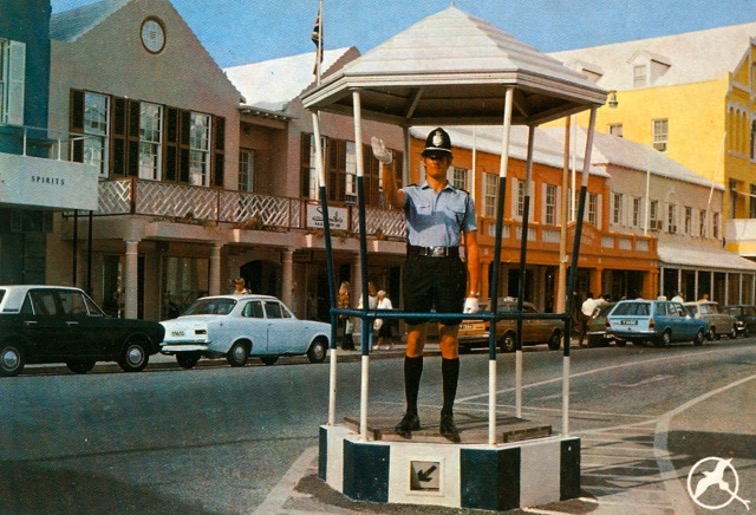 PC Derek Richardson directs traffic in the birdcage at Heyl's Corner
on Front Street in Hamilton

(photo by P.C. Philip Bermingham*.)
Editors note - Philip Bermingham* went on to become an internationally acclaimed photographer CLICK HERE for our "Then and Now" article on Phillip.
However this was a very difficult time for Bermuda. There had been a series of murders including the Commissioner of Police, the Governor of Bermuda and his ADC. Two men had been sentenced to death and there was a lot of civil unrest. I was quickly drafted into the riot squad and after the men were executed - the last executions ever in Bermuda - we had to deal with uprising and rioting in and around downtown Hamilton. Those were dark days in Bermuda's history.
On a more positive note, I quickly got involved in sports activities with the Police. I played rugby for our excellent Police Rugby team and also represented Bermuda's national rugby team in two successful Caribbean Championships, in Martinique and Guyana.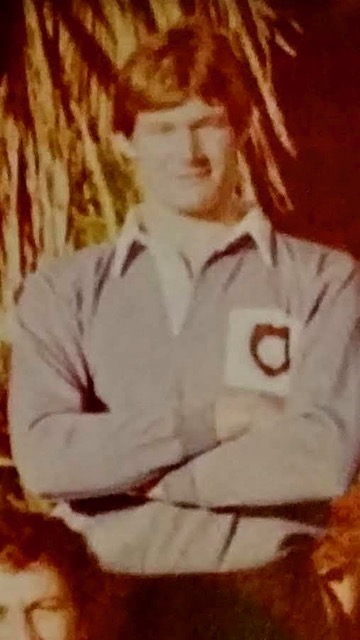 Derek in Bermuda National Team
rugby kit (circa 1977)
I played alongside many great Police players such as Bill Butterworth, Paul Davies, Jeff Baker, Godfrey Davies, "Moby" Pett, Mick Lumb and others on the National Squad, and I remember many of the old guard on the Police team such as Dave Lunn, Patrick O'Riordan, Phil Taylor, Keith Cassidy, Norm Wilson, John Lynchwade and many others.
Godfrey Davies and I developed a strong friendship that has endured these many years, thru living in New Jersey, Florida and Indiana.
Still on the subject of sports in Bermuda I also competed in the Police Annual Evening of Boxing tournament which for many years was the highlight event of the Police sporting calendar. It was run along the same lines as the Evening of Boxing held at the National Sporting Club in London, which was basically a 'Gentleman's Night Out' - with strict rules applied during the bouts and all attendees being required to dress up in their tuxedos - a dress code that was strictly enforced. – and alcohol was restricted to champagne, and smoking cigars only. The Police Club main hall was packed to capacity on the night when I fought fellow "heavyweight" "Shakey" Shakeshaft In what I've been told was one of the most memorable fights in the more than 20 year history of the annual boxing tournaments, I went "toe to toe" with "Shakey" Shakeshaft, - until the bout ended abruptly!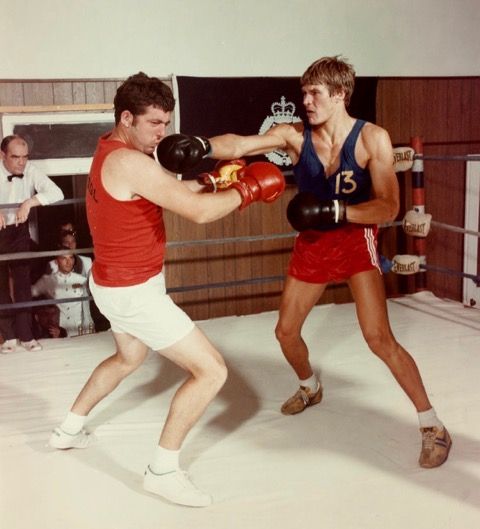 "Shakey" Shakeshaft and Derek
stand "toe to toe" in the boxing ring ….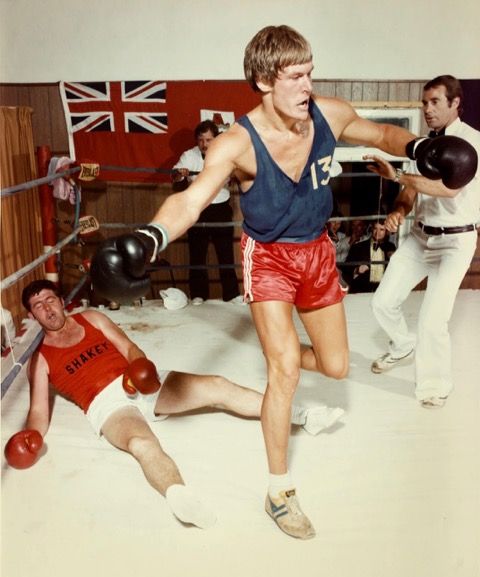 …. until a knockout blow was delivered!
Editors note - This "knockout" photo had been displayed for many years at the Police Recreation Club.
After 2 years in Hamilton, I was transferred to Operations (Traffic Department). I also served several times as an Outward Bound Instructor for the excellent Outward Bound programme run entirely by the Police at Paget Island for hundreds of young Bermudians who tested their survival skills and tackled activities such as abseiling down cliffs and walking on the high ropes course.
In 1980 I decided to leave the Bermuda Police to seek my fortune in the U.S. Shortly after moving to the U.S. I tried out with the NY Giants and NE Patriots as a punter and place kicker. With no prior college football experience no one was willing to take a risk, but it was a fabulous experience nonetheless!
I had moved to New Jersey and the Financial Services sector appealed to me so I obtained the necessary licences and certifications and worked diligently selling stocks, bonds etc. with a couple of Wall Street firms thru the 1980's.
In 1991 I had an opportunity to start my own agency in Dallas, Texas, with a partner, and over the next few years we grew the practice, recruiting advisors across the US to our platform. That culminated in the sale of the business in 2005 to a multinational insurance company.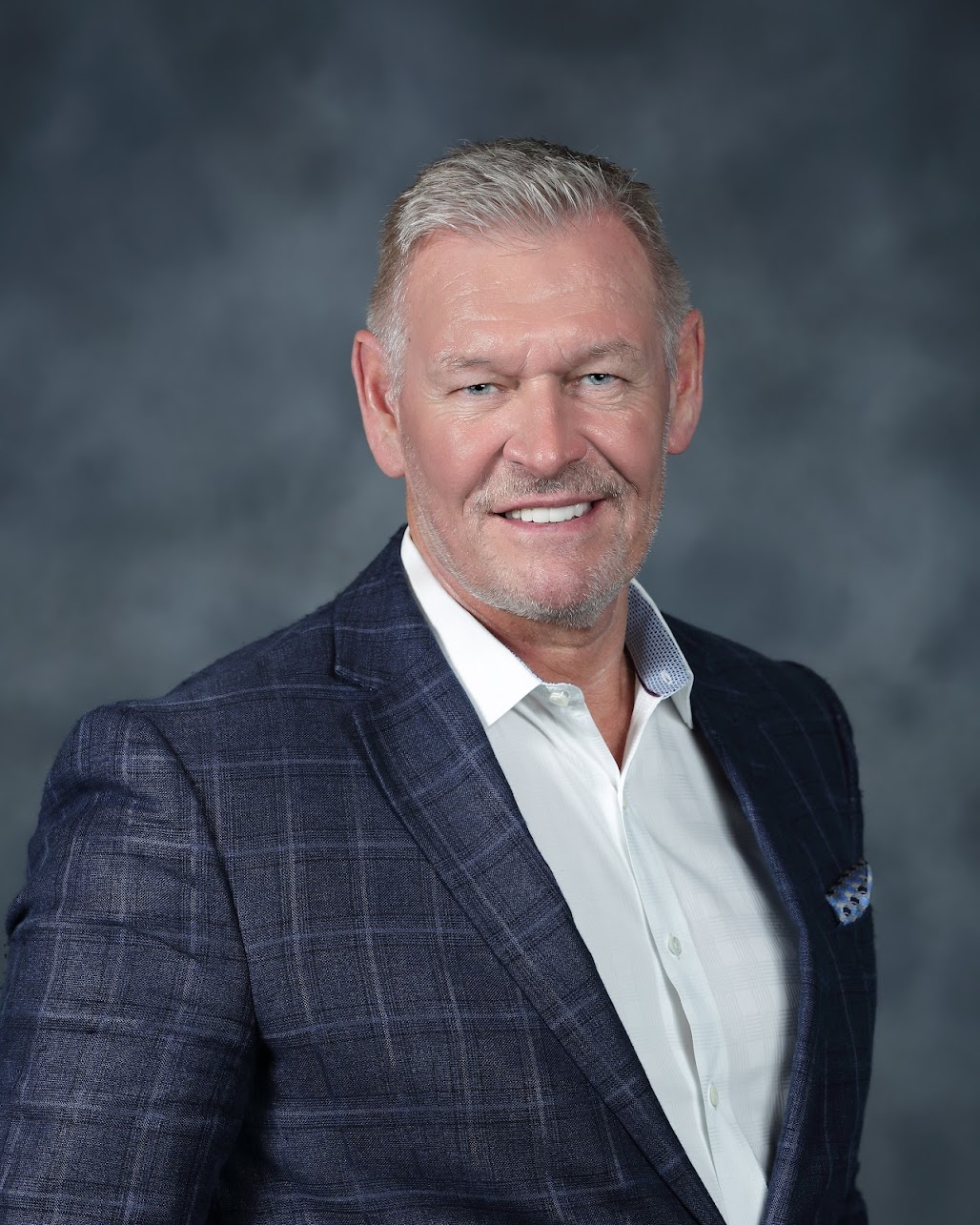 Derek while Chief Marketing
Officer at Amerilife
I spent the next few years consulting with several large investment and insurance companies, and in 2012 was asked to join Amerilife in Clearwater, Florida, to run all the Brokerage Operations with a view to growing it for a future sale. We did just that and went through 2 private equity events, with the 2020 sale guaranteeing a very happy retirement!
Since then I've taken ownership stakes in another brokerage entity, providing strategic and operational oversight to help grow that business.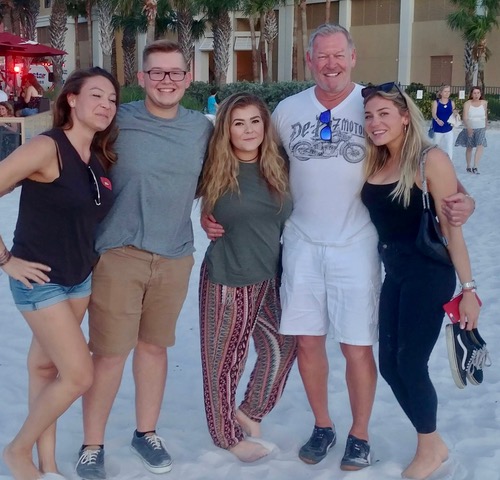 Swiss Family Richardson
(l-r) Laura, Ethan, Emily, Derek and Elisa
On a personal note, although not very good at staying married, I've been gifted with four wonderful children, two each from a former marriage. My two eldest Laura and Elisa are now in their mid 20's, and Laura is expecting my first grandchild later this year.
My two youngest are 25 and 21, Emily and Ethan, both in college pursuing careers in Nursing and Data Sciences.
Outside of work and family, I'm a passionate golfer- made it to a scratch handicap in my 30s and still play to a respectable 5 or so.
I also took up cycling many years ago, and with my younger brother Gavin have ridden "thousands of miles" in support of a UK based charity Cyclists Fighting Cancer. A couple of highlights are riding London to Paris in 24 hours (twice). Also a beautiful 190 mile ride in Sweden that is the largest of its kind around a huge lake and a 3 day circumnavigation of Puerto Rico- 370 miles in total.
I'm planning on returning to Bermuda this Fall (2023) with a view to purchasing property with my brother, and in the not too distant future making it my retirement home.
I'm now "enjoying life on my terms after too many years of work and travel, but blessed to be where I am today.
________________________________________________
Although Derek had long since given up boxing and rugby he still loves his sport and is passionate about golf. He travels extensively with a like-minded group, quite frequently in Scotland – where he's played at the fabled St. Andrews Club, in Mexico and other golf meccas.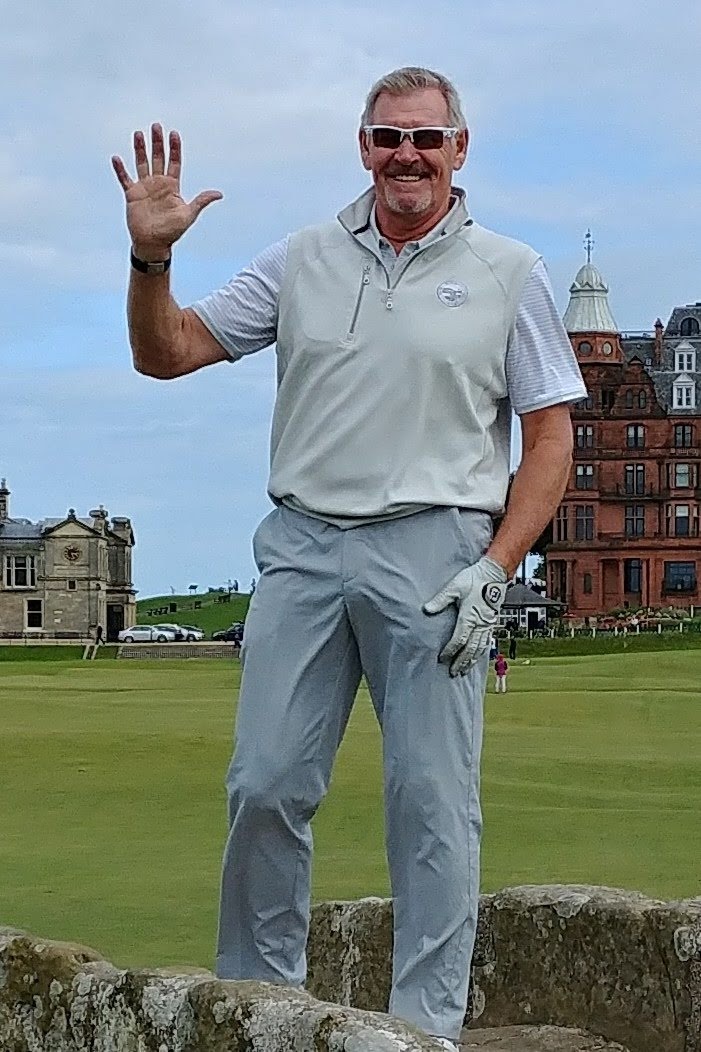 Derek waves from the Swilcan Bridge
at St. Andrews Golf Club in Scotland
He has recently been in touch with Bill Butterworth and is aware that several of his old rugby mates play golf together, including "Moby" Pett, Norman Wilson, Keith Cassidy and a few others. We see golf in Bermuda in Derek's future!
EDITORS NOTE - While Derek was in the process of writing this article we happenecd to post a group photograph in our "Who, Where, When" column of 68 members and staff of the Police Traffic Department which was taken in 1979. By complete coincidence both Derek and his good friend Godfrey Davies were in the photograph. CLICK HERE to view it. We wonder how many of our readers would have been able to pick Derek out in the crowd!
17th May 2023
18th May 2023
Within hours of publishing the above article about Derek, we received an email from our old friend Phil Taylor who had joined the Bermuda Police in March 1975 and who worked on a Watch in Hamilton along with Derek. Phil described how their Watch social group, including Derek paid a most memorable visit to a unique Bermuda restaurant located in St. David's.
We say unique because it was probably the finest fish restaurant ever in Bermuda, but when you ate at Dennis's Hideaway you were stepping back in time. The furniture was basic to say the least; there was no menu; they didn't have a liquor licence so you needed to bring your own booze; they would hand you a set of cutlery and if you needed to use it for different courses then you wiped it off yourself with a napkin; but the food itself was like nothing you had ever encountered before!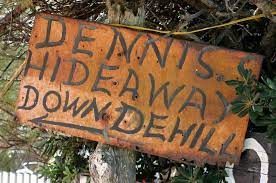 This way to Dennis's Hideaway!
Here is Phil's account of their night out at Dennis's Hideaway:-
"Derek was on the same shift as myself and Paul Eurell, in Central (Hamilton). We were quite a socialable group and we would have 'get togethers' on our rest days.
One time, we decided that we would go to "Dennis' Hideaway" and virtually the whole shift were going to attend. Paul and I told Derek that Dennis' was a very high class restaurant and jacket and tie were required, and cocktail dresses for the ladies.
As most people, and now Derek, know Dennis' was down to earth and somewhat 'tatty', so when he turned up in a beige suit and his accompanying lady friend was in a gorgeous little black number, he got a round of applause and he instantly admitted that he had been had!
Dennis' son "Sea Egg" was serving one of their chowders on a large tray and being the numbskull that he was, managed to spill the whole thing, and yes, you guessed it, Derek's suit got the worst of it.
Obviously "Sea Egg" was thanked for choosing the correct person to spill it upon and we drank the night away to such an extent that we didn't give a crap about any fish chowder stained suits!"
For anyone who has never been to, or heard of the legendary St. David's Island 5 Star "Dennis's Hideaway" restaurant you can CLICK HERE to read an excellent article written by Susannah Vesey and re-published in The Bermudian Magazine on May 5, 2021.
EDITORS NOTE - We do not do "advertising" on our website, but if you're looking for a fascinating Bermuda magazine that covers a wide variety of topics from our history, our heritage, our land and marine environment, local recipes and folklore, this is it. Take a peek at thebermudian.com
19th May 2023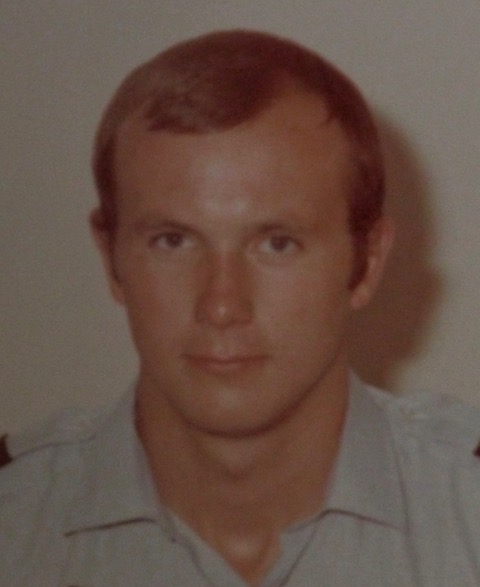 Young P.C. Godfrey Davies
GODFREY AND HIS 'BOOZY' BARGE -
Following up on the comments from Phil Taylor, Derek has written back to say that seeing his article published on our website had brought back a flood of memories. The mention of St. David's reminded him in particular of his close friend Godfrey Davis who served in the Dufed Police in Wales prior to joining the Bermuda Police in June 1976.
Godfrey was first posted to Central Division (Hamilton) and later to Operations (Traffic) and he also worked in the summer as an Outward Bound instructor at Paget Island as did Derek.
Derek relates how Godfrey "bought an old "houseboat" although it was more like a converted barge that had seen better days that was moored in St David's. He and I spent some time making it seaworthy and added a small outdoor grill on the back… very swanky!
"Goddy lived on that for a couple of years, and actually had it towed all the way to Somerset and moored it in a secluded bay there. We would buy some rolls, onions and frozen "minute" steaks to cook out on many an evening after snorkeling or catching lobsters. With a case of Heineken from the Police club we lived like kings!
Great times indeed!
EDITORS NOTE - Derek hasn't seen much of Godfrey recently but will try to contact him to let him know about the article and enquire how he's doing these days.