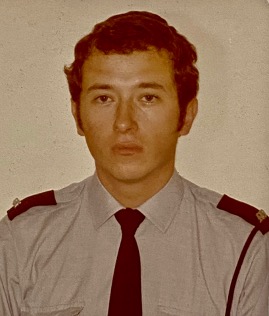 Young P.C. Roger Beschizza
Roger Beschizza joined the Bermuda Police on 26th March 1974, having previously served in the Sussex Police, first as a Cadet from 1968-1969, then as a constable from 1970-1974.
As a recruit with previous police experience Roger attended a Localisation Course on arrival in Bermuda along with a group of other UK recruits with previous police training, including Paul Eurell, Bob Mitchell, Charlie Dorrington, John Riordan, George Swanborough, John Wild, and Peter Walgate.
Following his localisation course Roger was posted to Central Division at Hamilton Police Station where he served for just over a year after which time he was transferred to Operations, Traffic Department, until he resigned from the Force in May 1979.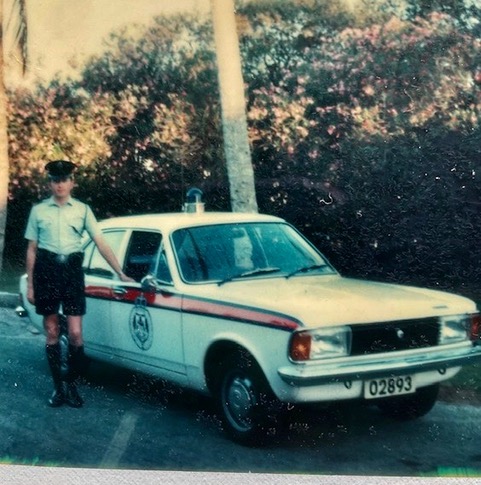 Roger Beschizza with his Ford Cortina patrol car
Roger has been in touch with us recently and has sent us the following information about his time in Bermuda and what he did after returning to the UK in 1979:-
"Being born in Surrey on the 5th of October 1951, I seem to have acquired some vintage! I have been fortunate enough to work in several countries around the worldand many parts of the United Kingdom. Without doubt one of the most pleasurable episodes of my life was spent in the Bermuda police service.
I was there for 5 years returning to the UK in 1979 in the mistaken belief that my Mother and two sisters could not manage without me – absolutely and completely wrong!
Anyway, misjudged familial loyalty aside I learnt following my sister's death last year that my niece has discovered a treasure trove of Bermudian memorabilia that either I had sent home to my mother or she collected in one of her two trips to the island. It is obvious that Mum was very proud of her only son, being in uniform, in the police and in an exotic location. That is very pleasing to me.
As for exploits whilst in the BPS I'm afraid memory defeats me – in the main. One episode I [partly] recall was a night shift in traffic with one Sgt. Sherratt. You may know him. Roger was driving and I was pretending to observe. We got in behind a young chap riding a rental moped [red plate] which although not impossible seemed unlikely. (Editors note - rental mopeds with red plates were almost exclusively used by visitors/tourists.)
We decided to have a word and after a brief flash of blue light it was clear this young gentleman was in no mood for idle chat! He took off like the proverbial and turned into a built up area that not only was in pitch darkness the roads where a bit narrow for a traffic car in hot pursuit.
A quick discussion ensued that required me to chase on foot the said high speed moped rider whilst Roger would whizz round the other side of the complex and cut him off at the pass. After a very short distance the moped was dumped and the rider disappeared into the night. There were no lights – it was pitch black.
Although young, fit and reasonably healthy I decided, based on the fact that I could hear Roger progressing in an enthusiastic manner to some point in front of us, and assuming that the disappearing rider could as well, that I would stop running and wait for the youngster to backtrack. I would then simply pounce from the shadows and effect an arrest.
That all went very well until I could see the quarry about 30 feet away and indeed backtracking. My enthusiasm overcame me, well I was in my early 20's, and my emergence from the shadows was detected by the object of pursuit and he took off again. Just as I was thinking about how to explain this to the Skipper, we came to the edge of the complex where the traffic car came into sight and the chased and the chaser both ran into it! Arrest was made, congratulations on my high speed planning and footwork were forthcoming and a jolly tale was related in the PRC.
I think I've got that mostly right, but as they say " Never let the truth get in the way of a good story".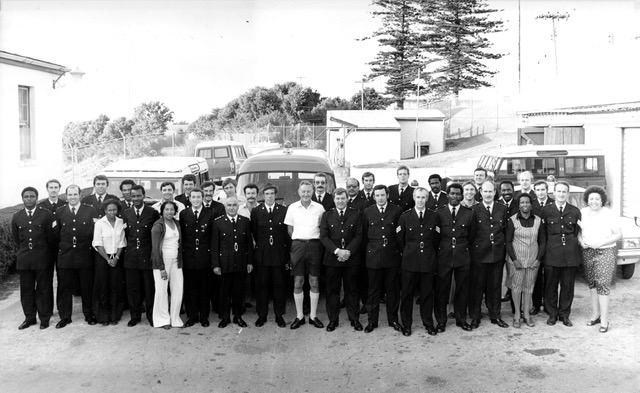 Operations Traffic Division - November 1978

.
Back Row (l-r) Anthony Taylor, Roger Brydon, Hiram Edwards, John Instone, George Rushe,
David O'Meara, John Baxter, Nicky Bolton, Charlie Mooney, Mike Phillips , Barry Higham, Dave Smith,
Laurie Phillips, Peter Walgate, Gordon Farquhuar, Gary Murrell, Frank Wood, Lyndon Lewis.
Front Row (l-r) Dennis Gordon, John Graham, Brenda Lewis, Orson Daisley, Dee Tavares,
Roger Beschizza, Chief Inspector Ernie Moniz, Inspector Robin Henagulph,
Inspector Arthur Rose, Andy Hall, Stephen Peterson, Roger Sherratt,
Archie Husbands, Roger Kendall, Esther Smith, Mike Burke, Carol Royer.
What is absolutely true though is the camaraderie was without any doubt, completely immeasurable. Incidents involving a 10-55 stick in my mind, Andy Hall in Court Street, the parking ticket incident of South Shore Road where a traffic car nearly ended up on its roof and many others. My time in Bermuda no doubt shaped a young copper into a useful member of society, and I will always remember it with great affection.
After 5 wonderful years and leaving Bermuda in May 1979, I had a huge variety of jobs ranging from personnel officer, through driving instructor to finally working for a charity in London.
For that same charity, I moved into direct marketing, and after 13 years moved out of London to Sussex, where I became the head of fundraising for another charity. After six years there I was made redundant and went to work for a telemarketing agency in Belfast although I was working in the south-east of England.
From there, I got headhunted by a marketing agency in Scotland, run by some friends of mine, which was the beginning of a fantastic working relationship.
I was only in Scotland for a short while, when I got the offer of a posting with the same company to the Netherlands, where I became the MD of the country office. The business there had been ruined by my predecessor, and it was always planned that I would recover that business, and then assist in the recruitment of a Dutch replacement, which is what happened.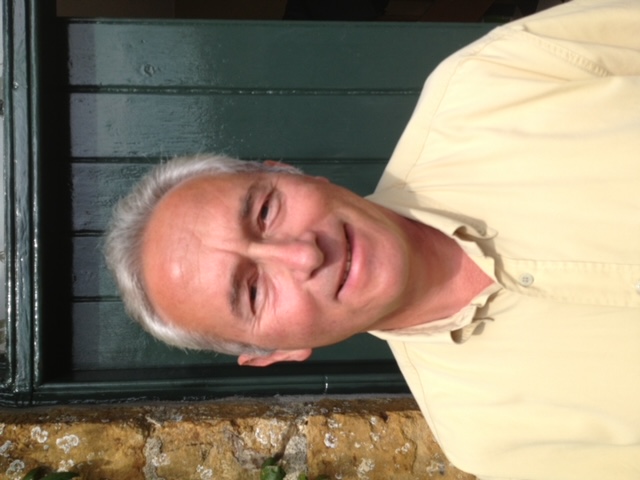 Recent photo of Roger Beschizza
I came back to the UK and started my first pub in the Midlands. After a brush with cancer, I had to give that up and after about six months recovery started the second pub this time in Somerset. This was enormous fun, but I am very glad I'm not doing it now. That business was sold to the chef and I moved to Dorset with my partner of nearly 33 years which is where we now live in glorious isolation on a farm with our latest dog, Lexi."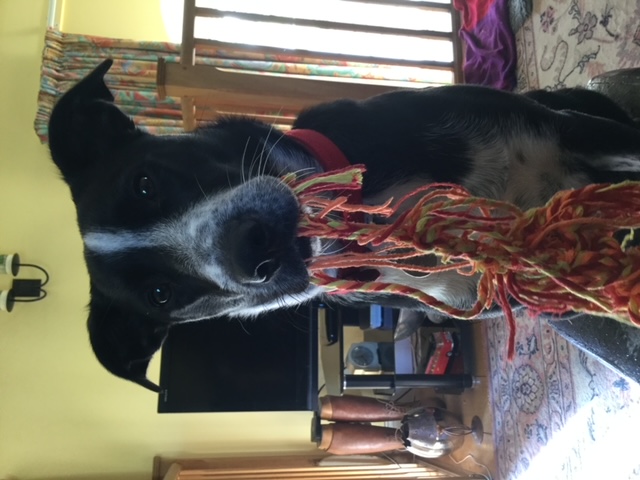 Lexi
EDITORS NOTE - Roger Beschizza recently made contact with us when he made a comment under an article we had published on our ExPo Facebook page . I believe we had not had any contact with Roger since leaving Bermuda in 1979, well over 40 years ago. I then wrote and asked him to let us have an update on where he is and what's he's doing these days, and he kindly sent us the above information. One of the main aims of our ExPo website is to maintain contact with our former colleagues so we were delighted to hear from Roger after all these years. There are many more of our colleagues about whom we have heard nothing since they left the Island. If this applies to you, please do not hestitate to get in touch with us through our website at info@expobermuda.com