This evening (29th April) BERNEWS broadcast what must be considered very good news when Premier Burt announced a relaxation of the State of Emergency regulations which are due to expire at 6am on Saturday 2nd May, and outlined a "phased return" to normal life although he made it clear that it was not possible to impose a timeline for the four phases he outlined as shown in this graphic:-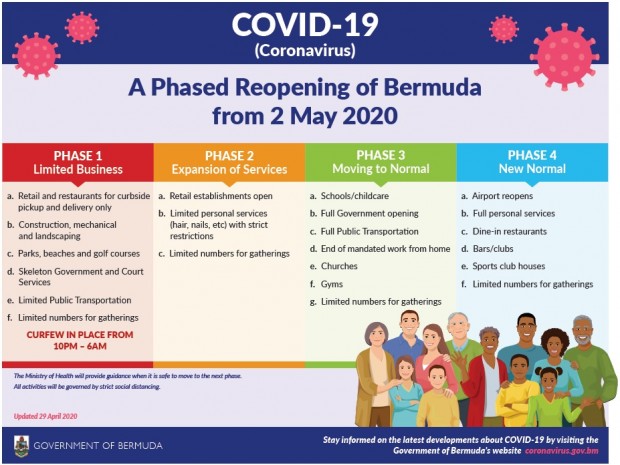 Prior to the press briefing Premier Burt had tweeted the following summary of Bermuda's latest Covid-19 statistics as reported by BERNEWS.
Update: Premier David Burt tweeted, "We have received 636 more Covid-19 test results. 1 was positive and 635 results were negative. Total confirmed cases in Bermuda is now 111
"48 persons are now fully recovered and 14 persons are hospitalized.Thankfully there have been no more deaths, and total deceased is 6. The average age of all our confirmed positive cases is 59. The age range of all of our positive cases is from 18 to 95 years and the median age is 62 years.
"The age range of persons hospitalized is 57 to 91 years.The average age is 75 and the median age is 76 years. Preliminary racial data shows that 52% of COVID19 cases have been Black, 39% were White, and 9% were unknown. This reflect's Bermuda's demographics. "
"Shelter in Place will end on Saturday at 6am, after which we will implement a phased approach to reopening our economy."
CLICK HERE for the full BERNEWS report and video of the Premier's press briefing.
CLICK HERE for the Premiers's presentation as reported in the Royal Gazette.