Retirement of Deputy Commissioner Mike Jackman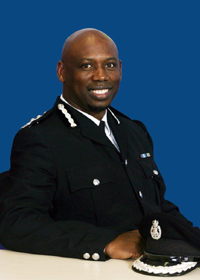 DCOP Mike Jackman
Deputy Commissioner Mike Jackman retired from the Bermuda Police Service on Saturday 15th March 2014, after serving with distinction for over 32 years. Details of his retirement were published in the Royal Gazette (CLICK HERE), on Bernews (CLICK HERE) and in the Bermuda Sun (CLICK HERE).
We have taken the liberty of copying his resume (see below) from the official Bermuda Police website which covers his police career in detail but does not mention that Mike has always been a very active and competitive sportsman, especially as an outstanding bowler with the Police cricket team.
The BPS held an excellent farewell dinner in Mike's honour at the Southampton Princess last Saturday, which was very well attended by over 300 guests including members of Mike's family from Barbados.
We should add that it was entirely Mike's decision to retire now. He is in excellent health and plans to return to his homeland, Barbados, but will no doubt be returning to Bermuda to spend time with family and friends. He will also no doubt be focusing his sporting talents on improving his golf game.
Mike has always been very supportive of the Bermuda Ex-Police Officers Association, and on behalf of our Association we wish him a long, happy and healthy retirement.
Deputy Commissioner Mike Jackman OTM BSc (Hons) FCMI
Deputy Police Commissioner Mike Jackman arrived from Barbados in 1982 and commenced his initial training. He has worked in many areas of policing including all three police stations; he has been posted in the Traffic department, Community & Juvenile Services, and the Central & Western Parish Constable Units and also chaired the Bermuda Police Association from 1996-1999.
In 1995, he was promoted to Sergeant and to Inspector in 2001 where he headed the Research, Development & Innovation Unit and had the opportunity of working with the Commissioner on a number of projects including the Service's Strategic Plan 2002 - 2004. He was promoted to Chief Inspector in 2004 and was posted as the head of the Recruiting & Training Department with responsibility for the co-ordination and training of staff across the Service as well as the Cadet and Junior Cadet programs.
In April 2005, he attended the Volunteer Visitor Program sponsored by the U. S. Department of State, visiting various youth organizations across the USA.
In May 2006, Deputy Commissioner Jackman was promoted to Superintendent and was posted as head of the Narcotics Division where he oversaw the investigation of offences involving controlled drugs. In this role, he worked closely with counterparts in the Caribbean and USA. In February 2007 Mr. Jackman was posted as the Divisional Commander for the Community Policing Division with responsibility for police stations island-wide.
In October 2008, Deputy Commissioner Jackman was promoted to Assistant Commissioner where he continued to oversee the implementation of Problem Orientated Policing and Partnerships (POPP) the Service's community policing operational framework.
On his promotion, Deputy Commissioner Jackman undertook responsibility for Finance, Human Resource and Information Management Services Departments, as well as the Professional Conduct Department where he is the Service's Discipline Officer. In this role, he works closely with the Police Complaints Authority to address issues of discipline and complaints by the public against police.
Deputy Commissioner Jackman holds a Bachelor of Science Degree in Policing & Police Studies from the University of Portsmouth. He has attended various training programs and conferences and completed the International Strategic Leadership Program at the National Police Improvement Agency (NPIA), Police Staff College, Bramshill in the United Kingdom. During this extensive training, Deputy Commissioner Jackman attended various policing agencies such as Interpol and the United Nations Office for Drugs & Crime (UNODC) as well as a number of Police Services in the UK including in Scotland and Northern Ireland. He is a Fellow of the Chartered Management Institute and is the holder of an Executive Diploma in Strategic Management.
In addition, Deputy Commissioner Jackman was awarded the Overseas Territories Police Medal (formerly the Colonial Police Medal) for Meritorious Service in June 2012.