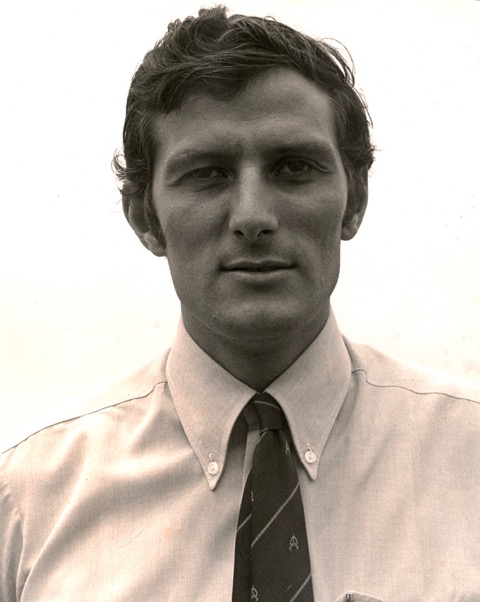 RETIRED DETECTIVE SUPT. GEORGE ROSE
This article about the lengthy but successful investigation into the murder of Mrs Jean Burrows in 1971 by Paul Belvin has been written by retired Superintendent George Rose who was directly involved in the investigation. It includes aspects of the inquiry never before revealed.
_______________________________________________________
At about 4.30 a.m. on Saturday 3rd July 1971 the lifeless body of a 24-years old English wife and mother was found floating face-up and partially clad in shallow waters along the water's edge of the Hamilton Inner Harbour, several hundred yards from nearby Pomander Gate where she lived with her husband and small son. The discovery was made shortly after daybreak by two friends of the deceased Jean Mary Burrows, who were searching the area after she had failed to arrive home after eating and socializing during the previous evening with her husband and the same friends at a nearby restaurant in Hamilton. One of the friends immediately fetched Police Constables 263 Malcolm M. Irvine and 322 Robert W. Allan whom he had seen earlier that morning at the nearby hospital and they attended accompanied by a doctor who certified the woman was dead but he made no examination of the body. C.I.D. and Scenes of Crime Officers (SOCO) including Detective Superintendent Hammond attended and photographs were taken 'in situ' before the body was removed from the water. It later transpired that Burrows had been brutally assaulted, raped then drowned.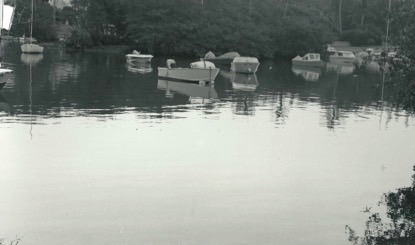 PHOTO OF AREA WHERE BODY WAS FOUND IN
THE WATERS OF HAMILTON INNER HARBOUR
Various articles of her property were found scattered about the wide crime scene between distances of up to some 50 yards from where the body was discovered in the lonely Paget beauty spot.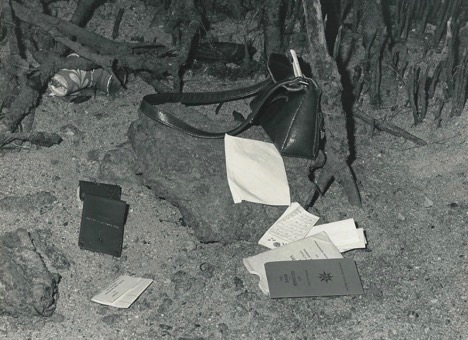 SHOULDER BAG AND ASSORTED CONTENTS PROPERTY OF JEAN BURROWS
AS FOUND IN THE MANGROVES ADJACENT TO POMANDER ROAD, PAGET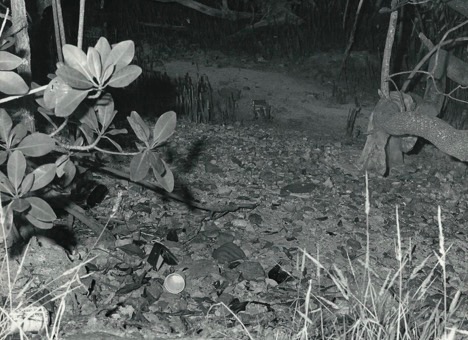 WALLET, PROPERTY OF JEAN BURROWS AS FOUND IN MANGROVES
During the following days sixty-six men and women of the Police service, in all parts of the island, were engaged in one of their biggest-ever manhunts in the search for the man who waylaid the slim, attractive brunette – a former reporter for the local Royal Gazette newspaper. These were 16 hour days requiring physical stamina and a strong tenacity of purpose; sometimes a month went by without a proper rest day and it interfered with your social life for sure but as the boss would remind you - 'if you don't like it I can find a uniform for you.'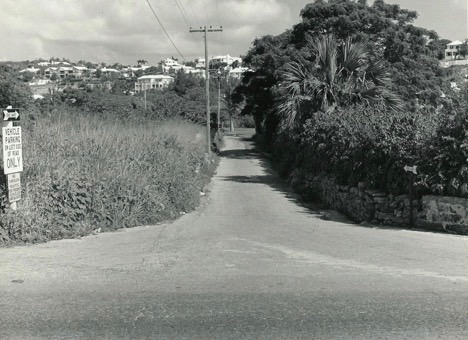 ENTRANCE TO POMANDER ROAD, PAGET (July 1971)
ABERFELDY NURSERY NOW OCCUPIES THE OVERGROWN PROPERTY ON THE LEFT
The 'Action Book' [no computerized assistance in those days] blossomed in the first week into hundreds of enquiries to be run to ground. One such action assigned to my team was to locate and identify all foreign vessels then in local waters and to then interview their crews before they departed. All exit routes by way of airports and shipping ports were placed under close scrutiny. As I recall there were about 20 such yachts moving about the local waters but a priority enquiry centered on four crew members [three males and one female] off the motor-yacht "Mistress" known to have been berthed at the Royal Hamilton Amateur Dinghy Club [on Pomander Road] at the material time of the murder. It was quickly ascertained that the "Mistress" had left Bermuda waters at daybreak on the morning of the murder.
The 'Action Book' [no computerized assistance in those days] blossomed in the first week into hundreds of enquiries to be run to ground. One such action assigned to my team was to locate and identify all foreign vessels then in local waters and to then interview their crews before they departed. All exit routes by way of airports and shipping ports were placed under close scrutiny. As I recall there were about 20 such yachts moving about the local waters but a priority enquiry centered on four crew members [three males and one female] off the motor-yacht "Mistress" known to have been berthed at the Royal Hamilton Amateur Dinghy Club [on Pomander Road] at the material time of the murder. It was quickly ascertained that the "Mistress" had left Bermuda waters at daybreak on the morning of the murder.
Although the Bermuda Government indicated that they were prepared to call in Scotland Yard at this early stage it was a move not yet adopted but was being kept under consideration by Commissioner George Duckett. An autopsy had revealed that the victim had died by drowning after having been viciously raped and struck on the head by the unknown assailant.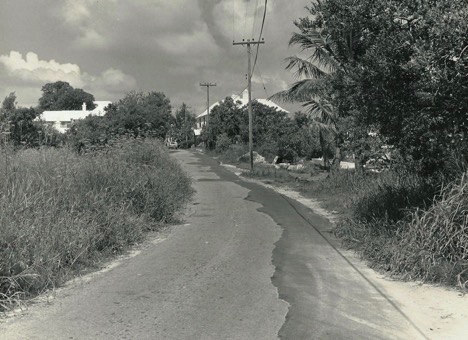 GENERAL VIEW OF POMANDER ROAD CLOSER TO THE SCENE OF THE MURDER
Seven days into the investigation the daily newspaper editorialized in the following terms:
"It is now a week since Jean Burrows was murdered. It has been a week of the most intensive Police investigations, a week in which the force has probed deeply and carefully into all the circumstances surrounding the death.
"The investigation has taken the form of an extremely careful search of the murder scene and its environs, and the interviewing of over 300 people. Numbers of Policemen have been detached from their normal work to probe into the death. At the moment it is not clear whether any leads are developing. One gains the impression that the evidence gained so far is such that it does not reveal a clear pattern, but instead is susceptible to a number of different interpretations. In the circumstances the question is inevitably arising: should Scotland Yard be called in?
"The advantages would be that the Police would gain the assistance of specialists in difficult-to-solve murders, men who spend most of their time on nothing else but seeking murderers. We would also gain the services of two senior men, which might ease burdens on senior Bermuda officers. The disadvantage is primarily one of morale. If the Bermuda Police Service can solve this one it will be a definite boost, that important feeling of having overcome major difficulties. But in fact, if Scotland Yard is called in it would not really be an admission of defeat by the Police. Rather it would be like a general practitioner calling in a specialist – for, happily, our Police have not had to deal with many murders, have had very few difficult murders to handle, and have not had to develop murder specialists. No one can deny the energy or care which has gone into the investigation so far, and should Scotland Yard be called in they will undoubtedly find the groundwork completely done. A tremendous effort is being made to solve the crime; it would not denigrate the Bermuda Police in any way to seek outside specialists."
A week after the discovery of Jean's body, the Chief Secretary's Office stated that "If at any stage the services of Scotland Yard would appear to be in any way helpful in the conduct of the investigation, there would be no hesitation in calling them in, but it is not considered that there is any need to do so at this stage."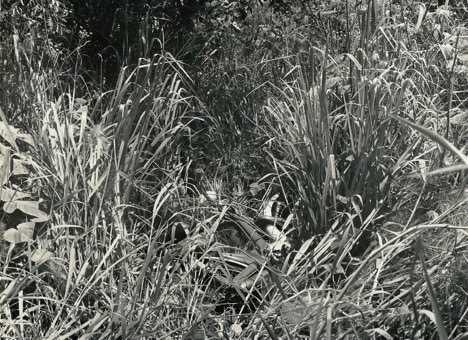 HONDA MOTOR CYCLE LYING IN TALL GRASS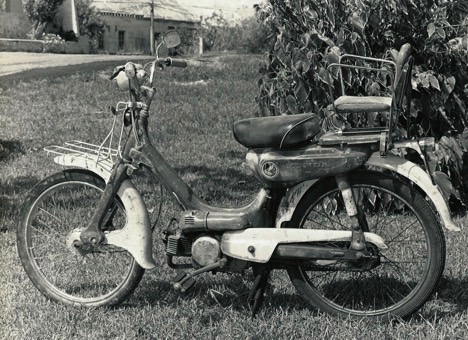 HONDA MOTOR CYCLE A437 PROPERTY OF JEAN BURROWS
Investigations concerning the crew of the motor-yacht "Mistress" proceeded apace and the murder probe moved overseas to Nassau County, New York. It was disclosed to the public that no positive lead had yet been established in the rape-murder and that – "two Bermuda Police officers had been to New York last week to 'follow a particular line of enquiry' into the circumstances surrounding Mrs. Burrows' death. Detective Chief Inspector John Sheehy and Detective Sergeant George Rose are now back in the Colony, and their report has been submitted to Commissioner of Police Mr. George Duckett, and to Superintendent Frank Hammond of the Criminal Investigation Department, who is in charge of the investigation."
Working primarily with and through the resources of Detective Frank Fehn of the Homicide Squad, Nassau County, Mineola, New York State the subjects of our enquiry were located and interviewed as follows:
The first of the male crew to be located and interviewed on Wednesday 14th July was an 18 year old dock builder by the name of John S. who was already known to the Nassau County police as a drug peddler and who was then on bail for serious drug offences. As we approached him at his worksite on the dock at the Manhasset Bay Marina I saw Detective Frank Fehn open his jacket and release his gun holster safety-strap. Detective Fehn introduced himself and asked this person of interest to accompany him to the nearby Port Washington Police Section House in order that he might assist police officers from Bermuda in the investigation of a homicide in Bermuda. John S. replied, "Sure, I hope it's not going to take too long." At about 3.30 p.m. at the Section House he was acquainted with certain facts relating to the Burrows murder.
Under questioning, John S. was slow in remembering his movements during the whole time he was in Bermuda. His mind was sluggish and it appeared he was of below average intelligence. It was made clear to him that he would derive some benefit on his pending narcotics charge if he truthfully told all he knew and could remember in detail of his actions whilst in Bermuda. He was further interviewed by Detective Fehn after which I commenced a written statement from John S. in which he slowly recalled the timeline of his movements in Bermuda during his stay. He admitted having been in the Pomander Road area during the hour of 1.0 a.m. on the morning of the murder and he also mentioned that prior to his returning to the "Mistress" that morning he had met and spent time with an old friend named Paul from Fairylands, in Bermuda. John S. said he left Paul's house about 1.0 a.m. and made his way back to the "Mistress". On the way back, he said, he met Thomas P. another member of the crew but continued on his way to the "Mistress". We made immediate communications with the Bermuda murder room and detectives there located and interviewed Paul in an effort to establish the authenticity of his friend's movements in Bermuda at the material times.
Meanwhile, it was decided that John S. should undergo an expensively operated Polygraph test which would help to evaluate and determine whether or not he was lying about substantive points in his statements. Together with DCI Sheehy, Detective Fehn and others, I monitored the test for the next 2½ hours from behind a two-way mirror in an adjacent room wherein John S. was voluntarily subjected to the test conducted by Detective Sergeant Edward Goutink and Detective Kenneth Krassner of the Scientific Investigation Bureau. The test results rendered John S. to be a mentally confused individual. He was brought to a point during the interrogation process where he would have clearly admitted raping Jean Burrows, or being in any way concerned with the assault on her. The test was finalized at 11.05 p.m. Shortly thereafter, telephonic communications from Bermuda suggested that John S. was lying in his comments about having left Paul's house in Bermuda and returning the "Mistress" at about 1.0 a.m. on the Saturday morning of the murder.
Paul had told Police in Bermuda that his friend John S. had stayed the whole night of Friday to Saturday at his house in Fairylands. At 11.35 p.m. this important point was put to John S. who earnestly denied Paul's assertion. John S. was believed in his strong denial and further communications during the midnight hours with detectives in Bermuda revealed that Paul was, in fact, mistaken in his earlier claims that John S. had stayed the night with him.
John S. stood 6' 6" tall, of slim build wearing medium-brown hair extending below his ears. He was clean shaven and wore a size 13 shoe. He was a drug user and he looked it. He was clearly in both mental and physical decay. He was not an intelligent youth and he responded best to a sympathetic approach. It is certain that he was in the area of Pomander Road at or near the time of the Burrows murder but he steadfastly denied hearing or seeing anything of relevance. He was subjected to immense psychological pressure during interrogation and it was felt by the detectives that he would have confessed his part had he have been in any way involved in the crime. Together with his photograph, samples of his spittle and shoulder length hair were obtained for comparison purposes [these were the days before DNA sequencing of course] and shortly before 1.0 a.m. on the 15th July John S. departed Police company – for now.
At 10.0 a.m. that same morning the second of the male crew of the "Mistress", Thomas P., was approached at his residence in Port Washington. He was aged 18 years and occupied as a part-time dock labourer along the waterfront during the summer - and as a student. He had not had communication with John S. overnight. He was affable and in no way appeared nervous by our approach. He had not had any involvement with police officers hitherto. At Nassau County Police Headquarters Thomas P. was thoroughly interviewed concerning his movements during his short stay in Bermuda. Initially, he was vague in remembering detail but as he recounted his past events his memory fixed on times and incidents without hesitation. I finally recorded a statement from him ending at 1.25 p.m. Thomas P. was an intelligent youth who assisted in our enquiries.
It is clear that he left the "Mistress" after midnight (Friday/Saturday) and rode into the city. He recalled meeting John S. along East Broadway and then, he states, – in contravention to what John S. remembered – they both went for a hamburger in Hamilton. They later rode back together to the "Mistress" arriving at the yacht at about 1.0 a.m. having noticed nothing of importance along the way.
Thomas P. agreed to undergo a Polygraph test which commenced at 2.0 p.m. and which concluded at 5.0 p.m. The test was again conducted by Detective Sergeant Ed Goutink and according to him the test results indicated that Thomas P. was concealing something of a personal nature. Goutink emphasized however that he did not believe it was anything to do with the assault on Jean Burrows. Thomas P. stood 5' 8" tall, of good solid build wearing medium to dark brown hair almost touching his shoulders. He wore a size 9½ shoe and confessed to using drugs frequently. He co-operated with our enquiries without hesitation and by his own admission would have been in the area of Pomander Road at the material times. He believed however that he may have ridden his livery cycle the long way round to the Dinghy Club entering Pomander Road the wrong way. (This, he stated, was a habit he had gotten into during his stay). Thomas P. was mentally, more alert than John S. and stated that he neither saw nor heard anything unusual during his journey. As with John S., his photograph, samples of his spittle and long hair were obtained for comparison purposes. He departed Police company at 5.45 p.m.
The third and fourth members of the crew were interviewed the following morning. They were Captain of the "Mistress" Paul K. aged 26 together with his girlfriend Katherine F. aged 28 years. At their home in Port Washington both were co-operative, frank and straightforward in answering our questions and I recorded statements from both giving their movements whilst in Bermuda and recording their impressions of John S. and Thomas P. They were unable to confirm at what time either of the two crewmen returned to the "Mistress" on the Saturday morning or whether or not they arrived at the yacht alone or together. Paul K. stood 5' 11" tall, of heavy, stocky build. He wore a full beard and fair hair over the ears. His recollection of events was accepted by investigating officers and there was nothing to suggest that he was any nearer the scene of the crime early on that Saturday morning than being on board the "Mistress" with his girlfriend. He was able to say that he noticed nothing out of the ordinary concerning his crew members John S. or Thomas P. at any time during or after departure from Bermuda at daybreak on Saturday.
Katherine F. confirmed that both crewmembers John S. and Thomas P. were asleep in their bunks at between 6.0 a.m. and 7.0 a.m. on Saturday morning from whichen they arose prior to departure.
Later the same day John S. was re-interviewed regarding his having omitted to mention he had eaten a hamburger with Thomas P. during the early hours of that Saturday morning. When the matter was put to him, he immediately recalled having done so.
DCI Sheehy and I returned to the island from New York on Friday16th July having completed our enquiries.
The following weekend the public was informed that on July 18th Detective Constable Ron Wallace had flown to London to deliver exhibits in the case to Scotland Yard for further analysis in their forensic laboratory. Some ten days later it was announced that two Scotland Yard detectives were due in Bermuda to help local Police solve the Jean Burrows case. Police Commissioner Mr. George Duckett announced that Scotland Yard had been asked to assist in the inquiry. He named the two Scotland Yard officers as Detective Chief Superintendent Bill Wright, and Detective Sergeant Basil Haddrell. The Commissioner said that hundreds of people had been interviewed and appeals had gone out for anyone in the vicinity of Pomander Road at the time of the crime to come forward. He confirmed that Detective Chief Inspector John Sheehy and Detective Sergeant George Rose had made a trip to New York the previous week to pursue one line of inquiry in the case.
The last time that the Scotland Yard Murder Squad had been called in to help solve a local murder was in 1959 when an English secretary, Barbara Rawlinson, was found dead in the sea off the South Shore after disappearing from a private beach. Wendell Willis Lightbourne, who was convicted of the murder, was sent to England to serve a life term in a British security prison.
On 4th August Detective Chief Superintendent Bill Wright of New Scotland Yard's Murder Squad said at a press conference that 'Mrs. Jean Burrows had lost a lot of blood from a head wound before she went into the water'. "That is my opinion at the moment," he said. He felt it was a "baffling case," admitting he would be a lot happier "if we knew where and how the murder occurred." He explained to newsmen: "What we are doing is re-opening the case right from the beginning. This is the only way we can get down to it. We have to study all the documentation and hard work already put into this case, which takes a long time. "It is important to keep the matter fresh in the minds of people, just in case people in the area have not come forward."
Mr. Wright agreed that many people were constantly leaving the Colony – tourists, yachtsmen and crews of ships. He knew the press was aware that inquiries had extended to New York. Asked where else, he replied London and Las Palmas in the Canary Islands. "We are always making some progress," said the Detective Chief Superintendent, "But if you mean have we got a suspect in mind the answer is no, not yet."
He concluded by informing the press that a "murder squad office" had been set up at Police headquarters, Prospect.
In late August 1971, a neighbor and landlady of the deceased living on Pomander Road reported that one of her cheques had been forged and uttered at the Princess Hotel on 30th August 1971. A local man by the name of Paul Belvin was raised as a suspect. Belvin was detained for the cheque offence by Detective Constable Raymond Souza and was later interviewed by D/Supt Bill Wright and D/Chief Inspector Sheehy on the morning of Thursday 2nd September. From the outset, it was apparent that Belvin was familiar with certain aspects of the murder. When asked how he thought the murder had happened, he went on to relate how she had been strangled. During this interview, he was putting forward his own theory as to how the murder had occurred.
Later that morning, Belvin accompanied D/Supt Wright and DCI Sheehy to Pomander Road where he was asked to demonstrate what he thought had occurred. For the purposes of this demonstration, Police Constable 298 Andrew Lavery rode a Honda auxiliary cycle down Pomander Road in the direction the deceased is believed to have travelled. Belvin had positioned himself between two palm trees and, as the cycle came round the bend he stepped out in front of it, causing the rider to stop. He said to the rider, "Lady, have you a light please?"
He then made an imaginary blow to the back of the rider's neck, followed by an imaginary punch to the face. The rider fell backwards on to a low rock wall. Belvin then went on to describe and to demonstrate in detail what and how he would have dealt with the deceased and her property thereafter including where he would have hidden her cycle; and how he would have left the scene and changed his clothes before burning them on Elbow Beach. He said that he would then have spent the rest of the night at Lower Ferry or Hodson's Ferry where he unscrewed the lightbulb and went to sleep. [Belvin later identified Lower Ferry to police as having been his lodgings for the night].
During the early afternoon Belvin was re-interviewed and eventually elected to make a written voluntary statement under caution in which he admitted killing Jean Burrows. Belvin's statement disclosed some 20 points which could only have been known to the person responsible for the offence. When police charged and cautioned him Belvin said: "I am kind of sorry that I didn't know what I was doing. I didn't intend to kill her. All I wanted was to have sex." The next day, 27-year old Paul Augustus Belvin appeared before a packed court charged with the murder of Jean Burrows. During remand appearances thereafter it was said that a total of 34 witnesses, including 21 policemen, will be called to give evidence in the trial which was to begin on January 17th. It was also reported that Belvin had been one of 10 key finders in the annual ZBM Treasure Hunt in 1969.
On the third day of the trial before a hushed Supreme Court, the Crown called the British Home Office's top pathologist Professor Keith Simpson as a surprise witness in the trial. Also on that day, another of the expert witnesses for the Crown, Richard Stedman, a senior scientific officer at the London Metropolitan Laboratory, was accused by defense lawyer, Mr. Charles Vaucrosson, of giving misleading and prejudiced evidence. Mr. Vaucrosson's allegation came in cross-examination on technical evidence Stedman gave about samples sent to the laboratory for analysis. Mr. Vaucrosson said that because only some items of clothing had been examined, the evidence was biased. Mr. Vaucrosson later apologized for what he called his outburst and Stedman asked leave to speak. "Before lunch I was accused of giving biased evidence," he said. "I would just like to say that this is more than my job is worth. We are very jealous of our reputation in the forensic service." Puisne Judge, the Hon. Mr. Justice Barcilon, said that no blame could be attached to the witness. "He only examines the articles sent to him, and gave the findings on them," he said.
I was the 32nd and final witness for the prosecution. I told the jury that on Friday 3rd September 1971 I was at Hamilton Police Station in company with Belvin's [stepfather] and his [stepbrother]. I told the jury that acting on a request from his [stepfather] I caused Belvin to be brought by Constable 291 Alistair Reid to the Parade Room. I read from my original notes an account of a conversation between the accused, his [stepfather] and his [stepbrother] which then occurred between 9.43 a.m. and 9.50 a.m. The gist of this conversation was that Belvin said he did not remember what happened on the night of July 2/3, 1971. Constable 291 Alistair Reid was present throughout and corroborated my evidence. Throughout this conversation nothing whatsoever was said to Belvin by either Constable Reid or by myself. Resulting from what was said by Belvin during this conversation I interviewed two hitherto unknown witnesses and recorded statements from both.
When the defense opened their case, Belvin's lawyer Mr. Charles Vaurcrosson announced, "We have taken instructions from our client, we have informed him of his rights, and he has elected to make a statement from the dock."
"Are you calling any other witnesses?" asked the Puisne Judge. "No," said Mr. Vaucrosson.
"What do you want to say?" the Judge asked the accused.
Belvin replied: "I repeat, not guilty. I must admit the night of the murder I told them I was there, but as far as my knowledge reminds that I was not there the night of the murder. And I still plead not guilty."
"Yes?" said the Judge.
"That's it," said Belvin.
It took the 12-man jury just over an hour to reach their unanimous verdict of "Guilty."
The Court Registrar, Mr. John Barrington-Jones, asked Belvin if there was anything he would like to say why sentence should not be passed on him.
"I am not guilty," came the clear, steady voice from the dock.
Mr. Barcilon, after a slight pause, looked at Belvin and said: "The sentence of this court is that you should suffer death."
On appeal Belvin's death sentence was later commuted to one of life imprisonment.
Prior to leaving Bermuda Scotland Yard officers Detective Chief Superintendent Bill Wright and Detective Sergeant Basil Haddrell thanked everyone who had co-operated in the murder investigation.
Said Mr. Wright, "In particular, I very much appreciated the efforts of the local Police. I think Bermuda has a well-organized and most efficient Police Force, and my colleague and I were very grateful to the Commissioner, Mr. George Duckett, who insured that every aid was available when required.
"I felt that during the inquiry we all worked together as a team, not as individuals."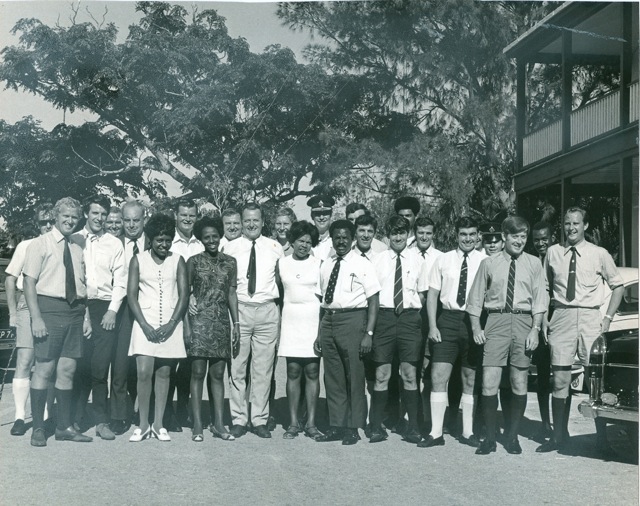 MURDER SQUAD TEAM - SEPTEMBER 1970
(l-r) Dai Thomas, Keith Dunmore, Steve Dunleavy, Stuart Holmes, Frank "Gruff" Hammond, Carol Holdipp,
Joe Colton, Aideen Forde/Fletcher, John Mulholland, Bill Wright from Scotland Yard, Gwylan Willams,
Verbina Daniels COP George Duckett, Lenny Edwards, (hidden face ?), Tom Cassin, Ian Ganson, Carlton Adams,
George Rose, Andy Lavery, Ralph Saints?, Norrie Galbraith, Orson Daisley, and Basil Haddrell from Scotland Yard.
This group photo shows the CID team who investigated the sexual assault and murder of Royal Gazette reporter Jean Burrows during the early hours of Saturday 3rd July 1971. Her naked body was found in the waters adjacent to Pomander Road, Paget. This photo consisting of most of the murder team members was taken at Police Headquarters on or about Monday 6th September 1971 shortly after Paul Belvin had been formally charged and remanded in custody for the murder. The team was still together at this point before being dismantled as was customary leaving a skeleton crew to mop up and prepare the court files.
The photo was featured in our 'Who When and Where' column which can be viewed at http://expobermuda.com/index.php/who-when-where/103-murdersquad1971
MURDER MANHUNT
The Royal Gazette Monday July 5 1971
Police net tightens in search for Pomander killer
Autopsy reveals: Murder victim died by drowning
GOVT. PREPARED TO CALL IN SCOTLAND YARD IN POMANDER ROAD MURDER
EDITORIAL: SCOTLAND YARD?
Police tell of earlier Pomander attack
The Royal Gazette Saturday July 10 1971
MURDER PROBE MOVES OVERSEAS
JEAN BURROWS: YARD CALLED IN
The Royal Gazette Tuesday July 27, 1971
JEAN BURROWS LOST A LOT OF BLOOD
The Royal Gazette 4 August 1971
ARREST IN BURROWS MURDER
Name of man secret until court charge scheduled for today
Mid Ocean News Friday 3 September 1971
PEMBROKE MAN IS CHARGED WITH MURDERING JEAN BURROWS
Mid Ocean News Saturday 4 September 1971
PACKED COURT AS BURROWS MURDER CHARGE MAN APPEARS
Outside the Court
HOW PAUL BELVIN FOUND ZBM TREASURE HUNT KEY
34 WITNESSES IN MURDER TRIAL
HUSHED SUPREME COURT AS MURDER TRIAL OPENS
The Royal Gazette 18 January 1972
Crown call surprise witness
Lawyer clashes with witness: then apologizes for 'outburst'
CONFESSION TO MURDER IN ALLEGED STATEMENT TO POLICE
The Royal Gazette 25 January 1972
I REPEAT, NOT GUILTY - BELVIN
The Royal Gazette 26 January 1972
BELVIN SENTENCED TO DEATH
The Royal Gazette 27 January 1972
SCOTLAND YARD DETECTIVES FLY HOME, PRAISE LOCAL POLICE
25th June 2017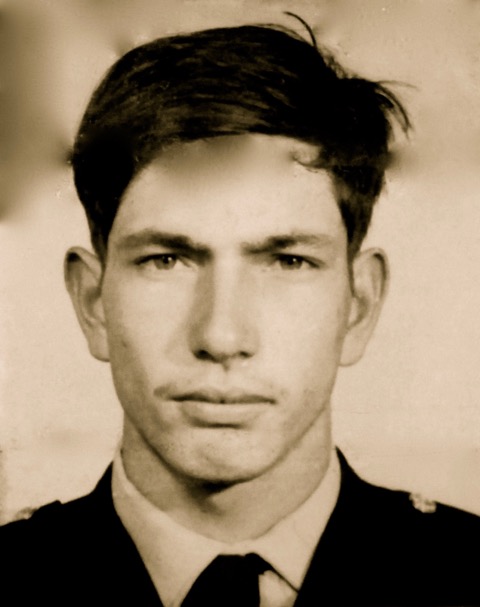 Young Constable Ray Sousa
Editors note - We just received this very interesting and informative email from Ray Sousa in Australia who describes his personal involvement in the arrest of Paul Belvin and his prior knowledge of Belvin from their school days.
Ray has an excellent memory and had a fascinating career in the Bermuda Police before he and his wife Pat decided to emigrate to Australia in 1974. Ray kindly wrote about his reminiscences in our "Then and Now" column which you can read at http://expobermuda.com/index.php/tan/40-rsousa
_____________________________
This is another interesting article from George Rose. I was going to add at the bottom of it, "Excellent story. A lot of hard work to eliminate suspects and get Belvin's conviction. There are many stories, within this story. "
For your information the following is my part of the story.
Although I would not admit it at the time, the nature of the offence and photographic evidence I saw had a big impact on me. Like many horrific incidents I have dealt with in life, the images at times come back to haunt me.
I went to school with Paul Belvin. To say he was not the brightest kid in school, and had problems would be an understatement. During the investigation a number of Bermudians who were spoken to were distressed, because they believed they were considered to be murder suspects. There was a concern/feeling they could wrongly be accused of the murder. On the day of Paul's arrest I was off duty in Hamilton. As I often did I had a close look at ships docked there. I found it useful to observe known drug users/dealers who spoke to crew and passengers of ships. Such information at times led to arrests.
To my surprise I saw Paul hanging around the crew's gangplank entrance to a ship. No security was in sight. When I approach Paul he said, " Hello Cosmo [my school nickname] I was just having a look. Have you come to talk to me about that murdered woman?" or words to that effect. I told him no I just wanted to talk to him about some cheques he had.
I officially arrested and cautioned him, then asked him to come to my car so I could take him to the station. He indicated that he knew Police were looking for him and in fact had spoken to him without recognizing him.
Even during the short walk to my car Paul could not stop talking about the murder. I knew that Paul was a bit anti-English and I played on this, telling him I was not interested in the murder of an English woman. This made him talk even more about the murder. He had an alibi, which I knew was not true, and knew things about the murder that the public and I did not know. Due to his talkative mood, [each time he opened his mouth he gave more information] I drove him to Hamilton Station, via Foot of the Lane and back. Even at the station he wanted to continue to talk despite repeated reminders of the caution. At the station I phoned the Murder Squad saying I had arrested Paul and had no doubt of his guilt. I remained at the station until other detectives came to speak to Paul.
I made notes of my conversation and was later grilled by Supt. Hammond to confirm what was said. I have no doubt this information was used in the follow up investigation, and I presented them during the court case.
Much to my surprise and dismay I received a lot of fall out over the arrest, from:-
Some members of the Murder Team who felt that I had interfered in the investigation. They felt I should not have spoken to Paul at length. Paul did all the talking, and if he was giving evidence against himself, why stop him? I appreciate how some of these officers felt after all their hard work with limited results. The same thing has happened to me when someone else had made an arrest after my long hours of work;

Some Officers who felt I was treating Paul as a good friend, rather than a brutal animal they believed he was. First of all if you want cooperation/evidence it is important to get the person's confidence by treating them with respect. Besides I try not to hate people, even those who have come close to killing me;

Some locals, including good friends who felt that I helped frame Paul for the murder. Some of these people still believe that today. In all fairness this is not the feedback I got from Paul's family who I highly respect.
From my dealings with Paul Belvin, some of the things he did later, even after the arrest and conviction, and the excellent enquiries made to eliminate other suspects, I have no doubt Paul was guilty of the murder. Having said that, when you serve in emergency services you have to expect there are some issues/images that will always haunt you. In my case I have over 51 years of "haunts"!
If you think George or anyone else is interested in this perspective feel free to pass it on .