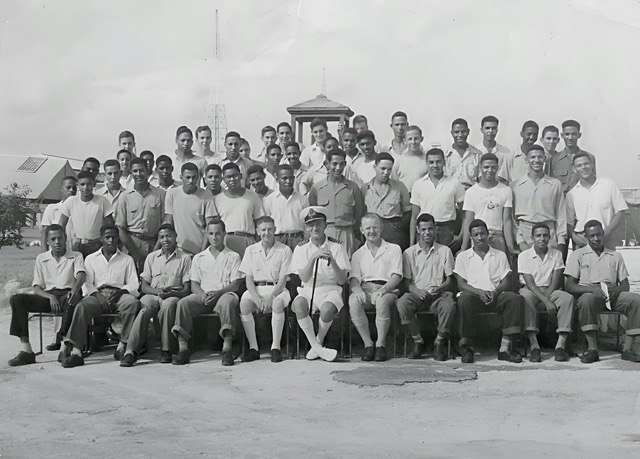 49 young Bermudian Dockyard Apprentices assemble at the Royal Naval Dockyard
prior to sailing to England on MV Georgic on September 9th 1950
(photo courtesy National Museum of Bermuda)
The Royal Gazette (19th July 2023) has just published a fascinating article, "The Dockyard Apprentices" written by Cecille Snaith-Simmons which describes in detail the Royal Naval Dockyard apprenticeship scheme in Bermuda and the opportunity given to a group of 49 young men to continue their apprenticeships in England when the Royal Naval Dockyard closed in 1950.
In her beautifully written article Ms Snaith-Simmons provides background as to how and why the Royal Navy Dockyard set up an apprentice training programme for young Bermudians as follows:-
"In 1944, H.T. Watlington, MCP headed up a select committee of the legislature on overpopulation and emigration. Part of the committee's concern was the welfare of 300 boys and girls leaving school every year at the age of 13. He met with Commander Middleton, headmaster of The Dockyard School, to discuss his concerns. The commander suggested the Naval Authority be asked to arrange a pre-entry course for boys of 13, and that primary schools prepare students to meet the requirements. Additionally, he recommended the British Admiralty open its school in the Dockyard to Bermudians in an apprenticeship programme. This was a successful arrangement until 1950 when the Bermuda Dockyard closed. Preparations were then made for the Bermudian apprentices to complete their education in Portsmouth, England."
On September 9, 1950, 49 teenagers sailed to England on the MV Georgic, which was anchored at Grassy Bay. On that day, the wind was so high people had to walk their bicycles over Watford Bridge. Many described it as a day of mourning, exaggerated by the crowd singing Now Is The Hour When We Should Say Goodbye.
One mother was so distraught, she had to be carried home in a wheelbarrow."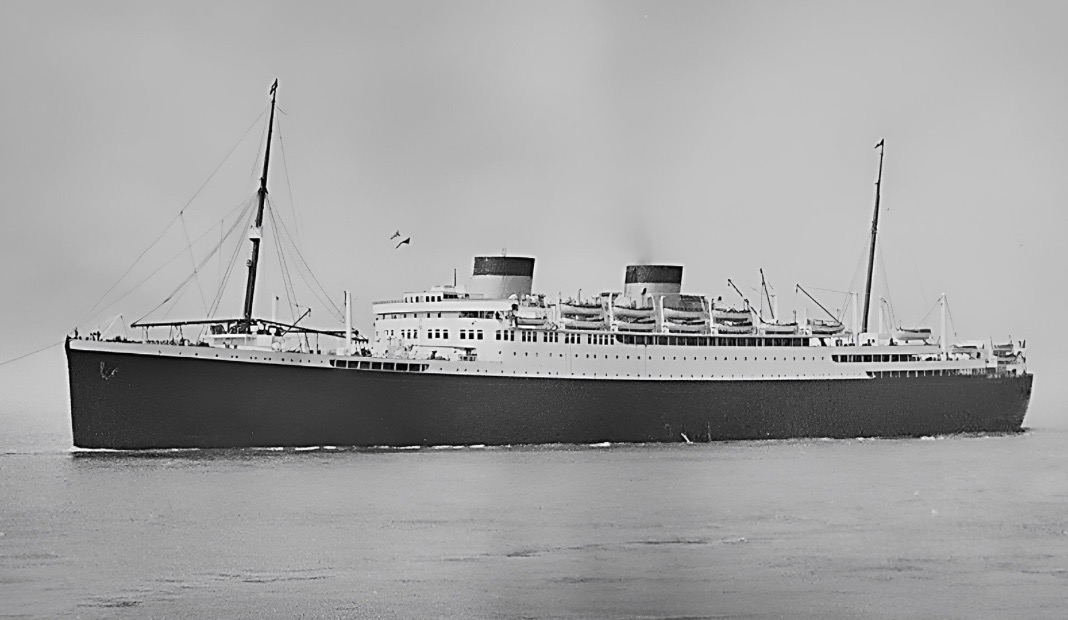 MV Georgic
(photo courtesy National Museum of Bermuda)
Ms. Snaith-Simmons writes in detail about the group of 49 teenage Bermudians who set sail for England on the MV Georgic to continue their apprenticeships in Portsmouth. Two of these young men will be familiar to those of us who served in the Bermuda Police during the 1960's – 1980's. These were young Alan "Harry" Lister and Hilton Wingood.
Alan "Harry" Lister had described how he left Heathcote Hill on September 9th 1950, pushing his trunk in a wheelbarrow heading for the MV Georgic. He had joined the Dockyard engineering apprenticeship programme at 14 and had already served three years before boarding MV Georgic.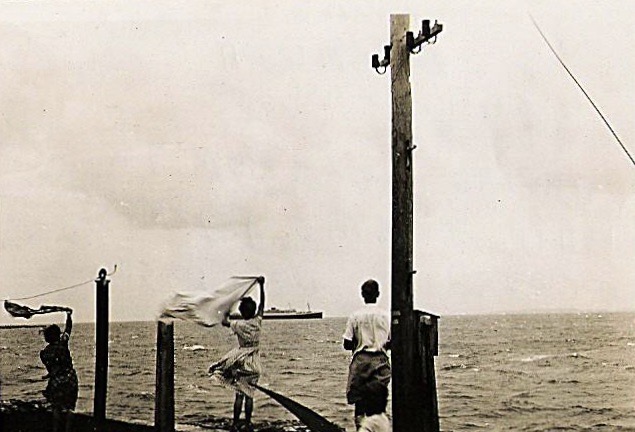 Neighbours at Lodge Point wave farewell to MV Georgic at Grassy Bay
Note that she only had one funnel in 1950 - not two as shown above.
(Photo kindly provided by Brian Hyde)
Following his arrival in Portsmouth, Alan wrote his parents regularly, complaining about the quality of the food, particularly the "beetroot sandwiches." He returned to Bermuda and in 1953 joined the police force, initially servicing police vehicles. By 1956, he was transferred and progressed through the ranks before retiring as Chief Inspector.
Hilton Wingood had joined the Dockyard apprenticeship programme in 1946 at the age of 14. He was 17 when he boarded the MV Georgic heading to Portsmouth. The "Coloured boys" were in the bow or forward part of the ship, where they remained for the entire journey. In the Irish Sea, Hilton witnessed the biggest waves he had ever seen. They were not permitted to leave their assigned area. They ate, slept and socialised there. He had no complaints about the food, experiencing rice for the first time as a dessert — rice pudding with raisins!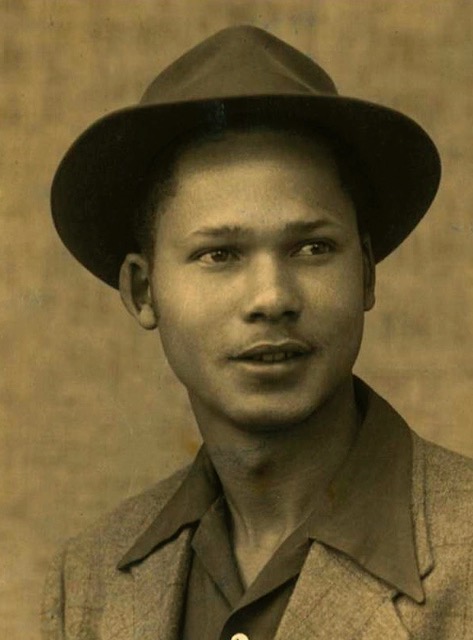 Young Hilton Wingood cuts
a dashing figure in Portsmouth
In Portsmouth, nine of them were assigned to one room with one bathroom. They vehemently protested the next morning and were immediately moved. Hilton described how they were served potatoes and cabbage every day with desserts of rhubarb and frequently prunes. Meat was rationed.
In the yard they worked in gangs of 50 with an instructor and formed sports teams.
Hilton returned to Bermuda as a qualified shipwright/welder. He worked with the Board of Trade on ferry boats, including the Wilhelmina and Corona, before joining the police force. He retired as a chief inspector.
CLICK HERE to read the full article written by Cecille Snaith-Simmons in the Royal Gazette.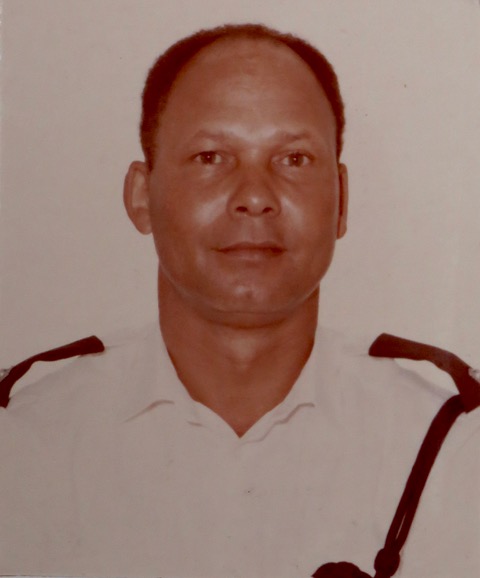 Chief Inspector Hilton Wingood
Both Alan "Harry" Lister and Hilton Wingood went on to serve in the Bermuda Police with distinction. Harry retired as Inspector and Hilton as Chief Inspector.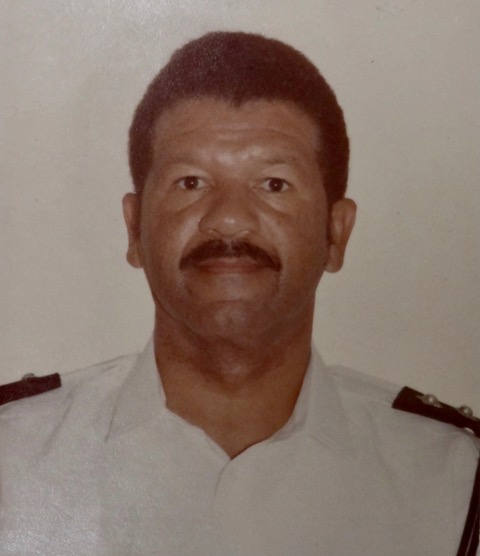 Chief Inspector Alan "Harry" Lister
EDITORS COMMENTS - The Royal Naval Dockyard apprentice scheme and the chance given to those 49 young men - the vast majority of whom were black – to travel to the UK to complete their apprenticeships was a unique opportunity to excel in what was still a highly segregated community here in Bermuda.
Despite the difficulties these young Bermudians faced it is a revelation to read how many of the men who did their apprenticeships at the Royal Naval Dockyard in Bermuda, and in England, went on to serve their community at the very highest levels, including Sir James Astwood who later studied law, and in 1977 was appointed Bermuda's First black Chief Justice, and Eugene Cox who later became a Member of Parliament, and was appointed as the Minister of Finance for the Progressive Labour Party in 1998.
This article has been published at a time when we are about to publish our own "Then and Now" on our good friend and former colleague, retired Chief Inspector Wingood.
As the result of a follow-up conversation with Ms. Snaith-Simmons, I learned that we had another dockyard apprentice who travelled to Portsmouth, who also became a member of the Bermuda Police after his return to the Island, and he is retired P.C. Howard Dill.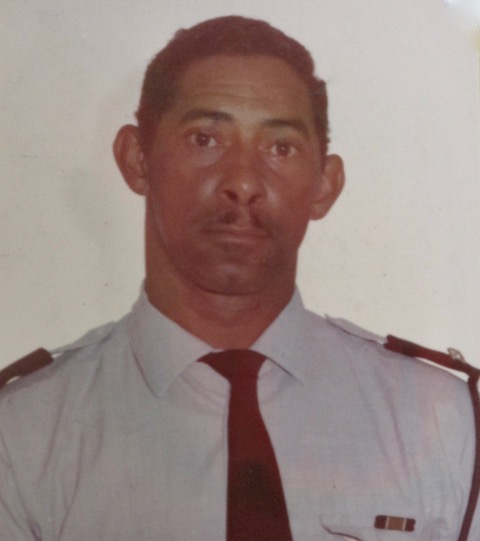 P.C. Howard Dill
On checking our Police records I see that Hilton Wingood was the first of these three young men to join the Police in March 1955. Hilton rose through the ranks to become Chief Inspector, retiring in December 1986 after 33 years service. Howard Dill followed Hilton into the Police 2 months later, joining in May 1955 and he served until retirement in May 1980. Alan "Harry" Lister joined the Police the following year, in March 1956, and rose through the ranks to Chief Inspector, retiring in October 1981. Between them these three men gave a total of over 80 years service in the Bermuda Police,
On a personal note, Hilton Wingood is still residing in Somerset and being well taken care of by his wife Brenda. We understand that Howard Dill is in failing health and is residing at a Care Home in Somerset. Sadly, Harry Lister passed away in 2001.
EDITORS NOTE - According to our official police records the correct spelling of Chief Inspector Lister's first name is "Allan" and that has been confirmed my his family. Throughout his career he was always called "Harry" by his fellow police officers.
24th July 2023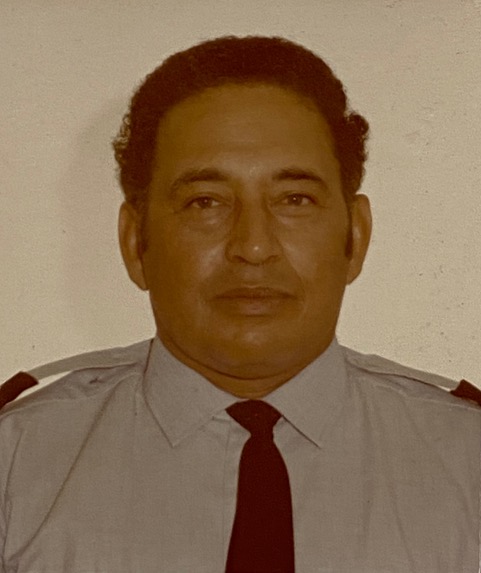 Sergeant Neville Phillips
We have just learned that also on board MC Georgic was young Neville Phillips along with his brother Lionel. Neville did his apprenticeship in plumbing, and on his return from England, he was actually the first one to join the Police Force, on 1st July 1954, and rose to the rank of Sergeant by the time of his retirement in July 1980. This means that these four young men who left Bermuda in 1950 as Dockyard apprentices and who chose to make their careers in the Bermuda Police on their return, have collectively given over 100 years service to the Bermuda Police. Incidentally, we hear that after coming back home to Bermuda, Neville decided he certainly didn't want to spend the rest of his life as a plumber, and he seldom if ever picked up plumbing tools again!