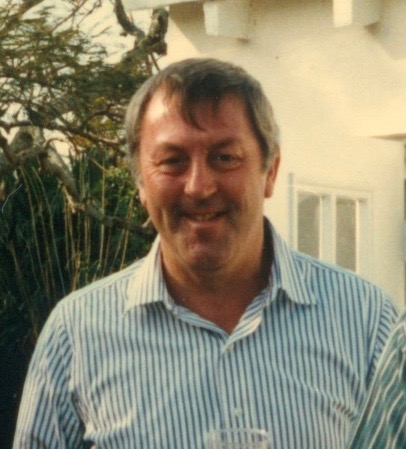 Brian Callaghan
Sadly, we have to start off the New Year with news of the passing of our good friend and colleague, retired Detective Constable Brian Callaghan.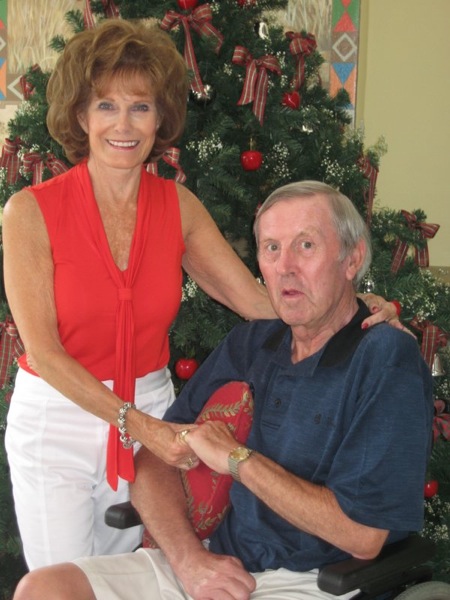 Brian and Ann in happier times at their home in South Africa
We have received the following letter from Brian Callaghan's wife Ann on 8th January 2017:-
Dear Roger and all of Brian's ex police friends,
It is with great sadness that I must let you know of Brian's passing.
Brian has persevered with life for nearly six year (since suffering
a major stroke) but gallantly fought his last battle last night and
passed away in his sleep around 10:30 pm.
It was comforting to know that he was at home in a place
he truly enjoyed. At least we all know he is in a peaceful place now.
Brian was a quiet person and it is his wish that
I deal with this privately and with close family.
Kindest regards,
Ann
Brian was born on North Shields, Northumberland, and he joined the Northumberland County Police as a young man, serving there for almost 10 years.
One evening he had a chance meeting in the Newcastle Police Club with a young P.C. from Bermuda who was visiting his home town while on leave. The young constable was Dave Ashurst who had joined the Bermuda Police in 1966. Brian expressed interest in coming out to Bermuda as a policeman and said he was going to apply.
Some time later Dave was on duty in Travel Control at the airport when he instantly recognized Brian who had been accepted and was arriving with a batch of new recruits all of whom were experienced officers. This was in July 1972.
Brian's group (see photo below) included two officers who have both settled here in Bermuda - John Skinner and Dave Cooper.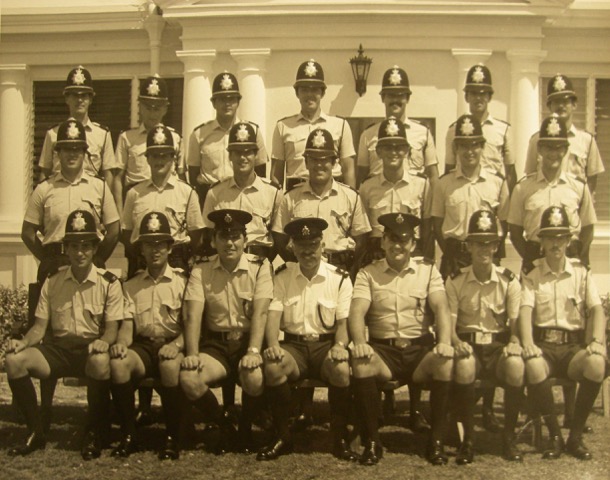 Bermuda Police Localisation Course July-August 1972
Front Row - 344 John Challis, 355 David St. John, Sgt 12 Richard "Dick" Murphy,
Inspector David Parsons,
Sgt 30 Patrick McBride, 279 Robert Durman, 270 David Cooper
Middle Row - 349 Michael Richardson, 281 Michael Dewar, 351 Michael Ball,
272 Brian Callaghan, 284 Peter White, 319 John Skinner, 296 Colin Cocker
Back Row - 317 Dale Thornton, 329 John "Stuart" Craig, 396 Douglas Proctor, 309 Phillip Bermingham,
299 Terence Allebone, 313 James Brodie, 297 Peter McNulty
Dave took Brian under his wing showing him around the Island and helping him to settle in.
Those who knew Brian after he came to Bermuda will recall that he suffered a serious heart attack while water skiing quite soon after arriving on Island. For many weeks it seemed to be touch and go as to whether he would make it through. But Brian was a very determined young man.
Our police sports field was fairly new at that time, and Brian would make his way down from the barracks and slowly walk perhaps one or two laps around the field. He gradually increased the number of laps, and a few months later he started to jog a few yards, then a lap, and then a few laps. It took time and a great deal of determination but he made a great recovery, and a much slimmer and trimmer, and fitter Brian went on to serve for 25 years in the Bermuda Police. From then on he remained very fit and would walk or jog every day. He also played golf and some squash.
Most of us will not remember Brian ever wearing a police uniform because his talents as a highly efficient and meticulous officer were quickly recognized and he was posted to the newly formed Murder Room after the shooting of Commissioner George Duckett and the assassination of H.E. The Governor, Sir Richard Sharples and his A.D.C.
These investigations were headed by two Scotland Yard detectives, Supt Bill Wright and D/Sgt Basil Haddrell, who were accompanied by an experienced collator from Scotland Yard. Brian quickly adapted to the system and spent most of the rest of his career as a collator in the Murder Room, with special responsibility as the Exhibits Officer.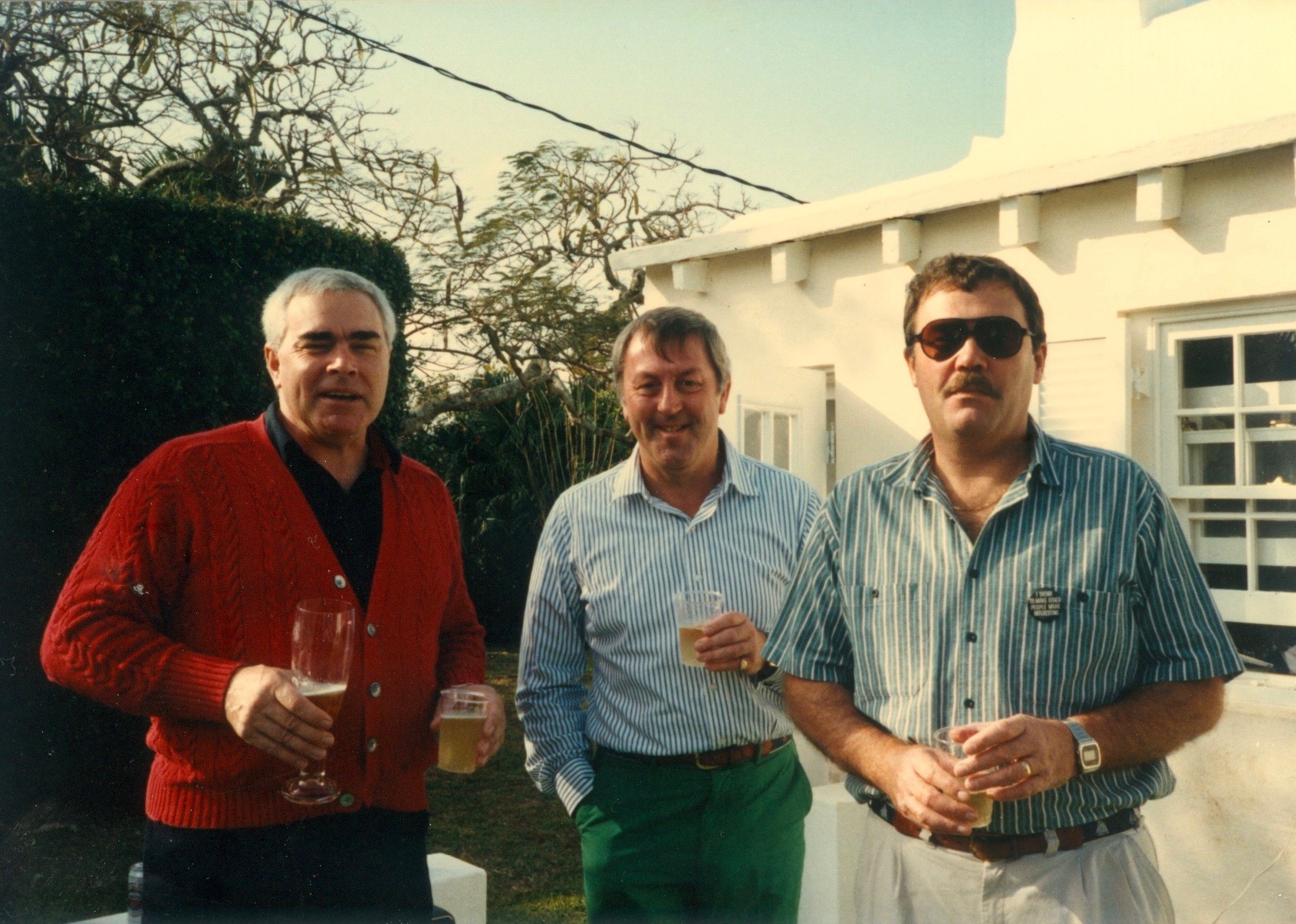 Mike Jent, Brian Callaghan and Dave Ashurst
He worked alongside a group of officers, including Mike Jent, Tom Cassin, and Marjorie Amos who described their work in painstakingly indexing and cross-referencing all incoming information as being a "manual computer". Marjorie added that they often worked long days, sometimes for as long as 14 hours a day, and Brian was always great fun and had a great sense of humour. After the major murder investigations were successfully concluded Brian served in the Crime Intelligence Unit in our Criminal Records Office (CRO). It should be mentioned that Brian had passed his promotion exams early in his career in Bermuda and was offered promotion, but it meant that he would have to go back into uniform and he preferred to remain in CID. Brian retired from the Police in March 1997.
Brian met his first wife, Madeline, who was also from Newcastle, at a party hosted by Dave Ashurst. Madeline came to Bermuda as a computer consultant working for Kitson and Company, and after their marriage she and Brian became close friends with Dave and Liz Ashurst for many years, often taking trips together.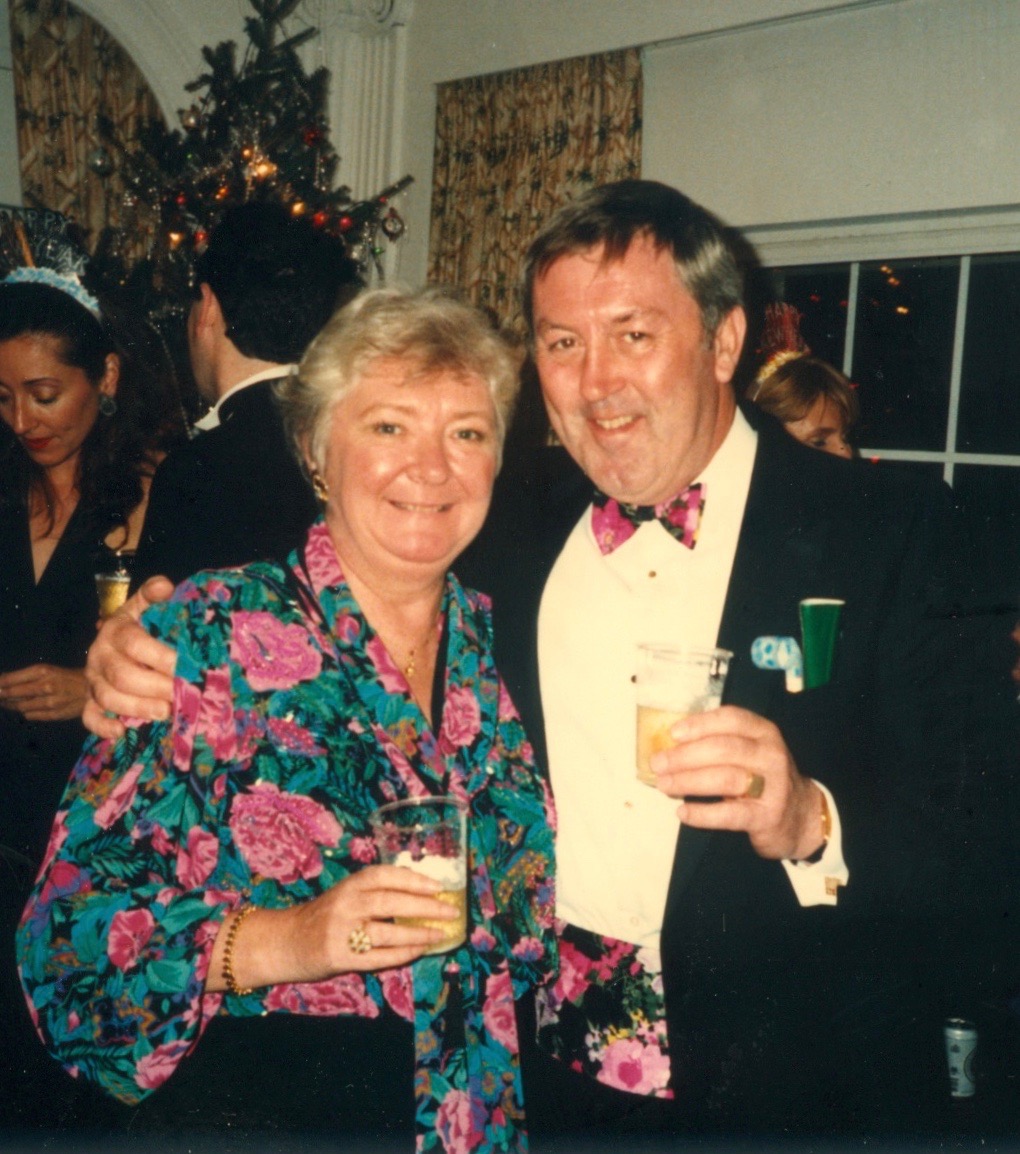 Madeline and Brian in a party mood
After retiring from the Police, Brian went to work at Kitson's as an insurance investigator. He also worked for several years as a proof reader for the Royal Gazette at the request of the then Editor, David White, who was a good friend of Brian's.
Brian and Madeline relaxing with David White, Editor of the Royal Gazette
Sadly, Madeline developed cancer and died just a few years after Brian's retirement.
It was several years later that Brian met Ann Beach here in Bermuda and their relationship blossomed. The two were married on Island and they spent some of their time here in Bermuda and some in South Africa where Ann has a home.
Tragedy again struck Brian when he suffered a massive stroke in 2011. Ann made sure that Brian had the very best of care and would write to provide us with updates on their lives in South Africa - see http://expobermuda.com/index.php/latest-news/242-brianandann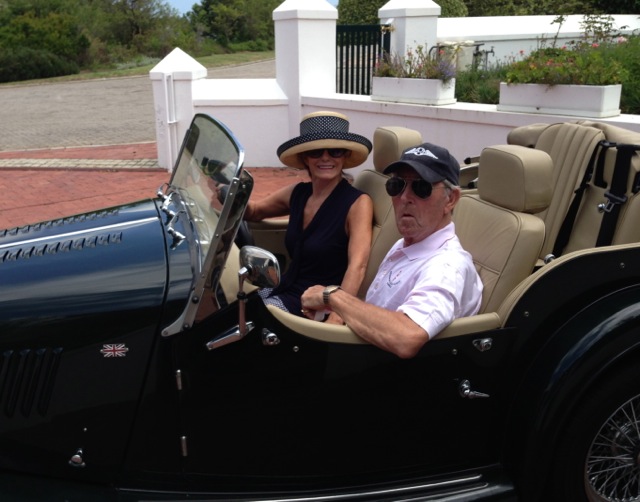 Ann and Brian take a spin in their Morgan sports car as part of Brian's recuperation treatment!
Brian was always a very popular member of the Bermuda Police Service and was highly regarded and respected by all of those who worked with him and who knew him.
We send our deepest condolences to Ann and to their family and friends in South Africa and Bermuda.
Editors note - For more comments and tributes to Brian please see our Facebook page at https://www.facebook.com/BDAExPolice/