We have just received this letter from Ann and Brian Callaghan in South Africa and thought our readers would appreciate an up-date on how Brian and Ann are doing
Dear Family and Friends,
Brian and I have not been in touch with you very much over the last two and a half years. For that, we sincerely apologize and thank you all for continuing to send us cards and letters and emails.
As some of you already know, Brian had a massive stroke in May 2011. It has been a very tough road for him to recover but, with the help of wonderful speech, physio and occupational therapists and his own dedication and determination to work, he has made remarkable progress over the last two years, particularly in the last two months.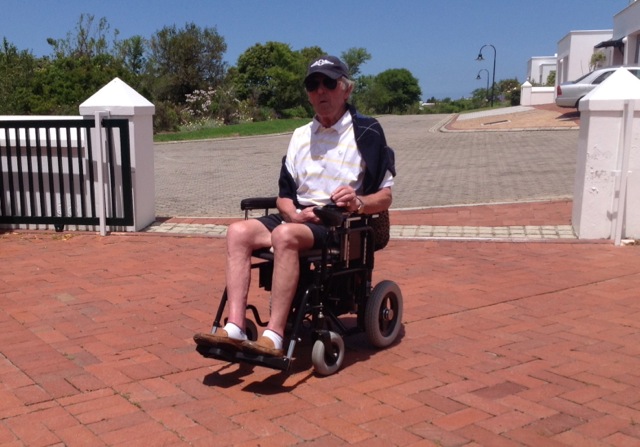 Brian whizzing around in his electric chair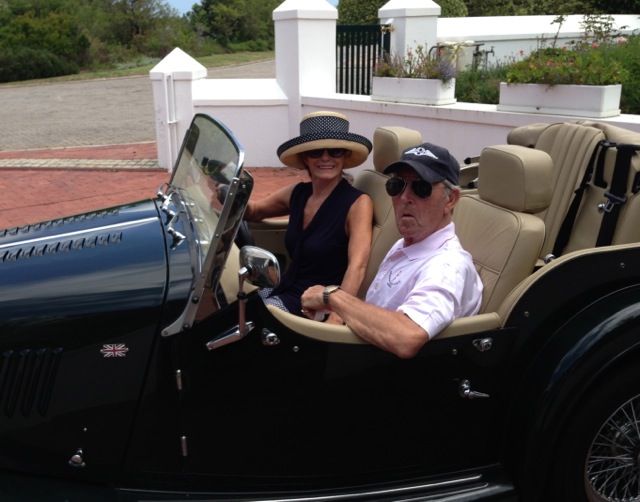 After receiving the letter from Ann she kindly sent us this photo
of herself and Brian taking his first spin in their Morgan since his stroke
Brian is now able to walk with assistance around the house and outside to our garden areas, although he still uses his wheelchair. He has an electric wheelchair which we keep in the garage and to get to it he must walk through the house and down a long corridor which he is doing increasingly with ease. His next big challenge is to be able to walk up the flight of stairs to our study and he is already going up/down 4-6 steps. He does not have any use of his right arm but the right leg is developing more and more strength. Aphasia is a frustrating thing but Brian's calm demeanor has kept him being humorous about it. Words are coming but mainly when he is not stressed. He has been using an iPad since early last year and now adds a larger computer with touch Windows 8, both of which he uses to access British newspapers, etc. along with our library of photos. If you send him an email he would really appreciate it but he would not be able to compose a response just yet.
Getting Brian to this point has not been without a great deal of stress with 24hr caregivers, a terrible agency and ultimately my hiring three ladies full time. Finally our team is rather stable and I keep fingers crossed that this will continue.
As you may recall from our last Christmas missive, we made a decision to move permanently to George, South Africa in October 2009. We have been very happy with that decision and especially so when Brian required urgent and excellent medical attention with ongoing therapies.
Last year I had a wonderful luncheon for Brian's 70th birthday. There were 34 friends attending a lunch which I had catered but with my own menus etc. The weather was gorgeous with the temperature reaching 88f so we had all of the glass doors to the sunroom opened and then even had to put the shades down! The sunroom looked very festive and Brian really enjoyed himself.
A highlight for us was a cruise in January this year on the Silverseas Silver Wind. We were able to drive to Cape Town to board for ten nights which took us around the east side of South Africa and to Maputo, Mozambique before returning to Cape Town. It was on this cruise that Brian seemed to jump from one plateau to a great new level and we all believe that this was the impetus to his current improvements and independence.
Brian's brother and sister in law (Derek and Brenda) came for a lovely visit with us over Easter this year. I think this was especially good for Brian to be with his family.
Because of my staff stability, I have been able to get back to Bermuda periodically and also to California to visit with family. Sadly, late last year my dear Mother died which left me as the Matriarch of my large family, all of which is very daunting.
I will be looking forward to a four week visit to Bermuda in late March 2014 but will return directly to South Africa without jumping across America. Then in September after the Chaine event in Durban I will go back to Bermuda for a while (must renew my driver's license!) and then will travel on to California for a nice visit with family.
Brian joins me in wishing you all a healthy and prosperous New Year.
With love,
Brian and Ann
XXX