Two of our former colleagues, Barry Higham and Keith Pellow arrived on Island last weekend just a few days ahead of the pending arrival of huge Hurricane Lee which threatened to spoil a lot more than their visit to Bermuda.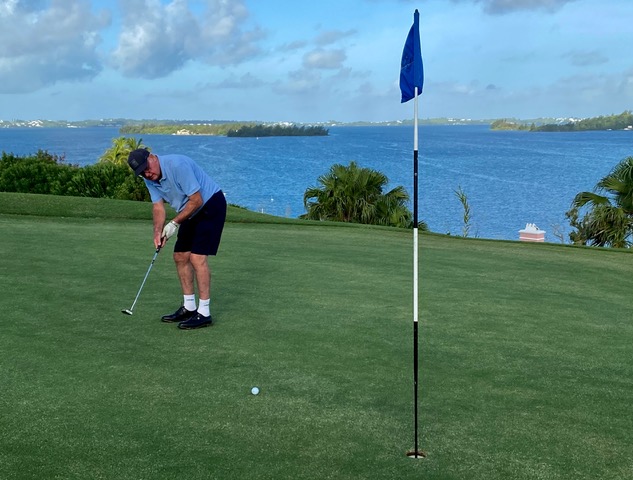 Barry makes a bulls eye putt on the 18th green
overlooking the Great Sound and Somerset in the distance
On Tuesday Barry joined the Bermuda Seniors for a golf tournament at Belmont partnering Roger Sherratt. They missed out on 10 prize tickets to the VIP tent at this year's World Rugby Classic kindly donated by John Kane, despite the fact that Barry was probably the only golfer there who had played for both the Police Rugby and was even selected for the Bermuda national team to play in Jamaica although he left the BPS and returned to the UK shortly before the tour took place. There's no justice!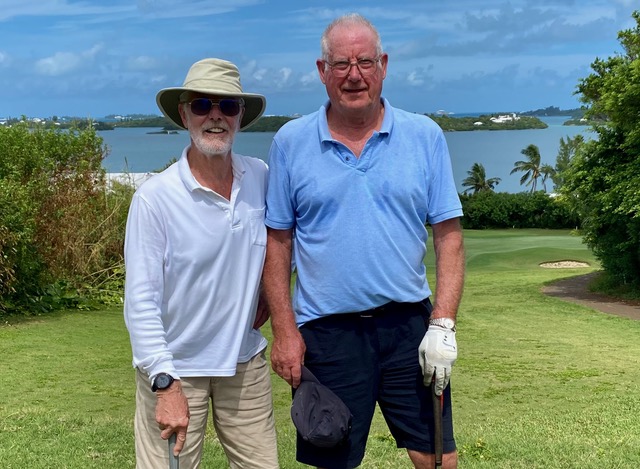 Roger and Barry overlooking the 17th hole at Belmont
While Barry was playing golf, Keith joined up with his old friend, David Wingate, our world renowned conservationist and ornithologist, at Port Royal Golf Course, where the last thing on their minds was hitting golf balls!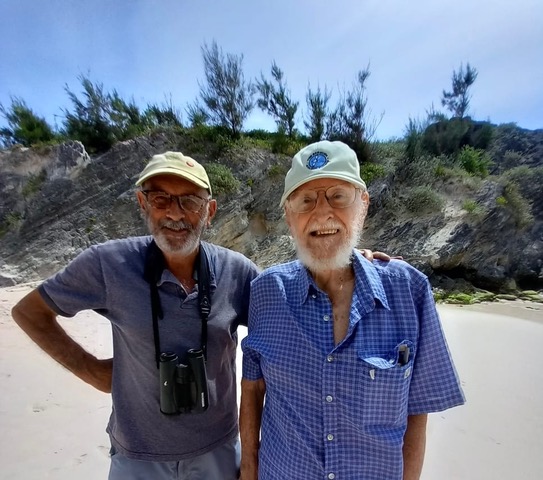 Keith Pellow and David Wingate get together
For those not aware of it, Keith has been a keen amateur ornithologist all his life and spent many hours bird watching with David Wingate while serving here in Bermuda as a young constable from 1970-1979. Since then Keith has literally travelled all over the world on bird watching expeditions.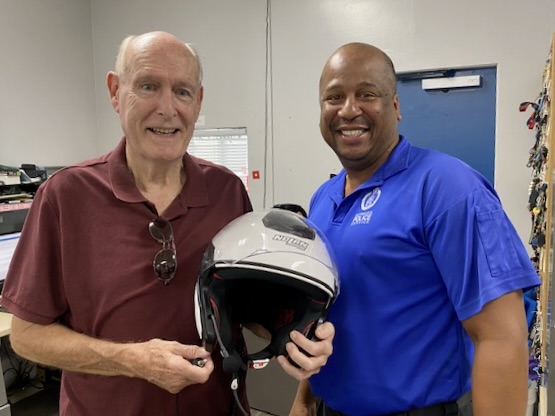 Jason Ming shows Roger Kendall the latest super-safe crash helmets
On Thursday afternoon, with Hurricane Lee threatening the Island, Barry and Keith joined two Rogers - Roger Kendall and Roger Sherratt for a visit to Operations Traffic Department where they toured the facility courtesy of P.C.'s Jason Ming, and David Johnstone. Jason showed them around the RPU (Roads Police Unit), similar to the old Motor Cycle Section, where they have 4 teams who usually ride motor cycles and operate radar.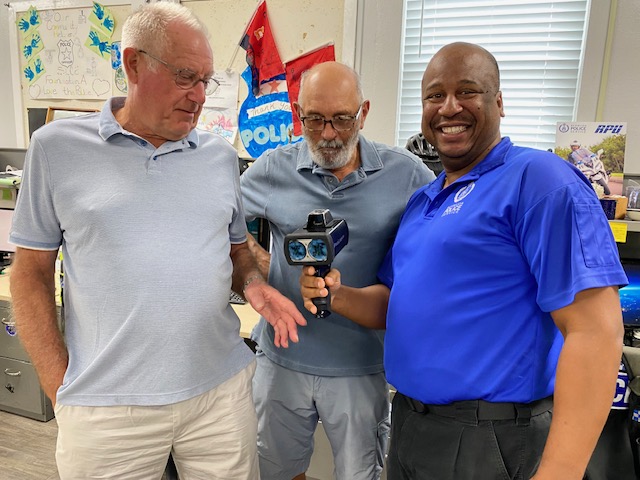 Barry and Keith are impressed with the Pro Laser 4
demonstrated by Jason Ming
The latest Pro Laser 4's nearly knocked our socks off with their pinpoint accuracy, long range and advanced technology. One downside to all the technology was the sheer weight of the bullet proof vests and accompanying equipment that officers now wear on a daily basis. Keith got to try one first-hand.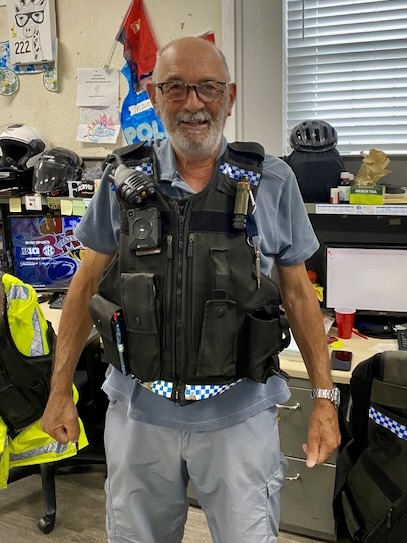 Keith is weighed down with the vest and assorted equipment
These are not suitable for bird watching!
Each RPU team of a Sgt and 4 or 5 P.C's usually work 2 days on 7am-7pm shift, and two nights on something like 4pm - 2am. Traffic no longer has the old system of Traffic cars working three shifts 8am-4pm, 4pm-12 midnight , and 12 midnight to 8am. Incidents occurring between 2am and 7am are dealt with by Divisional crews.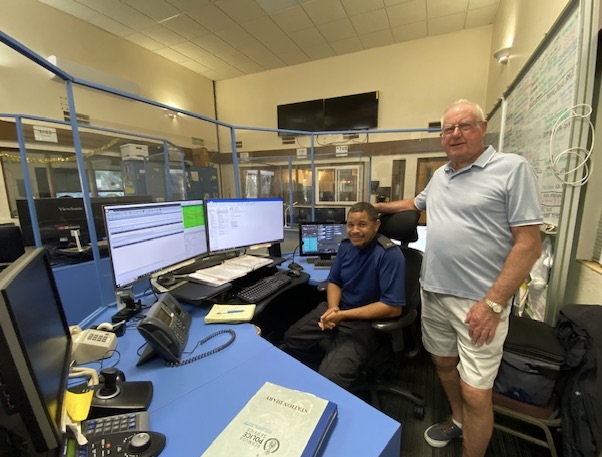 David Johnstone explains the workings of the COMOPS system to Barry
Following our very positive meeting with Jason and a couple of his team, we went into the COMOPS room where P.C. David Johnstone, who many of our colleagues may remember, kindly showed us around their present day set up which again, is a far cry from the old Ops Room. Operations itself is now usually manned by a Sergeant and three constables, and they have 4 individual stations , each with see-through petitions installed during Covid. Gone are the old metal hanging files with the names of all vehicles owners provided by TCD (the ones Davie Kerr used to memorize when he had quiet nights!) Everything is now computerized.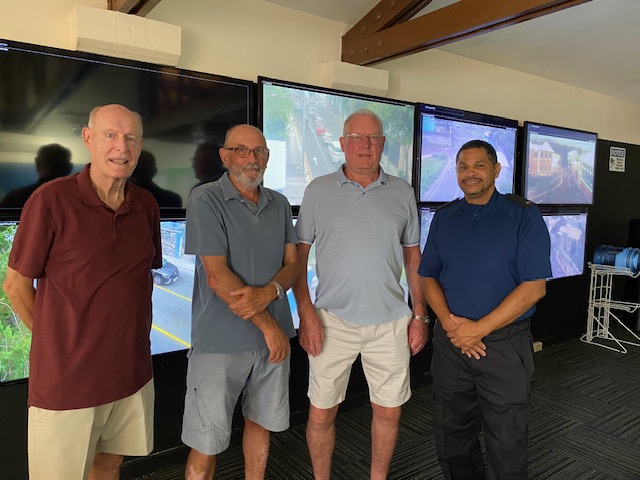 Examining the CCTV screen room
Roger Kendall, Keith Pellow, Barry Higham and David Johnstone
But what completely knocked our socks off was the large map showing the locations of dozens of overhead cameras constantly monitoring traffic all over the Island. And in a separate room was a series of large screens showing live action from the cameras, with Ops staff having the ability to change to any cameras depending on where action is. David explained that the latest technology once installed will allow cameras to automatically follow any particular vehicle as it moves along the Island's main roads. I believe out group was suitably impressed.
We had hoped to see Brenda Johnson (nee Lewis) who many of our colleagues will remember.
But she was on holiday this week, and another familiar face was "Pickles" Smith who is still doing sterling service as the garage mechanic at Traffic.
For those of us who ever worked during the time of Chief Inspector Ernie Moniz and Inspector Arthur Rose, I have to say that the yard itself would not have passed inspection by those two officers who ran Operations with military precision – but times have changed. Traffic was a hive of activity and there's no question that their staff are kept very busy indeed.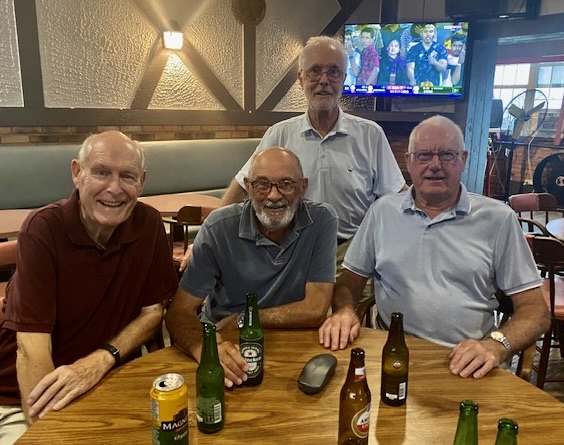 Relaxing in the PRC Bar after a fascinating and extremely windy afternoon
(l-r) Roger Kendall, Keith Pellow, Roger Sherratt & Barry Higham
By the time we completed our visit to Traffic it was time to head up to the Police Club for the Thursday "Happy Hour" but unfortunately the rapidly strengthening gale force winds, forecast to increase to hurricane force within hours, put off the old regulars so the 4 of us toured through the club checking out old photos and the silverware trophy cabinet before downing a couple of beers. Hopefully, Barry and Keith will bump into a few of their old mates when they're out and about during the next few days.
EDITORS NOTE - Lee's bark was bigger than his bite! Although subjected to incessant high winds throughout the night, we didn't experience sustained hurricane force winds, and although some 16,000 homes lost power, there was no major damage reported, and as of late this morning the winds were beginning to ease off. No time to relax though as a new system, "Nigel", is rapidly developing to our south, and according to the latest forecast could become a major hurricane and is heading straight for us by next Friday.
17th September
CLICK HERE for Chapter 2 of Barry Higham and Keth Pellow's continued "adventures" on their Bermuda vacation!