We are saddened to report that we've received news of the death of our former colleague, Robert Alec "Al" MacNaughton who served with us in the Bermuda Police from April 1978 – October 1981.
We've heard the news from his good friend, former P.C. Robert "Bob" Lambshead who wrote us to advise that Al died from cancer after a long fight.
From memory "Bob" believes "Al" was born in Toronto, Canada, with Scottish heritage and he had served in the Strathclyde Police prior to coming to join the Bermuda Police.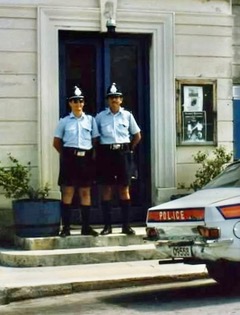 Young P.C's "Bob" Lambshead
outside St. George's Police Station circa 1978
"Bob" recalled that "Al" served in Eastern Division, St George's in 1978 where they worked together under Sgt. Reese Bartley. Al was a good friend of Ronny Boggan and Stewart Kirkpatrick. He spent his whole time on foot patrol and knew EVERYBODY in St Georges, he had an amazing memory. Sport was never his thing.
After leaving Bermuda in 1981 "Al" went to Canada then the UK where he worked as a manager on an estate. He set up his own executive car hire and ferried some very influential people about. He never married, and it was about 18 months ago when he was diagnosed with cancer. "Al" was liked by everyone and he loved to tell stories.
We offer our sincere condolences to Al's family and friends.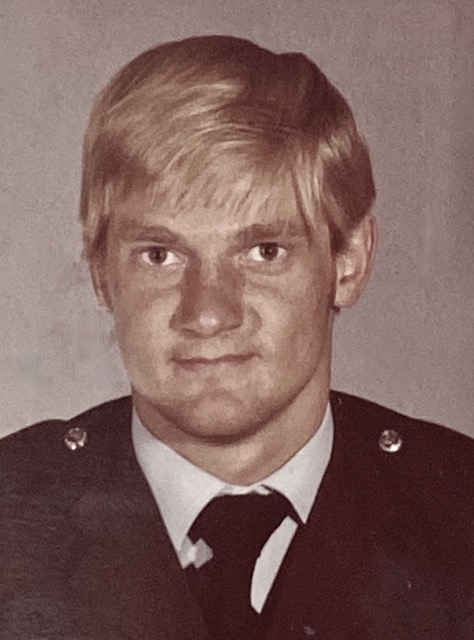 Young P.C. Robert "Bob" Lambshead
Bob Lambshead served here from December 1977 – February 1984, and after he left Bermuda he returned to his country of birth and joined the Devon and Cornwall Police where he served for 24 years. He still keeps in touch with Peter Giles who Bob says, "Got me through probation and taught me a great deal." Bob has fond memories of serving with Rigor Morris, Reese Bartley, David Gibbons, Willy Woods, Crawford Rae, Eddie Edwards and others too many to mention here. As Bob points out. Most of those he recalled are no longer with us, including Reese Bartley who passed away in May 2023 (CLICK HERE to view the article about Reese in our Hall of Fame.)
Bob says, "I would love to return to Bermuda one more time – let's hope so."