We reported a few days ago on the activities of our two colleagues, Barry Higham and Keith Pellow, who are visiting the Island (CLICK HERE for the article). In our first report they finished up at the Police Club last Thursday afternoon for "Happy Hour" but Hurricane Lee put a "damper" on the afternoon as it passed close enough to us to deliver gale force, and hurricane force winds which deterred the regular Thursday afternoon crew from venturing up to Prospect, plus it left 12,000 homes without power.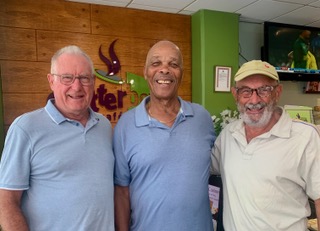 Barry, Oliver Bain and Keith Pellow
Not to be deterred, Barry and Keith still managed to spend time in Hamilton the next day as the winds eased, and they bumped into Oliver Bain on Reid Street and had coffee with him at the aptly named Chatterbox Restaurant. They also ran into Charlie Mooney at Robin Hood where he was determined to watch a Celtic football match but didn't see much of the game catching up and reminiscing with the duo.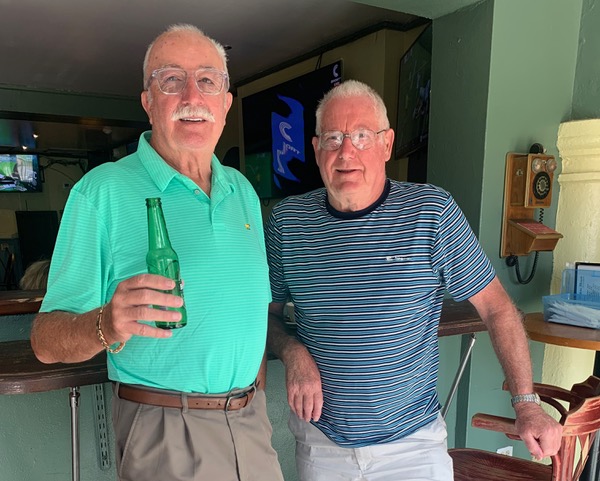 Charlie Mooney and Barry at Robin Hood
A highlight of their day occurred when they were walking past the "new" Hamilton Police Station. It was opened in 2011 so neither Barry nor Keith had ever set foot in it. Chief Inspector Arthur Glasford was standing outside the Station and recognized them after seeing them up at the PRC the day before.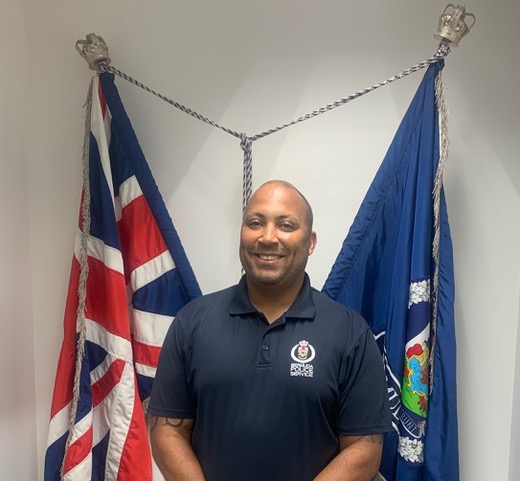 Chief Inspector Arthur Glasford
Arthur invited them into the Station and gave them a conducted tour, including the custody suite and cells, and introduced them to the Deputy Commissioner and our Assistant Commissioners. As Barry says, Chief Inspector Glasford could not have been more helpful and obliging. CLICK HERE for our article on the demolition of the old Police Station at the bottom of Parliament Street and the official Opening of the new Hamilton Police Station in 2011.
Barry and Keith had arranged to meet up with John Dale and his wife Betty at the Mad Hatters restaurant and bar located in the old Mariners Club where they were also joined by Gertie Barker and Steve Dunleavy.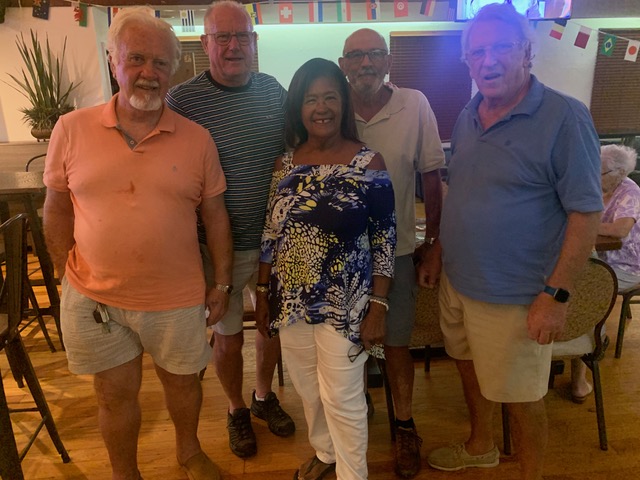 Mad Hatters!
(l-r) John Dale, Barry Higham, Gertie Barker, Keith Pellow, and Steve Dunleavy
On Saturday the two visited St. George's and had lunch at Wahoo on the waterfront (an perfectly named great restaurant for fish) with retired senior customs officer Winnie Fostine-DeSilva , and today (Sunday) they had an excursion to Jobson's Cove on the South Shore in Warwick which brought back happy memories for Barry who had taken his parents there in 1976 - and they thoroughly enjoyed it. Keith took the opportunity for more bird watching and made his way over to Horseshoe Bay.
Jobson's Cove
For any of our overseas ExPo members who may be considering a return visit to Bermuda, I asked Barry and Keith about their accommodation on this trip, and they are both staying at the Rosemont Guest Suites on Rosemont Avenue just a short walk up the hill from the Hamilton Princess Hotel. Barry reported that it's been ideal, with comfortable beds, a decent size pool, and so close to Hamilton with an easy walk to the ferry and the Bus Terminal.
The two are here for a couple more days , and by all accounts they are really enjoying their visit and have been out and about every day – despite Hurricane Lee!
EDITORS NOTE - CLICK HERE for our "Then and Now" article about Barry Higham.
17th September 2023