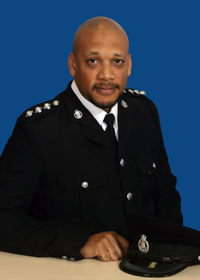 DCOP Darrin Simons
In the midst of all the major issues we currently face with the Covid pandemic and the rapid rise of the Omicron variant as the new year begins, it might seem rather odd for us to bring to your attention to a relatively minor story published in the Royal Gazette on 5th January 2022, but for reasons I hope will become obvious, I thought our ExPo members might be interested in this article about members of the BPS stopping a car which apparently had tinted windows.
It was initially alleged that a family was "abandoned at the side of the road" after a traffic stop on Monday when police officers were checking vehicles along Middle Road, Devonshire near Garthowen Road as part of the road safety programme Operation Vega. The incident resulted in social media complaints about the way the police officers had dealt with the incident.
As a result of these complaints the Acting COP Darrin Simons subsequently held a press conference the next day during which he made a strong defence of the actions of the officers and said he was satisfied after a review of the officers' body camera footage that they had "handled themselves professionally, courteously and empathetically" when they pulled over and impounded a car for an illegal windscreen tint.
CLICK HERE to view the press conference given by ACOP Simons. The video is shown courtesy of the BPS official website.
Now for the reason for publishing this matter on our ExPo website! I'm sure that many of our ExPo members had retired or left the BPS prior to the time when young P.C. Darrin Simons first joined the Service, but we will all have worked under a number of Commissioners, some of whom were not the most adept at handling the "press"!
I wonder, first of all, what you, as former police officers, think of the way these police officers handled initial incident, and secondly, what do you think about the way ACOP Simons handled the press conference?
We now have a new system for you to post your comments but it involves logging into our site and going through a procedure which I hope in the near future will be second nature to all of our members and friends. But in the meantime, if you would like to add your comments please send them to me either through our website email address at This email address is being protected from spambots. You need JavaScript enabled to view it. or through my personal email, and I will advise you of the procedure for being able to log in and make comments directly.
CLICK HERE to read the full report on the press conference in the Royal Gazette
Wishing you all the best for a happy and healthy 2022.