Young P.C. Peter Treves - 1970
We regret to advise that we have just heard the sad news that our old friend and former colleague, Peter Treves, died on 12th August (2021) in Monterey, California.
We received this information by email from "Jeff" who did not initially provide any other details except to say that Pete was living with his wife, Christy, and that "he is now out of pain and in a better place".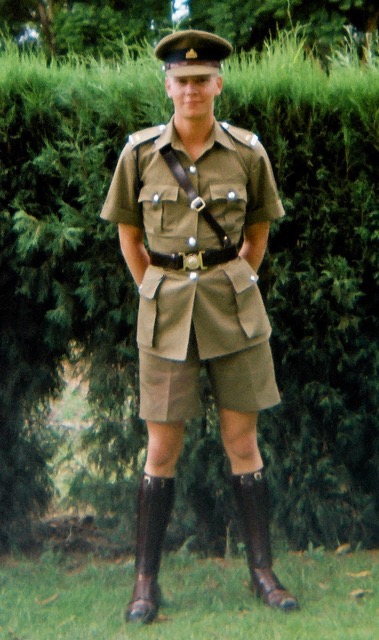 Peter Treves in BSAP uniform
Prior to joining the Bermuda Police, Peter had served in the British South Africa Police (BSAP) in Southern Rhodesia - now Zimbabwe - and he
joined the Bermuda Police in 1970 serving here for 3 years, first in Central Division, then in Operations (Traffic) for a while before being transferred to Special Branch. Pete, as he was known in Bermuda, was an excellent tennis player who played for our Police Tennis team. After leaving the Police he became a tennis professional for several years at Sonesta Beach Hotel, before heading off to the U.S.
Jeff wrote to our ExPo website because he had seen a request we posted a couple of years ago from a former Miss World, Jennifer Hosten of Grenada, who had asked another old friend of ours, Ian "Paddy Ackroyd, (now residing in Canada) if she might be able to get in touch with Peter and his wife who she was good friends with in Bermuda when she was living on Burnt House Hill. CLICK HERE for that appeal.
We greatly appreciate Jeff spotting our appeal and for taking the trouble to write to us with this sad news. I've written to ask Jeff if he could kindly provide more details of Pete and perhaps put us in touch with his wife. As soon as we receive any further information we will publsh further details.
I recently spoke with Roger Kendall who had remained in regular touch with Pete, and Roger confirmed that Pete and his second wife, Christy, were until recently, living in California, where Pete was a tennis professional.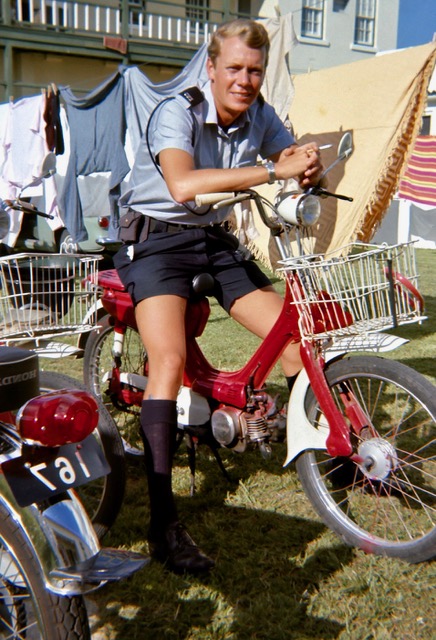 Young P.C. Pete Treves on his bright red
Honda 50cc auxiliary cycle with wash lines
on display behind McBeath Block
Roger and Pete became good friends and remained in touch with each other until about 2 1/2 years ago since which Roger has heard nothing from his old friend.
We hope to have more news about Pete as soon as possible, and in the meantime we extend our deepest sympathy to Pete's wife and family.
3rd September 2021
Update on Pete Treves - Since hearing of the passing of Pete we have heardtragic news from his good friend Jeff, that Pete's wife, Christy, also passed away just 4 days after Pete. I had enquired about the possibility of obtaining a few photos of Pete, and Jeff has kindly sent us the above photo of Pete in BSAP uniform, in Bermuda Police uniform on his Honda 50cc bike, and Pete with his wife Christy.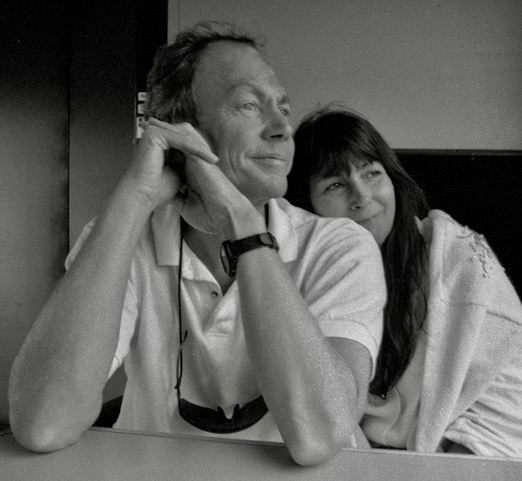 Peter with his wife Christy
We will post any further information about funeral arrangements etc, as we receive it.