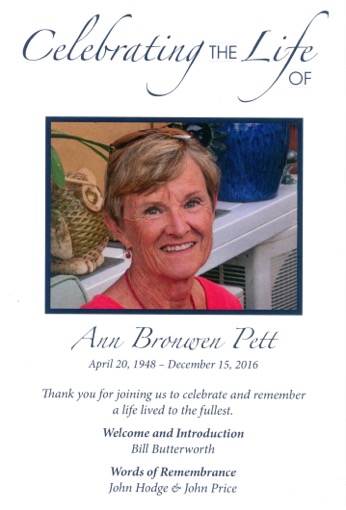 The Main Hall at the Police Recreation Club was packed to capacity on Wednesday 1st February for a very special reception Celebrating the Life of Bron Pett who had passed away suddenly in December 2016.
Maurice "Moby" Pett and his family had invited the many friends of theirs to join them to help celebrate and remember a life lived to the fullest.
Such occasions can often be particularly sad affairs, especially when a loved one has passed away so suddenly and unexpectedly, but there was definitely a buzz in the hall as friends gathered to reminisce and share memories of Bron who had positively touched so many lives.
Guests at the reception included several who had travelled from abroad specially for the occasion, including Bron's brother David from Wales, Paul Hendrick and Colin Mackenzie from Canada, John Price from the U.K. and Christine "Chris" Thomas from New York.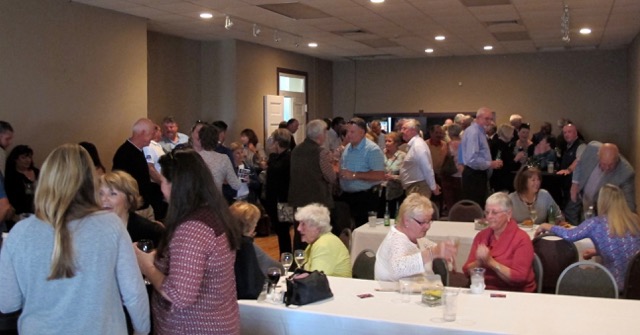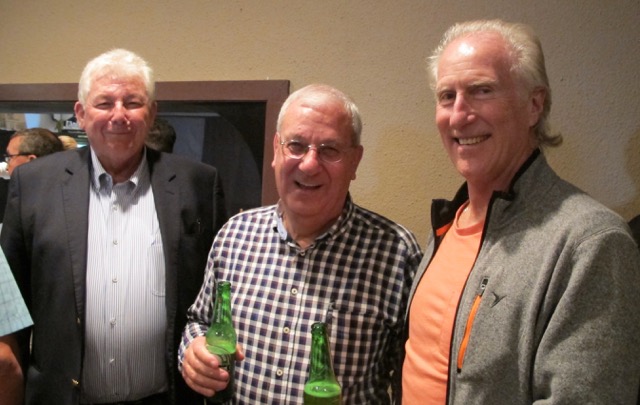 Paul Hendrick, John Price and Colin Mackenzie flew in specially for the occasion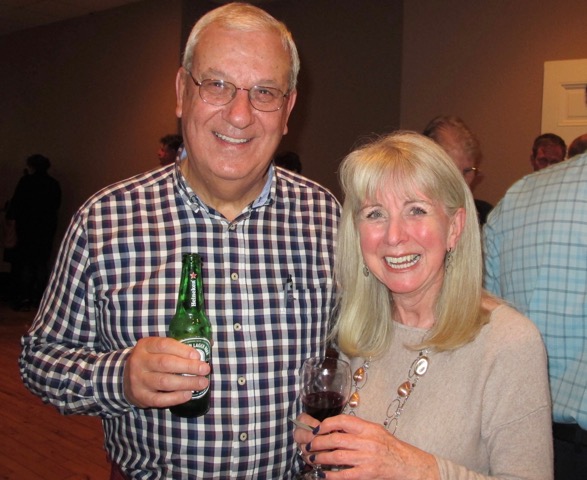 John Price with Chris Thomas who also flew in from New York
Bill Butterworth welcomed everyone on behalf of Moby and family, and Bron's sister Jenny was first to speak about her "little sister" pointing out that she is the only person alive to have known Bron since she was born. It took a great deal of courage for Jenny to give her wonderfully warm tribute, and she touched every person in the room.
Jenny has kindly given permission for us to publish her tribute as follows:-
"Ann Bronwen, sister, my little sister. I can't believe that she is gone. This is hard!
When Lauren told me about this memorial my first thought was that I must say something to pay tribute to Bron and all that she was. After all, I am the one person alive who has known her since she was born. I chickened out for a while, I didn't think I could do it but here I am - I am so proud of her that I had to do this!
When she arrived on the scene I was 4½ - she was an unknown, a curiosity, then a plaything, in turns a nuisance, a pain in the neck and eventually a playmate and friend.
As I was several years older, it was my job to look after her in new situations. I have to say that I failed miserably in this, just after she had joined the Brownies. We were on an outing to a local farm, to observe cows being milked. I wasn't watching her, but somehow she was standing at the wrong end of a cow when the inevitable happened. Suffice to say that she was the only true "brownie" that day. I remember now, looking at her and only seeing two big eyes staring out of the brown! However, things turned out well and the rest of us were really envious as she was whisked away by someone – I suppose the farmer's wife - given a bath, clean clothes and most importantly ice cream and cake!
Growing up we played, we fought (I remember one holiday our parents had to put pillows down the shared bed so that we would stop kicking one another) and as we got older it seemed that she was always a few steps behind me - she started Junior school in the Infants, I was in the Juniors. At grammar school she was lower school and I was upper school – so we grew apart somewhat. When she was 10 and I was 15 we had an unexpected surprise – a new brother! Now she had someone at home who would follow her around!
It had seemed that she was always fated to follow in my footsteps but there was one area in which she was always the leader. From a very young child, there was no doubt in her mind that she wanted to be a teacher, like our father. She would line up dolls and toys and instruct them in no uncertain terms. Whereas I drifted into teaching, Bron had a very real vocation and unwaveringly followed through on it.
Eventually I took a teaching contract to Bermuda - supposedly for only 3 years. And left the family for a while, or so I thought. However, during my first summer here, Bron came to stay, fell in love with the island and went to see if there was a job for her. There was - and the rest is history. She came to love life in Bermuda and also a certain member of the Bermuda Police Force!
As we got married and had children here we became really close - it was great for the cousins to grow up together and I think they will agree that they are all close friends today.
In time she became an ardent convert to a reading programme, "Reading Recovery", adopted by the Government to help failing readers.
I followed her into this programme, impressed that she was really making her mark and that the programme really seemed to work. She was a great advocate for it and was very persuasive. I am glad that she was. Our closest times I think in recent years were when we travelled together annually to the Reading Conference in Ohio (coincidentally - usually held the week before the American Superbowl in February). We shared a room, of course and also shared confidences, worries and hopes. After the conference was over we would stay on for a couple of days, at our own expense for shopping. It was always cold, usually snowing but we would drag our shopping trolleys (Bron's great idea) across the highway to look for school supplies and bargains in the sales, often filling the trolleys so full we would have to get a cab back to the hotel. I miss those trips!
Bron excelled in everything she did. She always gave 100% - as a mother, friend, cook, seamstress (she made bridesmaids dresses for both our weddings), hostess, gardener, Brownie leader, volunteer, and dedicated teacher. And boy could she teach! I had the privilege of observing her teaching on several occasions - she gave everything and really cared for her students. She has made her mark on so many peoples' lives. I have people who stop me all the time (hey - Miz Pett's sister?) and tell me how much she influenced the lives of their children for the good.
In retirement we didn't see so much of each other. We should have – and it is a big regret that I will always have.
I am so proud of all that she was and did - I know that her family and all of you are immensely proud of her and all that she achieved, and our parents would have been proud too.
I loved her and I miss her."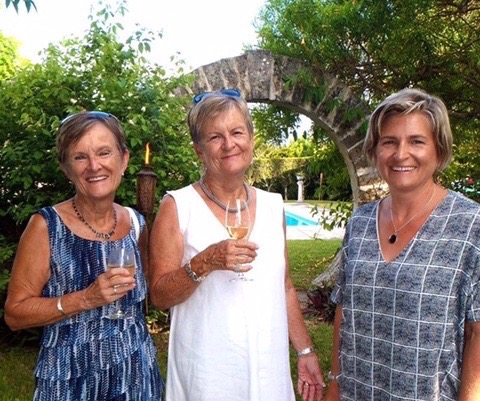 Fairly recent photo of Bron with sister Jenny and her daughter Claire
Jenny's tribute was followed by one from John Price who had travelled to Bermuda specially for the occasion, and almost didn't make it after a hold-up with Immigration at the airport! His tribute was as follows:-
"I am sure Moby and his family would like me to say thank you to you all for coming today to remember Bron and celebrate her life. Moby asked me to say a few words but, in Bron's case a few is difficult as she achieved so much in life and gave so much help and care to so many people.
I nearly didn't make it for this as, last night when coming into the airport, I was pulled into a little room at Immigration, due to, when filling out the immigration card I couldn't remember the Pett's road name, so I put 'c/o Maurice Pett, St. George's'. Surprisingly, they weren't aware of Moby and frowned upon my suspect knowledge. Fortunately, Jenny was outside and vouched for me.
You will have your own individual memories of Bron and, of course, our memories are mostly of the time that Ann and I knew Bron, but hopefully some of the little anecdotes will make you smile and help you to remember Bron as a wonderful daughter to Gwilym and Betty, wife to Moby, mother to Stephen, Christopher and Lauren, sister to Jenny and David, sister-in-law to Richard and Chris, as well as aunt to her extended family, and dear friend to us all here today.
Our friendship with Bron goes way back to the early 1970's through my involvement with the Bermuda Police Rugby Club and then through our children.
I remember Sunday afternoons at Nationals Sports Club, where all the wives were lined up with their prams watching the boys play rugby – but, of course, Bron had a double buggy!
Ann's memories of Bron were of how impressed she was that Bron made her own bread, was a seamstress for the kid's clothes, carpet maker and wood furniture maker (items still in use in the house) and has a memory of a particular poncho that Bron had crocheted for her - how did she find the time with her hands full looking after Moby, oh, and of course, Stephen, Christopher and Lauren? We were lucky enough to have been part of the boys' christenings in Bermuda when they all arrived all squashed into a mini with two little baby seats in the back.
In the early days of motherhood she had a hard time finding enough time for sleep and we remember her falling asleep at the dinner table on a few occasions. We also learnt to play Bridge with Moby and Bron, but soon realized that trying to play after a good supper and a little wine was a "no go" – but we did find that playing Rummoli for pennies was a much easier option. Many years later after reminiscing about those evenings, Bron very thoughtfully made Ann and I a Rummoli board.
We remember Bron as a brilliant hostess and have many memories of supper evenings at the house on Tee Street in the 70's, Pokiok Farm in the 80's and, since the 90's when we visited Bermuda, parties at their St. George's house.
Bron also found the time somehow to hone her painting skills and some of her works can still be seen around the house, plus successfully completing a BSc in Business Management from the University of Maryland at the Base here on Island, and a Masters Degree in Education through a correspondence course. You can see the result of her work at East End Primary school which, through her efforts, won many Island Agricultural Cups.
On our last trip Ann particularly remembered Bron's dynamite Cosmopolitan cocktails, and one was never quite enough!
While still living in Bermuda we enjoyed some trips up to New York to visit the Garveys and, of course, Jim and Mo Duke with Bron and Moby, and there is one photo of us all at the top of the Twin Towers - if I remember rightly both Ann and Moby are not too keen on heights, and looking down through the glass was a little scary. Moby swore blind that the building was moving!
Over the years, although we did not see each other a lot after leaving Bermuda after seven great years, when we did it was so easy to pick up the conversation talking about children and old friends. We always appreciated the effort that Moby and Bron made to see us when we were living in the UK and briefly in Spain.
If I remember rightly the last time they visited us in Spain, Bron was much taken by our automatic watering system and somehow persuaded Moby that they just had to take metres of plastic tubing and a mini-irrigation computer, plus feed tubes back to Bermuda. Hope it is still working Moby!
Bron loved gardening and we remember a vegetable patch she cultivated at the house at Pokiok Farm, and again at the St. George's house. There was a time we got into trouble with Bermuda Customs when Bron had requested we bring over some broad bean seeds with us when last visiting. Silly us declared the seeds on the customs form and spent quite a time explaining what and who they were for – keeping Moby waiting for us at the airport. Also, if I remember correctly, Lauren had just moved into a little house in St. George's and I think Bron had been called upon to help with the garden.
I remember Bron with a smile and a laugh on her face most of the time, though she was quick with a comment to bring you back to earth if you ever got a bit above yourself.
Since retiring Moby and Bron spent some wonderful holidays cruising and generally travelling all over Europe, and Moby, you will have some wonderful memories I am sure. We all will miss Bron so much but now we should celebrate her life and be thankful we were part of it."
John Hodge also paid a lovely tribute to Bron but I don't have a copy of his remarks.
I think it would be fair to say that Moby, Stephen, Christopher and Lauren all held up very well during this reception and greatly appreciated having so many people from all walks of life so fondly remembering Bron.
Apologies for not taking many photos at the reception for those of you unable to attend. This was one of the rare occasions where taking photos was not altogether appropriate but I did manage to catch a couple of the folks who came from abroad.