We just recently came into possession of this photo of a group of policemen who appeared to be quite a motley crew! We had no doubt that we wouldn't have a problem identifying everyone in it, or where it was taken, but we were at a complete loss to figure what brought the group together. The photo was supplied to us by Mr. Wayne Myles who was for many years a very good friend of one of the officers in the photo, Jerry Molloy who died several years ago, but we had not heard about his passing until fairly recently. Wayne very kindly provided us with a series of photo from Jerry along with information about what Jerry did after leaving Bermuda in 1981 after serving here in the Bermuda Police for 3 years. Jerry is now featured in our "Hall of Fame" at http://expobermuda.com/index.php/latesthof/798-gerry-molloy
One additional question we asked was how many members of this group are still with us? Terry Cabral provided the answers - Wayne Perinchief, Nick Hall, Jeff Payne and Winston "Papa Doc" Esdaille. by pointing out which officers have died since this photo was taken. Sadly, we lost Neil Cox, Howard "Stumpy" Kirkham, Ernie Moniz, James "Jimmy" Robertson, John Sharpe, Jerry Molloy, David "Bones" Fraser, and Barry Smith.
We can always rely on Davie Kerr to come up with names and he had an almost perfect score, just missing out on one officer and that was Barry Smith, probably due to the fact that the photo is not the finest.
We've had a good response from our readers which are contained in the comments column below the article, plus we received the following information from our old friend Nick Hall who can always answer all questions regarding firemarms and weaponry.
Nick Hall's comments:-
This was a shooting match held at Warwick Camp (in 1968) on the South Shore where Ernie Moniz proved his shooting skills. It's not a team but volunteers.
In those days we fired .303 No.4 Lee Enfield Rifles and still had some .32 Wembley Detective revolvers left over from the War! They were very inaccurate.
I can see Jeff Payne, but some other names have faded, John Sharpe proves we had one of our tallest there, but Harvey Fothergill is missing. That is Wayne Perinchief far right rear rank. Neil Cox is behind me, standing next to John Sharpe, and "Bones" Fraser is in middle front rank. Tragically he shot himself with my ex-police service .38 Special Smith and Wesson revolver.
3rd December 2019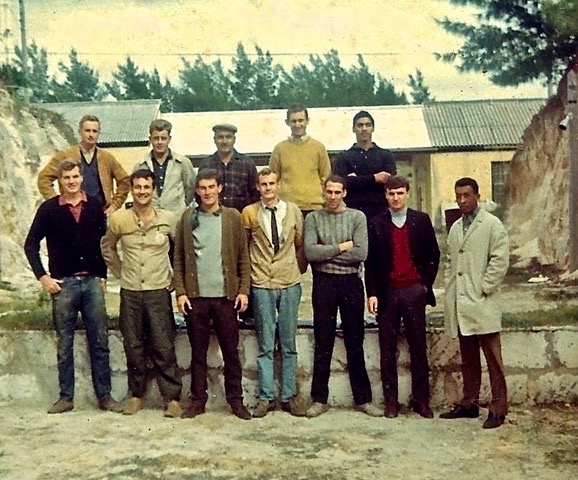 Police Shooting Team at Warwick Camp shooting range in 1968
Top row - Neil Cox, Howard "Stumpy" Kirkham, Ernie Moniz, James "Jimmy Robertson and Wayne Perinchief
Bottom row - John Sharpe, Nick Hall, Jerry Molloy, David "Bones" Fraser,
Jeff Payne, Barry Smith and Winston "Papa Doc" Esdaille