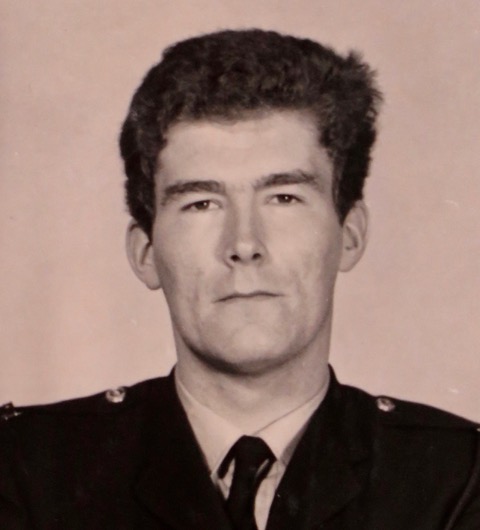 Young P.C. Gerry Molloy shortly after arrrival Bermuda - 1968
A few months ago we heard that our good friend and former colleague Gerry Molloy had passed away in Canada several years ago. The circumstances of how we first heard this sad news is a rather complicated story, but we have been in touch with Gerry's closest friend, Wayne Myles, who has kindly provided us with a tribute to Gerry for which we are most grateful.
Gerry joined the Bermuda Police in January 1968 having served in the Essex Police for 4 years prior to arriving on Island. He arrived with a contingent of 7 experienced police officers from the U.K. David Anderson, David "Dai" Thomas, Anthony "Tony" Smith, Eric Sanderson, Steve Dunleavy and Alex Arnfield.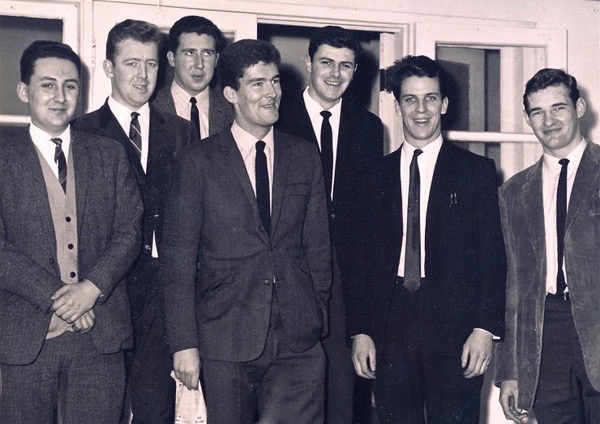 Seven new recruits arrive from the U.K - January 1968
(l-r) Dave Anderson, Dai Thomas, Tony Smith, Gerry Molloy,
Eric Sanderson, Steve Dunleavy, and Alex Arnfield
Gerry was posted to Eastern Division, St George's, where he worked on the beat for a year before being assigned to Eastern CID as an Aide. Retired Inspector Dave Chew describes Gerry as a quiet but very efficient and consciencious police officer who was a pleasure to work with.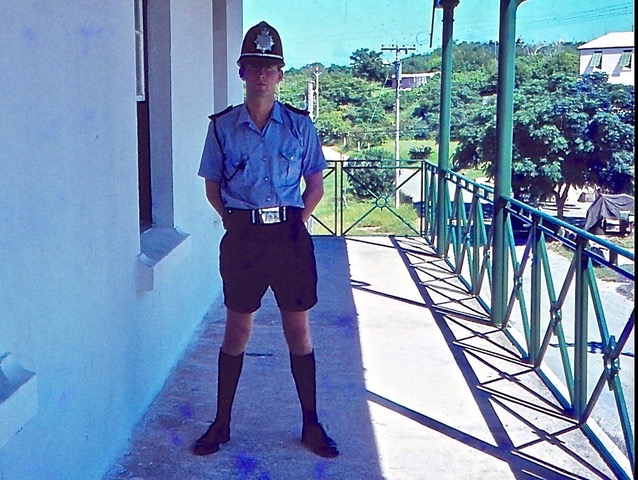 Young P.C. Gerry Molloy at the St. George's Police Barracks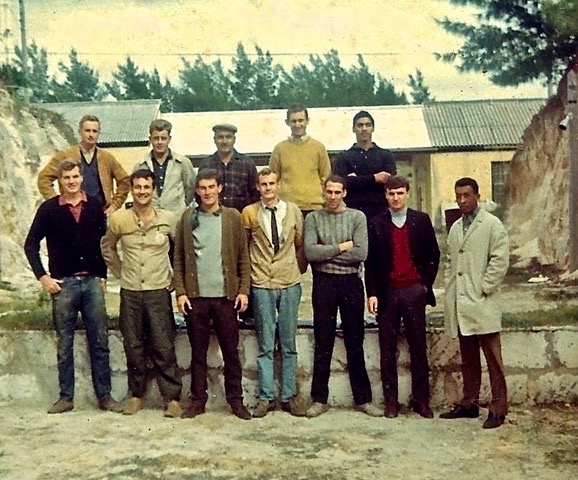 Is this the old shooting range?
This photo is featured in our Who, Where and When column at
Gerry was transferred to Operations (Traffic) in December 1969. Gerry was studying for his degree while serving here, and in October 1971 he resigned and headed off to Canada to pursue his studies and his dreams.
We are most grateful to Wayne Myles for not only sending us the following tribute to Gerry, but for also providing us with these photos.
Gerald Charles Molloy, "Gerry", was born in Hadleigh, Essex, England, on September 23, 1944. His family included his oldest sister, Theresa and younger brother, Hugh. He attended school there until he joined the local (Essex) police at the age of eighteen.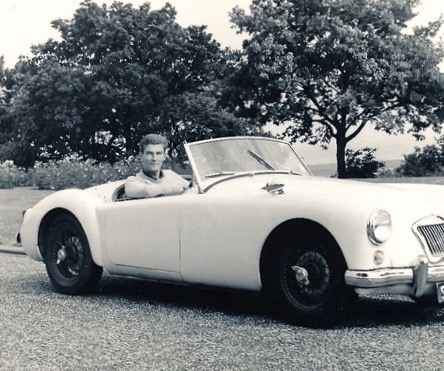 Gerry looking totally cool as a young Essex policeman - 1966
In 1968 he transferred to the Bermuda Police Force and while in Bermuda he upgraded his education. Having qualified for admission in 1971 to Queen's University in Kingston, Ontario, Canada, he left the Force and emigrated to Canada eventually becoming a Canadian citizen.
During the 1970's he attended university completing his Law School articling and completing the Bar Examinations. He worked briefly as a lawyer with the Toronto Legal Aid department and then for five years with the Saskatchewan Legal Aid system. He specialized in criminal, family and youth work.
Gerry was also actively involved in a number of community issues affecting people living in poverty and indigenous people during this time. Throughout this period he started to become interested in broader therapeutic matters and in 1985, after some preparatory work, Gerry commenced a Masters in the Social Work programme at Carleton University in Ottawa.
In addition to his academic studies, Gerry took his practica at psychiatric units in two hospitals. From the time he graduated in 1987 until his death in 2009, Gerry worked as a Psychiatric Social Worker in various Ontario hospitals in Ottawa, Brockville and Belleville, providing mental health services to in-and-out-patients, individuals, couples and families.
Gerry married in 1993. He and his wife, Anne Rutherford adopted their daughter Sophia Shen Molloy in 1997. From that point forward Shen became the light in Gerry's eyes and the song in his heart. Gerry and Anne separated in 2005, and in the last 4 years of Gerry's life he was together with a close friend, Deborah Dacombe.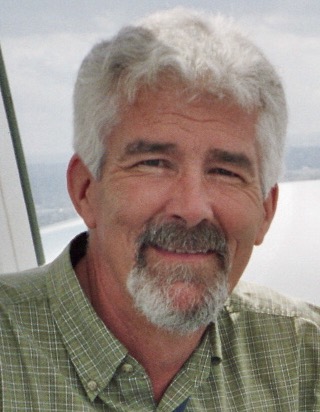 Gerry Molloy
In addition to his studies Gerry travelled widely through North and South America, Europe, the Middle East and South Asia. He was involved in a number of charitable organizations including the John Howard Society, the Canadian Friends Service Committee, and the Catholic Family Service of Regina. Gerry was eternally optimistic, hopeful and determined to enhance social justice within the communities in which he lived. He dearly loved literature and choral singing where his bass voice could be heard across the hall.
Gerry (left) with his good friend Wayne Myles
A spiritual pilgrim at heart, Gerry was very much at home with fellow travellers of all persuasions and traditions whom he encountered along his way."
Gerry passed away on 23rd February 2009, and here is an extract from his Memorial Service programme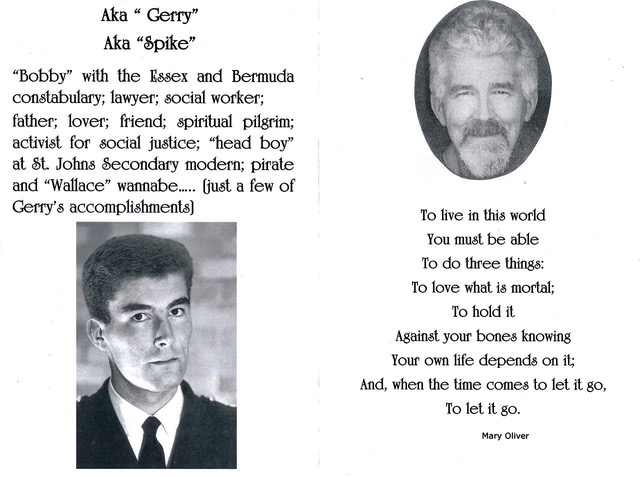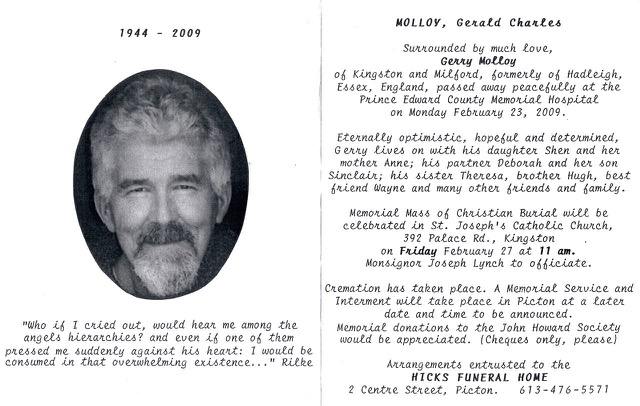 Editors note - Gerry may have been a quiet unassuming young man in Bermuda but it is clear that he was a highly intelligent and sensitive individual who cared deeply about the less fortunate amongst us. Many thanks to Wayne Myles for taking the trouble to reach out to us and for providing this unique insight into the essential character of his good friend Gerry who was an inspiration to all those who got to know him. We offer our belated but sincere condolences to Anne, Shen, Deborah, Wayne, and all those who were close to Gerry.