Served from September 1963 – January 1965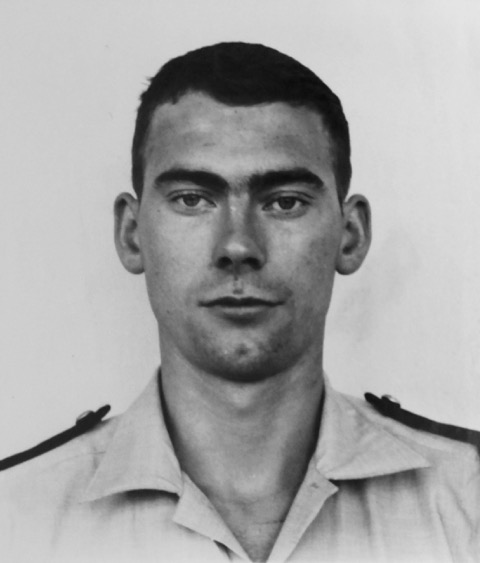 Young P.C. Malcolm Robishaw
Together with 9 others (Dave Chew, Alex Forbes, Ian Scotland, Len Mustard, Ian Douris, Alan Wilkinson, Alan Kennedy, Terry Lambert and Bob Holbrook) I commenced 13 weeks training at Prospect under the guidance of 2 great men, Chief Inspector Chandler and Sergeant Cafferky. Other instructors were Andy Heggie (Drill), John Rawson ( Lifesaving and Self Defence) and Bessie Barton (First Aid).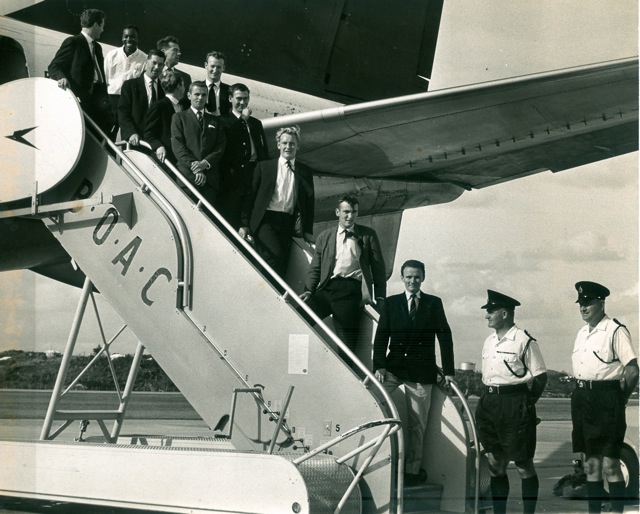 Malcolm Robishaw and fellow recruits arrive on BOAC in September 1963
This photo was featured in our Who, Where and When column
Variously, Bessie wore the uniforms of St John Ambulance, H M Custom and Bermuda Police Reserve! (Editors note - How many can remember Bessie's son Tommy Barton who we understand was the first ever Police Cadet in the Bermuda Police, followed shortly after by Campbell Simons).
Our accommodation was excellent, modern and very handy for the Police Club! Messing facilities however were non-existent and we ate most of our meals at a Chinese restaurant on Front Street which was kind enough to grant us credit facilities so that we could pay our bills in arrears on payday. (Editors note - Malcolm is recalling events of over 50 years ago, and he is no doubt referring to the Chinese Restaurant on lower Reid Street near to Stuart's Camera Store. How many of us can remember "Big John" who was the tallest Chinese person I had ever seen? The building was burned to the ground in a riot and has since been replaced, along with other buildings, by the Washington Mall.)

On completing my training I was transferred to Somerset where I thought I had landed in heaven. The single men's quarters , whilst old and a bit cockroachy, were excellent as was our food, provided by our full time cook/housekeeper. Heaven!
The camaraderie was also great and very sociable. 
At 11.45 p m on 31st December 1963, I paraded for duty at Somerset for the first time. What a night. I was partnered with an area man and we went from party to party! This was definitely the job for me. Things were so good that I, an untrained po!ice driver, had to drive the police Austin Cambridge estate back to the station to book off!

I served in Central Division at Hamilton Police Station from June 1964, until I resigned in January 1965.
After leaving Bermuda I served in the Cheshire Constabulary until 1974 when I transferred to Greater Manchester Police because of boundary changes.

I had many memorable tours of duty during my service but none will compare with my first.
 I am now happily retired and living in my home town of Lytham near Blackpool.