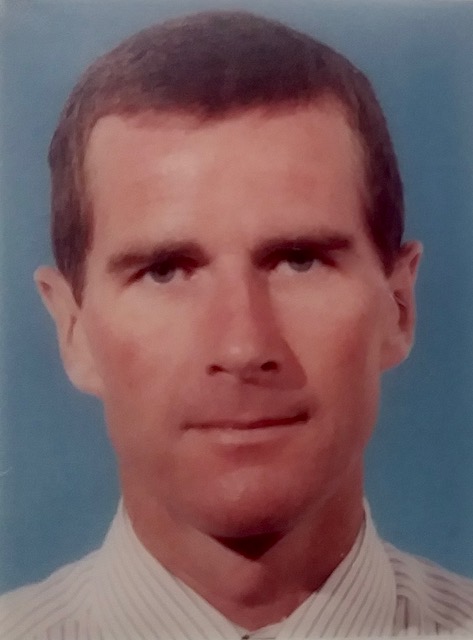 Edward "Eddie" Davies
Served 1975-2006
We just heard from our old friend Eddie Davies who served here in the BPS from 1975 – 2006, and we asked him if he could provide us with an article for our "Then and Now " column . Despite the fact that Eddie and his wife, Eileen, "went to the dogs" when they moved to the U.S. as you will read below, it was great that "Fast Eddie" took the time to send us the following article:-
I was born and raised in Workington in Cumbria. I replied to an advert for the Bermuda Police in the Daily Mail in January 1975, and was interviewed in London by Sykes Smith and Alf Morris.
I arrived in Bermuda on 4th March 1975 on same flight as Byron Lewis, Phil Taylor, Phil Hammond, Colin Griffiths and Robert Hinds. Our flight was delayed as Byron Lewis was late boarding and after the stewardess got him to sit down he jumps up and shouts "Champagne for everybody I'm off to Bermuda". I never did get any champagne! On arrival in Bermuda we were delayed in Customs by Byron again as the customs officer looks at his walking stick and pulled the handle to find out it was a sword stick. He also had a bayonet but Sykes Smith managed to persuade the customs officer to let him through as they were mementoes from his army days.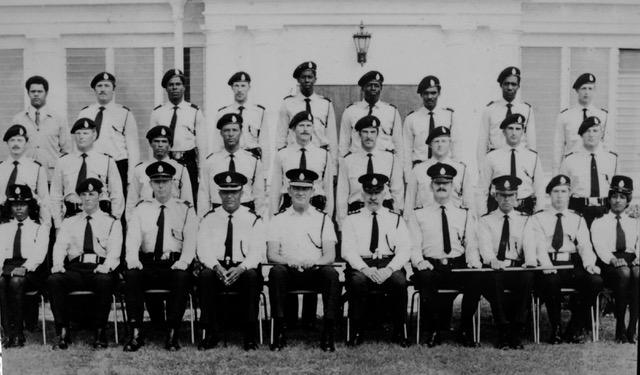 Basic Training Course No. 19
March - June 1975
Top Row (l-r) James "Big Bird" White, Terrence "Terry" Perry, Clancy Charles, Phillip Hammond, Terry Hodgson,
Augustine "Bob" Anthony, Volney Welch, Benfield Alexander, Benjamin John "Johnboy" Hayward
Middle Row - Byron Lewis, Phillip Taylor, Sylvan Musson, Lennox Alvis, Edward Davies,
Harold "Dave" O'Meara, Calvin Carvel, Kendrick Lewis, Nicholas Dunn
Seated - Cherie Butler (Bean), P.C. John "Stuart" Kirkpatrick, Acting Sgt. John Van de Weg,
Supt. Syke Smith, COP L.M. "Nobby" Clark, Chief Insp Dave Parsons, Sgt Barrie Meade,
Sgt Ian Scotland, Colin Griffiths, Juanita Allchin (Shaw)
After attending Training Course #19. I was posted to Central Division (Hamilton) for 3 years before being transferred to Operations (Traffic). When I was working in traffic I remember stopping a guy driving a car on South Road Devonshire with no back lights. When I approached him he asked why I had stopped him so I told him he had no rear lights. He said 'Well they were working when I left home." He then got out of the car walked to the back of it, kicked the lights and they came on. He said "I told you they were working." I then told him to go to the front of the car and kick the windscreen as his vehicle licence had expired 3 months ago!"
In 1981 Eddie moved to Crime Prevention where he became our first ever Alarms Officer at a time when we were practically drowning in false alarm calls - the bane of police forces around the world!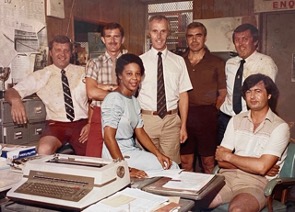 Crime Prevention and CRO Staff
located in the "tin shack" behind Police HQ
(l-r) Andy Hall, Eddie Davies, Roger Sherratt, Mike Jent, Brian Callaghan
Seated - Laverne Johnston and Chris Wilcox
Eddie helped design a new alarms policy which resulted in a fee being charged for excessive false alarm calls. The policy was so successful we were able to reduce false alarm calls by over 40% in the first year.
He spent 7 years in Crime Prevention and was them transferred to Central CID in 1989. He was promoted to Sgt in 1998, and worked on fraud investigations for several years. Following his promotion to Inspector in 2004 he was BPS Disciplinary Officer until his retirement in 2006.
Sports Activities - We asked Eddie about his participation in sports activities while serving in the Bermuda Police knowing that he always kept fit, and here is his reply:-
I was told I had to box when I was in training school so they matched me up against Byron Lewis in the Police boxing in 1975. Byron thought he didn't need to go boxing training but I did, so he must have regretted that as they stopped the fight in the first round.
Gerry Benson was one of the members of the boxing committee so the following year, in 1976 he paired me up against Bob Kinnon who was 48 pounds heavier. I said to Gerry isn't this a mismatch? Gerry said don't worry Eddie he'll be away for 2 weeks before the fight and will be full of Yorkshire beer so I accepted.
I vividly remember the fight as I tried to stay out of his reach for the first round dodging his swings and landing punches as I thought if he connected I'm in trouble so I think I won that round. In the second round I got too confident and a bit complacent and he caught me with a solid right and I literally saw stars so I thought don't go down just cover up and wait until the oxygen returns to your brain, so I managed to survive the second round but probably lost that round.
The seconds told me the third round was the decider as it was one round each and to go all out to win the fight. I was more careful in the third and trying to box like I did in the first round, but I was starting to get tired and so was Bob so I was leaning on the ropes getting my breath when Bob comes lunging in and he walked on to a straight left from me that knocked him backwards losing one of his shoes in the process as he was now on the ropes covering up from further blows from me.
It was voted the fight of the night as the report said we stood toe to toe for the entire fight and we both got a standing ovation. You could tell we had both been in a fight with my face covered in blood from my nose and Bob with his swollen cheekbones that turned blue next day so I managed to win on a unanimous decision. Gerry was the first to congratulate me as well as Penny Bean and many more. Next day I couldn't lift my head off the pillow as my neck was so stiff! Great memories.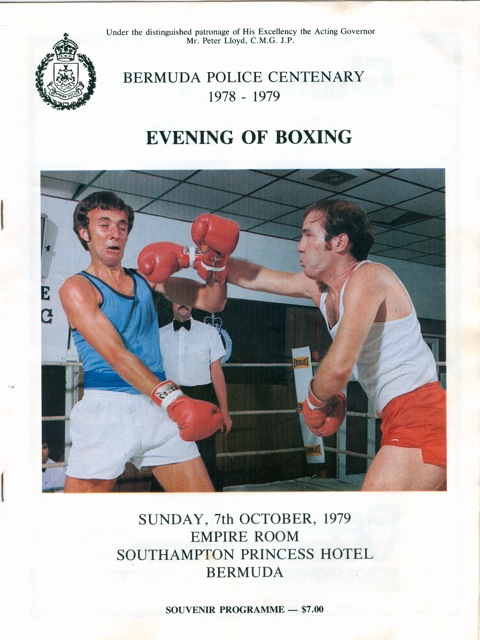 Programme for Evening of Boxing - October 1979
EDITORS NOTE - We are searching for a photo of that exciting Fight of the Night in 1976 between Eddie and Bob Kinnon. If you have one could you please let us have it! CLICK HERE for our article on the First Boxing Tournament held at the PRC in 1969. If you scroll down towards the bottom of the article you will see the programme shown above along with a series of photos of many of the guys who have fought in our annual Evening of Boxing tournaments over the years.
I fought twice more after that, losing to Norman Wilson on a split points decision which was my easiest fight by far as I thought I had done enough to win as Norman just kept throwing punches that hit my gloves. Gerry was one of the judges and told me I had won easily so not to worry which i didn't. Boxing wasn't my favorite sport but I enjoyed the bouts I had.
My last fight was against Neil Halliday that I won on points.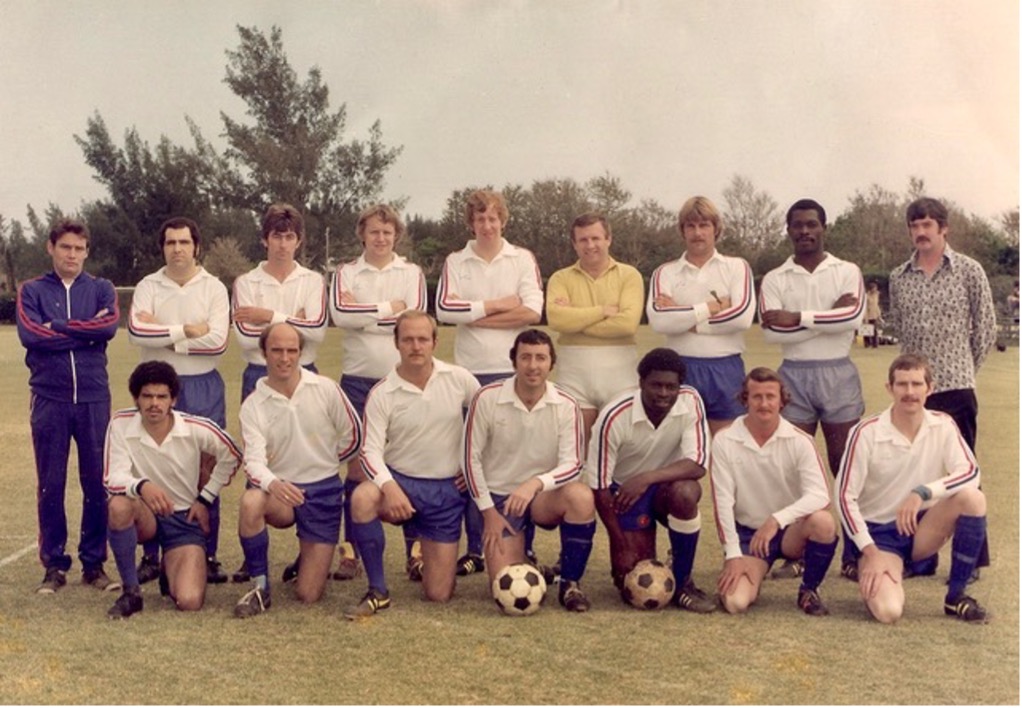 Prospect Football Club
Commercial League Cup Final 1977-78
Back from L:- Jimmy Costello (trainer), Derek Medeiros*, Bob Henderson*, Paul Eurell,
Keith Hazell*, Davie Kerr, Paul Wakefield*, Archie Husbands, Vic Richmond (manager).
Front from L:- Ronnie Smith, Gerry Benson,
Steve Smedley, Ray Bell,
Bob Anthony,
Bernie Gay*, and Eddie Davies.
When I first arrived in Bermuda I played for the Police soccer team in the Second Division in the 75/76 season and soon realised the referees didn't give you much protection on the pitch so decided to play for Prospect FC in the Commercial league where I later became player coach and had great success winning the league on a few occasions, and the Commercial League Cup. We managed to knock out First Division opposition in the FA Cup beating Southampton Rangers one year and Warwick United another.
In my early thirties I ran at lunch times to stay fit so normally ran Barkers Hill or Store Hill. One day I was running down Jubilee Road and Jeff Payne and Sandra Mewett came up behind me. I asked Jeff where they were going and he told me Vesey Street to do speedwork that I had never heard of so I asked if i could join them which they agreed.
Boy was that a shock to the system as they ran flat out over 200 metres, 400 metres, and 800 metres, and had a job to keep up but they had a short break between the intervals. I managed to finish a few yards behind each time which wasn't easy. I then thought this must be the formula to be able to run faster so did some research and also bought the Jeff Galloway book of running that set out speedwork schedules and long slow runs at weekends so I set myself a target to be able to run 10K in 35 minutes within 18 weeks as I couldn't really break 40 minutes before then.
A few months later just as I was half way through the schedule I ran the Police mini-marathon in 36 minutes. Jeff Payne said to me after the race Eddie you must have been doing some training so i just nodded. A few months later in the Maple Leaf 10K I came second in 33 minutes 52 seconds.
Now I was hooked so over the next seven or eight years I represented the Police in Corporate Relays that we won several times and in Inter-Services Races that I won twice and several times as a team. The police team ran in the Jasper to Banff relay race in the late 1980's on a few occasions and with a few guest runners from Bermuda managed to finish 7th one year out of 180 teams. I did accumulate quite a lot of dust collector trophies over the years most of which I trashed when I left Bermuda a few years ago as they tarnish easily but I still have some. I have to say running was the sport that I was probably best at.
"After retiring from the Police in 2006 I worked for my friend Tony Smith (brother of Jonathan) in construction for a year. Hard work but it kept me fit but it wasn't something I wanted to do for too long. The experience in construction helped me do a total renovation of my house later in 2006.
In 2007 I starting work at Butterfield Bank in the Treasury Department and transfered to working in Compliance at the same bank in 2008. In 2013 the bank offered all employees over 60 a lump sum to retire early so they didn't have to ask me twice!
Within a few days of leaving the bank the Bermuda Monetary Authority hired me on a two year contract working as a Senior Analyst in AML.
I finished up staying there 5 years so at 67 I decided it was finally time to retire and my wife Eileen and I moved to Florida that month to a house that we had bought a year before and had renovated over the previous 12 months.
Looking to do some volunteer work we decided we would both work at the Retired Dog Racing Project in Sarasota. The dogs came straight from the track so they needed walking, throwing the ball and some TLC. We adopted 2 dogs in 2018 and 2019 and as they abolished greyhound racing in Florida at the end of 2020, the sister of the youngest dog was still racing at West Palm Beach dog track whose racing name was KB's Zafrina. Eileen had done some voluntary work for West Palm Beach Kennel Club website earlier in 2020 loading all the videos of each race that each greyhound ran and also uploading their lineage going back about 80 years.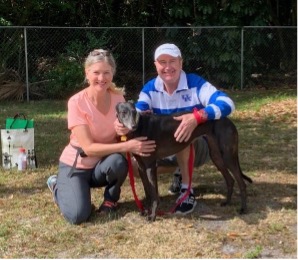 Eddie and Eileen with Zafrina at Palm Beach kennel
We spoke to the owner and trainer of KB's Zafrina and they were happy to give her to us and reunite the sisters. They had both raced at Naples dog track when they were 18 months old but got sent in different directions 6 months later. In January 2021 the sisters were reunited and they knew right away that they were siblings. They are still inseparable and always stay together on walks. They love their new home as they get a different walk several times a day. They bark at deer that we see on our property most days but they are always leashed as they would sure chase them.
Eileen and I decided to move from Florida to NW Georgia just under a year ago about 70 miles from Atlanta and about 10 miles south of Rome, GA. We have a 5 bed 5 bath house on 14 acres, about half of which is woodland. The rest is meadow with a large 100 x 140 paddock where our 3 greyhounds run every few days. We also have a lake at the bottom of our garden.
We found Florida too hot most of the year and didn't like the way things were going with house/hurricane insurance and rapid urban development. We had a nice house with a pool in a gated community but hardly any garden for the dogs to run and the HOA (home owners association) quarterly dues were rising every year.
"The house we bought here in Georgia was a fixer upper as it was 20 years old so we put on a new roof, replaced the AC system, water heater, water pump and some of the windows. We also undertook a massive rehabilitation of the forest as we had to take down about 30 large trees that were too close to the house. We had most of the meadow 'bush hogged' and also removed numerous invasive bradford pear trees. A new fence was installed on the border of the property and we have also planted a number of new trees. Right now the property is looking a lot different than it did a year ago. We still have several ongoing projects so every day we are working somewhere outside.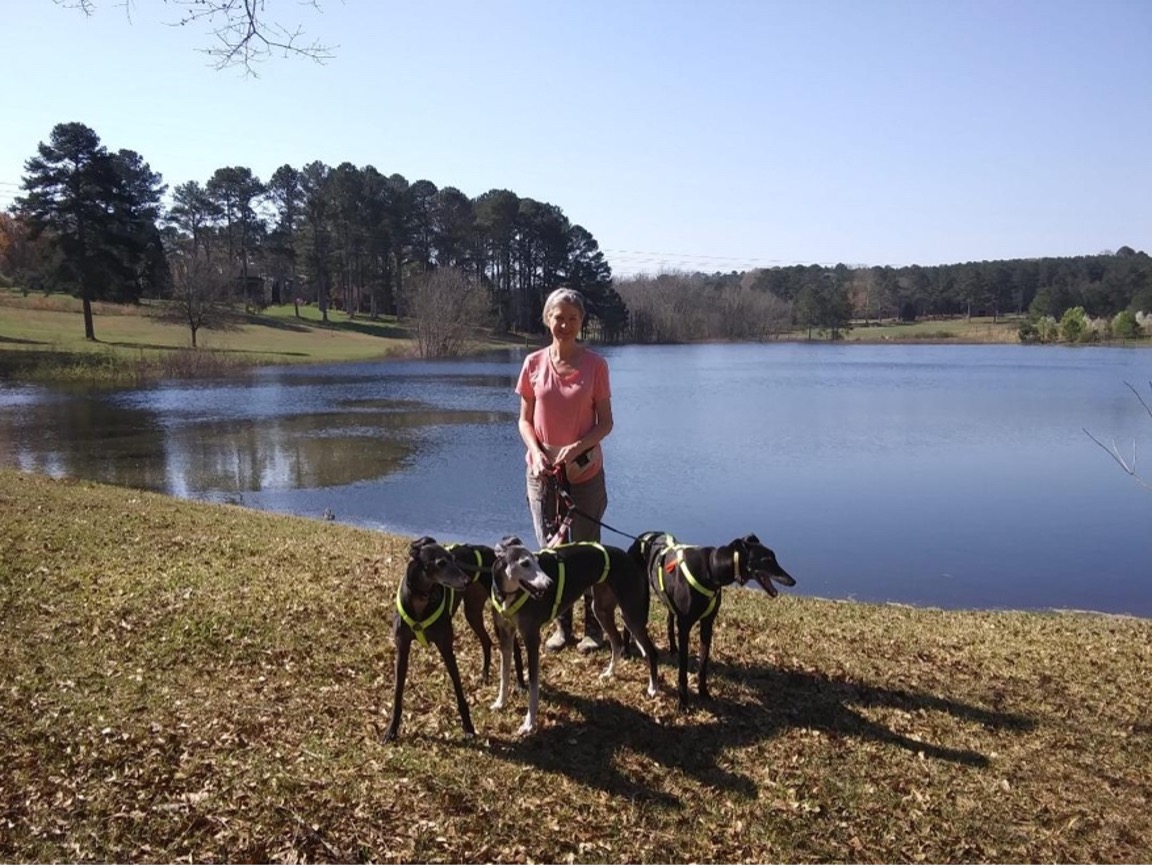 Eileen and Eddie keep fit walking their dogs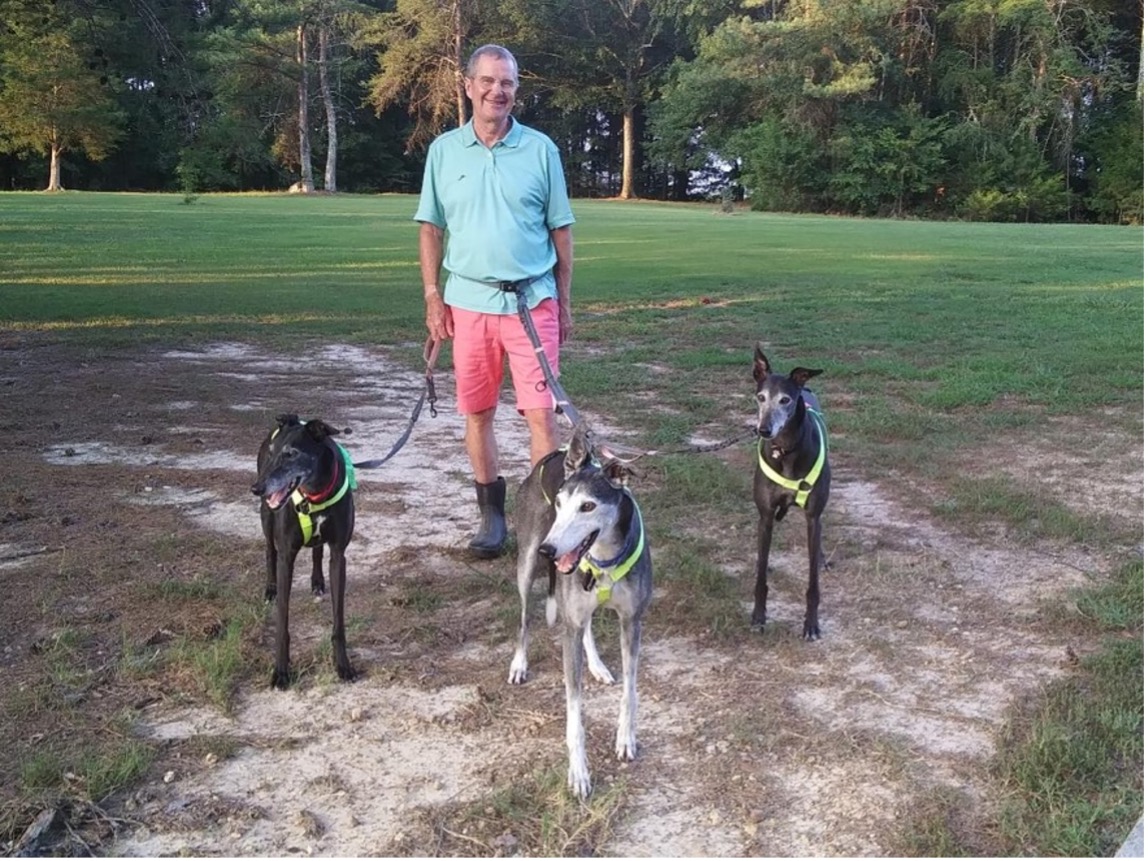 "There are lots of things to see in the area such as Little River Canyon State Park in Alabama (40 min away) in a different time zone and Red Top Mountain State park about 30 minutes away.
"Rome itself is an interesting place as there are bike trails beside the river where you can ride your own bicycle or rent one. Also Martha Berry college just outside Rome is the largest college campus in north America on 27,000 acres and is free to visit.
"Rome GA took its name from Rome, Italy due to it being on the confluence of two rivers. City hall has a statue of Romulus and Remus under the wolf just like Rome Italy. It was a gift from Rome, Italy before the Second World War but they took it down during the war and put it back up afterwards."
Eddie and Eileen are clearly keeping busy and active.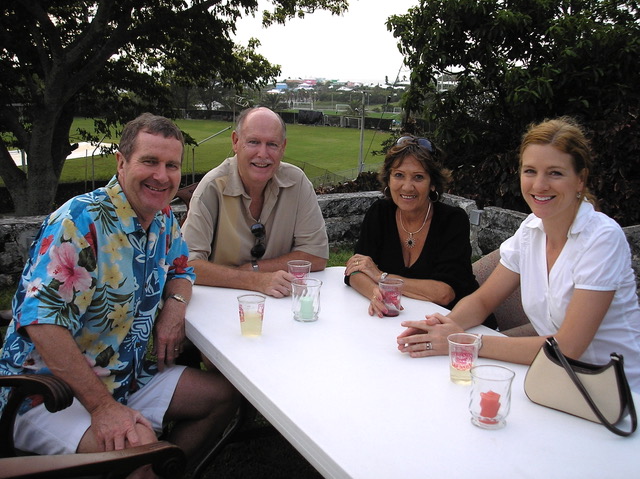 Eddie and Eileen with Roger & Lita Kendalla at PRC patio
Prior to heading over to the US, Eddie and Eileen would attend our ExPo social functions, and "Fast Eddie" was a regular attendee at our Annual pre-Christmas lunches at the Mariners Cub, where he would entertain us as our resident comedian. It's time for a return visit!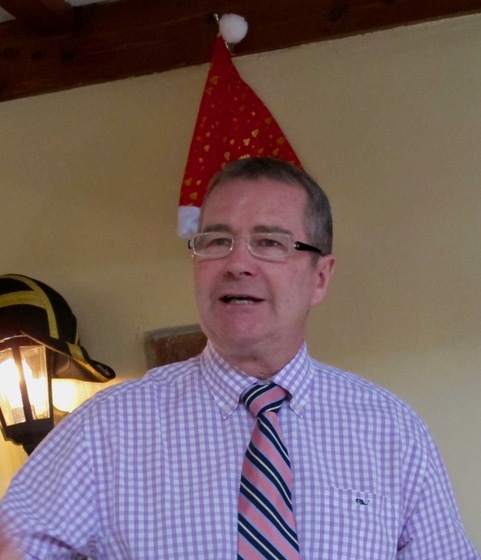 Eddie "performing" at Mariners pre-Christmas Lunch