The Royal Gazette recently published an excellent article (12th January 2022), written by Jessie Moniz Hardy, about our good friend and former colleague George Hammond in their Lifestyle Section. CLICK HERE to view the article.
George has certainly set a fine example of making the most of his life, and we're taking this opportunity to publish the Lifestyle article in its entirety, while adding some additional information about his time as a police officer in England and here in Bermuda prior to embarking on a highly successful career in business, along with his social and sports activities and his family life.
We start with the Royal Gazette article:-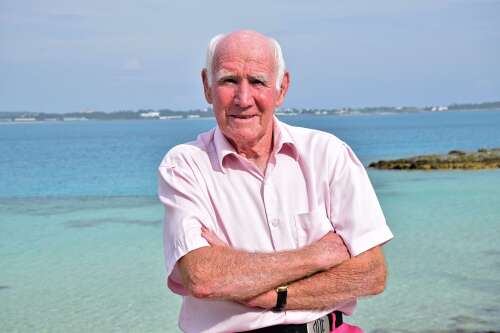 George relaxing at home
(Photo courtesy Royal Gazette)
"Retired at 80, George believes 'life is what you make of it.'"
As a young police officer in England, George Hammond had his pick of British colonies to apply for work.
He chose Bermuda on a whim, although he didn't really know where it was.
"That was the one that stuck out for me," the 85-year-old said. "I took a chance."
In 1960, he came here on a three-year contract but decided he was staying for good after just three months.
"I didn't want to go back to working as a police officer in Britain because the weather was grim there and everyone was miserable," he said. "I liked the way of life here. Here there was a different atmosphere. People were happier."
Originally from County Monaghan, Ireland, Mr Hammond decided at a young age that he did not want to follow his parents into dairy farming.
"It was a 24-hour job working on a farm," he said. "The cows had to be milked twice a day, collected and cleaned out. It was all the time. And there was very little money from it. Things weren't too good in farming in Ireland in the 1950s. It was just after the war and there wasn't much farming machinery available, and no money to buy what was available."
He decided to enter the police force but soon discovered that at 5ft 8½" he wasn't tall enough for Ireland, where the minimum height requirement was 5ft 9in.
Instead he signed up in England, which only asked that officers be 5ft 8", and spent three years there before leaving for Bermuda.
The force then had about 120 police officers, compared to more than 400 today.
"We were all billeted in single men's quarters," he said. "The police force was pretty simple. All we dealt with was petty theft and road accidents. We just did shifts and walked around in the middle of the night. It was a simple life. We all knew each other and trusted each other. It was a young man's place to be at that time."
He met his wife Carol, a Welsh doctor, at a rugby match.
"I was playing and she came to watch a game," he said. "There would be little parties after the rugby."
They were married in 1963.
He left the police force after six years and went to work at the Bank of Butterfield in its then fledgeling computer department. His search for an exhaust for his car changed the course of his life.
"There was always a need for parts," Mr Hammond said. "You could never get what you wanted. People would all talk and say someone should bring in parts, but no one would do anything."
He contacted Quinton Hazell Limited, a factory in Wales. The company was interested in providing spare parts but had high sales expectations.
"They weren't interested in selling Mickey Mouse stuff to me," Mr Hammond said. "But I did not take no for an answer."
After some back and forth they accepted his offer to pay £200 for a small order; Mr Hammond went around to every small garage he knew to gauge interest.
At the end of the year he learnt that Quinton Hazell had set a sales target for him and he had exceeded it by 100 per cent.
The company offered to give him sole distributorship for two years.
In response, he formed Weir Enterprises in 1971 and ran it on weekends. Eventually he was able to leave the bank and focus exclusively on his own business.
"At first we were located on North Street in Hamilton," Mr Hammond said. "But the business kept growing and growing until we needed more space. That's when we moved to the current place on Victoria Street."
He hired Jeff Cook, who is now the general manager. The mechanic suggested that Weir install parts as well as sell them.
"Then we got three mechanics from the Azores and the business was flourishing," Mr Hammond said. "I remember a chap came to me and said, 'You have really got one thing going for you, and that is that your staff can say right away whether or not they have a part.' I listened to what the people were wanting and made a note of it."
He recalled with pride how a lady wrote a letter to The Royal Gazette, full of praise for Weir Enterprises.
"She had gone to another company for a bulb," Mr Hammond said. "They told her they could not do it for two or three days and it would be $60. She left in disgust."
His staff found a bulb, installed it and charged her the princely sum of $1.50.
"That was probably the best form of publicity you could ever get," Mr Hammond said.
He retired five years ago, having sold Weir Enterprises to BAS Bermuda. Despite that, he is there two or three times a week to say hello to his former staff.
"I was ready to retire," he said. "I was getting too old and there is a good managing crew there now. They are all interested in it, and it is doing very well. It is providing an essential service."
In his younger days Mr Hammond loved running and completed the New York Marathon, the London and Dublin marathons and the Bermuda Half Marathon Derby several times.
He does not run any more, but still pedals two or three miles several times a week, from his home in Tucker's Town to Devil's Hole. He also walks around his neighbourhood.
"I keep myself going," he said.
He is proud of his children, Richard Hammond, an anaesthesiologist, and Jane Thorpe, a teacher at the Bermuda High School for Girls.
"The great thing about it is they are both well motivated which I am very proud of," he said. "Probably my wife played a major role in that. She is an educated person and it came natural to her. I did not have an education. I left school at 14."
Despite that he has been successful in life.
"When I first came to Bermuda to work as a police officer, that was never my ambition," he said. "Life is what you make of it. That is about all I can say."
Lifestyle profiles the island's senior citizens every Wednesday. Contact Jessie Moniz Hardy on 278-0150 or This email address is being protected from spambots. You need JavaScript enabled to view it. with the full name and contact details and the reason you are suggesting them.
THEN AND NOW
George Hammond
Served 1960-1968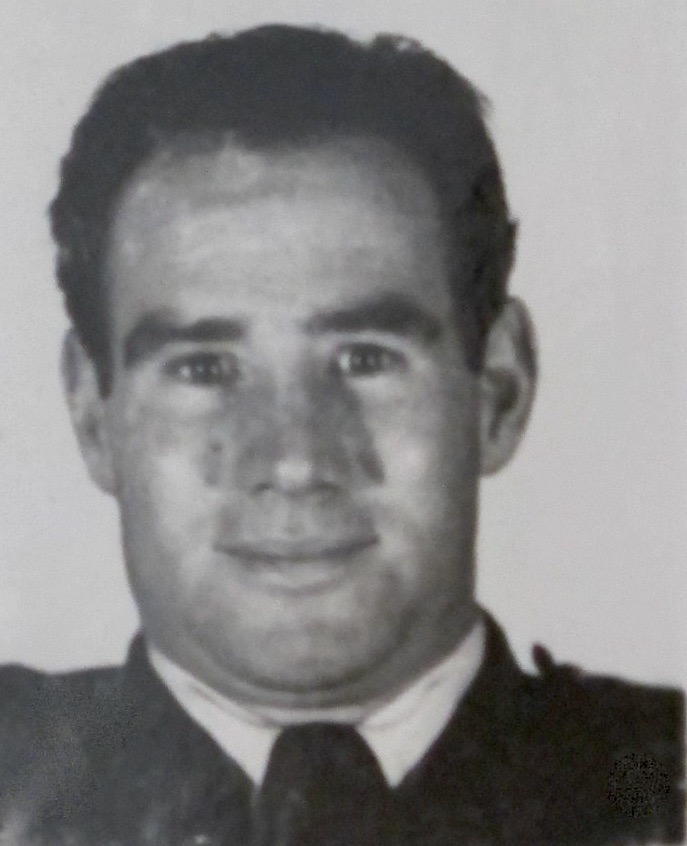 Young P.C. George Hammond
George was born and raised in Monahan in Ireland, His parents, George and Elizabeth "Elsie" Hammond ran a dairy farm in the village of Drum, and he had an older sister, Irene, a twin sister Josie, and a younger sister Pearl who was 13 years younger than George,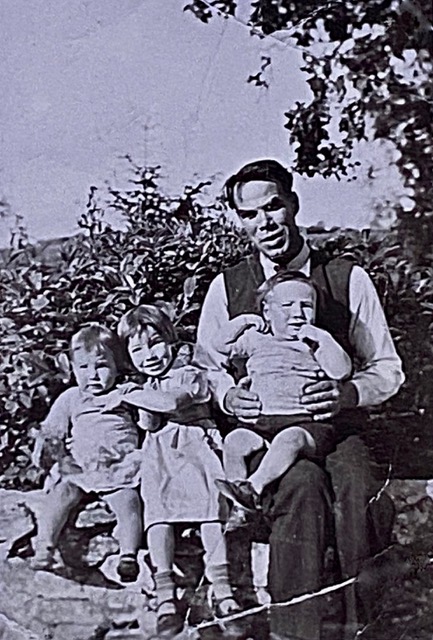 George on his father's knee with
sister Irene and twin sister Josie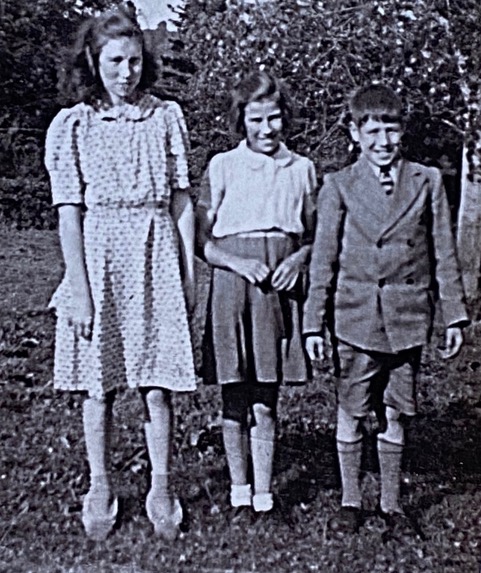 (l-r) Irene, Josie, and George
George figured early in life that farming was not want he wanted to do but he left school at the age of 14 and his father was keen that he work on the farm while his sisters, Irene and Josie, went off to pursue their own careers, Irene as a bookkeeper, and Josie as a nurse. His youngest sister, Pearl was the only sibling who stayed close to her roots and went on to marry a farmer, James McCracken, and they and their family live on their farm in the Isle of Man. In the meantime George familiarized himself with all the farming equipment and machinery, driving tractors and trucks, and gaining a good understanding of things mechanical - skills that proved extremely useful later in life.
Around the age of 18 George looked into the possibility of joining the Irish Police but their minimum height was 5'9" and George was a half inch too short at 5'8". His twin sister Josie had moved to England working as a nurse in Leeds, and knowing about his interest in the Police she sent him a newspaper advertisement she spotted for the West Riding Police - where the minimum height requirement was 5'8".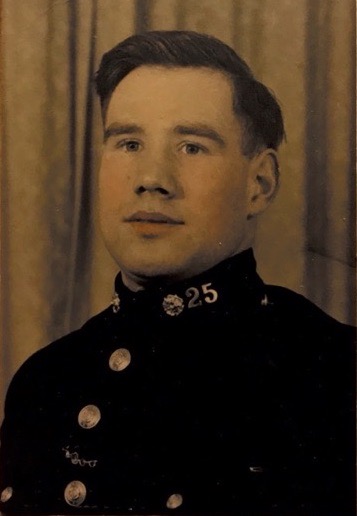 P.C. 25 George Hammond
George duly applied and was accepted in the West Riding Constabulary in August 1957. After attending the Police Training School at Pannal Ashe, George was posted to the country town of Mirfield, and later to Batley, home of the legendary Batley Variety Club, then known as the "Las Vegas of the North".
George can still remember the bitterly cold and snowy winter evening he was sitting in a pub in Leeds with fellow constable Ernie Steel who suggested that the two of them apply for one of the overseas Police Forces where they wouldn't have to put up with the UK's constant cold, wet climate. Next day the two started making enquiries and discovered that the Crown Agents were recruiting police officers for Hong Kong, Bechuanaland, Rhodesia and Bermuda, all of which sounded much warmer than West Yorkshire, so they applied for an interview at the Crown Agents in London, with all expenses paid. After spending a night in the capitol and attending their interviews, the two returned home feeling very pleased to have had a "free trip" to London.
It was a genuine surprise when just one week later George received the good news that he'd been accepted for Bermuda and arrangements were being made for him to fly there in 4 weeks. At that point George readily admits he wasn't quite sure where Bermuda was. Ironically his young partner, Ernie, was turned down as being a little too young and was advised to reapply later.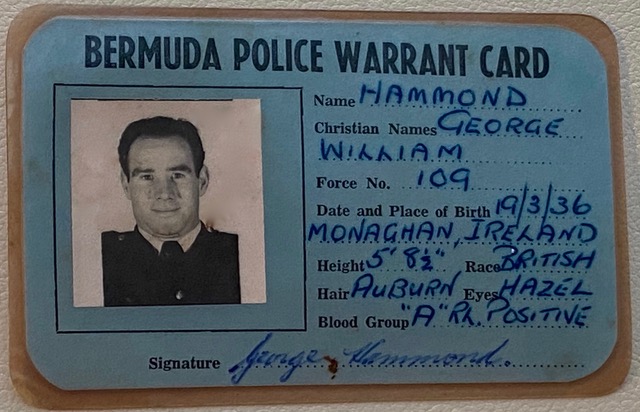 Warrant Card for P.C. 109 George Hammond
George arrived in Bermuda on 24th May 1960 and his first impression was that it was "hot as hell" made all the more so by the fact that he had red hair and freckles, and for the first month he was plagued with sunburn until he discovered the benefits of suntan lotion. It may not have helped his sun burn problems to be billeted at Admiralty House in Spanish Point with its beautiful beach, sheltered bay and a dock constantly frequented by young off duty policemen and nurses.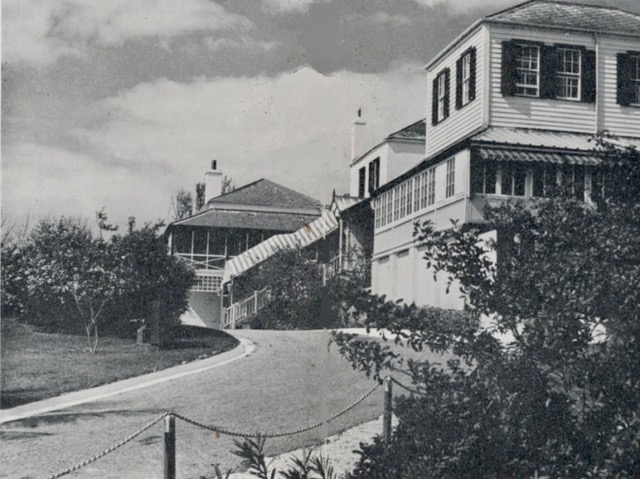 Admiralty

House

much as it appeared when George arrived in 1960
(Photo courtesy of the The Bermudian magazine - November 1956)
For the first month George had a room of his own in the big house, and he was joined a month later by P.C. Bill Pratt who had just arrived on Island. The two shared a large room, and there were half a dozen or more young policeman also residing at Admiralty House, including Mike Kelly, Bob Stewart, Bill Freeman, Sid Gregory and Dave Gillery. George recalls lots of parties held in the big ballroom and these set a trend that continued after Admiralty House closed and the occupants were billeted in the former Sergeants block at Prospect. Police parties were popular!
George's first posting was to Central Division, Hamilton, when the police station was located on Parliament Street opposite the House of Assembly and next to the old Hamilton Jail. When asked about receiving any training after arriving, George said, "Absolutely none. I was sent out on Night Shift and that was it".
He recalls that a new crime patrol was introduced requiring a driver and a beat man, whoever was available, and they would work from 8pm-4am patrolling the Central District in a plain Ford car. Sgt George Goddard, who acted as a driving instructor, was looking for drivers, and George's past experience driving farm vehicles came in handy when he passed his police driving test early in 1961.
When George first walked the beat in 1960 police uniforms were khaki shorts and shirts during the summer, and blue serge with long trousers during the winter.
Less than a year later, George was transferred to Traffic where he performed a variety of duties including manning the front desk, operating the radio, patrol driving, and partnering Arthur Rose on radar with Arthur operating the device (this was a static system that sent a beam across the street) with George driving the chase car.
While serving in the Traffic Department, George was seconded to Government House as driver for H.E. Lord Martonmere. A few weeks after the death of Sir Winston Churchill in January 1965, George had occasion to drive Lady Churchill who was staying briefly at Government House. He was introduced to Lady Churchill who was clearly still in mourning and dressed in black.
George also drove HRH Princess Margaret and Viscount Snowdon during their visit here in 1965 when Princess Margaret came to present colours to the Bermuda Regiment. George took Princess Margaret and Lord Snowdon and their entourage on a sightseeing tour of the Island. Viscount Snowdon insisted on sitting in the front passenger seat and he was very interesting in chatting with George and hearing about life in Bermuda. As they were travelling up Blue Hole Hill after visiting St. George's, Lord Snowdon spotted the ice cream shop at the top of the hill and suggested they all stop there to have tea, which they did.
George was not the only officer from the West Riding Constabulary to join the Bermuda Police. Clive Donald had joined the year before George, and went on to serve as Commissioner of Police. The two worked together on Traffic patrol for a short time. Other former West Riding officers who joined after George were Bill Black, Keith Hatfield, Marjorie Wainwright, and Mike Rickards.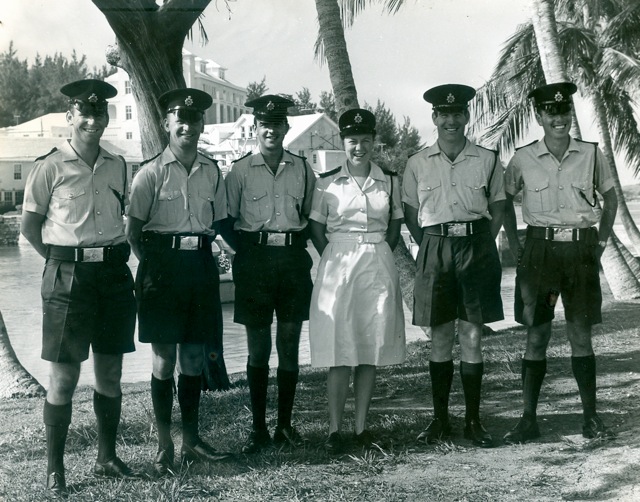 Former members of the West Yorkshire
Police who came out to join the Bermuda Police
(l-r) Clive Donald, Bill Black, Keith Hatfield, Marjorie Wainwright,
George Hammond, & Mike Rickards
In late 1966, George was despatched in a police van to pick up fellow P.C. Jerry Ham who at that time was assigned to the new police radio room in the Traffic Department. Jerry had been at King Edward Hospital for treatment to a most "uncomfortable" injury, and during the journey back to Prospect, Jerry asked George if he had any experience with radios as he wouldn't be returning to work for a few weeks, and someone would be needed to stand in for him. Although he wasn't familiar with radios George was quite handy and he volunteered to work in the Radio Room while Jerry was recuperating. This was at a time when Pye two-way radios were being fitted to all police vehicles, and when Jerry returned to work George stayed on as his assistant as of December 1966.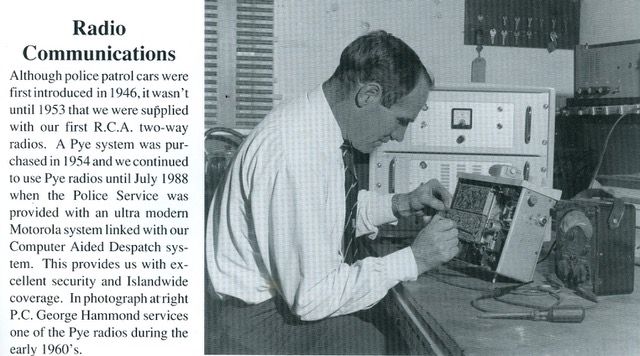 During an extended return visit to the U.K. George had attended a 3 week course in computers. He also continued his education, taking several "O" Levels at the Bermuda Technical Institute.
George had not actively taken part in organized sports as a young lad, but had always been interested in rugby, and played a few casual games with the Police while serving in Yorkshire. Following his arrival in Bermuda he wanted to start playing more seriously and tried to get into the Police rugby team but couldn't make the team so he volunteered to play for Renegades as they were always looking for players. He quickly became a regular member of Renegades but he recalls getting "aggro" from a couple of his fellow policemen whenever Renegades played the Police.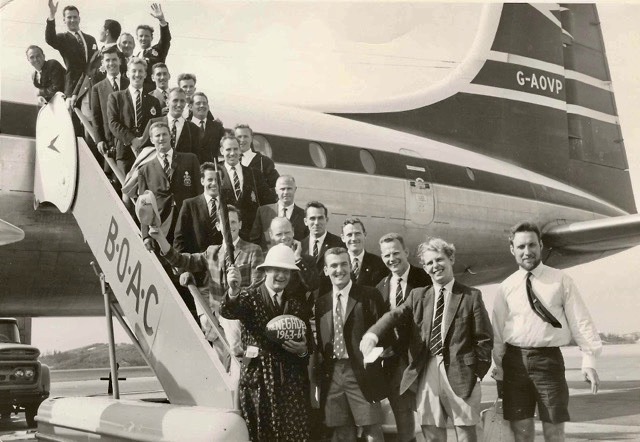 Members of the Renegades Rugby Tour Team prepare to board
the BOAC flight for their tour to New York in May 1964. George
is halfway up the steps to the right of the tip of the umbrella.
On the 4th anniversary of his arrival in Bermuda, George went on a memorable Renegades rugby tour to New York from May 22nd – May 31st 1964 where they played a series of matches against teams from the New York area. The Renegades team had invited members of the Police and BAA teams to join them. Other police officers on the tour were Dennis Byrne, Alex Forbes, Alastair Lane, Dave Lunn, John Rawson, Jack Rouse, Frank Sykes and Thomas "Taffy" Thomas, who all played for the Police, and Tony Nuttall who was a member of Renegades Team. CLICK HERE to read our ExPo article "Historic Rugby Tour" with full details of the tour and all those who attended.
George has very good reason to remember another rugby match – the annual Irish v The Rest game that took place at BAA Field on 17th March 1964. George was, of course, playing for the Irish. A group of doctors and nurses turned out to watch the action. One of the doctors, Caroline "Carol" Jones asked for a lift back to the hospital and George obliged. He invited the young lady to attend his next match - and as George says, "The rest is history"!
George remained in the Police Force working in the Radio Room but didn't see much of a future in it and after receiving his Bermuda Status in 1968 he decided to leave the Force in July of that year following his successful application for a position with the Bank of NT Butterfield in their (new) computer department.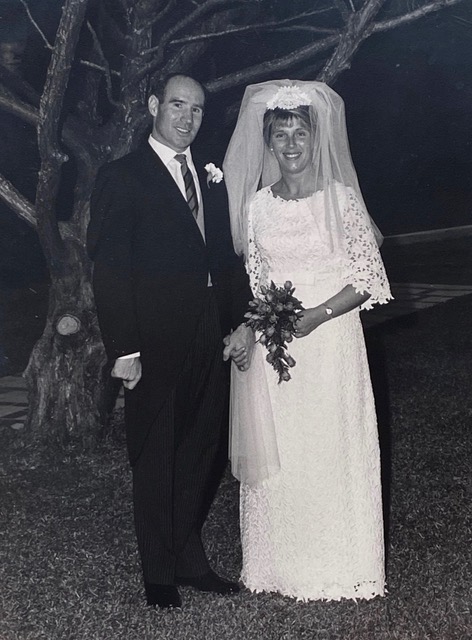 George and Carol on their wedding day
September 1968
Two months later George and Carol were married at St. John's Church in Pembroke by which time Carol had left King Edward Hospital and was working at the Bermuda Health Department doing pediatrics. As of this writing they have been happily married for 53 years.
George had always had an interest in tinkering around with cars, and by chance he happened to come across a Morris Minor car, owned by an American serviceman, which went off the road by the St. David's Island Bridge and had been towed to the Bermuda Fire and Marine storage area in a damaged condition. George believed he could fix the car and bought it from the serviceman while requesting a letter from him confirming that as the former owner he had no intention of putting it back on the road and that he was about to leave the Island.
Once he had the car George went around the local garages seeking to buy spare parts but he had no luck. He came to the realization that spare parts were very difficult to find on Island. While checking on car parts at P.W's he spotted the name of one of the suppliers on several boxes, a company named Quinton Hazel in North Wales, and decided to write directly to them for parts he couldn't find locally.
The company replied saying they were not interested in selling spare parts retail, but they were looking for a business in Bermuda willing to carry parts for all makes of cars.
George wrote back to say he was willing to place a small order, cash up front, to try it out. In the meantime, during weekends he went around some of the small garages on Island, such as Cardoza's, who showed interest in purchasing spare parts, and he was able to place a bigger order and sell them. At this point he opened a small place on North Street in Hamilton from which to sell spare parts. He negotiated with Quinton Hazel to be their sole distributor in Bermuda for a year or two. At the end of that time he received a letter from the company letting him know that he had exceeded their sales target by more than 100%.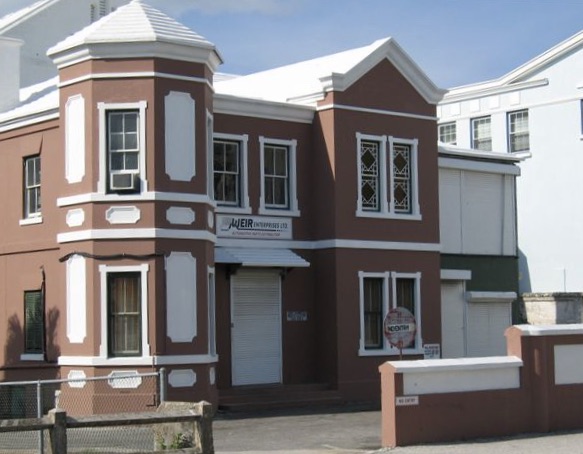 Weir Enterprises - Victoria Street
It was clear to George that he could operate a successful business selling spare parts so he began to search for a suitable building in Hamilton, and it was through a good friend and fellow Renegades rugby player, Stewart Outerbridge, who was in real estate that George was shown a rundown old building on Victoria Street. It seemed ideal for the purpose and he purchased it in 1977 and set up shop there as Weir Enterprises. The business rapidly expanded and went from strength to strength. Shortly after Jeff Cook joined the company he suggested to George that Weir Enterprises could fit spare parts as well as selling them. Weir Enterprises then began servicing all makes of cars and introduced a first-come-first-serve policy when they opened the doors at 8am daily.
Never one to sit on his laurels, George continued to play rugby for Renegades for 20 years before finally hanging up his boots. Meanwhile he had taken an interest in running to keep fit and one has to wonder if this could be related to the fact that George first set foot in Bermuda on the May 24th national holiday when the Island's top runners would compete in the annual Half-Marathon Derby! After trying out short distances for a while, George palled up with several other steady runners such as Georgio Zanol, Joe Lopes, and Harry Patchett to name a few, and they steadily increased their runs until the point when they would meet up in Hamilton on weekends, and run together all the way to the airport and back.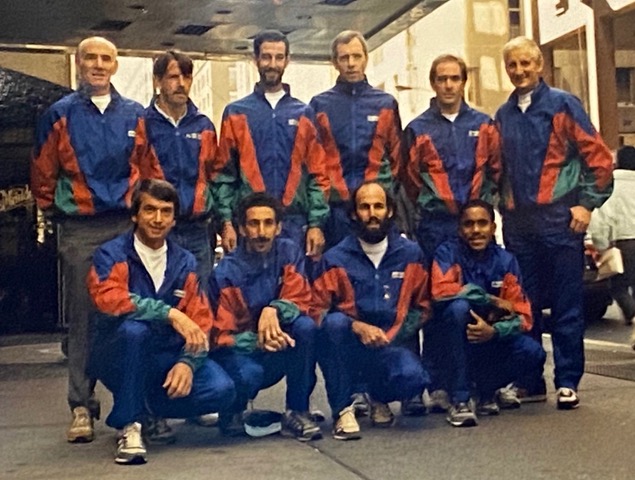 Bermuda Contingent at New York Marathon
Back row (l-r) George Hammond, Harry Patchett, Joe Lopes,
Dr. Ian Fulton, Sean Reape, Willie MacCracken
Front row - Giorgio Zanol, Manuel Lopes, Gilbert Lopes, and Stephen Caines
Although not the fastest of athletes, their group were steady distance runners and would participate in the May 24th Bermuda Day half marathon. They gradually progressed to full marathons, first competing in the Bermuda Annual Race Week marathon, then ventured abroad. All in all George has competed in marathons in London, New York, Dublin and Boston, some of which he has run twice.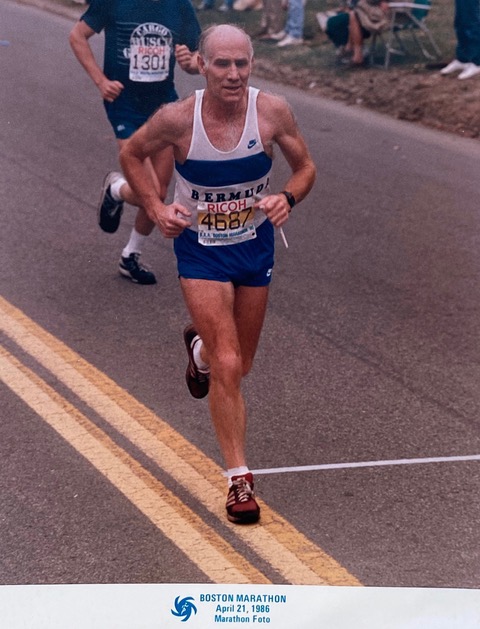 George runs the Boston Marathon
One of his most memorable marathons was in Boston where he ran the entire course stride for stride – almost – with his good friend Georgio Zanol. Their goal was to break the 3 hour barrier, and with Carol and children looking on at the finish line it was touch and go whether they would make it in time. Despite them running shoulder to shoulder until close to the finish, Georgio managed to eke ahead, finishing in a time of 2 hours and 53 seconds, while George crossed the line in 3 hours and 33 seconds! Although he narrowly missed his target, George was still delighted with his run which was his fastest ever marathon.
George and Carol both took up golf later in life and were active members of Mid Ocean Club and Riddell's Bay. They enjoyed playing both locally and abroad on trips as far afield as Australia, New Zealand, South Africa and Ireland.
For the first years after their marriage, George and Carol, lived at their home on Point Finger Road in Paget and were residing there when their two children, Richard and Jane were born in 1969 and 1970 respectively. The two attended school locally and then in the U.K. before attending university, Richard at St Mary's Hospital in London where he qualified as an anaesthesiologist, and Jane at University of Waterloo, where she earned her B.A. in Theatre Arts, Middlesex Uiversity for her P.G.C.E. in Drama, and New York University for her Masters in Educational Drama
Richard and Jane have both returned to live here and raise their families. Richard is an anaesthesiologist at King Edward Hospital, and Jane is Head of Creative Arts at the Bermuda High School for Girls. Richard and his wife Sharon have two children, Rudy (18) and Louis (17), while Jane and her husband Mark Thorpe, have three children, Jack (19) Charlie (17) and Adison (14), all of whom are here in Bermuda.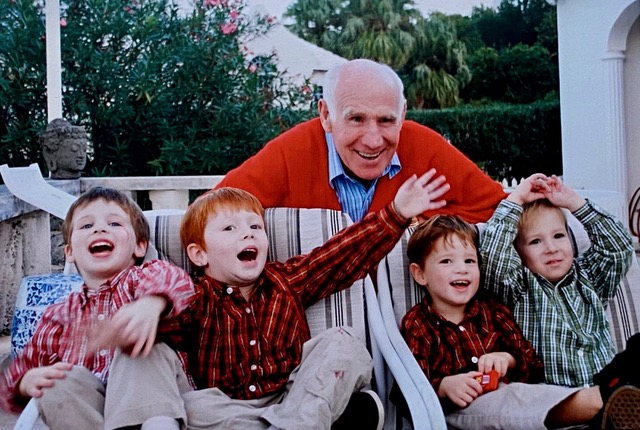 George has his hands full with grandsons
(l-r) Rudi, Jack, Louis and Charlie
George and Carol moved into their present home at Cable End in Tuckers Town in 1978 and consider themselves to be very fortunate to have both of their children and all five of their grandchildren around them here in Bermuda. Although they are no longer playing golf they enjoy walking, and George still rides his pedal cycle.
To quote George in his interview with the Royal Gazette, "Life is what you make of it. That is about all I can say."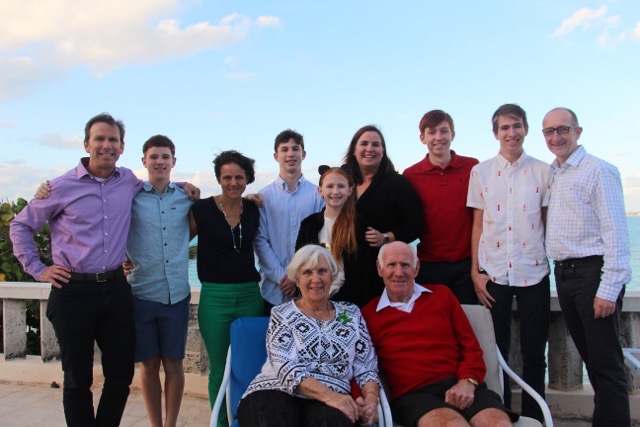 The Hammond Bermuda Family
(l-r) Richard, Louis, Sharon, Rudi, Addison, Jane, Jack, Charlie and Mark
Relaxing - Carol and George