While having lunch at Divots (the restaurant at Belmont Hills Golf Club) with former Commissioner, Clive "Fury" Donald, on Tuesday 26th July 2022, just two days before Cup Match, I spotted a group of familiar faces amongst a large group of men, all of whom had a direct connection with Cup Match.
Every member of the group had played in Cup Match for either St George's (Blue and Blues) or Somerset (Red and Blues), and three in particular were very familiar because they were serving police officers when they played Cup Match. They were, Eugene "Buck "Woods, Neville Darrell and St. Clair "Brinky" Tucker.
Eugene "Buck" Woods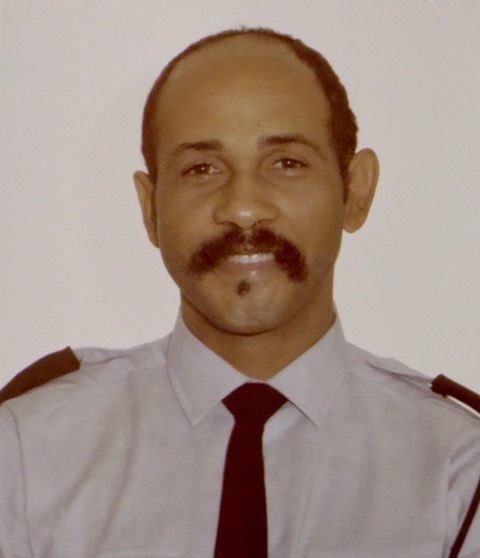 Neville Darrell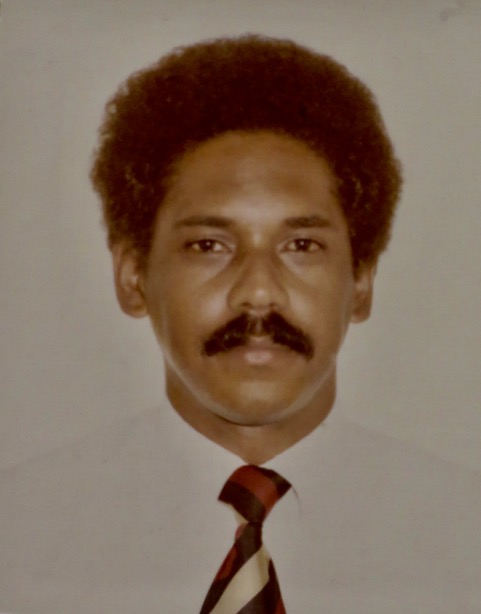 St. Clair "Brinky" Tucker
Brinky has kindly provided this photo of the assembled group, and as you will see, it includes some of Bermuda's greatest cricketers. I wonder how many of our ExPo members can recall which team each of them played for?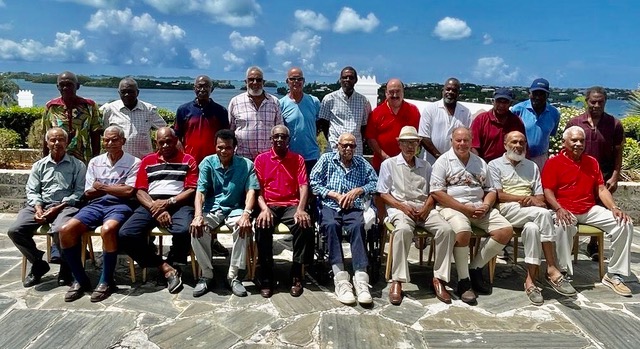 Former Cup Match players attending annual luncheon at Divot's - 2022
Standing (l-r) Quinton Sherlock, Dean Minors, John Tucker, Randy Horton,
Arthur Pitcher,
Robert Simons, Barry De Couto, Lionel Thomas, Herman Smith,
Gladwin Trott and Winston "Coe" Trott.
Sitting (l-r) Willard Raynor, John Stovell, Joe Bailey, Denis Wainwright, Eugene "Buck" Woods,
Sam Paynter, Calvin "Bummy" Symonds, Jeffery Pitcher, Neville Darrell and St. Clair "Brinky" Tucker.
Cup Match is being played this year at Somerset Cricket Club and the West Enders will no doubt be firm favourites to win, which is a far cry from when I first arrived in Bermuda (1964) at a time when St, George's, ably led by Cal "Bummy" Simons were winning almost every year.
We have previously published several Cup Match related articles on our Expo website including a comprehensive article written by George Rose in our Hall of Fame on the first person to score a century in Cup Match in 1937, Edward "Bosun" Swainson who was a serving police officer at the time. CLICK HERE for the article on one of our legendary police officers.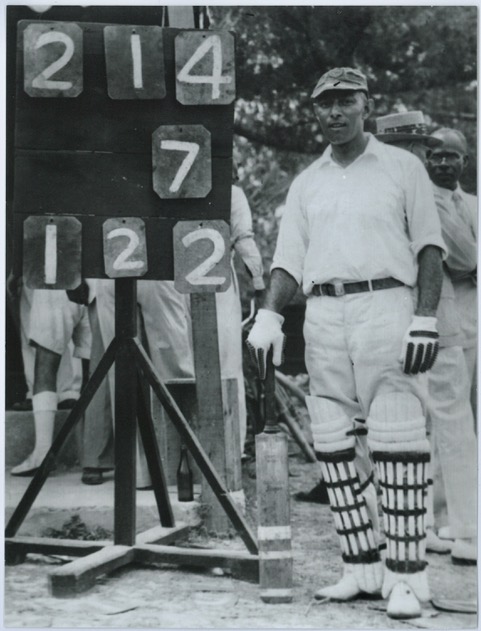 Edward "Bosun Swainson scores first Cup Match century - 1937
We also published an article about the opening of our BPS Museum in October 2019 at which a member of the Swainson family generously gifted "Bo" Swainson's Cup Match cricket bat and other historic items to our new museum. Attendees at the museum opening included Eugene "Buck" Woods, Neville Darrell, St.Clair "Brinky" Tucker, Clyde "Tango" Burgess, Adrian King, and Ken Pitcher, all of whom had played in Cup Match CLICK HERE for the article about the official opening of the BPS Museum.
Before doing so we wonder how many former police officers you can name who have played in Cup Match. We have compiled a list of 22 players, and we also compiled a list of 7 police officers who have served as Cup Match officials. How many can you name? You will find the answers in the article about the BPS Museum Opening.
We have one additional question for you to ponder! Is it possible that a cricket fan who was present on that momentous day in 1937, when "Bosun" Swainson made history scoring the first ever century in Cup Match, could possibly still be alive today in 2022? The answer is yes, and although we don't know if he will be present for this year's Cup Match, we are sure that Mr. Brownlow "Brownie" Place will be closely following the game – at the age of 106. CLICK HERE for an article on Brownie published in the Royal Gazette on 23rd July 2022.
For anyone following Cup Match and wanting to know who has been picked for this year's match CLICK HERE for an article by Dexter Smith in the Royal Gazette listing the picks, with St George's having to make six changes for their team.
We wish all of our ExPo members and readers a healthy and happy Cup Match 2022.