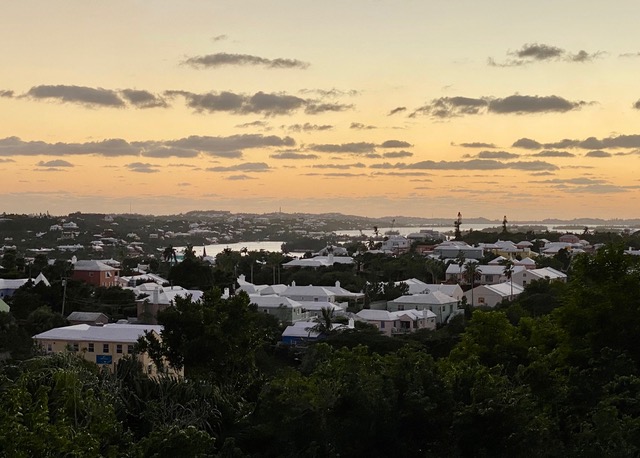 View from the PRC Patio with Gibbs Hill Lighthouse in the distance
After two years of literally no ExPo social activities we were finally able to hold a very special reception at the Police Recreation Club on 10th November 2021, to celebrate the 50th Anniversary of those of our members still residing here in Bermuda who first joined the Bermuda Police 50 years ago – in 1971, and we also invited our members who celebrated their 50th Anniversary last year. The event was very well attended.
With severe restrictions on social activities due to Covid since last year, there was finally an opportunity for us to seek a "Large Group Exemption" to hold our event at the PRC which also required that all attendees had a "SafeKey" - a Government issued document confirming that the holder has either been fully vaccinated or has had a negative Covid test within the last 72 hours.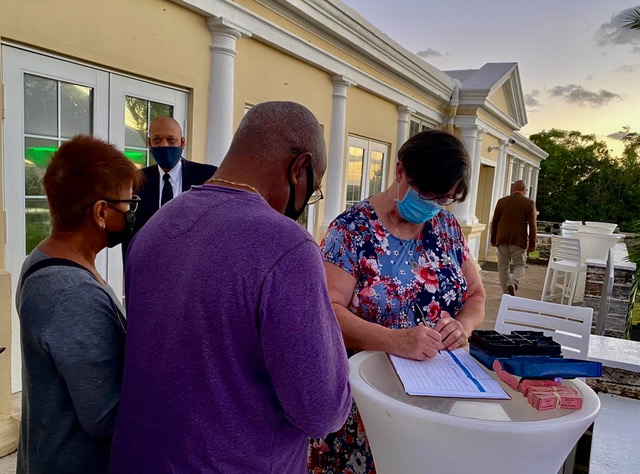 Gail Correia checks in arrivals Reese and Gilda Bartley
As we all arrived we were required to wear masks and show our ID and SafeKey before entering the club. A masked Gail Correia did the honours of checking documents outside the main door.
We also invited all of our ExPo members to attend and the result was that we had an excellent turnout on a beautiful November evening. The only pair not residing in Bermuda were our former ExPo President, Steve Taylor, and his partner, Jan, who had specially flown out from the UK at the beginning of the month so Steve could be here to celebrate his 50thAnniversary of joining the BPS on 4th November 1971.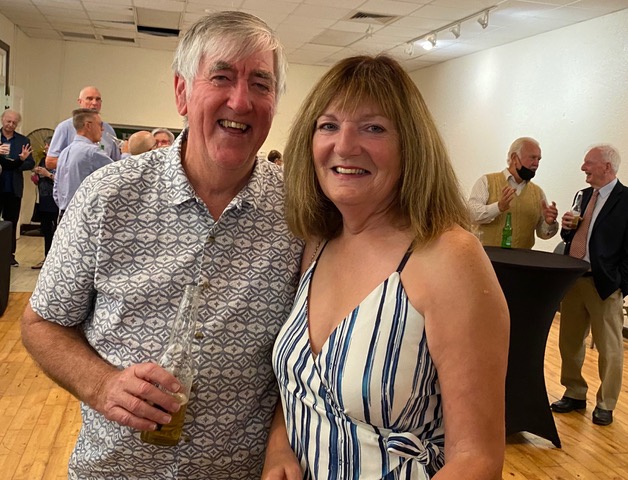 Steve Taylor and partner Jan
Steve was one of 69 young men and women who joined during 1971 and of those 11 still residing on Island, we had 8 attend the reception. They were Roddie Barclay, Ernie McCreight, Bernie Pitman, Pete Shaw, Doug Joslyn, Chris Wilcox, Marjory Amos, and Steve Taylor. "Moby" Pett sent his apologies as he was off Island. CLICK HERE for an article about the 1971 group
As we could not hold any functions last year we also invited those of the 82 recruits still residing here who had joined in 1970, and both John Baxter and Roger Kendall attended, with Steve Shaw sending regrets as he was also off Island. CLICK HERE to view an article on this group on our ExPo website.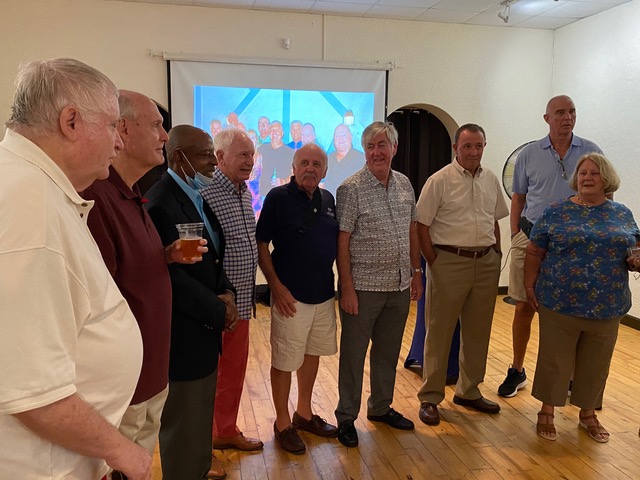 50th Anniversary Group Assembles
(l-r) John Baxter, Roger Kendall, Doug Joslyn, Ernie McCreight, Roddie Barclay,
Steve Taylor, Keith Cassidy, Pete Shaw and Marje Amos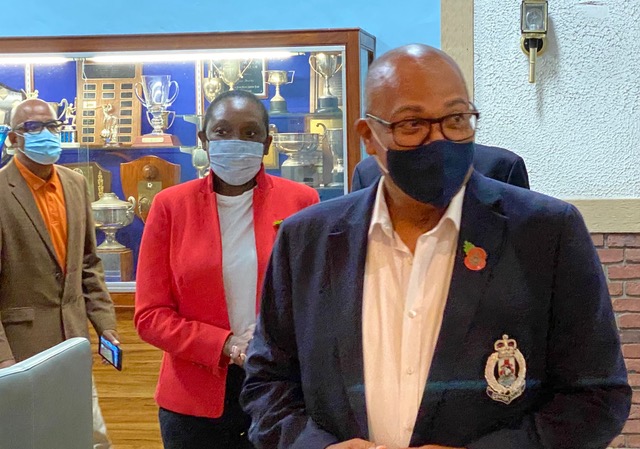 Her Excellency, Governor Rena Lalgie, arrives
accompanied by our Expo President, Cal Smith
Shortly after the reception got underway we had surprise visitor when our 50th Anniversary members were asked to assemble, and ExPo President Cal Smith, and Acting Commissioner Darrin Simons, escorted Her Excellency the Governor, Rena Lalgie, into the main hall where she met with the group and congratulated them on their service to the BPS.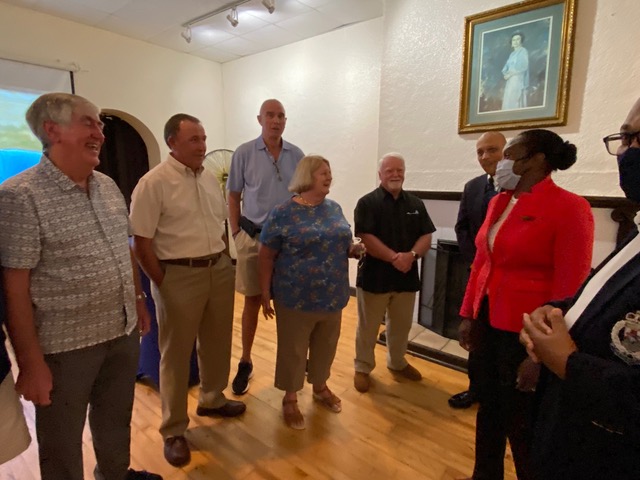 Her Excellency chats with the Anniversary group
Ms. Lalgie circulated through the room and spent time chatting with attendees, especially our two senior retirees, Glad 'Doc" Hall and Dudley Swan, and their wives, Lillian and Marlene. "Doc" joined the Police Service 71 years ago in 1950 and Dudley, who recently celebrated his 92nd birthday joined in 1951. As someone noted, they joined the Police before Queen Elizabeth came to the throne!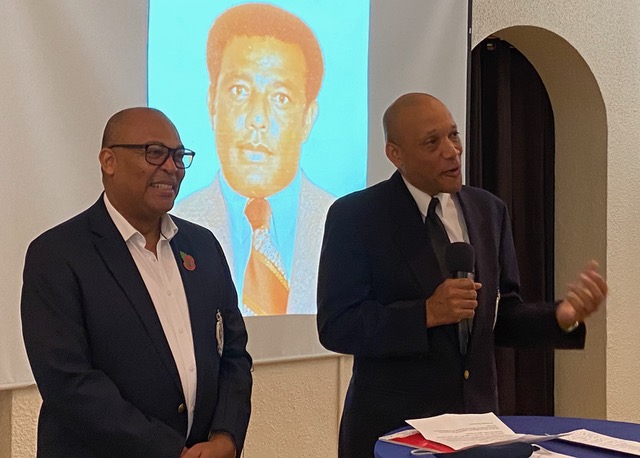 Acting Commissioner Darrin Simons welcomes attendees to
the Reception along with ExPo President Calvin Smith
ExPo President Cal Smith welcomed everyone to the reception, and he was followed by Acting COP Darren Simons who also welcomed everyone and said he was honoured to be attending his first ExPo function in his capacity as Acting Commissioner.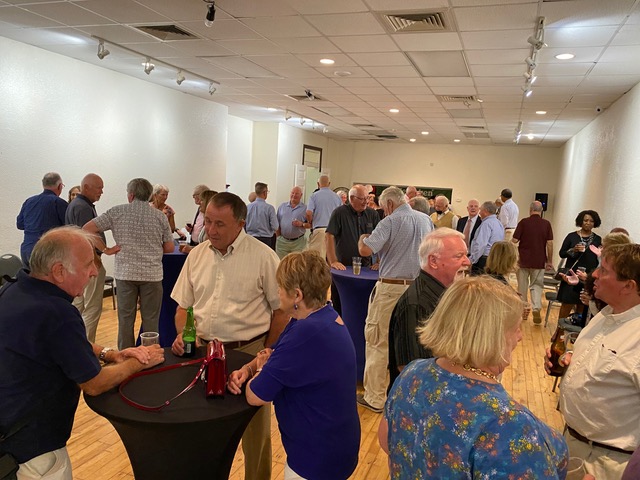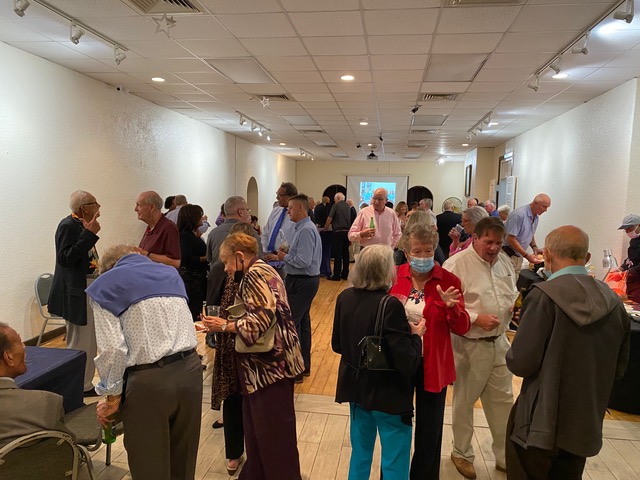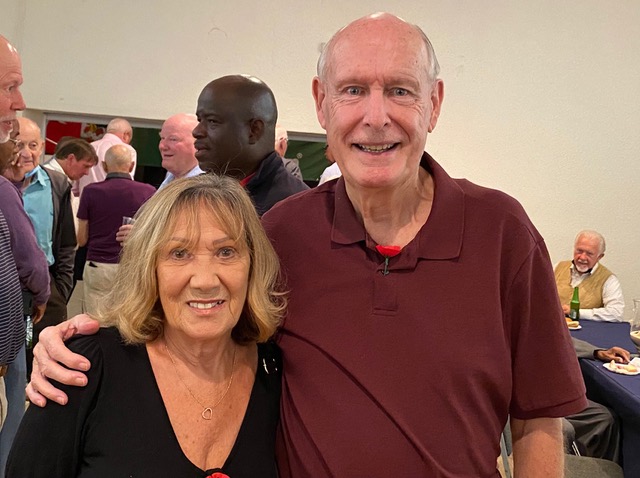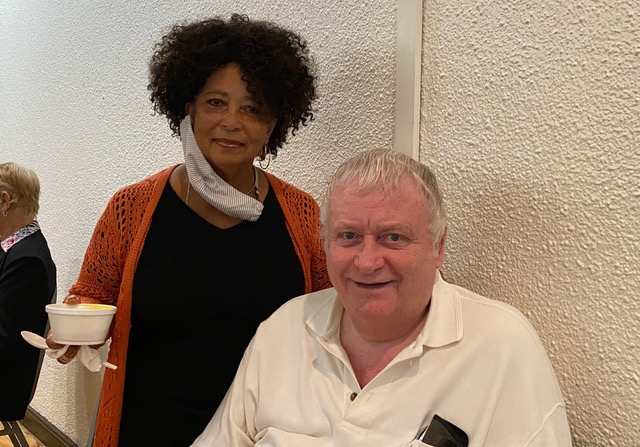 John and Helen Baxter
With over 60 people in attendance the evening proved to be a great success. During the evening we had a slideshow featuring as many of those in attendance as possible, and Roy's kitchen put on delicious spread of roast turkey and ham on rolls, along with pumpkin soup which all proved very popular. it's sincerely hoped that Bermuda is through the worst of the Covid pandemic and we will soon be able to return to something near normalcy, perhaps starting with our annual ExPo New Year's get together in January.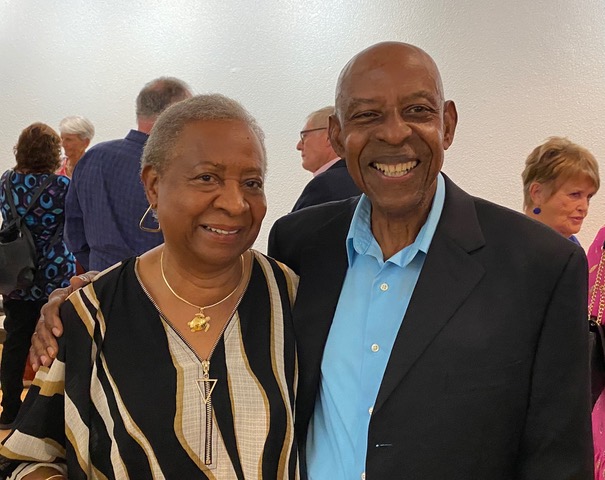 Doug and Joan Joslyn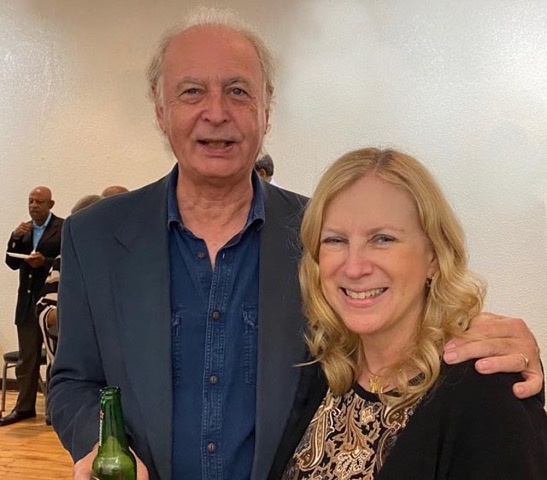 Chris and Marianne Wilcox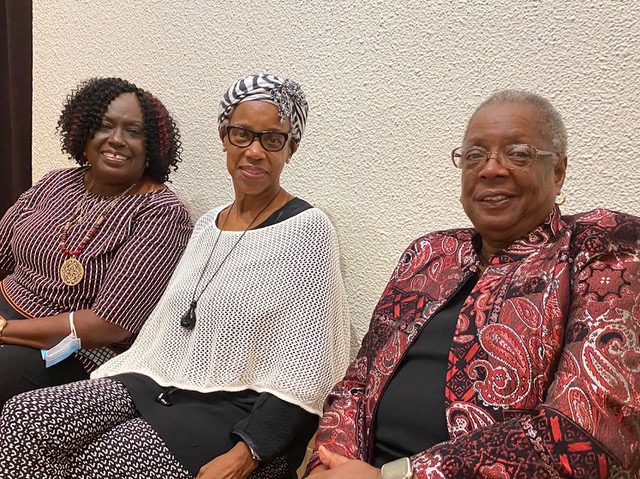 Rosalie Pearman, Carolyn Haynes and Clara Saunders
Events such as this need the support of our membership to be successful, and this reception was just such an occasion because of the excellent turnout. For the record our attendees were Carlton Adams. Marjory Amos, Alex Arnfield, Gertie Barker, Roddie Barclay, Reese and Gilda Bartley, John and Helen Baxter, Peter and Pam Borland, Keith and Joan Cassidy, Dave and Patsy Cook, Gail Correia, John and Betty Dale. Michael and Mirela DeSilva, Hiram Edwards, Dennis Gordon, Gladwin "Doc" and Lillian Hall, Pat Hamlett, Larry Dean, Carolyn Haynes, Robin and Nadine Henagulph, Colin "Dusty" Hind, Doug and Joan Joslyn, Roger and Lita Kendall, Bernie Pitman, Ernie and Barbara McCreight, Charlie and Anne-Marie Mooney, John Skinner and Ann Morgan, Rosalie Pearman, George Rose, Mike and Jan Shaw, Pete Shaw, Roger Sherratt, Jerome Simons, Cal Smith Clara Saunders, Robert "Bob" and Susan Stewart, Dudley and Marlene Swan, Phil Taylor and Judy Richards, Steve Taylor and Jan, Gary Venning, Andy and Gail Wright, and father-in-law Gerry, and Chief Insp Arthur Glasford.
Special guests were Her Excellency, Rena Lalgie, Acting Commissioner of Police Darrin Simons, and the Governor's ADC.