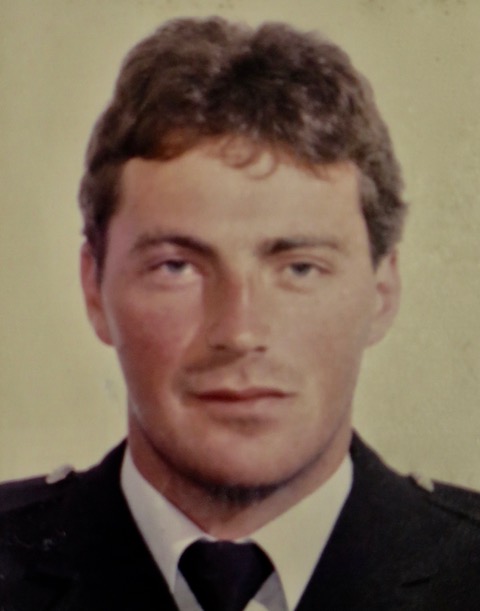 Young P.C. Gary Oborne
We've just heard from fellow Irishman, Norman Wilson, that former P.C. Gary Osborne and his wife Sue will be arriving on Island for a week as of Monday 10th July, and Norman will be bringing them up to the PRC for 'Happy Hour' on Thursday afternoon 13th July 2023.
We published in 2018 about a previous visit Gary made to the Island in which we reported the following:-
Gary joined the Bermuda Police in March 1985 and served here until April 1993. According to Police records he only served in Central Division (Uniform) but he was no doubt transferred elsewhere during his 8 years here, (It appears that police records were being transferred over to computer files in the early 1990's).
Gary had served in the Ulster Constabulary prior to coming to Bermuda, and he arrived here on 7th March 1985 along with Mark Allen, Glyn Jones, Alan McFall, Ian Ringrose, Paul Wright, Meirion Roberts, John Hoefkens, Dave Peach, Nick Turnbull, Mark Vincent, Paul Towlson, Gary Staines, and Alan Johnston.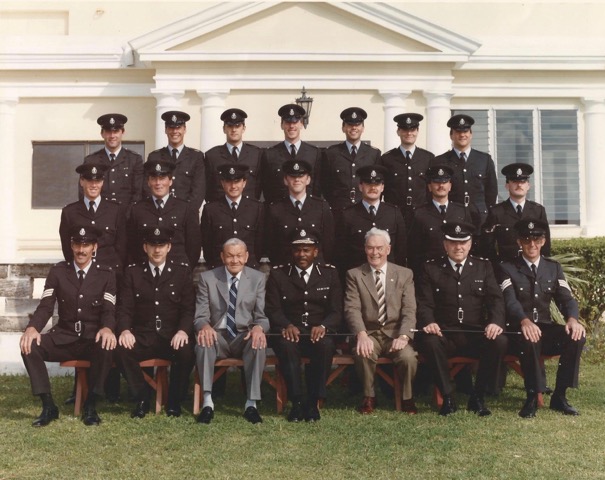 Police Training Course - 1985
This is a comparatively rare occasion when a group photo was taken
of a Training School Course that was not a Basic Training Course.
Can you assist in identifying everyone in the photo,
both recruits and instructers, and senior officers?
We have heard from several of them such as Mark Vincent, who wrote an excellent article for our "Then and Now" column which you can view at http://expobermuda.com/index.php/tan/487-mark-vincentin which he makes mention of his colleagues on his Initial Training Course.
We would be happy to receive information about all the others who came in this contingent.
For anyone not familiar with the workings of our website, if you go to our Home Page at http://expobermuda.com you can enter any name into the search box in the top right corner and you will open a list of all references on our website to that person. Just click on any of the listed articles and after checking it you can then click the "back arrow" at the top of the page to return to the list. Just bear in mind that if, for example you type in the name "Mark" it will provide you with a list of every article on the website that includes the name "Mark" which can be dozens, so it is best to be as specific as possible.
Just two of his intake are still on Island and they are Gary Staines and Paul Towlson.
Gary will be delighted to meet up with old friends and colleagues on Thursday afternoon.