Sergeant Harry Everette Fisher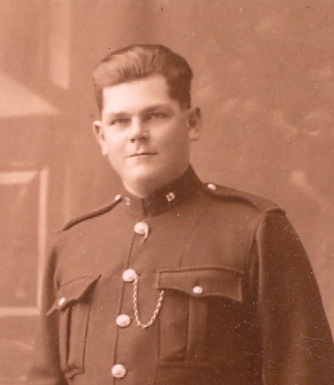 Harry Everette Fisher was born on 17th December 1907 to Amy Albertina (nee Harrison) Fisher who was born in Bermuda, and Charles Edward Fisher, who came to Bermuda from England as a labourer to work at H.M.S. Dockyard. Harry had four brothers, and grew up in the Dockyard/Somerset area.
In later years Harry's father was caretaker at the Military graveyard at Watford Bridge, and Harry resided there in a small cottage in the graveyard (no longer there) with his parents during that period.
Harry joined the Bermuda Police Force on 12th November, 1930. At that time the Police Force was administered by the Colonial Government.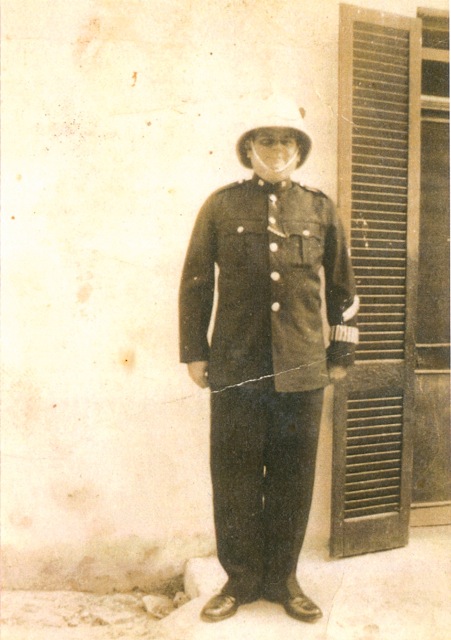 Harry started his career in Somerset, and was later transferred to Southampton and Warwick Parishes. During his police career he also served in the City of Hamilton, and in St. George's.
Harry was a volunteer in the Salvation Army and a member of the Salvation Army Band where he played trumpet. It was through the Salvation Army that he met Rose Rowley, a Salvation Army Officer, who arrived from Stoke-on-Trent, England, to serve in Bermuda. They married on 12th October, 1933, and they had four sons – Ronald, David, Gerald, and Harry (known as Teddy).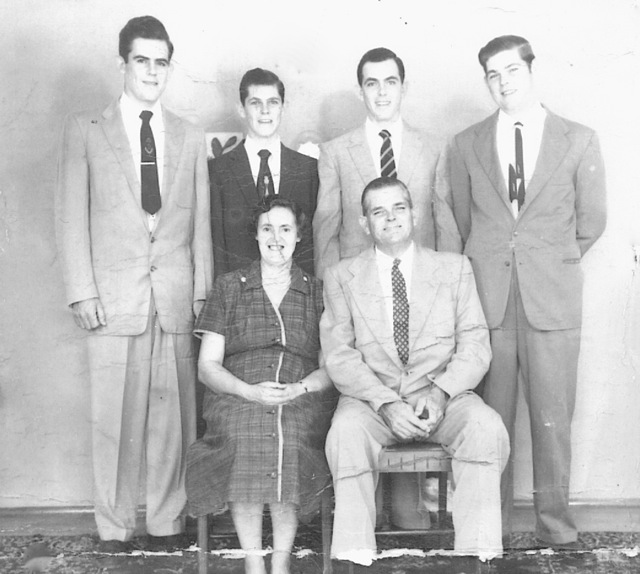 Standing (l-r) Sons - David, Harry (Teddy), Gerald and Ronald
In his spare time Harry and his good friend Amon Hunt, who was also a policeman, would go fishing and set fish pots, and he would love to watch the Police football team in action. He very seldom missed a game.
Harry was a well known officer in the areas where he worked. He was a "no nonsense" guy, but likeable and always telling a joke, but if you did anything wrong under his watch he certainly wouldn't let you forget it. During his career he was promoted to the rank of Sergeant.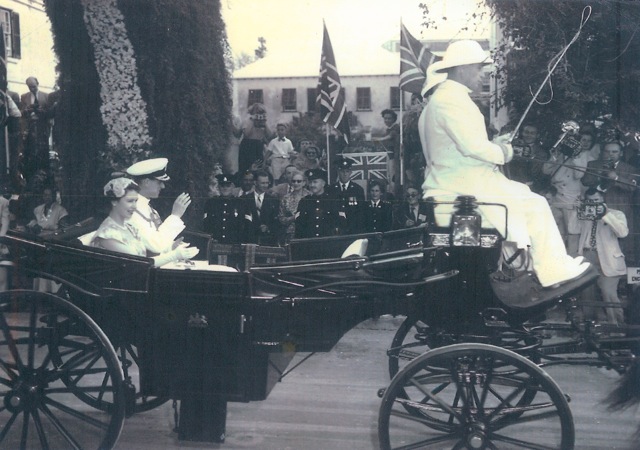 Sergeant Harry Fisher (closest to the Duke of Edinburgh) on duty during
the
Royal Visit of HRH Queen Elizabeth II
and HRH The Duke of Edinburgh in 1953
He respected his career choice and would always arrive one hour prior to his shift, and before his "watch" commenced he would inspect his men, i.e. uniform, hair cuts etc.
Several grown men in the Camp Hill area of Warwick recalled that when they were youngsters, if Sergeant Fisher caught you "up to mischief" he would give you a whack across the backside, and when they got home and their parents found out, they would get another spanking.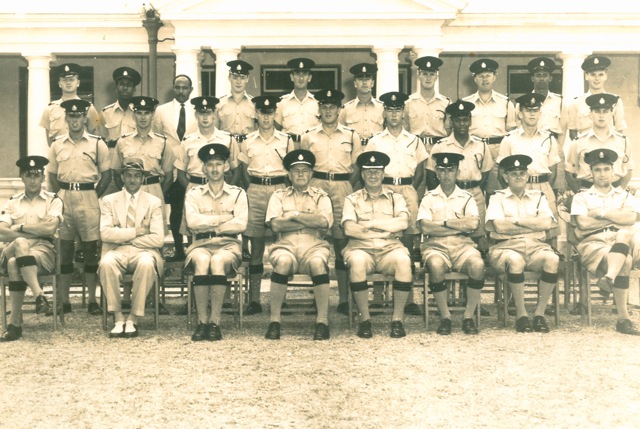 Members of the Bermuda Police Force in the early 1950's
Another story goes that one time when he was a Sergeant, Harry arrested a man in Southampton, and he had to transport his prisoner from Southampton to Hamilton Police Station. His only transport was a police pedal cycle so he carried the culprit on his handlebars, and when they came to a hill he made the prisoner push the cycle up the hill.
Harry was a dedicated member of the Prince Albert Lodge, Somerset, and was a Past Master of the Lodge.
Sadly, he died on 26th October 1960, at the young age of 53 after a short illness.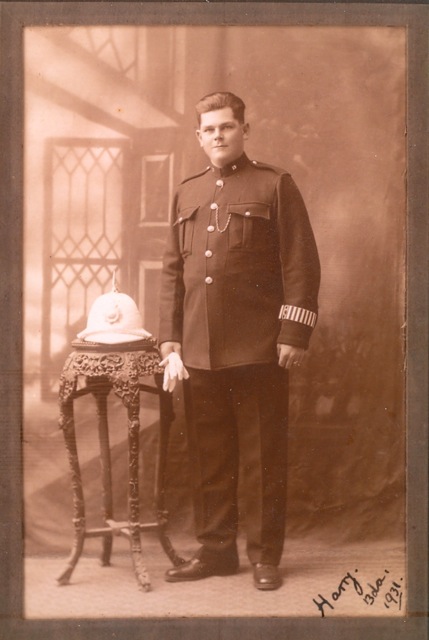 Portrait of P.C. Harry Fisher in full dress uniform taken in 1931
This article was submitted by Harry's son, David Fisher, who also provided the photographs.