Sergeant Robert "Bob" Railton
Written by Pat Railton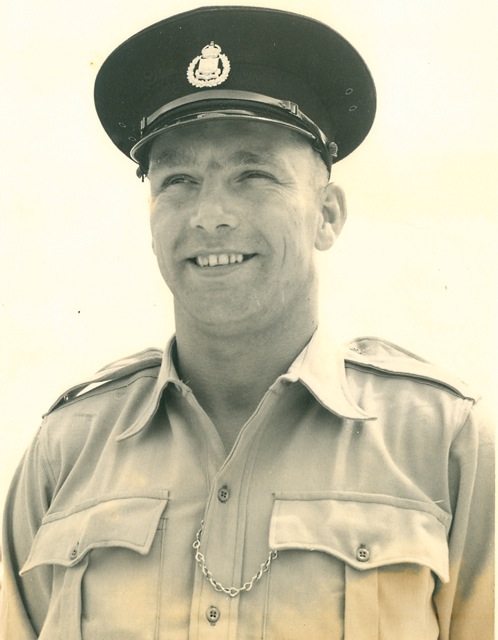 P.C. Robert "Bob" Railton
Bob was born in Whitehaven, Cumbria, on 15th November 1926. At the tender age of 17, before the call of National Service, Bob decided he would volunteer for the Royal Navy. He served in the Royal Navy from August, 1944 to 1948. He thoroughly enjoyed his time in the Navy, visiting many different foreign ports, one of which was Bermuda. When his service in the Navy was over, he returned to Whitehaven to work and also became well-known as one of Whitehaven's professional rugby league players. He played for Whitehaven for three years and often liked to just casually mention that in his day, Whitehaven used to win!
Eventually, Bob got itchy feet and it only took a local newspaper's advertisement for anyone interested in training as a policeman to start Bob off on his next journey. He completed the 13 week course at the Police Training Centre, Mill Meese, Staffordshire, commencing August 31, 1953. All went well and I think it was when Bob was called to the office for his final instructions, the Officer told Bob he was being sent to Bermuda and that he probably would not know where that was. Naturally, Bob took great pleasure telling the Officer he had been to Bermuda.
He left England on the ship "Coronia' on December 9, 1953, arriving in Bermuda on December 17th. He served on the Force for 8.2 years - December, 1953 to February 1962.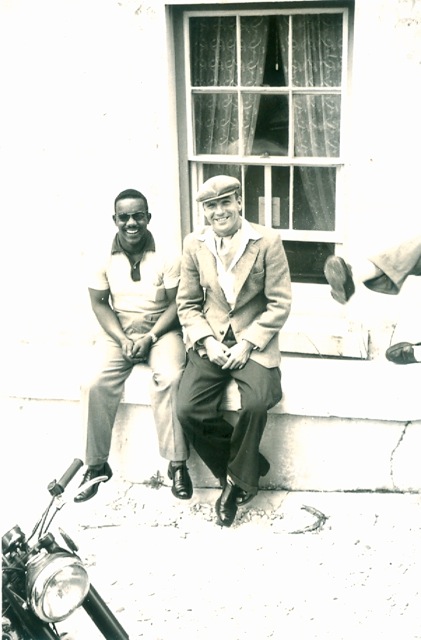 Young Bob Railton outside the Police Barracks on Victoria Street
He was promoted to Sergeant, but regret I do not know the year. My other regret is that I cannot remember the many other good friends who arrived in Bermuda at the same time.
(Editors note - we will research Police records and add these names if possible.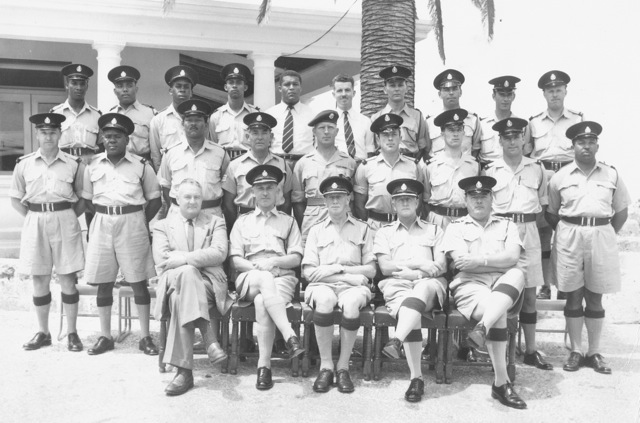 Members of the Bermuda Police Force circa Late 1950's
Bob is 2nd from right on the second row
Bob was Treasurer of the Police Recreation Club for many years. In October, 1960, he was also on a Promotion Examination Committee with L.M. "Nobby" Clark (then Inspector) and J.C.P. Hanlon (Detective Inspector) set up to submit recommendations to standardize the procedure for promotion from Constable to Sergeant. Possibly these procedures to some degree may still be in force today.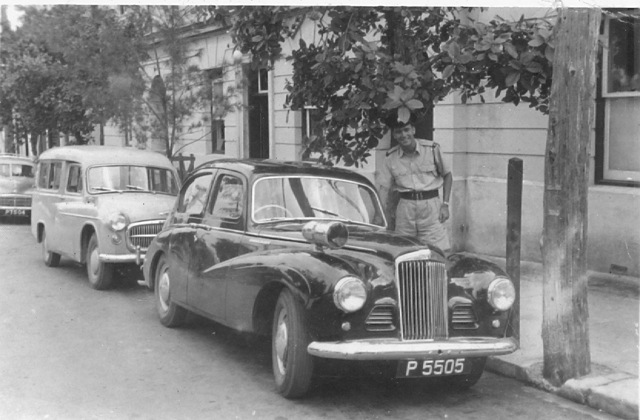 Bob with his favourite Sunbeam Talbot outside Hamilton Police Station
Bob enjoyed all sports. Originally he played football for Police and, at some point, for BAA. Because he was a Rugby League professional, he was not allowed to play Rugby Union here. However, in due course, permission to some degree was granted and he played and travelled with the Police Rugby team for many years. It goes without saying that while in the Navy, he played without permission!
Bob was a happy policeman, but for various reasons, he was considering returning to England at the end of his first contract. However, along came Patricia Ann (nee Tribley), and once again Bob's journey changed yet again! He and I were married in September 1956.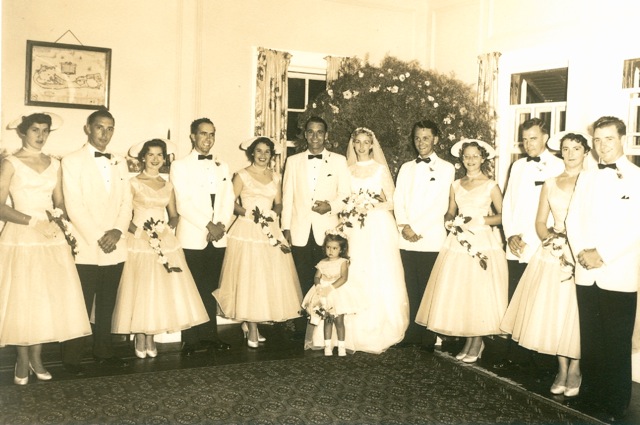 Bob and Pat Railton's Wedding Party 1956
(l-r) Maxine Tribley (Robert's wife), Ken Morris, Josephine Jackson (Peter's wife),
Dave Parsons,
Shirley Johnson (nee Smith) Bob and Pat, Flowergirl Lynn Rans (now Lynn Osborne), Peter Jackson, Diane Kirwin
Robert Tribley (Pat's brother), and Celine and John Cafferkey
We were blessed with three beautiful children, Robert, Susan and David, and thirty-five happy years, for which I shall be forever grateful.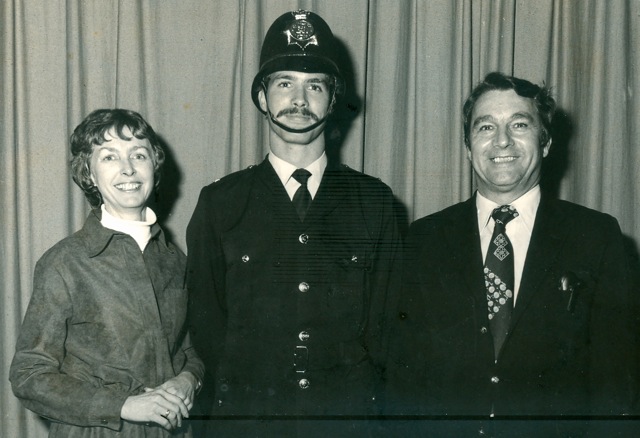 Pat and Bob with son, P.C. Robert Railton, who proudly followed his father
into the Bermuda Police Force - and into the Police Rugby Team!
After the Force, Bob was also successful in the business world. His final job was as an accountant at Purvis Ltd. He was a very respected man, honourable, gentle and kind to one and all. I think Bob, at heart, was always a policeman. Because I feel my words are inadequate to describe the man I loved, I would like to submit a poem written by Bob for the Bermuda Police Magazine in July, 1955, called he Garden of Life.
The Garden of Life
by Constable Robert Railton
In earthly gardens good things grow
But barriers they meet with,
For some the lack of sun and rain
The elements compete with,
In all gardens weeds will grow
Among virtuous roots entangled,
As stronger grow the virtuous roots
The weeds themselves are strangled;
Now life is just a garden
Where good things do abound,
The gate is always left wide open
So walk in and look around,
There is the Well of Learning
My advice to you, drink deep,
For learning feeds the wisdom springs
With this your coffers heap;
There is the Tree of Friendliness
You will find it growing tall,
It's branches laden to the ground
With abundant fruit for all,
Now just reach out and help yourself
But remember as you feed,
That when you shake a friendly hand
You plant another seed;
There is the Tree of Honesty,
The Tree of Cleanliness,
There is the Tree of Faithfulness,
Now partake of all these fruits
And you the Lord will bless,
For eating these will lead you
To the realms of Happiness;
Then show your children to the gate
And they can themselves, accrue,
Life's treasures from the garden
There will be this aftermath,
For where you trod, new trees will grow
To be your epitaph.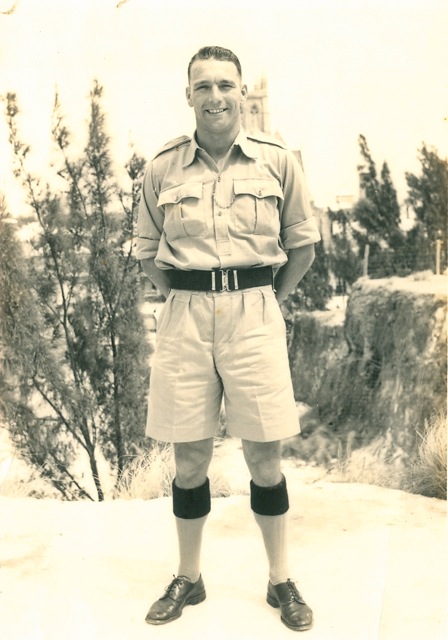 This photo was taken on the site of the present City
Hall with Holy Trinity Cathedral in the background
Editors note for Simon Kane
It's great to receive your comments and we would like to contact you by email, but unfortunately, when you type comments onto articles on our site we don't receive your email address. Could you please send a quick note to info@expobermuda.com so that we can contact you directly.