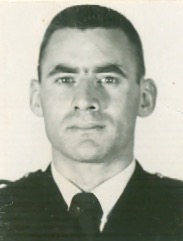 Alistair "Shakey" Johnson
We were deeply saddened to hear that our good friend and colleague, former Sgt Alistair "Shakey" Johnson, passed away peacefully in Inverness, Scotland on the morning of 25th November 2017. "Shakey", as he was known to everyone, served in the Bermuda Police from 20th August 1959 until 23 August 1969, before leaving the Police Force to work in the private sector. He eventually retired and returned to Inverness in Scotland.
"Shakey" was one of those unique characters who, once known, was never forgotten. He was a passionate sportsman who may not have been the most talented athlete but he always gave 100% in everything he did whether it was on the football field, running in the Police Half Marathon, or playing golf. He is the only person I've ever seen lose a golf club on the old 1st hole at Ocean View where there is no water! He had lost a couple of balls in the woods from the tee, and then decided to lose his driver by hurling it into the trees, never to be found again!
Shakey was an excellent musician, playing piano, accordion and organ, and loved to play singalongs at the Police Club or wherever he found a piano and a group of voices.
We heard the sad news from his good friend Hassan (Julian-Alami) Merrouni who, along with Shakey's son Steven, was with him when he passed away. We will publish funeral details as soon as we receive them. We have already heard that fellow Scotsman, Davie Kerr, is planning to be there if possible.
We are sure that many of us have our own personal memories of "Shakey" who happened to be Best Man at my wedding. Please feel free to share your reminiscences in this column in the Comments section below.
UPDATE ON FUNERAL FOR 'SHAKEY'
Funeral Service for Shakey - We have been advised that a small funeral service will be held for Shakey on Friday 8th December 2017 at Fraser's Funeral Home on Academy Street, Inverness, Scotland, at a time to be decided. We have also been advised that it is intended to hold a Memorial Service for Shakey here in Bermuda at a later date.
As mentioned earlier, we understand that Davie Kerr is planning to attend the funeral service if at all possible, and will no doubt say a few words on behalf of all of us who knew Shakey who has to be one of the most unforgettable characters ever to wear a Bermuda Police uniform. If you would like to pass on any comment about Shakey please feel free to do so in the comments section below.
FURTHER UPDATE ON FUNERAL FOR 'SHAKEY"
TIME AND DATE OF FUNERAL - 2pm on Friday 8th December 2017, at Fraser's Funeral Home on Acdemy Street, Inverness.
Davie Kerr has confirmed the time and date of the funeral for Shakey as shown above, Davie also says, "I already have a sizeable list of all those who have asked me to add their condolences, and intend to buy an appropriate card and enclose the list therein: anyone wishing to have their names included, please either add them to this thread or e-mail me directly at This email address is being protected from spambots. You need JavaScript enabled to view it. .
In addition we have received the following story from Davie:-
"Shakey was my A/Sgt in Hamilton in the late '60s, and he had about 9 years in by then which was more than the rest of the watch put together: next senior man was Station Constable Ian "Abey" Mitchell with about 18 months, then me as Duty Driver and Stan Hill with about 15 months each, then Jimmy "The Wop" Costello and Brian Hanney with about 7 months each, and John Harvey, Noel Burgess, Mike Phillips and the late "Stumpy" Kirkham just out of Training School! We were a good crew, though.....
Anyway, this particular night of Night Shift, 'Stumpy' came back to the station about 0300 to confess that he'd managed to drop the receiver of his beat radio (you may remember the 2-piece Pye Pocketfones, and how we used to be sent out in pairs with one having the receiver and one the transmitter!) into the harbour by the Ferry Terminal!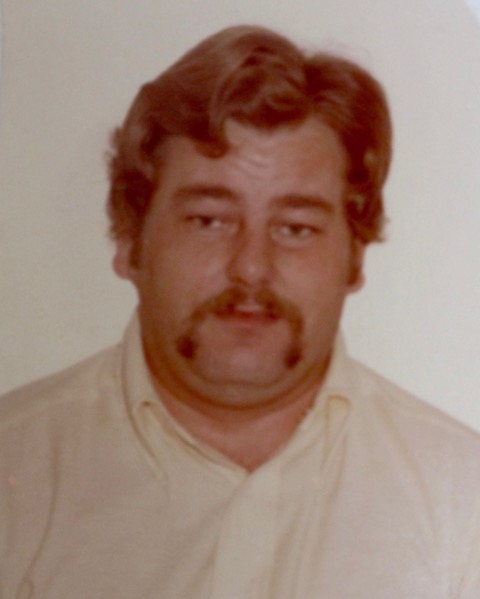 The Late Howard "Stumpy" Kirkham
Shakey was fit to be tied on hearing this, and probably had visions of a court-martial dancing in his head, but I said, "Sarge, let me nip up to barracks and pick up my snorkel gear, and I'll dive it up." Shakey was only too happy to agree to this rather unorthodox course of action, so, about 0400 with the first light of dawn creeping into the sky, several drunken sailors on Albuoy's Point were rather surprised to see a Police car pull up and the driver get out, strip off and jump overboard! I found the radio first time (Stumpy had at least had the good sense to mark its position accurately) and brought it up: we took it back to the station where we took it apart, rinsed it with fresh water, dried it out, put a fresh battery in it, and it worked fine!
Crisis averted, and Shakey said afterwards that he was changing my title from Duty Driver to Duty Diver!
Davie
Editors note – Davie tried to send us the above through our comments column at the botton of this article but the comments section will only take a limited amount of information so Davie sent it by regular email.
3rd December 2017
Comments from John West - We have received the following tribute to Shakey from John West who lived here in Bermuda from 1973 until 1979, working first at the Bank of Bermuda and then at Altamid Management Company as an accountant. Now retired, John has been living in Kanchanaburi, Thailand, since 2008, is married to a wonderful Thai lady and they have two lovely grandchildren.
"It was very, very sad news indeed to hear of the passing of Alistair "Shakey" Johnson. I had the real privilege to have known him and he was definitely one of those amazing characters, a larger than life individual, a wonderful friend, and a very humble man.
All of us who knew him will have very fond memories of him and will all have stories about him and the laughter and joy he brought to so many people. I got to know Shakey playing tennis up at the Police Club. There was a gang of us who played doubles together and it was always extremely competitive, but also great fun. The gang included Paul Butterworth, another huge character the Late Gordon Howard, Paul Wakefield, myself, and of course, the one and only "Shakey"!
After long sessions of tennis we would proceed to the Police Bar to consume a fair few bevvies, as indeed I often had drinks elsewhere with the wonderful man. He loved his football and his rivalry but always on good terms and so much banter too and also remember him playing the accordion and piano.
Yes an amazing one-off character who gave us so much joy and happiness, but he was always there to support his friends in times of trouble.
Legends are too easily afforded this title, but he was much more than that to me and so many other people. He will be greatly missed.
R.I.P Dear "Shakey".
My sincere condolences to Irene, Roderick and Steven and to all the Family and friends at this very sad time."
8th December
Report on Shakey's Funeral:- Davie Kerr reports that he attended Shakey's Funeral held at 2pm on Friday 8th December 2017, at Fraser's Funeral Home on Academy Street, Inverness, which was attended by former P.C. Julian Merrounie and his wife Anna and family, and Shakey's two sons, Roderick and Stephen Johnson. Also in attendance were former P.C. Jim and Diane McIlwain who lived in Bermuda for many years but have now settled in Scotland. They had to make a 5 hour journey to Inverness driving through the snow and ice cold weather. The only other Bermuda contact in attendance was a Glasgow lad called John Bookless who used to play football for Bermudiana FC in the Commercial League in the mid-'70s.
Davie read out a Tribute to Shakey as posted below. He also made a list of all those who had asked him to pass on their condolences and put them in a sympathy card for his family. Many thanks to Davie for making the effort to attend the funeral as the representative of all of us who knew and worked and socialised with our dear friend.
Tribute to Alistair Muir "Shakey" Johnson.
(This tribute comes from an old friend, colleague and sparring partner, the President of the Bermuda Ex-Police Officers Association, Roger Sherratt, who has asked me to read it here).
On behalf of the Bermuda Ex-Police Officers Association, I would like to express our sincere condolences to Alistair's family and friends, especially his two sons, Roderick and Steven, and to Julian Alami-Merrouni and his wife Anna who have been such a tremendous support to Alistair ever since he returned to his beloved Scotland.
Of course, Alistair was known to all his friends and colleagues in Bermuda as "Shakey" and we can only hazard a guess as to why he was given this nickname, but suffice it to say that almost everyone in Bermuda is given a nickname, some obscure, some obvious!
Shakey was a Scotsman through and through – and rightfully very proud of it.
On checking through his police file in Bermuda we know that he did his National Service in the Royal Air Force and when he applied to join the Bermuda Police he was working as a bank teller. Who on earth could imagine our Shakey as a bank teller?
Shakey's application was accepted and he arrived in Bermuda on 21st August 1959, along with another young recruit, Clive "Fury" Donald, an outstanding athlete who went on to become Commissioner of Police. Not to be completely outdone, Shakey exhibited his own prowess as a sportsman, playing fierce football and what was described by one of his partners (John "Coco" Eve) as "incendiary tennis", and his own brand of "grit your teeth and hit it" golf.In fact he is the only golfer known to have lost his driver on the then 1st hole at Ocean View Golf Club after spraying several balls off the tee into the woods, rapidly followed by his club for which he decided he had no further use!
Not many people realize that the Annual Police Mini-Marathon, first run in 1969, (in which, incidentally, I (Davie) was a regular competitor and frequent last place finisher!) was a direct result of Shakey challenging another formidable athlete, Pat "Odd Job" McBride, to a head to head race down to Flatts Village and back to the Police Club. It's said that the challenge was issued after both had imbibed far too many "Dark and Stormy's", a well-known Bermuda beverage. Both had served in the Armed Forces, Pat in the Royal Marines, and Shakey in the RAF, and Shakey insisted that the RAF were physically superior to the Royal Marines. After being allowed one week to train for the run the two set off around the six mile course in 1968. Despite a ding dong battle the result failed to settle the argument because the two contestants crossed the finish line simultaneously.
However, it was decided that due to the sterling efforts of "Shakey" and "Odd Job", this run should become part of the annual Police Sporting Calendar (and I believe it still is). Shakey continued to take part and he would invariably have wagers with other runners just to give him the incentive to finish the course. Yes, he was rather fond of gambling, whether it was on his sporting ability, or at the card table where he spent many hours developing his skills at poker.
We hear of one other sporting activity he really enjoyed which was wrestling on the PRC lawn after a few drinks with Mike "Cool Cat" Caulkett who happened to be about 6 inches taller than Shakey - all in good fun.
Shakey was an excellent musician, playing the piano, accordian and organ. He would be the life and soul of any party, especially at the Police Club where he would lead sing- alongs if suitably lubricated with a drink or two – or three. Just to balance his activities Shakey might be in full flow up at the Police Club on a Saturday, and next morning might see him playing the organ at Christchurch Scottish Presbyterian Church in Warwick – his day of rest?
Shakey started his police career on the beat in Hamilton, and about a year later was transferred to the Traffic Department. He alternated between Traffic and Central Division until he was promoted to Sergeant, after which he worked in Traffic until he made the decision to leave the Force.
Shakey was, without doubt, one of the most beloved characters we have ever had the pleasure of working and socializing with in the Bermuda Police Force. Whether on or off duty he always had a tremendous sense of humour, a positively wicked chuckle, a wonderful way with words, and a wry smile even in the most difficult circumstances. Perhaps the only time he was totally lost for words were the times when one of his poker playing friends would drive him over to his home on Oleander Hill in the early hours of the morning after a session in the bar or at the poker table, and the friend would knock on the front door and immediately withdraw, leaving Shakey to face his long suffering and lovely wife Irene who must surely have despaired.
Those of us who knew Shakey were very disappointed when he decided to leave the Force because he was always fun and entertaining to be with. He was also a very efficient and supportive supervisor. Fortunately, after resigning from the Police Service he stayed on the island for many years, and still frequented his old haunts until he made the decision to retire to Inverness. Communicating with him after his move was problematic because he didn't exactly take to the computer age, and he was "allergic" to emails. Even so we managed to keep in touch with him occasionally through Julian who kept Shakey abreast of events in Bermuda through the Royal Gazette online.
Alistair Muir "Shakey" Johnson, rest in peace: you've earned it!
MEMORIAL SERVICE IN BERMUDA FOR SHAKEY
We have been advised that a Memorial Service will be held for Alistair "Shakey" Johnson at 1pm on Saturday 16th December at Christchurch Warwick.
17th December 2017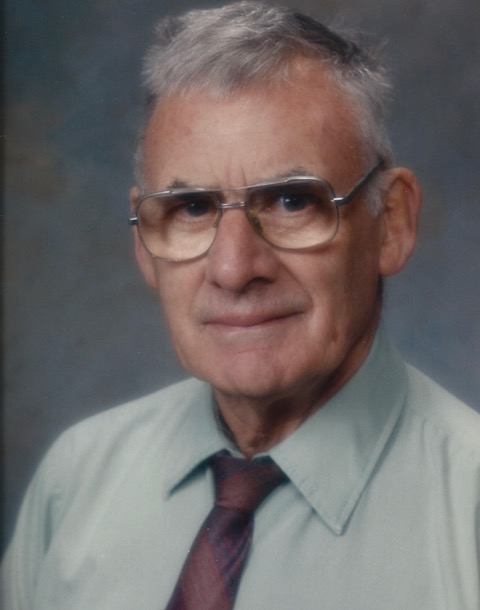 Alistair Muir "Shakey Johnson
The Memorial Service for "Shakey" was held at Christchurch, Warwick, on the afternoon of 16th December 2017, attended by family and friends. This included Alistair's two sons, Roderick and Stephen, granddaughter, Cassidy, Irene and Robert Vosper, retired Police Commissioners Frederick "Penny" Bean and Clive Donald, John and Sandra Barnett, Paul and Dual Field, John Dale, Arthur Bean, Jeff Payne, Dave Cook, Reese Bartley, Roger Sherratt, Robert Stewart, and other former and retired Bermuda police officers, along with many friends.
Alistair had been the organist at Christchurch for many years, and it was most appropriate that music featured prominently in the service. John Dale, who often performed with Shakey, sang the great Louis Armstrong's "Wonderful World", John Moss, who recalled having formed a trio along with Kevin Stokles and Alistair to sing and perform at seniors homes for a number of years, gave a poignant rendition of "The Flower of Scotland", and John Barnett's son, Phillip, performed a beautiful rendition of "You Raise Me Up". Phillip shared with the congregation the fact that he and his brother grew up with Roderick and Stephen, and their parents had all been great friends.
Roger Sherratt gave a tribute to Alistair similar to the one read by Davie Kerr at Shakey's funeral in Scotland, and John Barnett provided a personal tribute to Shakey including remarks also read at the funeral in Scotland from Reverend Alan Garrity who was minister of Christchurch during the time that Alistair was the church organist. As the service concluded, Rev Alistair Bennett announced that organist Oliver Grant would play a medley of music in honour of Alistair. A fitting tribute to our good friend "Shakey".
For anyone wishing to view and listen to the Memorial Service you can do so on the Christchurch website (under Sunday Archives) at http://www.christchurch.bm/index.php/sunday-archives