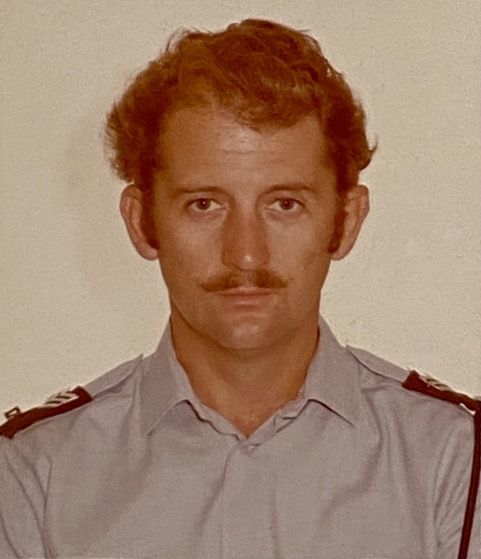 Young Sgt Dave Cook - 1973
We are deeply saddened to report that our good friend and colleague, retired Inspector Dave Cook, passed away yesterday, Saturday 21stOctober 2023, at King Edward Hospital after being ill for a short time.
This is tragic not only to his family but also to his police family. Dave has been an exceptionally active member of our Ex-Police Officers Association for many years and has served on our ExPo Committee almost longer than anyone can remember.
Dave was born in Rotherham, Yorkshire, later moving to Cumberland with his parents. He joined the Lancashire Constabulary in 1963 serving in the Wigan and St. Helens area until 1966 when he joined the Bermuda Police in September of that year.
Dave served in Central Division (Hamilton) on uniform duties, was clerk for three years to the late Chief Supt James McMaster, then became Devonshire parish constable. He was promoted to Sergeant in 1973 serving in Central Division.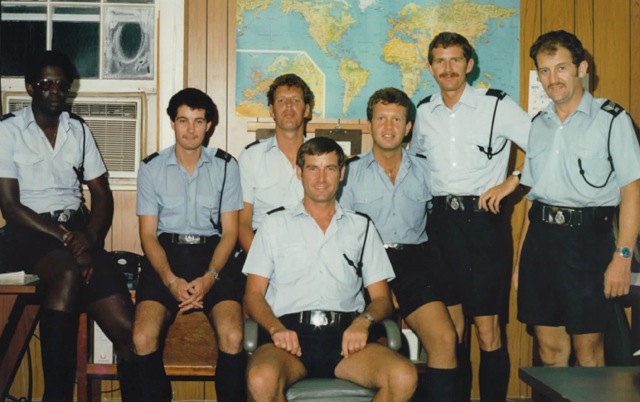 Sergeant Dave Cook with "D" Watch, Traffic Department - July 1979
(l-r) Wayne Hodgson, Iain Morrison, David Smith,
Barry Higham, John Dale, Eddie Davies, Dave Cook
Dave saw service in Operations patrol duties, Western Division uniform duties, and in 1985 was transferred to Central CID. He was promoted to Inspector in September 1988, serving as second in command of Operations Division until he retired in October 1991.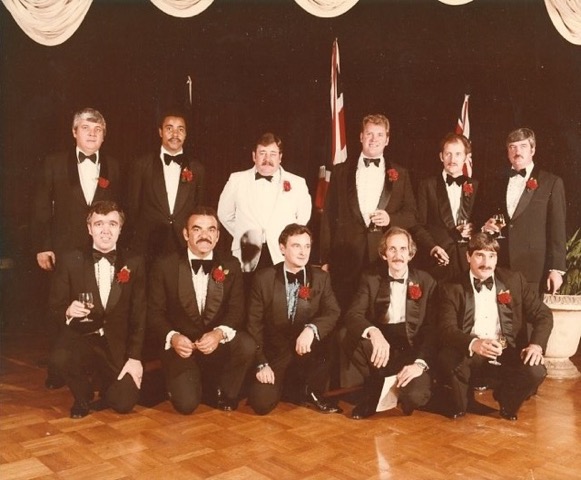 Members of the Police Boxing Organising Committee - circa 1980
Back row (l-r) - Merv Willey, Richie Basden, Howard "Stumpy" Kirkham,
Graham Alderson, Dave Cook, Vic Richmond.
Front row - Cyril Plant, Eddie Foggo, Neil Anderson, Ron Robinson, Ken Lewis.

During the time that the police boxing team was active he was a regular member of that committee serving as chairman for a couple of years. He also represented the police in the Inter Services sports events in road running.
Dave married the love of his life, Patsy (nee Powell) in June 1968 and they have two chidren, Melony and Ian, and three grandchildren, Mila, Ruby and Holly.
After retiring Dave worked for a short while with Bermuda Alarm Company, and then at Butterfield Bank where he worked with Physical Security until he retired in December 2005.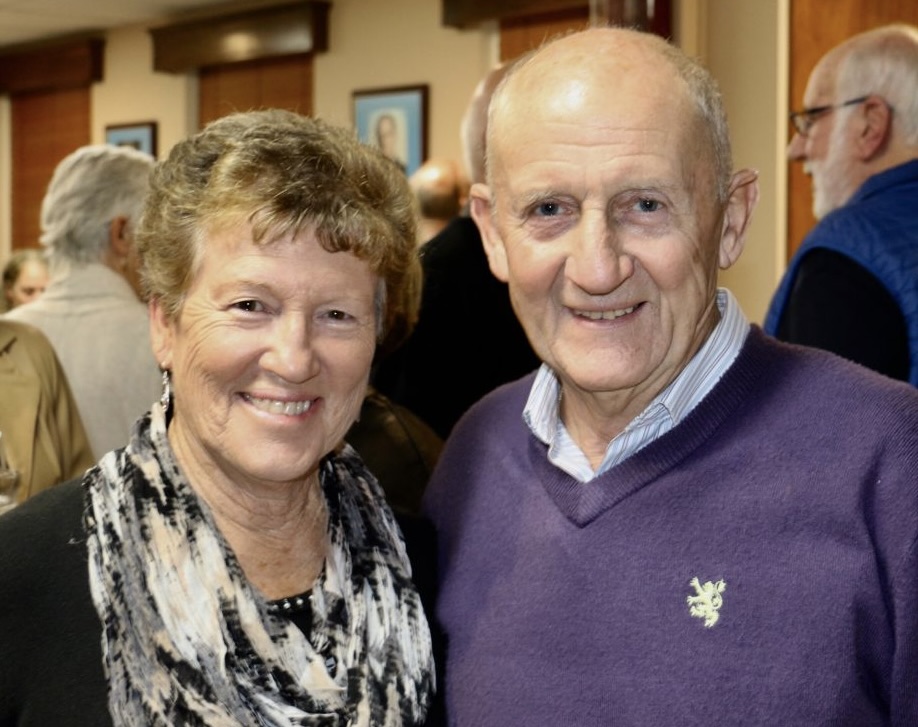 Patsy and Dave at one of our ExPo functions
Dave is without doubt one of our most popular ExPo members, as he was as a member of the Police Service. He has been an exceptionally reliable and hard-working member of Expo with the help and support of Patsy. Any event with which Dave was involved would always be meticulously planned with the help and assistance of Patsy.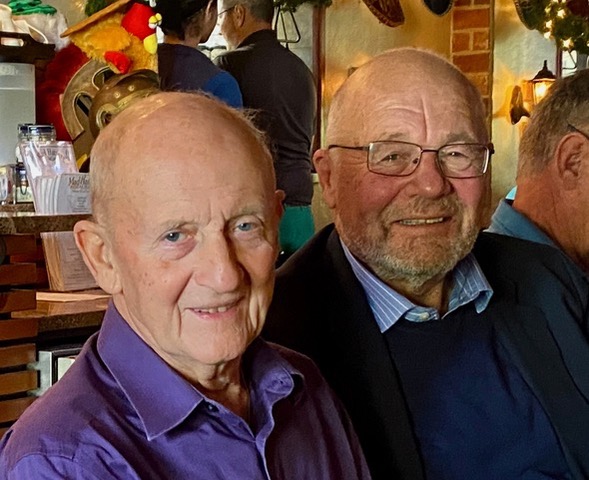 Mad Hatters (hairless) organisers at pre-Christmas Lunch
Dave Cook and Bill Butterworth
In addition to his involvement with the Boxing Committee and with our ExPo Committee, Dave came up with an idea just over 20 years ago of organizing an annual pre-Christmas luncher former police officers at the Mariners Club in their Mad Hatters Restaurant. This event gradually evolved over the years, and with assistance from Bill Butterworth it has become so popular it is packed to capacity each year. May it long continue as a testament to Dave's contribution to the esprit de corps of our ExPo family.
We offer our sincere condolences to Patsy, Melony and Ian, and their family.
30th October 2023
We have been advised that the funeral service for our good friend and colleague, the Late Inspector David "Cookie" Cook will be held at St. John's Church in Pembroke at 3pm on Thursday 2nd November, followed by interment in the church graveyard.