We've recently heard from Bob Porritt who has written to say that on 2nd October 2020, he will be celebrating the 50th Anniversary of his arrival in Bermuda along with 9 other young recruits from all parts of the UK.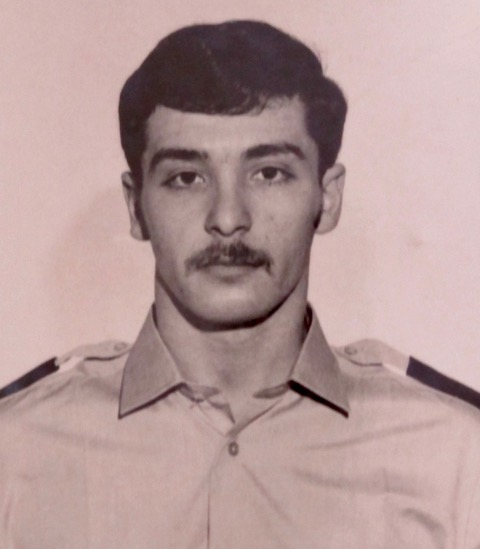 P.C. Bob Porritt
When he first wrote, Bob mentioned that sadly, some of the guys in the photo and on his course are no longer with us, and he doesn't see many of them on Facebook or on our ExPo website. He suggested that perhaps we publish an article about his group together with an appeal for more information about any of those guys who may want to contact us and let us and their old colleagues know where they are and what they're doing these days - hence this article!
Bob wrote, "From a personal perspective It was only five years in Bermuda for me but a crucial time in my development. I had seen the advert in the paper some months earlier and the first time I thought about it but did nothing. When it was published a couple of weeks later there was no doubt and I sent for the application pack. My thoughts were am I going to spend the rest of my life stuck in the same place. The rest is history.
"As far as others in our group were concerned, one of our members was Stuart Lambert, a Bermudian who had been serving in the West Yorkshire Police and is believed to have been the first black police officer in the West Yorkshire Police.
"There was a guy named Bill Lawson who left after a couple of months due to homesickness and missing his girlfriend. The others were Norman "Norrie" Galbraith, Robert "Ray" Lloyd, Dave "Shaky" Shakeshaft, Peter "Bloggie" Blogg – Bloggie, and Gwynfryn "Gwyn" Lewis.
"I remember arriving on a Friday, getting kitted out on Saturday and starting riot duty on Sunday in a traffic car with Derek Smith and Lawrence "Mincy" Rawlins in Traffic on 4pm - midnight. We then worked from Monday on 12 hours shifts from 8pm-8am nights in a landrover with Dave Parsons in charge for two weeks without a day off.
"After that 'introduction' it was back to normal and feeling possibly a bit homesick. I told myself I'd give it a year, and then five years went by just like that. I'm still in touch with a few on Facebook including Terry Cabral. In the UK I still try to maintain contact when possible in a physical sense in particular members of the football team, although sadly losing Frank Dowie quite recently. CLICK HERE for our report on the death of Frank.
I thought it would be nice to say hello to those with whom I've lost touch, some of whom may prefer a quieter existence.
Best wishes to one and all.
Bob"
On checking the records I see that another group of 12 trained constables had arrived on Island a few days earlier, on 30th September, and members of the two groups, attended a Localisation course together as seen is this photo. This first group consisted of Iain Begg, Steve Shaw, John Freeborough, Pete Brown, Stuart Lambert, Daniel Foster, Alex Aitken, Norman "Norrie" Galbraith, Peter "Bloggie" Blogg, Mick Hale, Gwyn Lewis, and Alister Reid.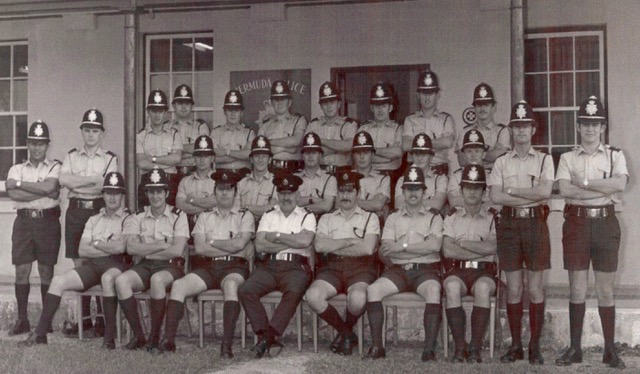 Bermuda Police Localisation Course October 1970
Back Row left to right (standing) - Stuart Lambert (West Yorks), Mick Hale (Sheffield), Ian Begg
(Glasgow), Derek Smith (West Yorks), Frank Dowie (Lanarkshire), Peter Brown (Edinburgh), Bill
Butterworth (Durham), Norman Galbraith (Edinburgh) Steve Shaw (Notts), Bob Porritt
(West Yorks), Pete Clemmet (Durham), John Aitken(Durham)
Centre row (seated) - Andy Lavery (Glasgow), John Freeborough (Birmingham), Colin Fairburn
(Edinburgh), Peter Blogg (Newcastle), Ray Jones (Liverpool) John Arlott (Leics).
Front row (seated) - Gwynfrin Lewis (Cardiff), Huw Foster (Teeside), Sgt Dick Murphy,
Insp Dave Parsons, Sgt Barrie Meade, Bill Lawson (Sheffield- resigned Dec 1970)
and Alister Reid (Glasgow).
Two of the members of this Localisation Course have since written articles about their lives in Bermuda for our "Then and Now" column. CLICK HERE to read Bob Porritt's article, and CLICK HERE to read Peter Brown's article. We would encourage anyone and everyone who wishes to do so to write their own reminiscences and sent the article to us at This email address is being protected from spambots. You need JavaScript enabled to view it.
On further checking our records it's clear that the year 1970 was one that saw an almost unprecedented increase in recruitment into the Bermuda Police, and for all of whom this will be their 50th Anniversary Year. Our records indicate the following officers joined during 1970:-
Perry Fox joined in January, and David Furbert in February. CLICK HERE for an article we published recently about a yacht seized in local waters in connection with a major drug case which was sailed to New York by a group of our police officers including Perry who kindly provided us with a photo of the team when they arrived in New York for our "Who, Where and When" column.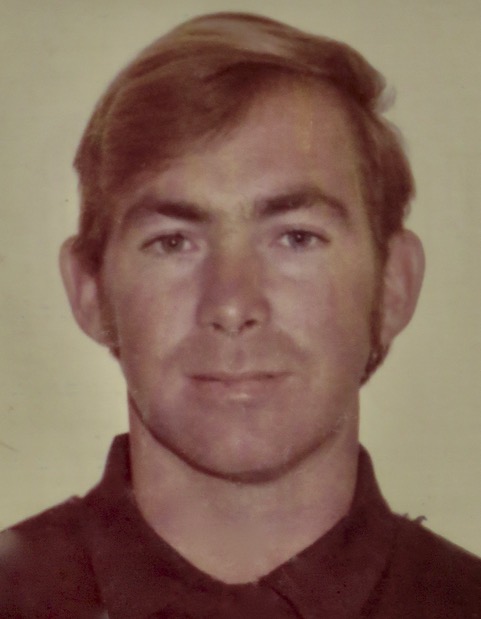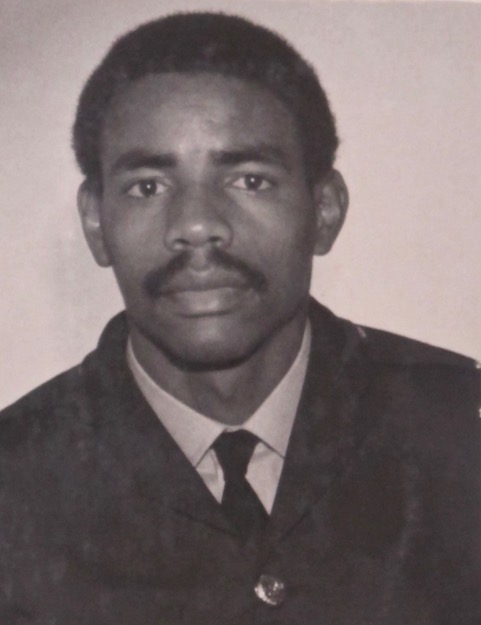 P.C. David Furbert
OVERSEAS GROUP - 15th APRIL 1970
We then had 8 overseas recruits, all with previous Police experience. arrive here on 15thApril. They were John Baxter, Graham Maddocks, John Broadbent, *Terry Warrilow, Peter Treves, Alan Barker, Robert "Bob" Payne, and Les Pearson. Unfortunately, although the Training School has photos of literally every Basic Training Course ever held after the Training School was established in 1962, there are very few photos of the Localization Courses, and this is one of many for which we don't have a photo.
Sadly, Terry Warrilow died in October 2018 as we reported on our website. CLICK HERE for the report on our website.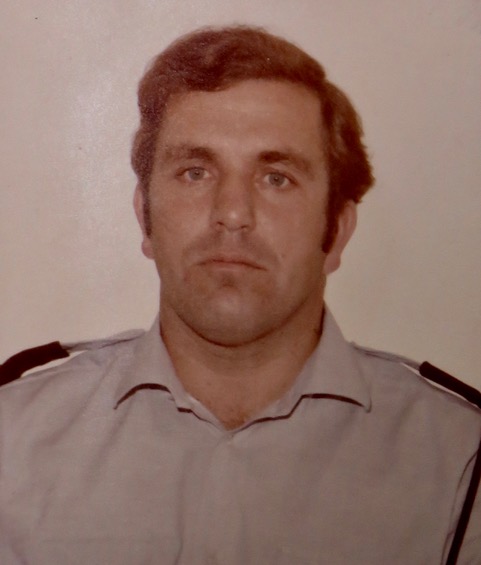 P.C. Terry Warrilow
We did have two recruits in this group who didn't look quite as "clean cut" as the others as you can see from their photos below. We know that Alan Barker settled and believed to be retired in Nova Scotia, while Les Pearson is still in good health and "enjoying life with a fabulous woman" in Mexico. CLICK HERE for an article Les wrote fairly recently for our "Then and Now" column.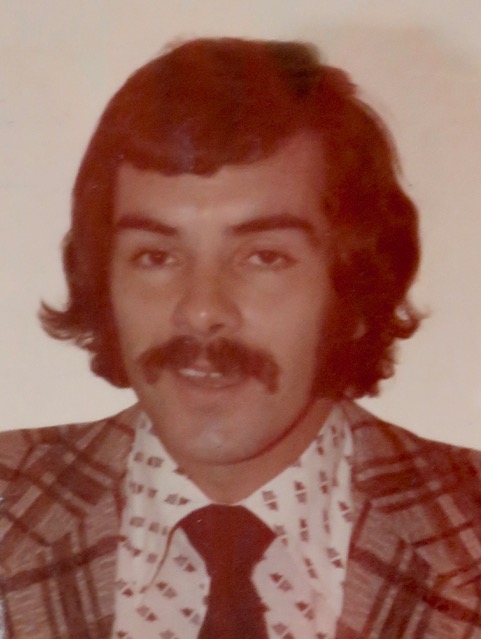 Les Pearson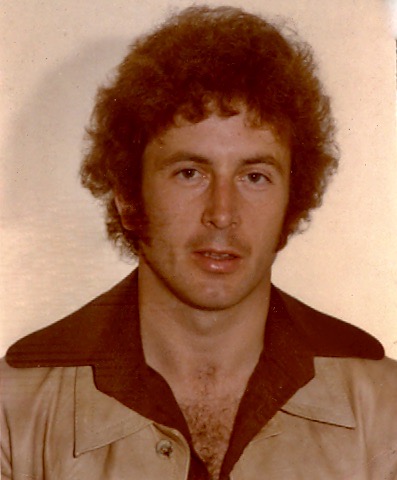 Alan Barker
OVERSEAS GROUP – 23rd JUNE 1970
The next batch of overseas recruits, with previous police experience, arrived on 23
rd
June 1970, and they included Stanley Parr, Dick Coulthard, John Stimson, Gwilym Willians, Michael Cresswell, Ray Bell, James McInnis, *Reg "Buster" Brown, Malcolm Irvine, Roy Haynes, John Bradford, Colin MacKenzie, Patrick Hathaway, Ian "Paddy" Ackroyd, Mike Collingridge, Frank Martin, William Cree, Stewart Holmes, Bruce Bingley, John "Barry" Higham, Roger Hind, Paul Hendrick, Michael Goode, and Ian "Bones" Fraser.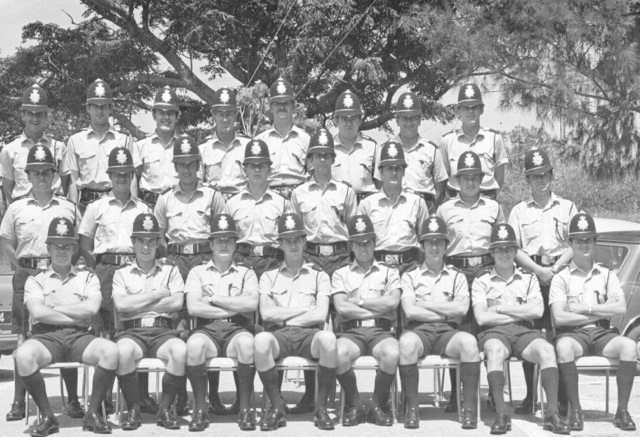 Localisation Course - June 1970
Back row (l-r) Bruce Bingley, Barry Higham, John Bradford, Colin Mackenzie,
Reg "Buster" Brown, Roy "Hong Kong" Haynes, Mick Cresswell, and Paul Hendrick.
Middle row - Pat Hathaway, ?, Ian "Paddy" Ackroyd, Gwilym Williams,
Richard "Dick" Coulthard, John "Gypsy" Jake Stimson, Ian Fraser, Mick Goode.
Front Row - Mick Collingridge, Frank Martin, Stan Parr, Malcolm "Ted Loon" Irvine,
Jim McInnes, Ray Bell, Bill Cree, and Roger Hind.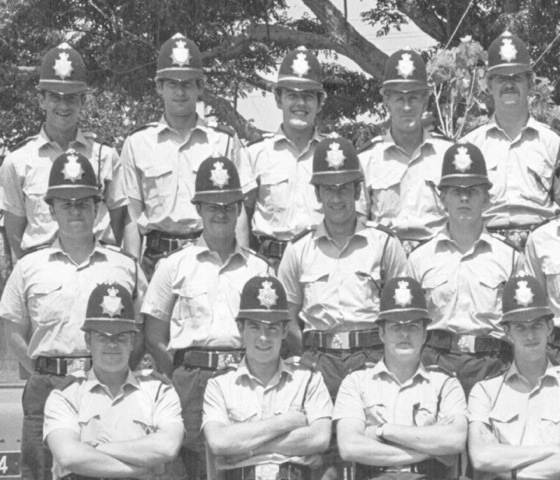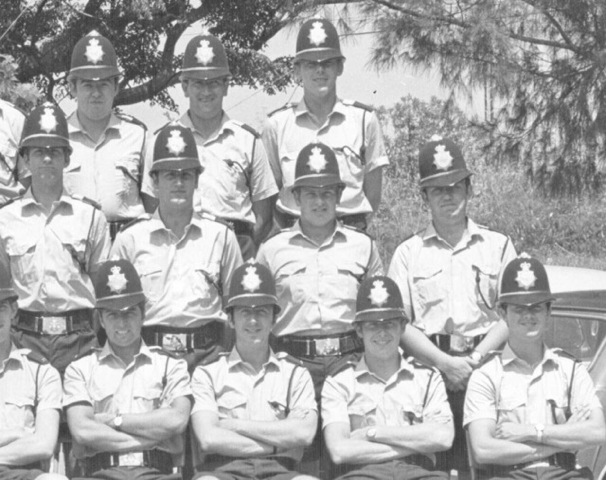 EDITORS NOTE - We initially posted a rather blurry copy of the above photo in this article but have since discovered that we already had a much better copy on our ExPo website in a "Who, Where and When" article which was sent to us by Paul Hendrick. CLICK HERE to view the article together with a number of comments made below it. Our WWW article also included the attached blow-ups of the photo which are useful in helping those of us with failing eyesight!
However, we have some issues with a couple of the names of guys in the photo. It was originally thought that the officer between Pat Hathaway and Ian "Paddy" Ackroyd was Mick Collingridge, but Bob Porter is convinced that Mick Collingridge is sitting on the front row far left next to Frank Martin. If that is the case then we're not sure who is standing between Pat and Paddy! Can anyone assist us in this regard.
Ray Bell initially thought that Steve Peterson came out with this group but was missing when the photo was taken, but Bob Porter was sure that Steve Peterson came after Bob who arrived on 14th October 1970. Sure enough "Coop's List" has Steve Peterson joining on 5th November 1971 and serving until 10th October 1981. So, we may have a few issues with memory after 50 years but all we now need is to identify the one mystery officer!
What is very unusual about this photo is that it's the only course photo I can recall where all the instructors are "missing"!
We've had no fewer than three of these young men write articles about their lives in our "Then and Now "column. They are Richard "Dick" Coulthard, Colin Mackenzie, and Barry Higham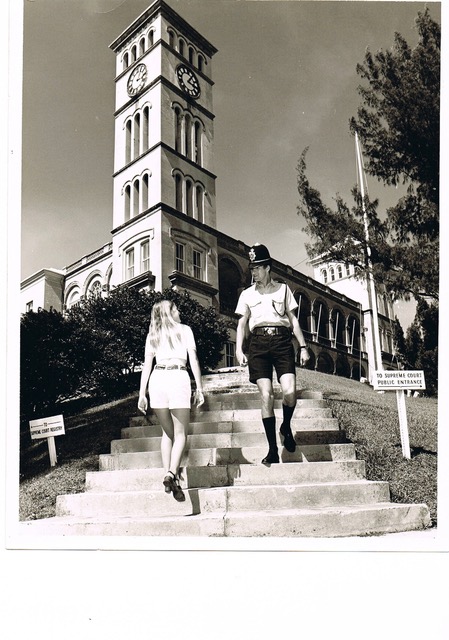 P.C. Dick Coulthard keeping a watchful eye
on the House of Assembly building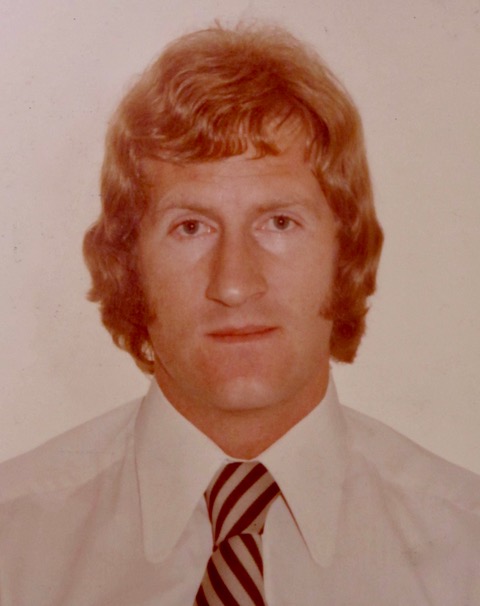 Colin Mackenzie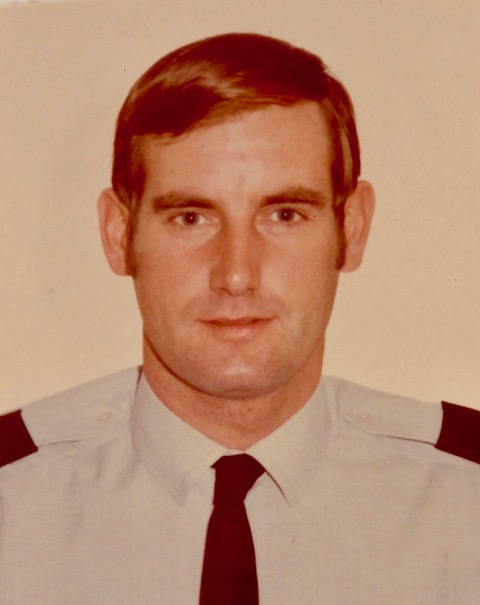 Barry Higham
Young Richard Baxter joined as a Cadet on 15th July 1970
BASIC TRAINING COURSE #13
The next batch of recruits, who had no previous police experience joined as of 17th August and comprised, Robert Callender, Victor Payne, Garville "Garry" Murrell, Christopher Sykes, and Michael Baker, most of whom, along with along with David Furbert attended Basic Training Course #13 held from August-November 1970.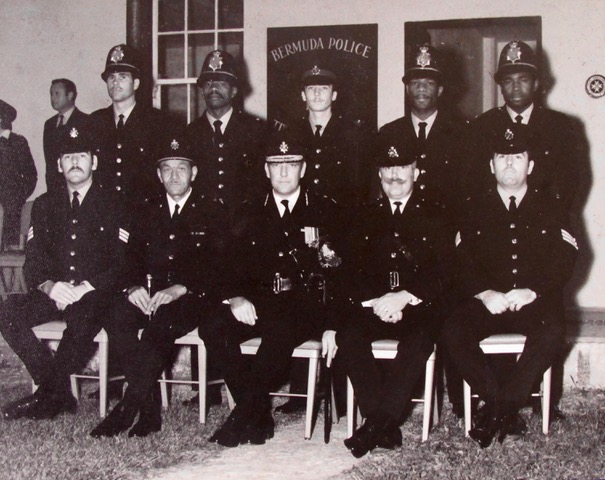 Basic Training Course #13
Standing (l-r) P.C's Michael Baker, and David E. Furbert,
Cadet Sykes, P.C's Victor Payne and Garville "Gary" Murrell
Seated - Sgt Barrie Meade, Supt Oliver Trott,
Commissioner George Duckett, Insp. Dave Parsons and Sgt Dick Murphy
LOCALISATION COURSE in MID-OCTOBER
Shortly after the two groups that included Bob Porritt went through training school on their Localisation Course, they were followed by two more intakes of experienced officers from the U.K. with the first group arriving on 14th October comprising Brian Anderson, Frank Smith, David "Dai" James, Robert "Bob" Porter, Raymond Thomas, David "Shakey" Shakeshaft, Henry Parry, Keith Bird, Alistair "Angus" Brown, and Alan Bolton. They were followed on 16th October by Michael "Mike" Sample, Michael Walker, Keith Pellow, Gerald "Gerry" Harmer, and Robert "Bob" Lloyd, all of whom must have attended a Localisation Course but we have no record of the course or a course photo. Does anyone out there have one?
EDITORS NOTE - Despite claiming that we had no record of this Localisation Course which took place in late October/early November 1970, I discovered that not only did we have a photo of this group but we had posted it in our "Who, Where and When" column several years ago. CLICK HERE to view the article and the photo, which we are now posted in this article along with its caption.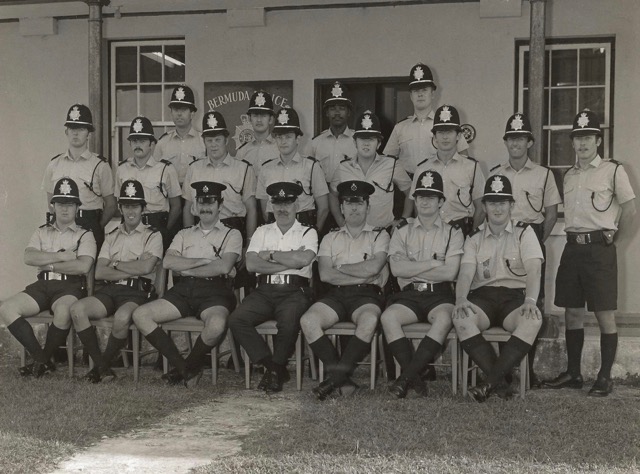 Localisation Course - November 1970
Back Row (l-r) Keith Bird, Robert Lloyd, Raphael Honore, Alistair "Angus" Brown
Middle Row - David Shakeshaft, Keith Pellow, Michael Walker, Gerald Harmer, Alan Bolton,
Raymond Thomas, David "Dai" James, Robert "Bob" Porter,
Front Row - Brian Anderson, Frank Smith, Sgt Barrie Meade, Insp. Dave Parsons,
Sgt Dick Murphy, Henry Parry and Michael Sample
LAST ARRIVALS OF THE YEAR
As the year was drawing to a close, Raphael Honore joined on 7th November 1970, and the last three overseas recruits, who all arrived on 1st December 1970 were Robert "Bob" Allen, Roger Kendall, and Kevin Hamilton.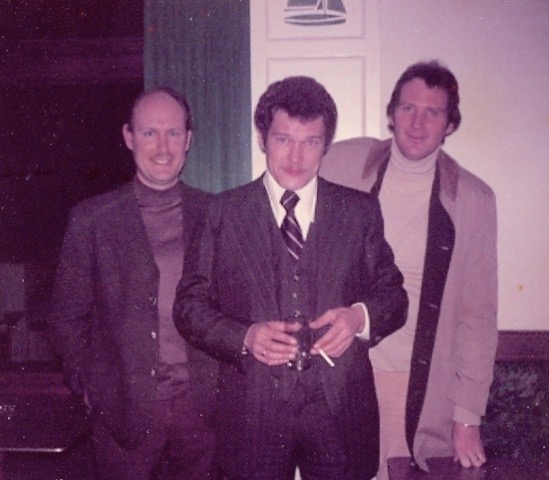 Did we save the best to last!
(l-r) Roger Kendall, Robert "Bob" Allen and Kevin Hamilton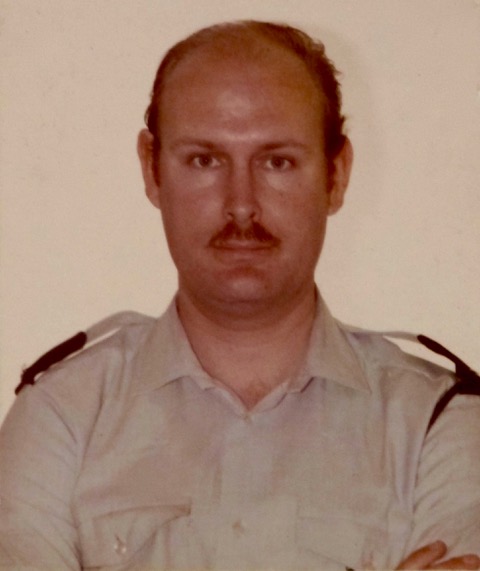 P.C. Roger Kendall
"Then and Now" article
By our reckoning we had a total of 82 young men join the Bermuda Police in 1970 some as experienced officers from overseas, some as previously untrained officers, and several young Bermudians joining as Cadets.
Sadly, we are aware that the following officers who joined during the year 1970 and who have since died:-
There are also several Training School staff and Senior Officers either mentioned or featured in some of the group photos who are no longer with us - Inspector Dave Parsons, Inspector Barrie Meade, Chief Supt Oliver Trott, and COP George Duckett.
USEFUL LISTS ON OUR EXPO WEBSITE
Our ExPo website contains the following lists which you might find both useful and informative:-
As a final note, no matter where you are in the world, we want to wish all of those officers who served in the BPS having joined in 1970, a Happy Anniversary and Hearty Congratulations on making it through the last 50 years.
3rd October
I was meaning to try and organise some kind of Re-Union but with lockdown & restrictions decided that it would not be viable. Just in case no one has identified my cohort, here goes:-
Back Row:304 Keith Bird (Hants) Ray "Rude" Lloyd (Mersey?) Raphael "Chalky"Honore (?)306 Angus Brown (Glos?)
Middle: Dave "Shakey" Shakeshaft (Mersey) Keith Pellow (Dev & Corn?) Mick "Ironside?" Walker (Leics?) Gerry Harmer (Hants) Alan Bolton (Mersey) Matt Thomas (Mersey) Dai James(?) 310 Bob Porter (Hants)
Front: 303(Brian "The Snail" Anderson (GMP?) 312 Frank Smith (Walsall?) Barrie Meade, Dave Parsons, Dick Murphy, 309 Harry Parry (Mersey) Mick Sample(Durham?).
Without checking misplaced documents I arrived on the 9th or 12th Oct via BOAC Comet. We were picked up from CAT in a long wheel based Kombi and taken direct to the PRC where we were greeted by Supt."Nobby" Clarke. He bought us all a drink. I remember having Tenants for the first time and was impressed that bikini clad girls decorated the ice cold cans. I opened up my Bar Tab with Gerald "Sleepy" DeSilva and later that night we all assembled back in the PRC where Nobby introduced us to various drinking games including Cardinall Puff and 21 Aces. I remember tasting Fernet Branca for the first time and noticed all too soon that it did not mix well with Guinness and Blackcurrant Cordial; both on the way down and shortly after when I brought it all back up! I think it was dear old Buster 228 Brown who chose that particular brew for me. Bless him
Due to ongoing Riots there was no time to issue our uniforms let alone have a Local Procedure Course. We were told to disappear, keep quiet about who we were and stay out of trouble. We spent about 10 days on Warwick Long Bay and Horseshoe.
We eventually got booted and spurred and joined Messrs. Parsons, Meade and Murphy at the Old Training School (in the photo).
We were assigned to the Riot Squad after undergoing CADUC training and one of us (it might have been me?) gave the unit the title of "The F Troop" after a US TV comedy series. We spent many a night patrolling the Island in Landrovers. Pat McBride would often join us and I was invariably in the 1st Rover with Parse and our driver Willy McCracken so a laugh was always guaranteed. Good times with good chums despite the Political situation. Fond memories indeed.
Rocky Ironmonger and I get together regularly with our wives and we are in regular communication with John & Susan Heady.
Stay well and pass on my regards to anyone who may remember me. We hope to resume house sitting next year.
God bless. Bob Porter
P.S. Bob also wrote to say that he was up till 1am reading articles on our website, and the one that cracked him up is our article on "Nicknames - A Bermuda Tradition" which contains over 200 nicknames. CLICK HERE to view our list. If you have a nickname or you know soemone else who has one and it's not included on our list, please let us know.