New Recruits
We had just received this photograph which was clearly a bunch of new recruits fresh off the boat (or rather, the plane).
We had a great response and now know for sure that this is the group who arrived in Bermuda on 23rd and 25th June 1970.
With assistance from a veriety of sources we have been able to identify everyone in the photo, seemingly for sure, except the guy between Pat Hathaway and "Paddy" Ackroyd, who by a process of elimination must be Mick Collingridge who came out with this group.
Ray Bell mentions that he believes 25 came out with his group, including Steve Peterson, but Steve is missing from the photo and is also not included in our Master List of police officers by date of joining.
Would anyone know how we can contact Steve Peterson and Mick Collingridge to clear up these two queries?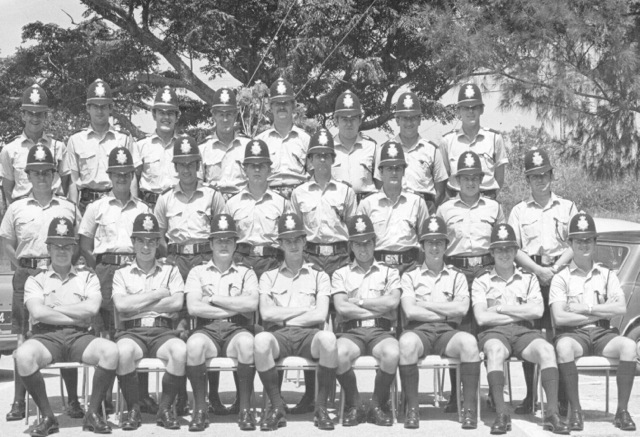 Batch of New Recruits - June 1970
Back row

(l-r) Bruce Bingley, Barry Higham, John Bradford, Colin Mackenzie,
Reg "Buster" Brown,
Roy "Hong Kong" Haynes,
Mick Cresswell, and Paul Hendrick.
Middle row

- Pat Hathaway, Mick Collingridge?, Ian "Paddy" Ackroyd, Gwilym Williams,
Richard "Dick" Coulthard,
John "Gypsy" Jake Stimson, Ian Fraser, Mick Goode.
Front Row

- Stewart Holmes, Frank Martin, Stan Parr, Malcolm "Ted Loon" Irvine,
Jim McInnes, Ray Bell, Bill Cree, and Roger Hind.
Paul Hendricks emailed us on 4th November 2013 with the following information:-
This is my course which arrived on the Island 23rd and 25th June 1970.
I know
Colin Mackenzie back row 4th from the left can name them all as can Davey
Kerr.
After Colin is Buster Brown, 'Hong Kong' Hathaway, Mike Cresswell and then
myself
Back row second front the left Barry Higham
Middle row from the left 3rd is Ian Ackroyd, G Williams, Dick Coulthard ?
? Mike Goode
Front row last three from the left Ray Bell, Bill Cree, Roger Hind